OCG 2021.04 Metagame (1 Apr – 30 Jun 2021)
Although the OCG 2021.04 Limit Regulation had minimal changes, the slight weakening of Virtual World saw it dipped a little and gave way to Tri-Brigade.
Compiled from a total of 810 top-placing decks from 154 competitive tournaments held in Japan, China Mainland and Taiwan, here is the final metagame breakdown of the OCG 2021.04 format.
Metagame Breakdown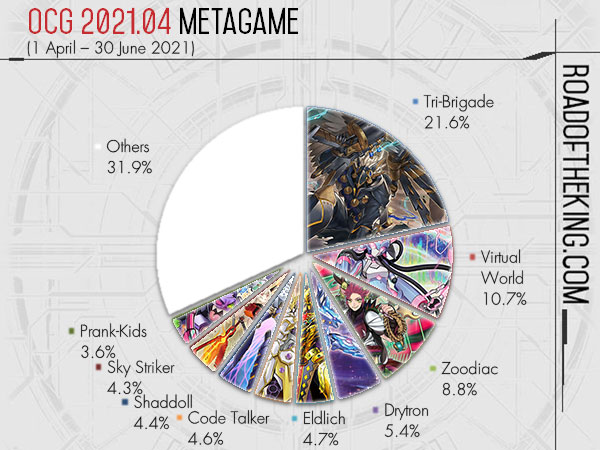 175 Tri-Brigade (151 Zoodiac Tri-Brigade, 19 Tri-Brigade, 3 Lyrilusc Ancient-Warrior Tri-Brigade, 1 Fire Fist Tri-Brigade, 1 Zoodiac Lyrilusc Ancient Warriors Tri-Brigade)
87 Virtual World
71 Zoodiac (70 Zoodiac, 1 Dogmatika Zoodiac)
44 Drytron
38 Eldlich (15 Eldlich, 6 Zoodiac Eldlich, 5 Ancient Warriors Eldlich, 4 Dogmatika Eldlich, 4 Grass Zombie Eldlich, 3 Grass Eldlich, 1 Zombie Eldlich)
37 Code Talker (1 Code Talker, 1 Invoked Code Talker)
36 Shaddoll (13 Grass Invoked Shaddoll, 11 Invoked Shaddoll, 3 Dogmatika Invoked Shaddoll, 2 Dogmatika Despia Shaddoll, 2 Grass Dogmatika Invoked Shaddoll, 1 Shaddoll, 1 Grass Shaddoll, 1 Grass Kaiju Invoked Shaddoll, 1 Magistus Shaddoll, 1 Magistus Despia Shaddoll)
35 Sky Striker (32 Sky Striker, 3 Zoodiac Sky Striker)
29 Prank-Kids
26 Orcust (21 Orcust, 3 Scrap Orcust, 1 Grass Orcust, 1 Ogdoadic Orcust)
22 Endymion
22 Thunder Dragon (10 Thunder Dragon, 9 Chaos Thunder Dragon, 2 Grass Chaos Thunder Dragon, 1 Grass Chaos Necro Thunder Dragon)
21 Phantom Knights (19 Phantom Knights, 2 Grass Phantom Knights)
20 @Ignister
19 Adamancipator (18 Adamancipator, 1 Grass Adamancipator)
16 Dragonmaid
14 Salamangreat
13 Zefra
10 Lyrilusc (9 Tri-Brigade Lyrilusc, 1 Zoodiac Tri-Brigade Harpie Lyrilusc)
9 SPYRAL (8 SPYRAL, 1 Danger SPYRAL)
7 Danger Dark World
7 Numeron
5 Kaiju Luna (4 Sekka Danger Kaiju Luna, 1 Kaiju Luna)
5 Magician
4 Altergeist
3 Cyber Dragon
3 Dinosaur (1 Scrap Dinosaur, 1 True King Dinosaur, 1 True King Scrap Dinosaur)
3 Evil★Twin
3 HERO
3 Megalith
2 Dragunity
2 Infernoid (1 Grass Infernoid, 1 Zoodiac Tri-Brigade Infernoid)
2 Madolche
1 Amazement Dogmatika Invoked
1 Da Eiza
1 Deck Destruction
1 Dogmatika Dark Magician
1 Gravekeeper
1 Infernoble Knight
1 Lunalight
1 Magical Musket
1 Mathmech
1 Onomat Utopia
1 PSY-Frame
1 Sky Striker Mekk-Knight
1 Speedroid
1 Subterror
1 Tri-Brigade Gladiator Beast
1 True Draco
1 Windwitch Burn
Tri-Brigade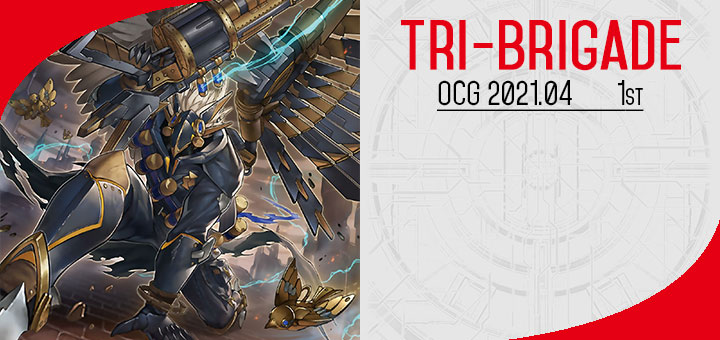 Tri-Brigade barely edged out the competition on the initial week, but quickly became the deck to beat in the format when players gravitate towards the Zoodiac Tri-Brigade build.
Zoodiac Tri-Brigade has high consistency and flexibility with 3 copies of Fire Formation – Tenki, allowing them to search for a Zoodiac monster or Tri-Brigade Fraktall as the situation calls for it. Opening with Tri-Brigade Revolt consistently was also made possible with Tri-Brigade Bearbrumm the Rampant Rampager, giving them both a disruption in the form of Tri-Brigade Shuraig the Ominous Omen and card advantage from the graveyard effects of the Tri-Brigade monsters used for the Link Summon.
The Zoodiac component of the deck not only complement the strategy but also cover up their shortcoming. The main advantage of Zoodiac is the disruption from Zoodiac Drident, and the board wipe from Divine Arsenal AA-ZEUS – Sky Thunder, allowing the deck to be equally strong when going first or second. But more importantly, they allow Tri-Brigade to make plays after getting hit by a Maxx "C" or Artifact Lancea.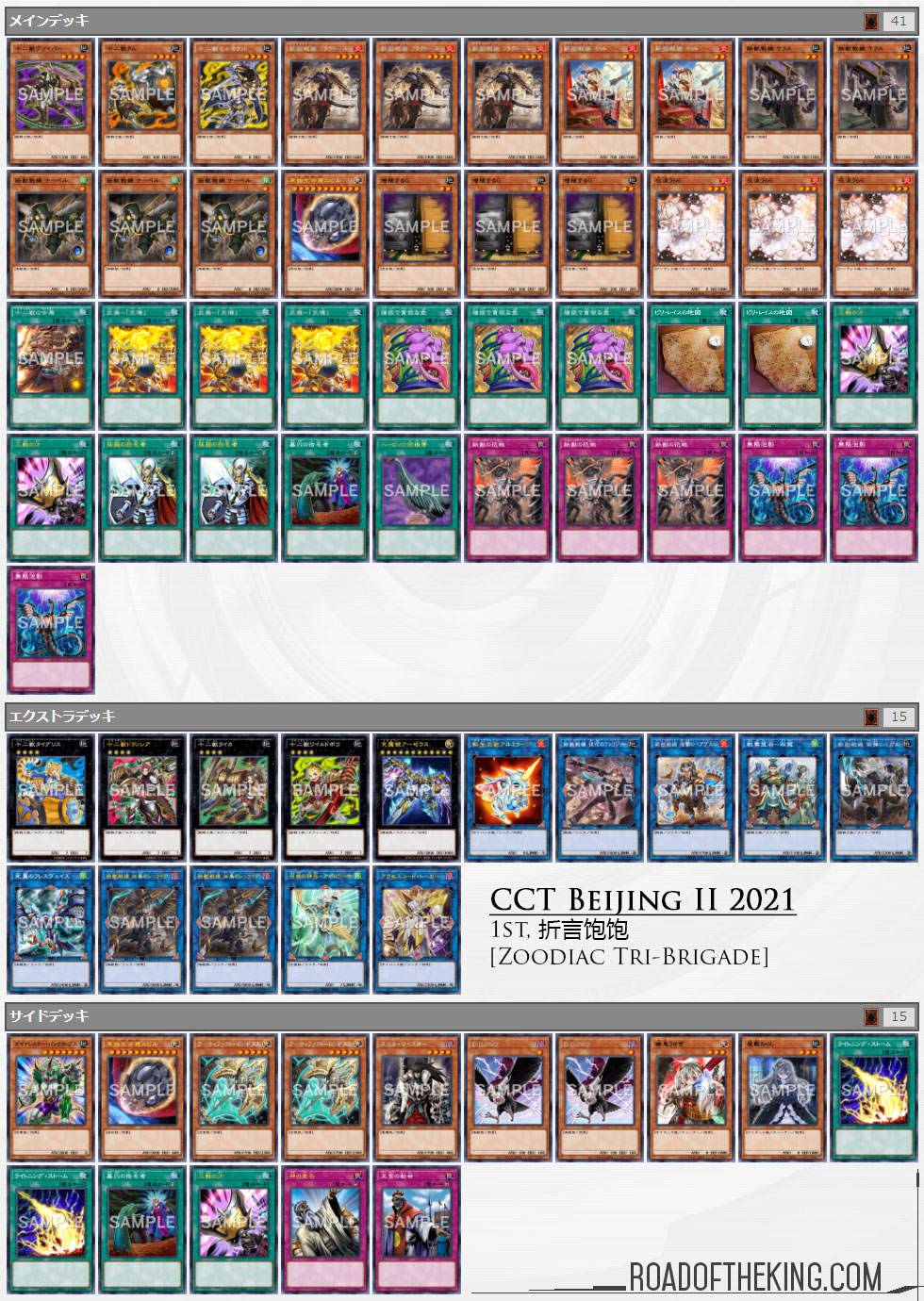 OCG 2021.04 → OCG 2021.07 Limit Regulation changes:
Zoodiac Drident 1 → 0
Fire Formation – Tenki 3 → 2
Zoodiac Drident being forbidden cause Zoodiac to lose their opening play, and in turn made Zoodiac Tri-Brigade no longer the best build. Fire Formation – Tenki being semi-limited is also a hit to their consistency and it appears that Rescue Cat will be the next build that most Tri-Brigade will be going for.
Virtual World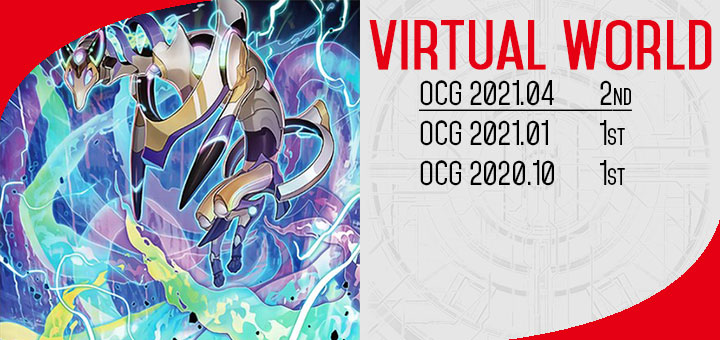 Virtual World saw an initial decline as True King of All Calamities became limited, but quickly bounced back when players pivoted towards Ultimaya Tzolkin for Crystal Wing Synchro Dragon as a replacement.
Virtual World picked up in the later half of the format when Mystic Mine was discovered to be a strong counterplay against Tri-Brigade.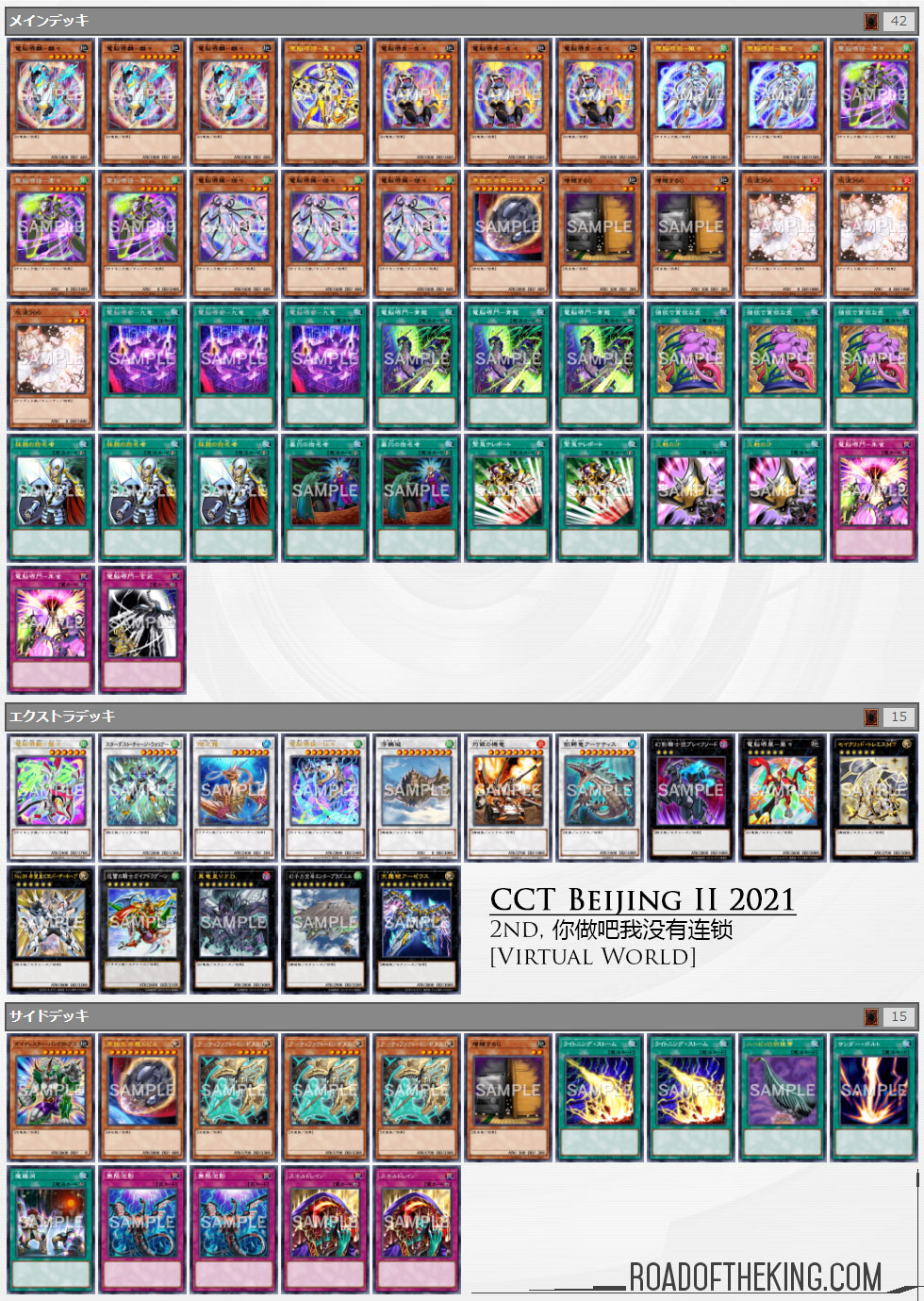 Having Zoodiac Drident forbidden meant that they have lesser disadvantaged match-ups and puts them in a strong position going into the OCG 2021.07 format.
Zoodiac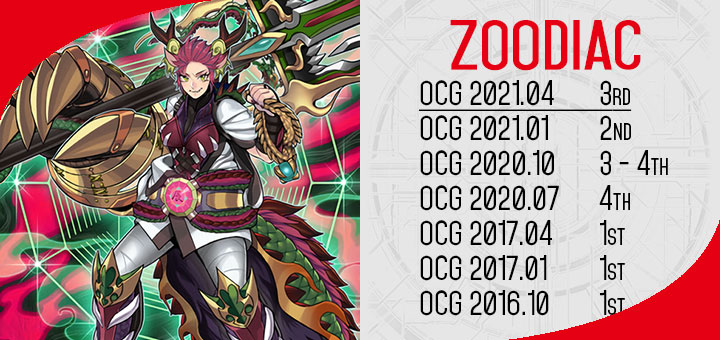 Zoodiac had an even match-up against Tri-Brigade and a slight advantage over Virtual World, allowing them to fare decently in the OCG 2021.04 metagame.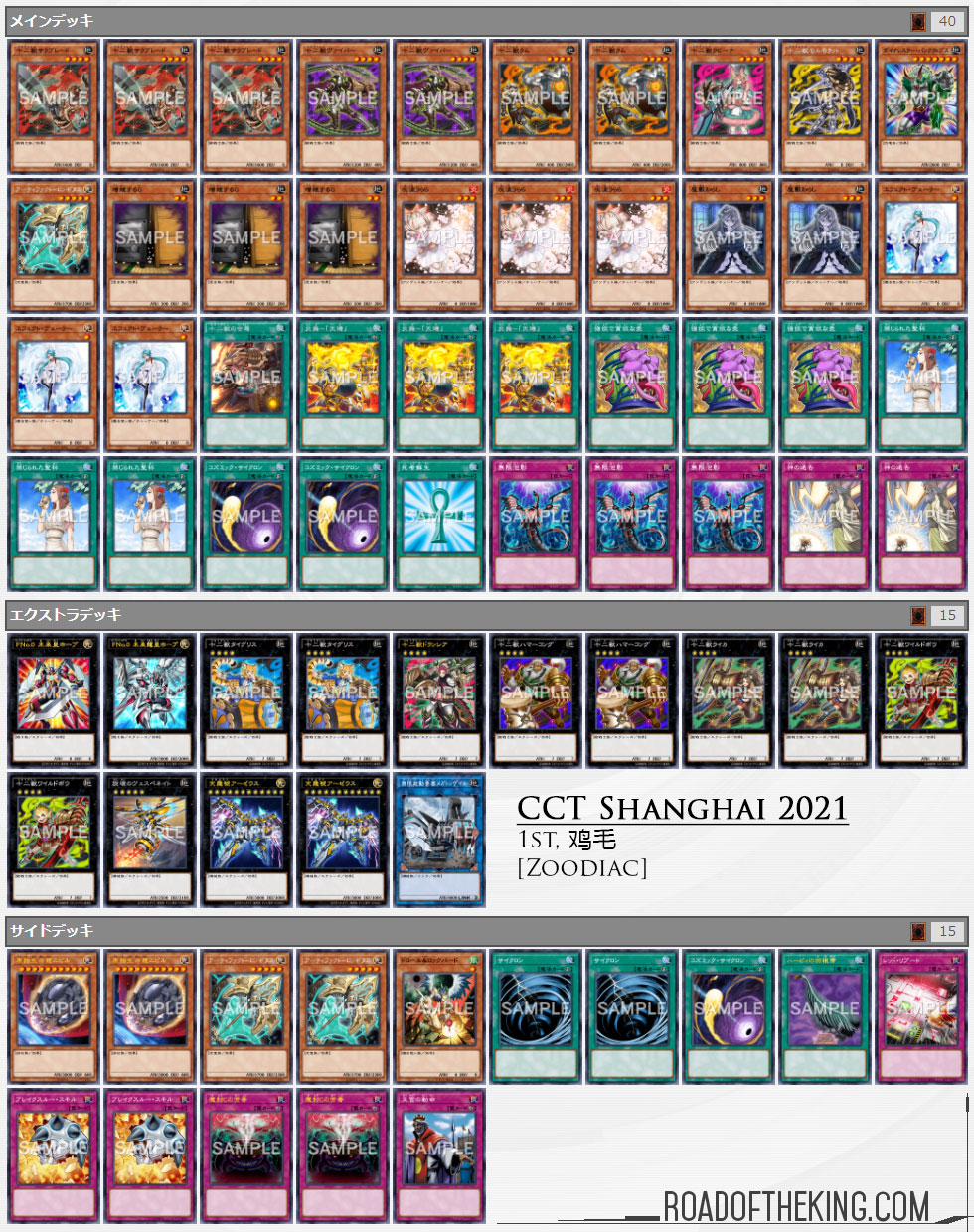 OCG 2021.04 → OCG 2021.07 Limit Regulation changes:
Zoodiac Drident 1 → 0
Fire Formation – Tenki 3 → 2
Zoodiac Drident going to forbidden is the nail in the coffin. Without any opening plays, mono Zoodiac is no longer viable as a competitive deck.
Conclusion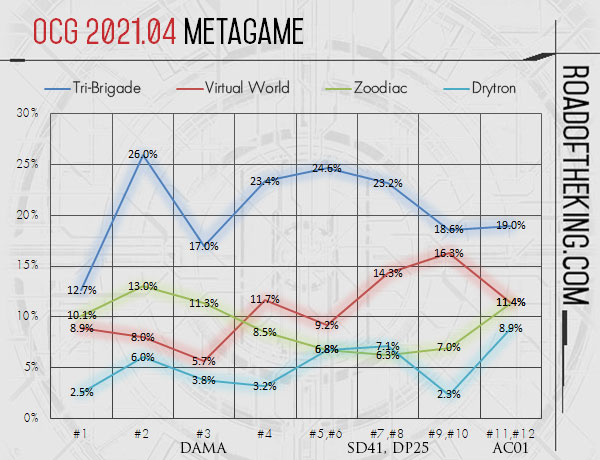 Dawn of Majesty and Structure Deck: Cyber Style's Successor had no significant impact on the metagame. Duelist Pack: Duelists of Whirlwind boosted Lyrilusc and saw the rise of Tri-Brigade Lyrilusc, but their performance were not consistent.
Overall Tri-Brigade had an absolute edge in the metagame, having stayed at the first position in the whole entirety of the OCG 2021.04 format. Zoodiac Tri-Brigade just by themselves had 151 top-cut placements, putting them just less than twice that of Virtual World in second position.
If you enjoyed these Quarterly Metagame Reports, consider supporting Road of the King on Patreon. Cheers!