OCG 2022.04 Metagame Report #10
Welcome to Week #10 of the OCG 2022.04 format.
This report will cover 78 top-performing decks from 18 tournaments that were held in Japan and mainland China during 3 – 8 June 2022.
Metagame Breakdown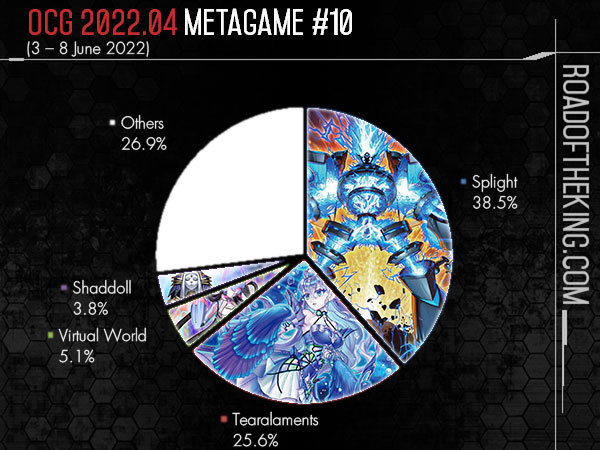 30 Splight
20 Tearalaments (12 Ishizu Tearalaments, 4 Branded Tearalaments, 1 Branded Ishizu Tearalaments, 1 Grass Branded Tearalaments, 1 Shaddoll Tearalaments, 1 Tearalaments)
4 Virtual World (3 Adventurer Virtual World, 1 Virtual World)
3 Shaddoll (2 Grass Tearalaments Shaddoll, 1 Grass Ishizu Tearalaments Shaddoll)
2 Drytron
2 Exosister
2 HERO
2 Mysterune
1 Altergeist
1 Dark Magician
1 Mathmech Code Talker
1 Mathmech Swordsoul
1 Mathmech @Ignister
1 P.U.N.K. Adamancipator
1 P.U.N.K. Megalith
1 Rikka
1 Splight Agent
1 Splight Evil★Twin
1 Splight Tri-Brigade
1 SPYRAL
1 Tearalaments Branded Despia
Splight
Kinnikun (きんにくそ) went 7-0 (excluding 1 bye) and finished 3rd in "22nd Hagetaka CS" (3v3 Team) which had 30 teams (90 participants).
Running 3 Nimble Beaver and 1 Nimble Angler in the Main Deck is another alternative to Deep Sea Diva. Deep Sea Diva runs the risk of fizzling when the other 2 copies are sent to the graveyard by the opponent's Kelbek the Ancient Vanguard or Agido the Ancient Sentry ② effect. On the other hand, Nimble Beaver could Special Summon from the deck or graveyard, so even if all Nimble monsters in deck are sent to the graveyard is not an issue. Nimble Beaver is also a non-targeting effect, and only chooses to Special Summon from deck or graveyard during resolution, hence it cannot be disrupted by Keldo the Possessed Statue or Mudora the Cestus Oracle ② effect. Having Nimble Angler sent from deck to graveyard by Kelbek the Ancient Vanguard or Agido the Ancient Sentry ② effect is an extra bonus as it could Special Summon up to 2 Nimble Beaver from deck.
The increase in board breaking build of Splight results in lesser 'hand traps' being played, making Triple Tactics Talent harder to activate, so Kinnikun decided to cut it from the deck.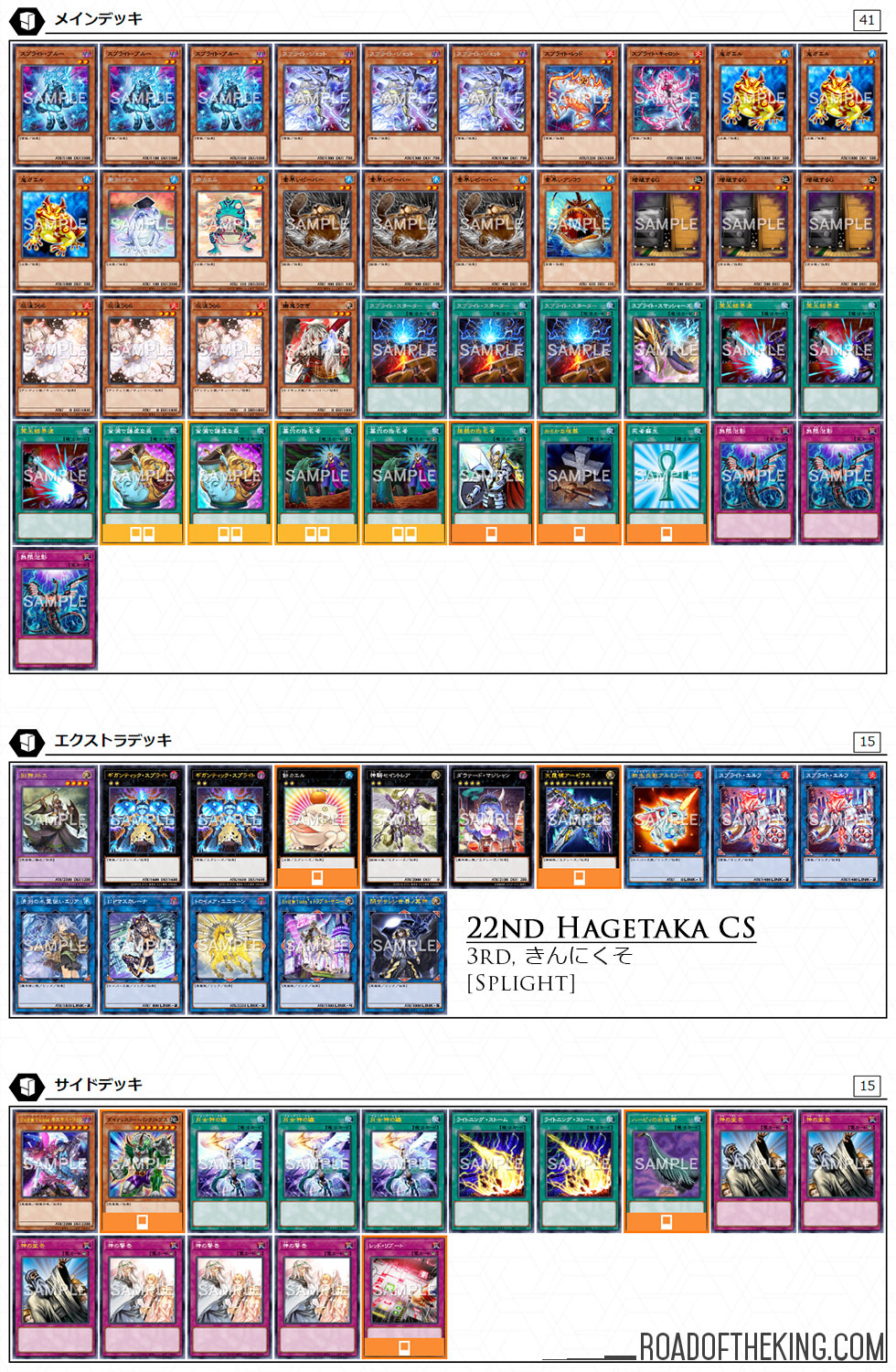 Tearalaments
Masio (ましお) went 7-1 and finished 1st in "22nd Hagetaka CS" (3v3 Team) which had 30 teams (90 participants).
Mudora the Cestus Oracle was often played at 0 – 2 copies in the early builds of Ishizu Tearalaments, but with the increase in mirror match, Mudora the Cestus Oracle is becoming necessary at 3 copies. Other than being able to fetch Gravekeeper's Trap, Mudora the Cestus Oracle is also a Level 4 monster that could be Special Summoned and is useful for Xyz Summoning Abyss Dweller.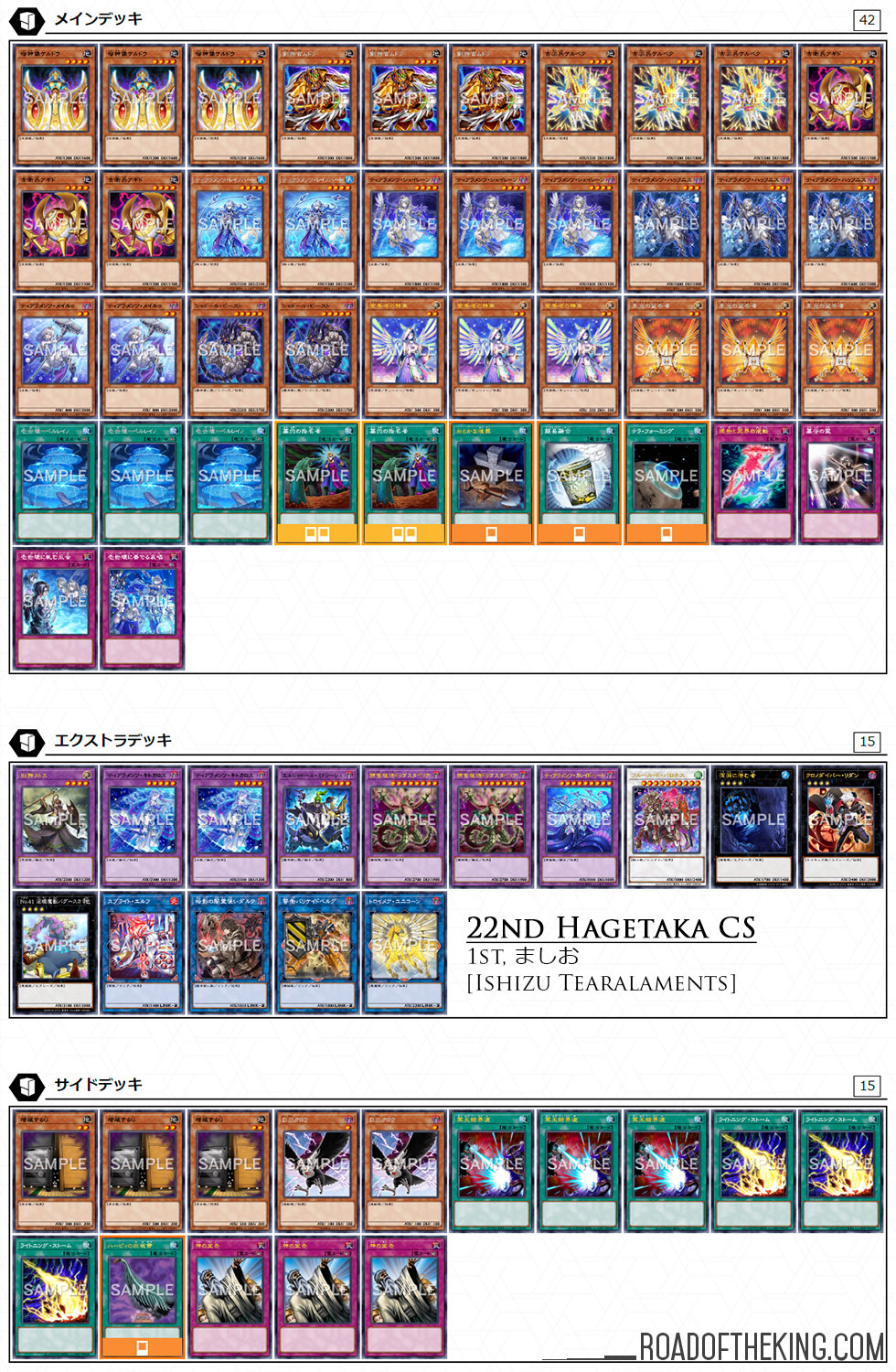 Conclusion
In the final stretch of OCG 2022.04, Splight stayed at the top, but with a diminished hold on the metagame. After 6 consecutive weeks of sitting at more than 50% of the top placements, Splight drops to 38.5% this week.
Tearalaments has been consistently behind Splight, but was lagging by quite a distant. The new Ishizu cards was the power boost that Tearalaments needed to seize a bigger piece of the pie from Splight.
If you enjoyed these Weekly Metagame Reports, consider supporting Road of the King on Patreon. Cheers!
References