Yu-Gi-Oh! Asia Championship Winter 2018
Yu-Gi-Oh! Asia Championship Winter 2018 was held on 21 January 2018 in Tokyo, Japan.
12 duelists were invited as follow:
6 duelists from each region's Asia Championship Winter 2018 Qualifier
6 duelists from each region's Ranking Tournament 2017 Season 1 + 2
Format:
4 rounds of Swiss
Top 4 Single-Elimination
Metagame Breakdown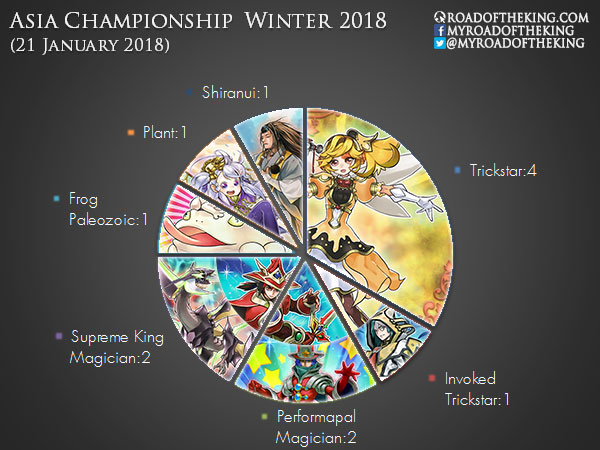 Trickstar and Magician were the most popular among the 12 participants, comprising of 4 mono Trickstar, 1 Invoked Trickstar, 2 Performapal Magician and 2 Supreme King Magician. The remaining 3 participants chose to run Frog Paloezoic, Plant and Shiranui.
There is a surprising lack of Burning Abyss and Zefra.
Trickstar performed exceedingly well, with 3 of the 4 mono Trickstar players making into the Top 4. The lone Plant completes the Top 4, and managed to take out a Trickstar during the semi-final, making it a final match between the two Philippines representatives.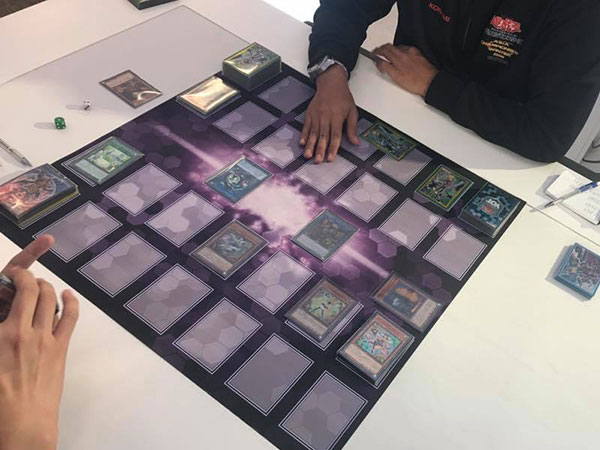 The final match went down to Duel 3. Trickstar had a timely Designator from the Grave chained to Lonefire Blossom, and was able to stop Plant from going off with their combo. It was followed by Scapegoat during the End Phase, and during the next turn, the Tokens were used to Link Summon Saryuja Skull Dread. This put Trickstar in an advantageous position that would lead to winning the game and the match.
Asia Championship Winter 2018
1st
Gerald Kent Hui
Trickstar
2nd
John Kevin Alcantara
Plant Link
3 – 4th
Wu Kai Feng
Trickstar
Cheung Wing Ho
Trickstar
5 – 12th
Chan Wai Keung
Invoked Trickstar
Su Chiu Mao
Trickstar
Preecha Udomlap
Frog Paleozoic
Yu Bixuan
Performapal Magician
Cheng Shi Yi
Shiranui
Satanantana Rungnoppakunsi
Performapal Magician
Calvin Ang
Supreme King Magician
Loo Wei Xuan
Supreme King Magician
1st, Gerald Kent Hui (Philippines) [Trickstar]
Source: Yu-Gi-Oh! Philippines, Asia Championship Winter 2018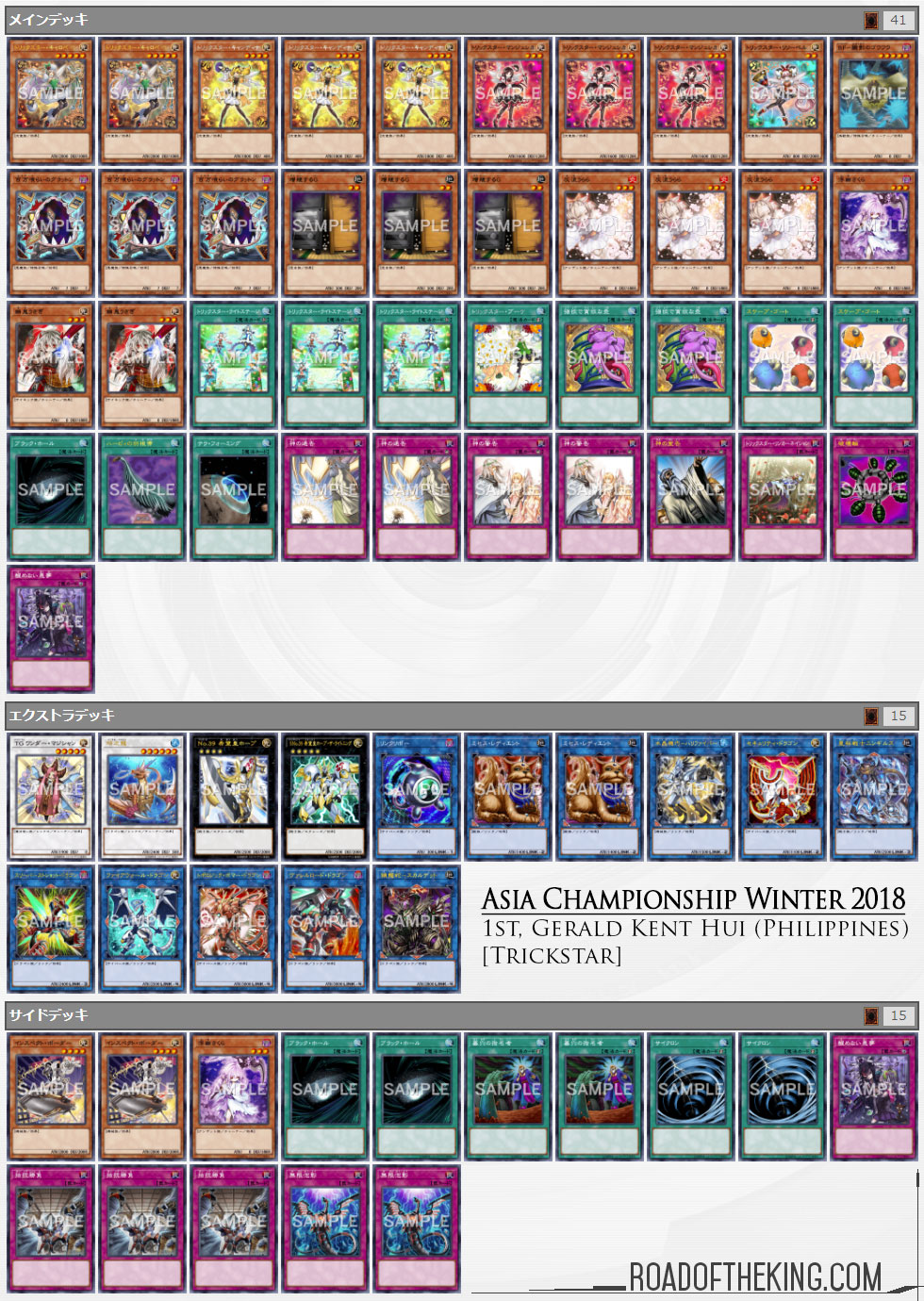 2nd, John Kevin Alcantara (Philippines) [Plant Link]
Source: Yu-Gi-Oh! Philippines, Asia Championship Winter 2018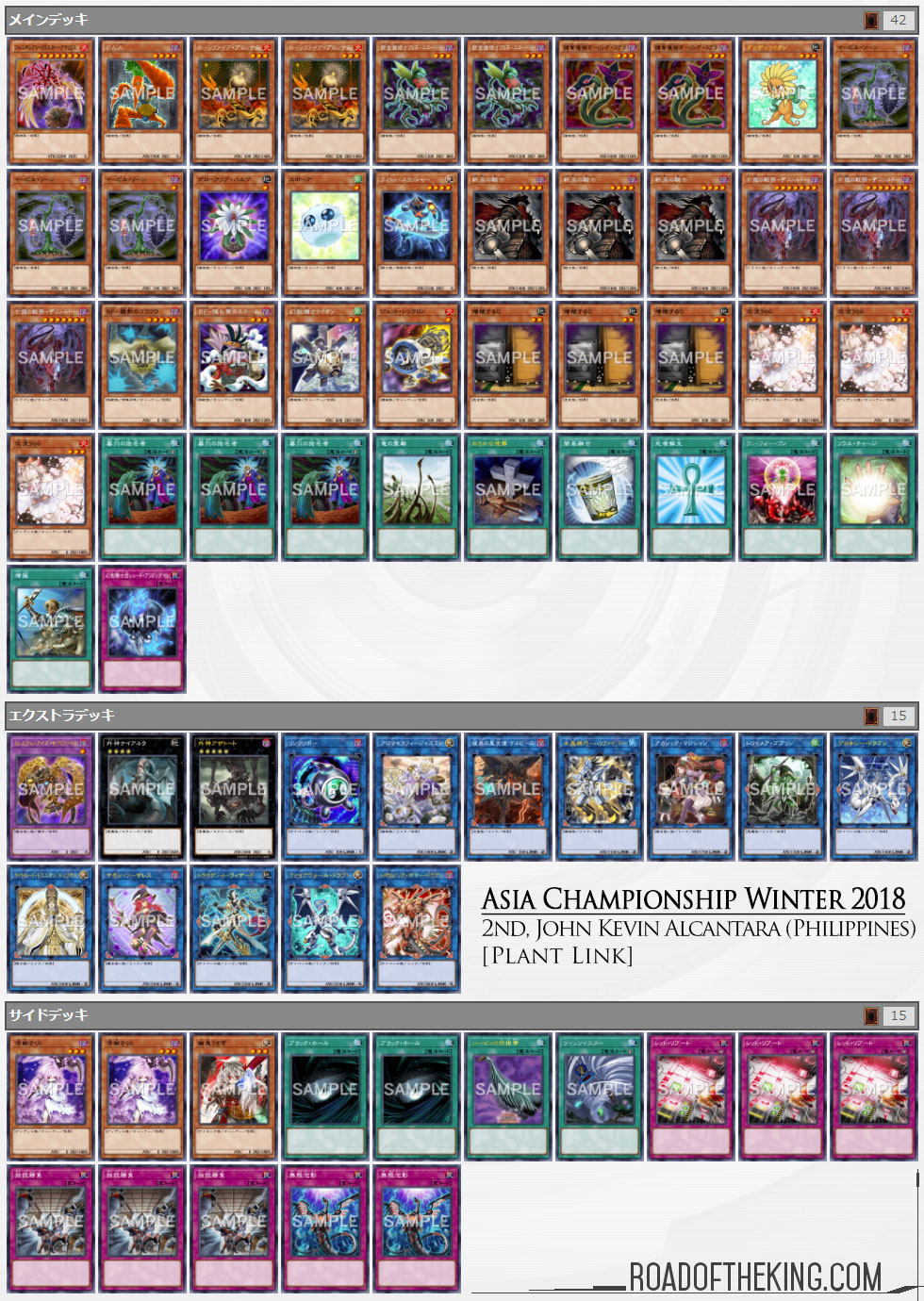 3 – 4th, Wu Kai Feng (Taiwan) [Trickstar]
Source: Asia Championship Winter 2018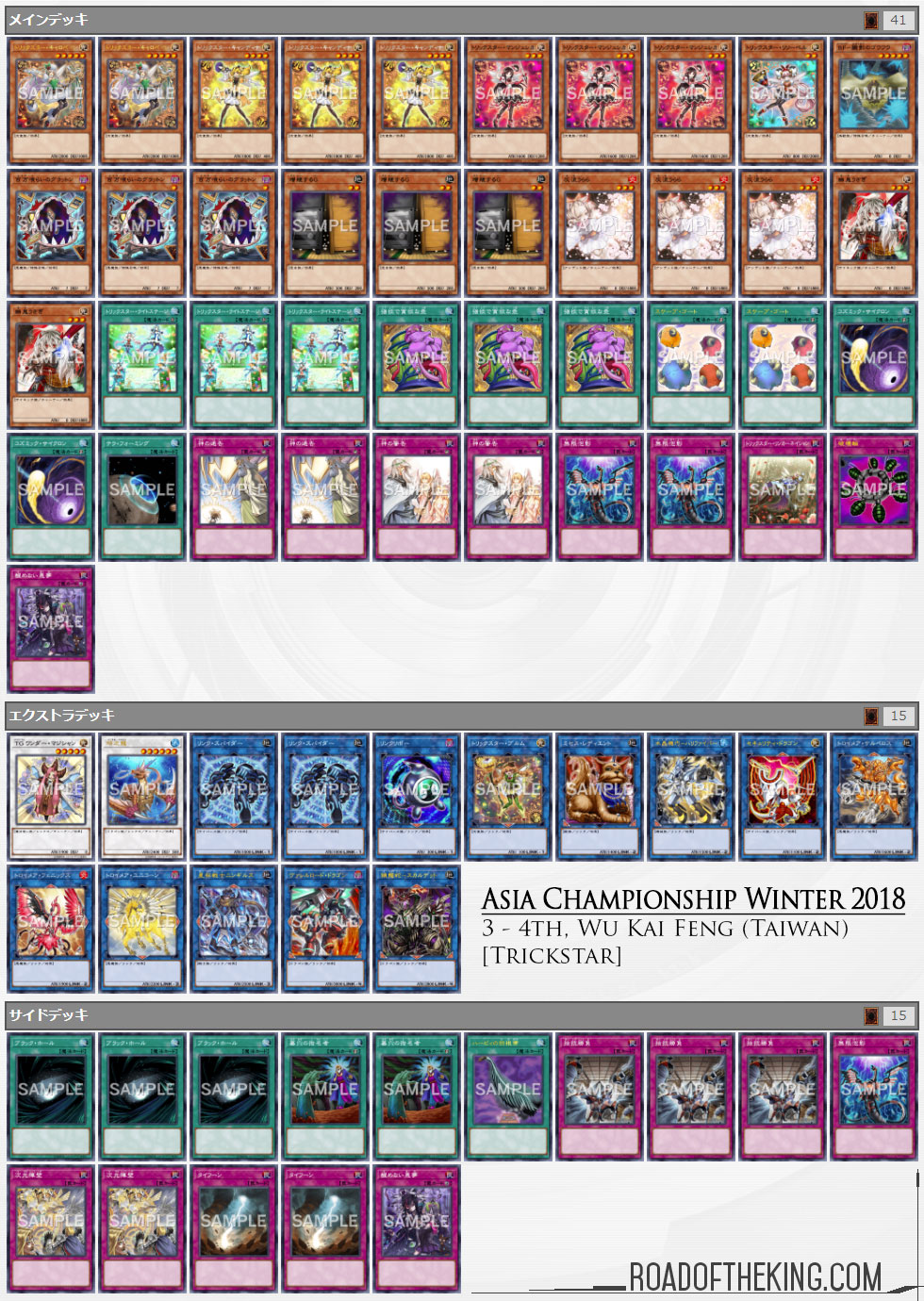 3 – 4th, Cheung Wing Ho (Hong Kong) [Trickstar]
Source: Asia Championship Winter 2018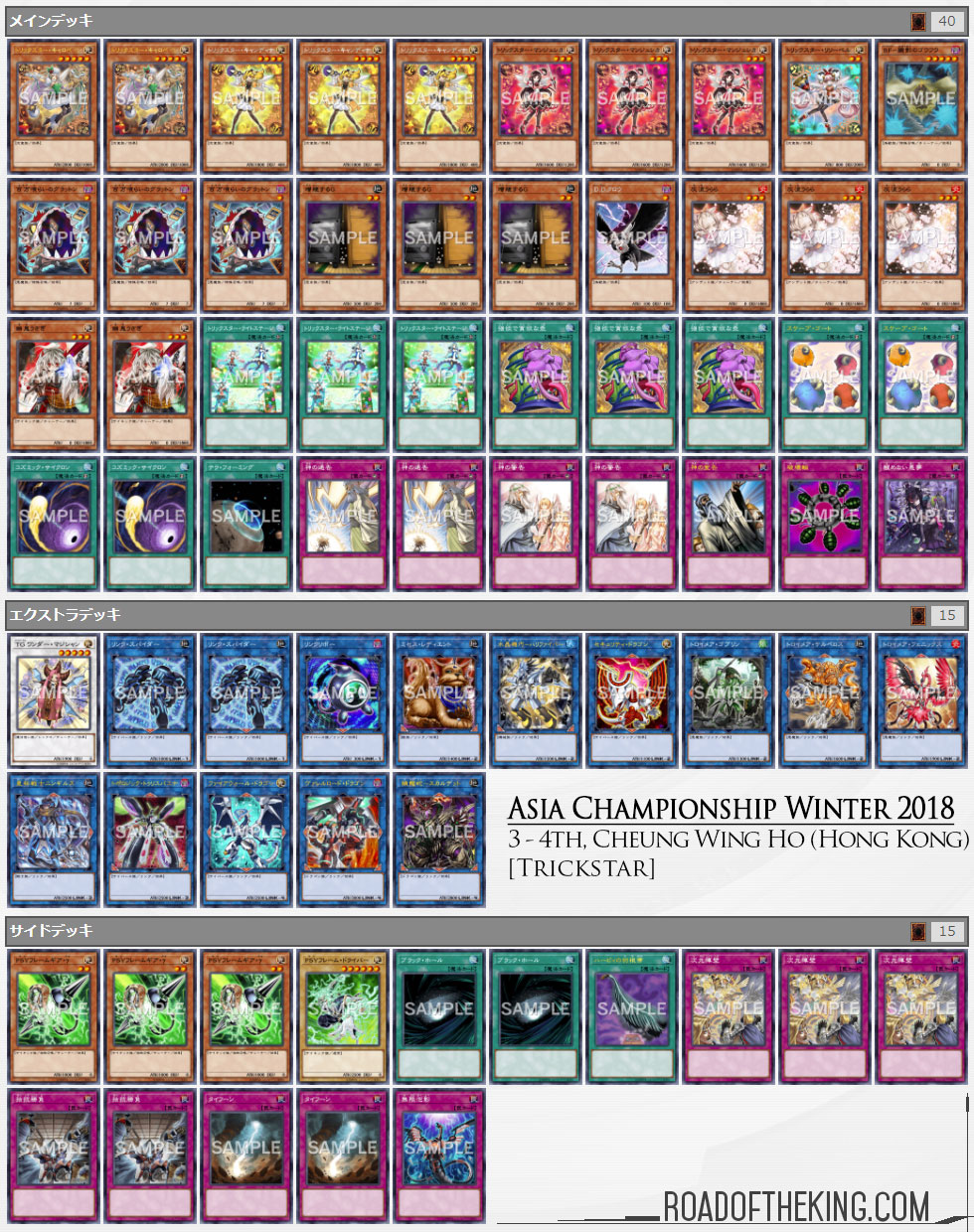 5 – 12th, Chan Wai Keung (Hong Kong) [Invoked Trickstar]
Source: Asia Championship Winter 2018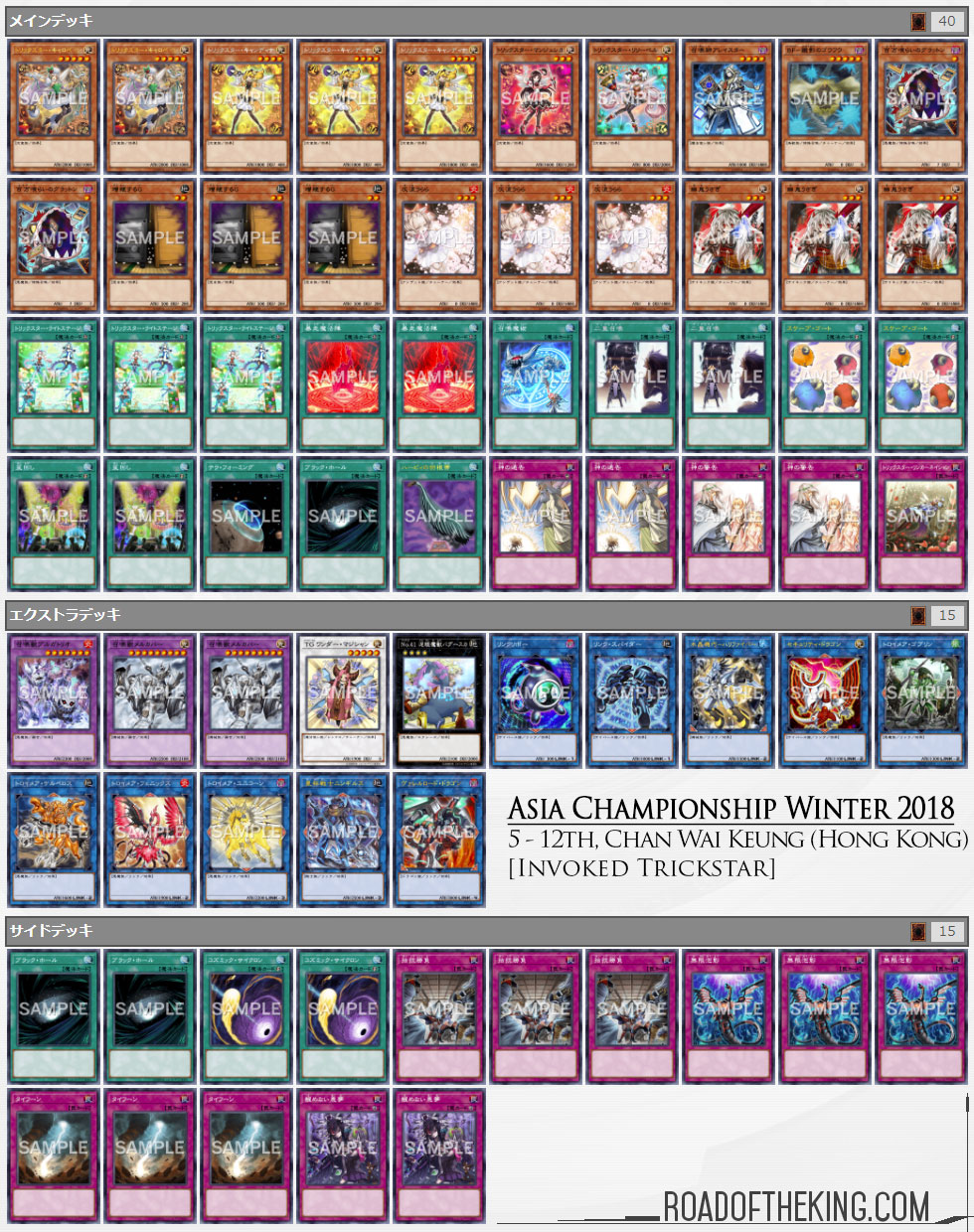 5 – 12th, Su Chiu Mao (Taiwan) [Trickstar]
Source: Asia Championship Winter 2018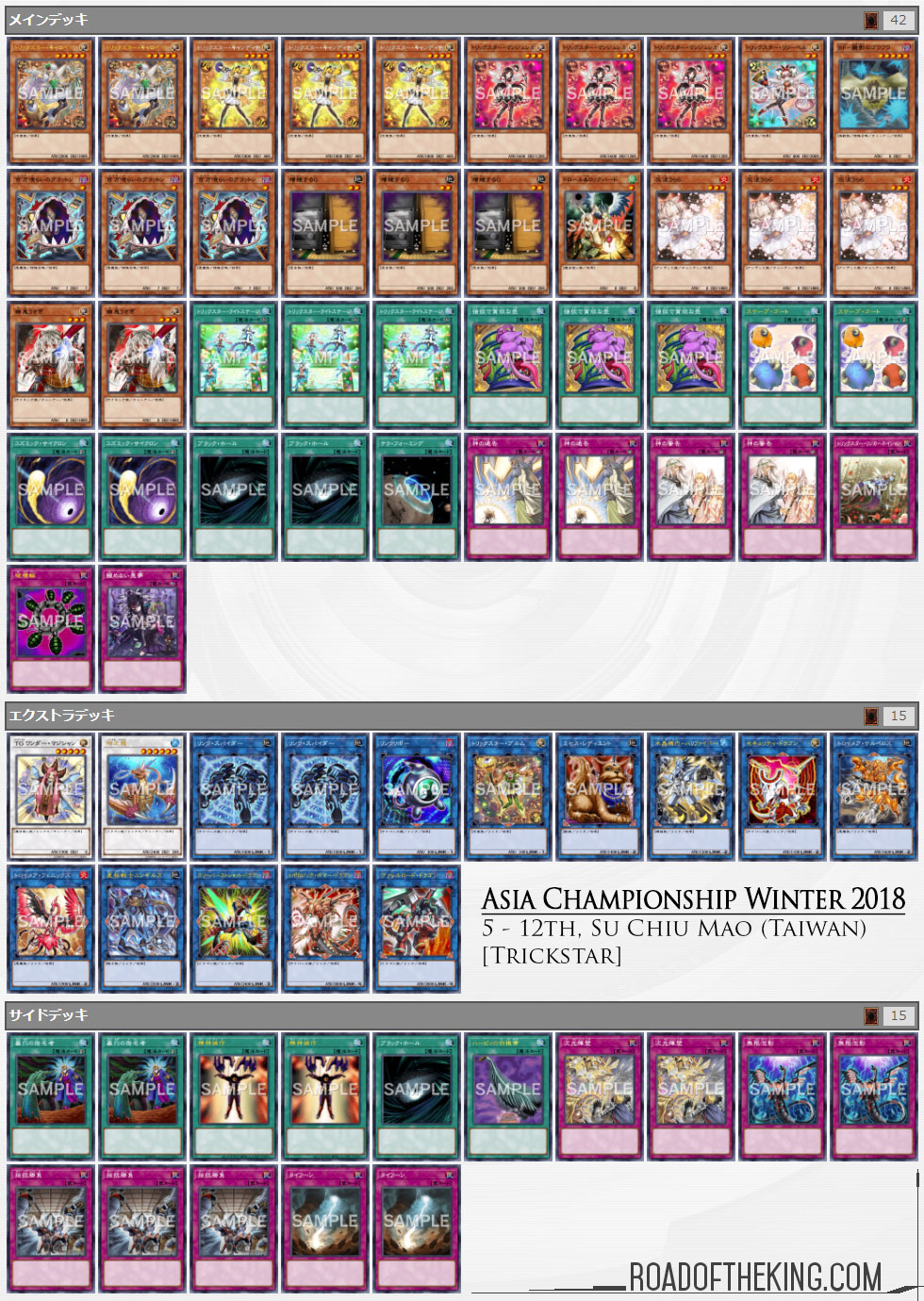 5 – 12th, Preecha Udomlap (Thailand) [Frog Paleozoic]
Source: Asia Championship Winter 2018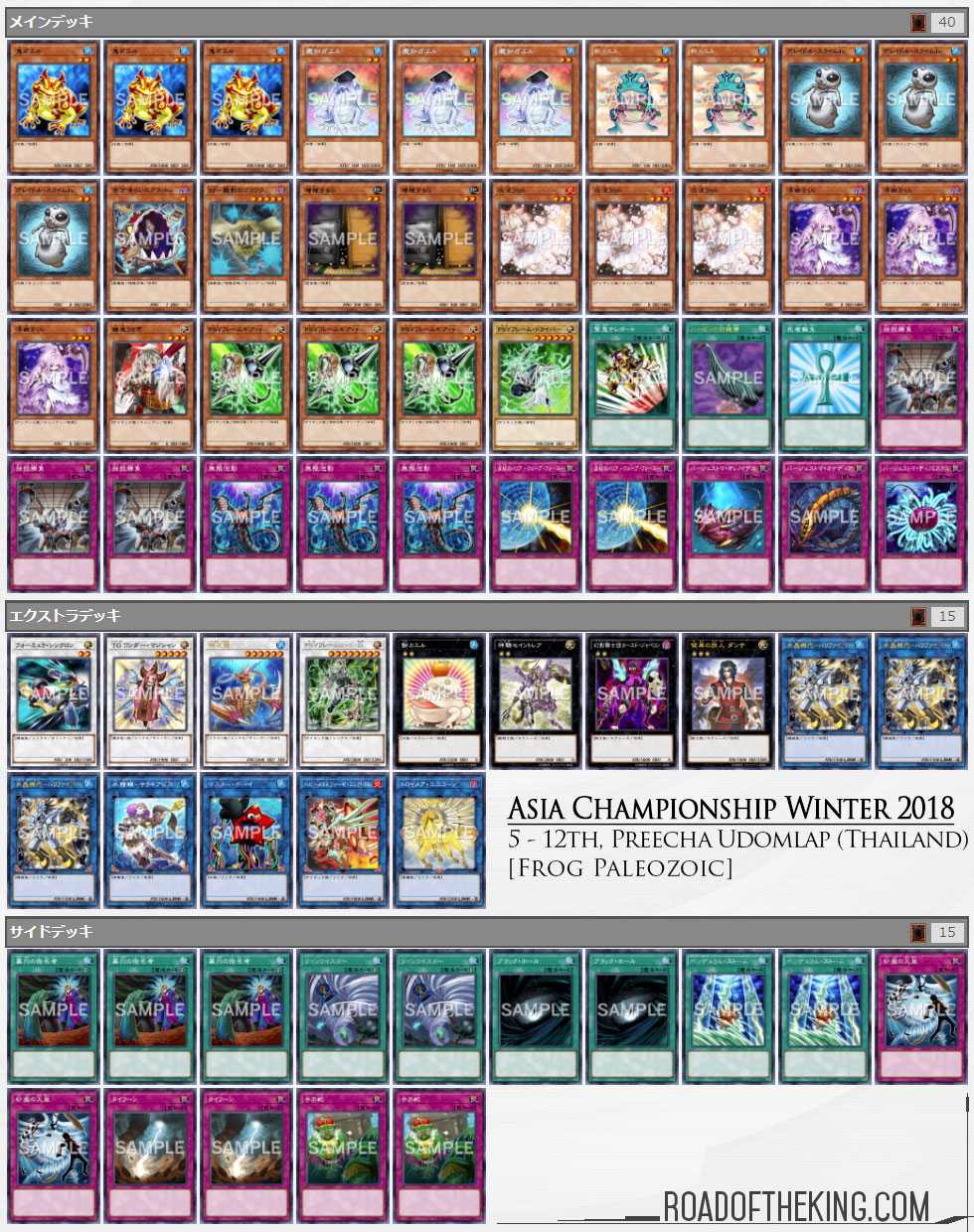 5 – 12th, Yu Bixuan (Singapore) [Performapal Magician]
Source: Asia Championship Winter 2018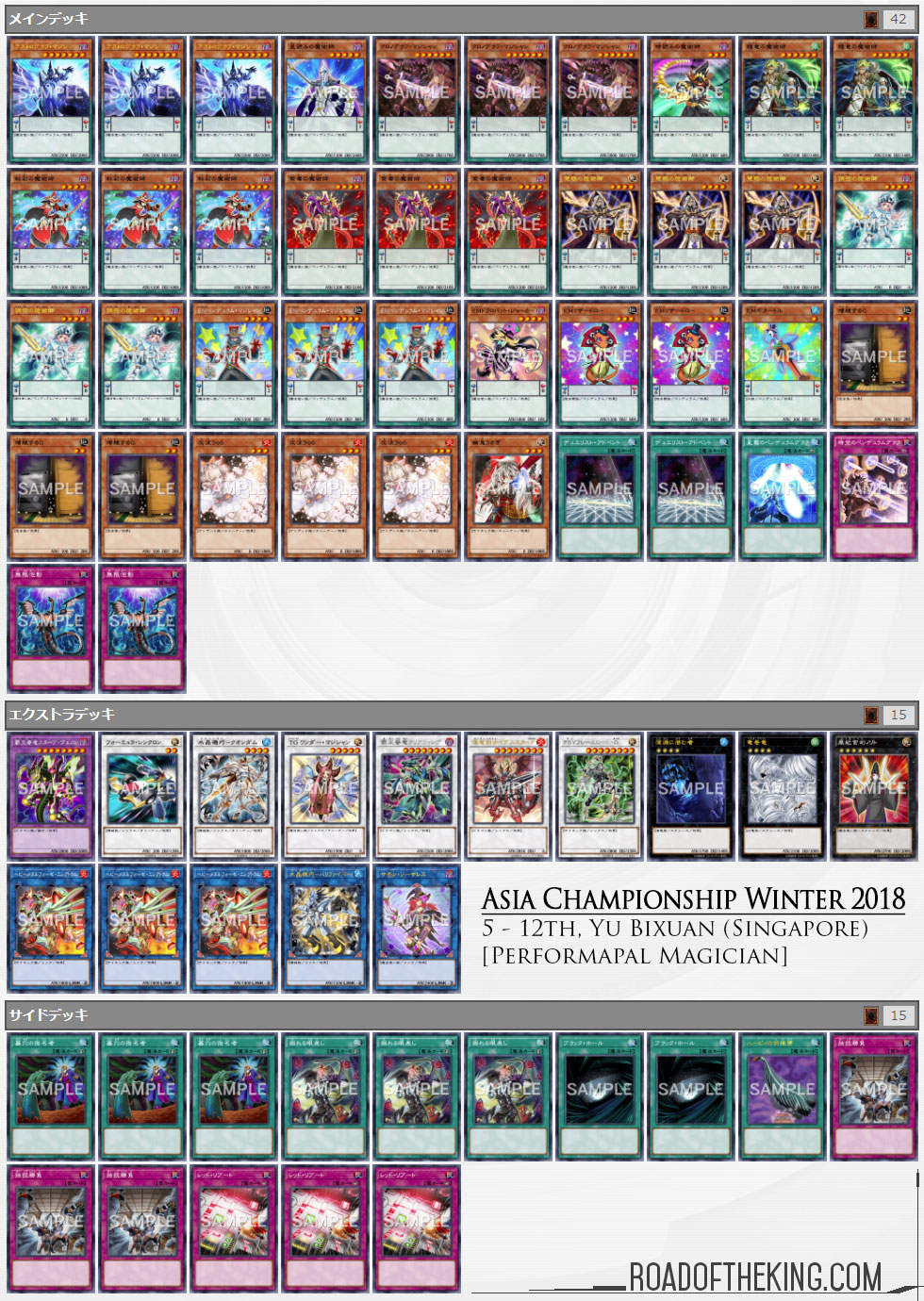 5 – 12th, Cheng Shi Yi (Malaysia) [Shiranui]
Source: Asia Championship Winter 2018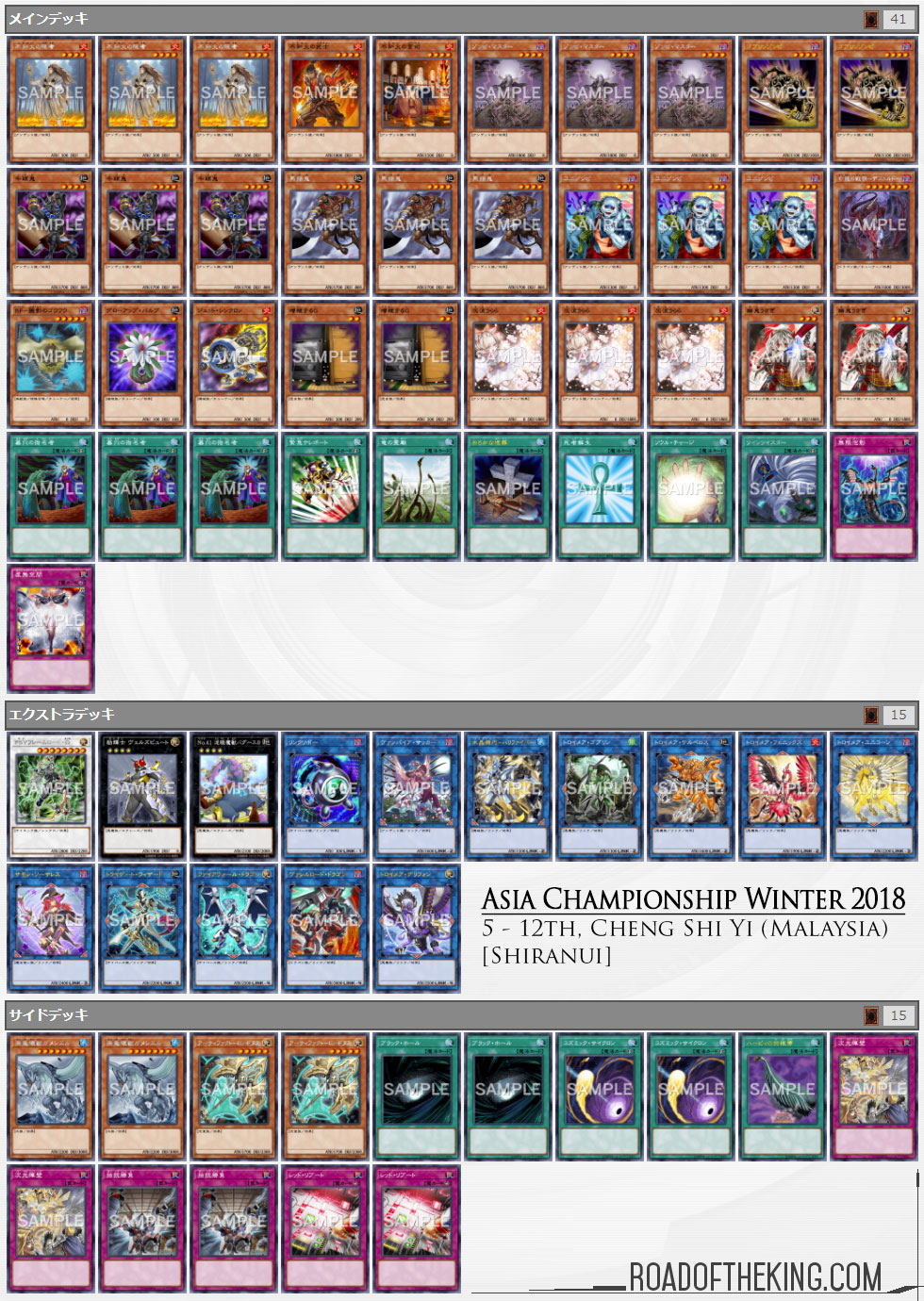 5 – 12th, Satanantana Rungnoppakunsi (Thailand) [Performapal Magician]
Source: Asia Championship Winter 2018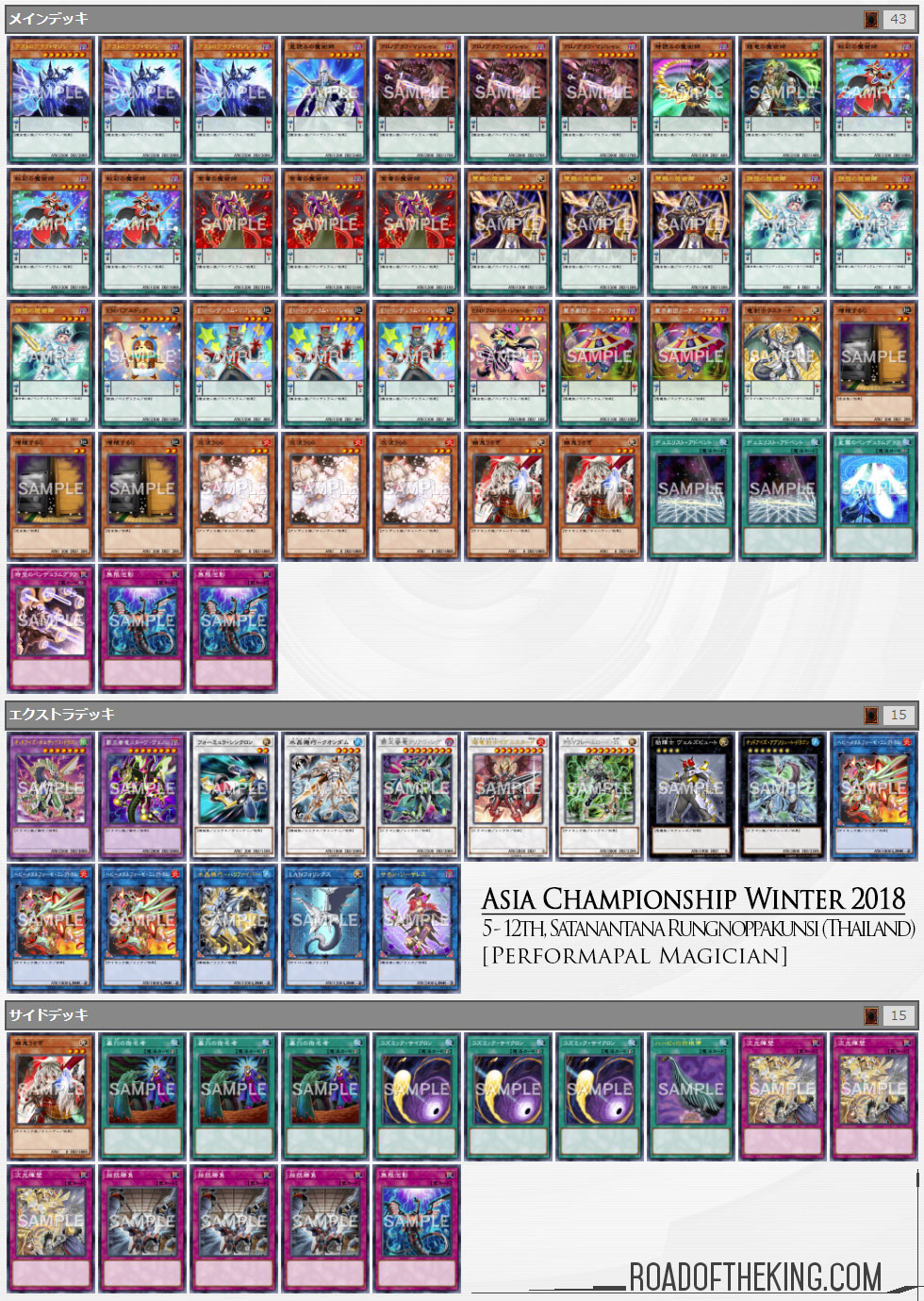 5 – 12th, Calvin Ang (Singapore) [Supreme King Magician]
Source: Asia Championship Winter 2018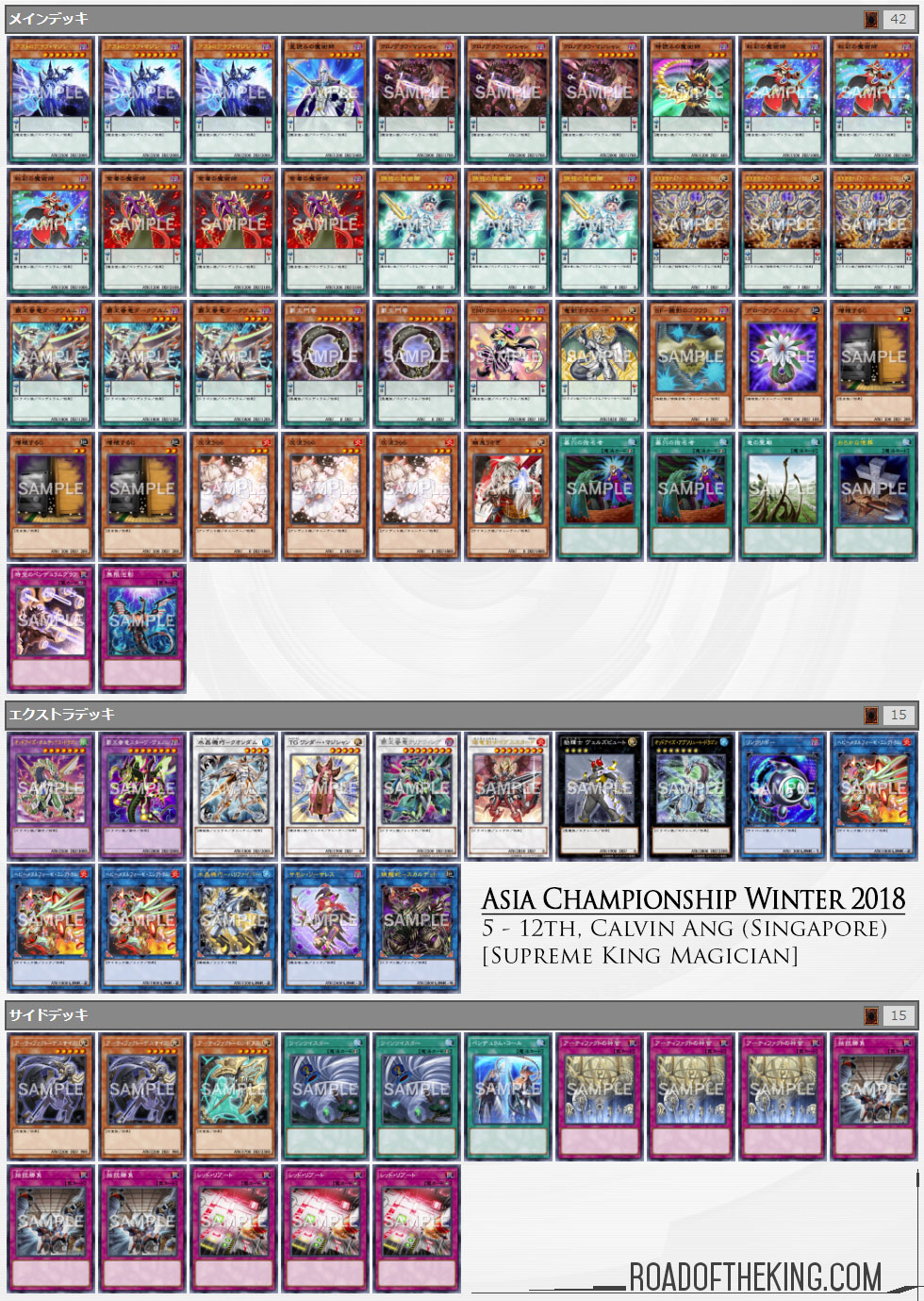 5 – 12th, Loo Wei Xuan (Malaysia) [Supreme King Magician]
Source: Asia Championship Winter 2018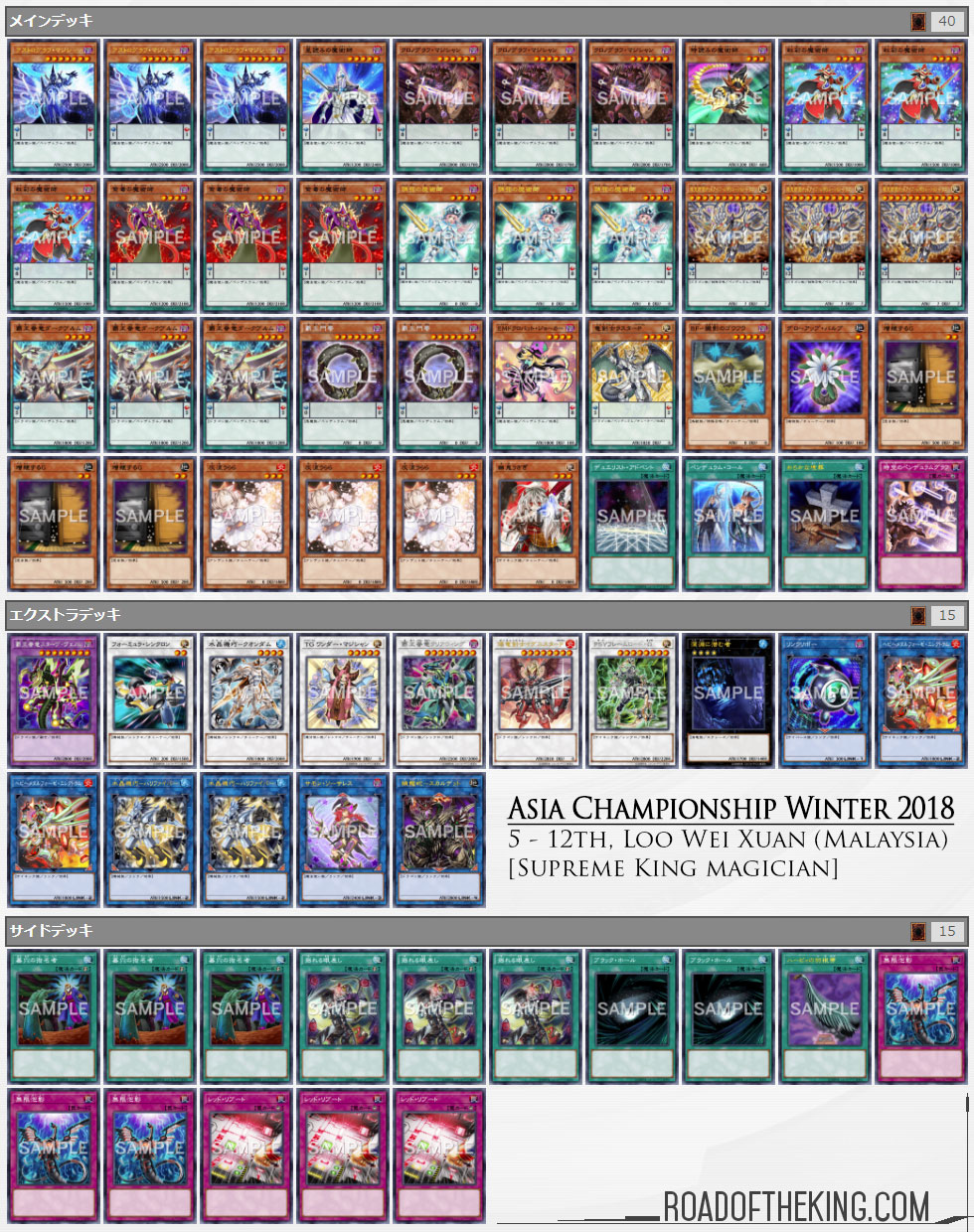 References