OCG 2018.10 Metagame Report #4
Welcome to Week #4 of the OCG 2018.10 format.
YOT Taiwan 2018.
This report will cover 66 top-performing decks from 12 tournaments that were held in Japan and Taiwan during 23 – 30 October 2018.
Metagame Breakdown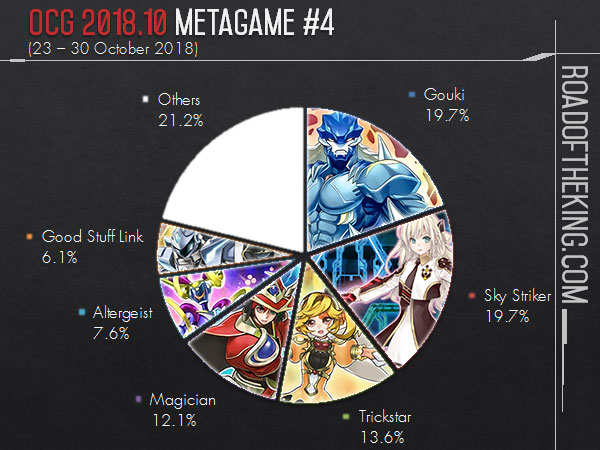 13 Gouki:

12 mono Gouki
1 Greener Gouki

13 Sky Striker
9 Trickstar
8 Magician
5 Altergeist
4 Good Stuff Link
2 Gandora-X FTK
2 Mekk-Knight
2 Subterror
2 Zombie
1 Dinosaur Thunder Dragon
1 Infernoid
1 Metalfoes Zefra
1 Meta Beat
1 Sky Striker Invoked
1 Thunder Dragon
Gouki
Wu Ting-En went 13-1 and finished 1st in "YOT Taiwan 2018" which had 403 participants.
Savage Strike has bolstered Gouki decks considerable with the addition of Neo Space Connector and Psychic Wheeleder.
Neo Space Connector is used to bring out Neo-Spacian Aqua Dolphin. This forces the opponent to use their Ash Blossom & Joyous Spring or it would be destroyed by Aqua Dolphin. While Ghost Ogre & Snow Rabbit can be chained to Aqua Dolphin to destroy it, Neo Space Connector could tribute itself to revive Aqua Dolphin. Ghost Belle & Haunted Mansion is often picked off by Aqua Dolphin.
To beat Gouki and their Extra Link, The Winged Dragon of Ra – Sphere Mode is one of the most popular Side Deck choice, especially in the mirror match. As Sphere Mode is a Normal Summon, it would not be impeded by the effect of Knightmare Corruptor Iblee. Sphere Mode also has ? ATK, and that meant that Aqua Dolphin is unable to select and destroy it while it is in hand.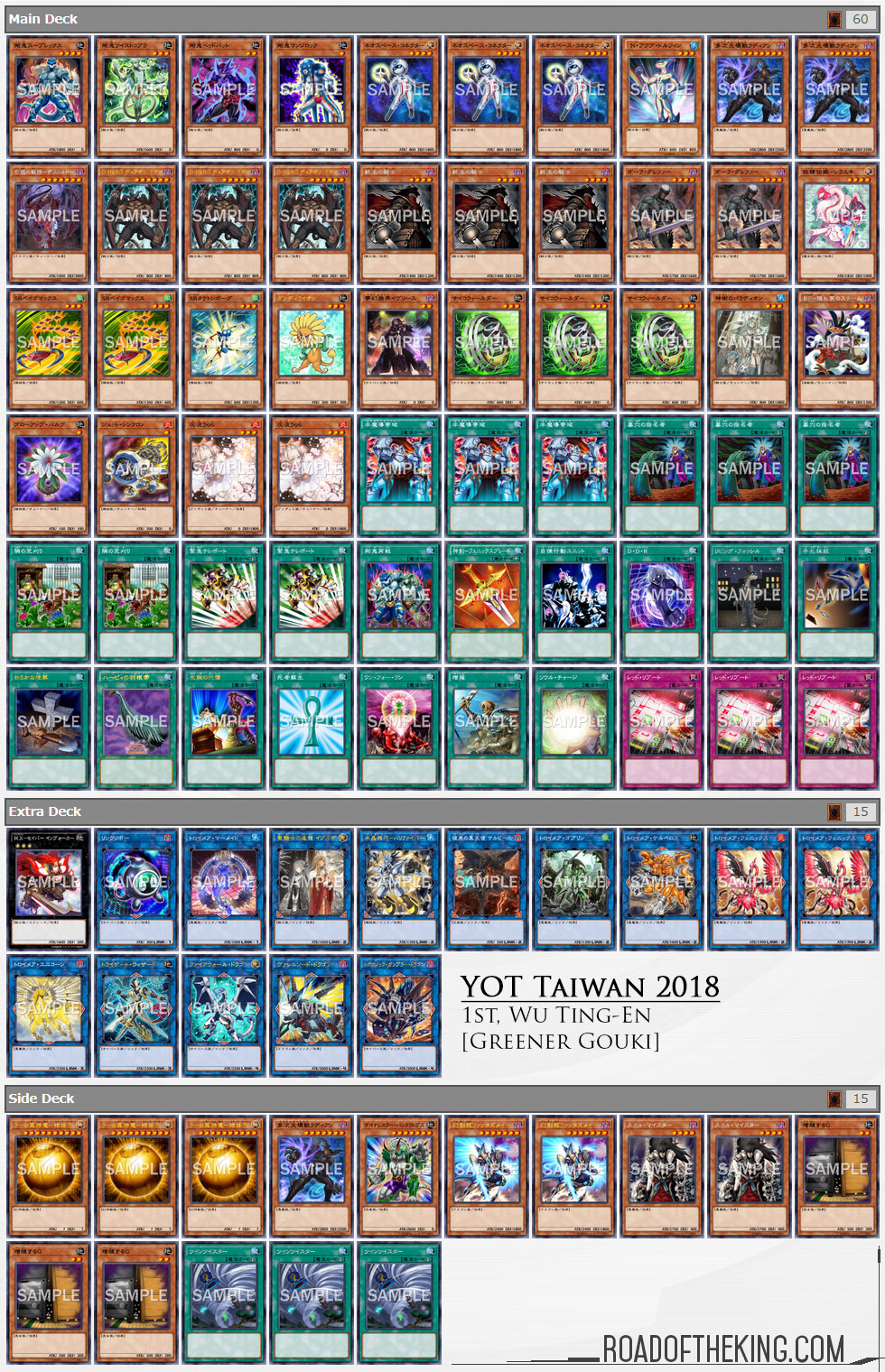 Sky Striker
Garosu (ガロス) went 8-1 (including 1 bye) and finished 3rd in "Orbis Cup in Takatsuki with Hatti CS" which had 61 participants.
Running 3 Sky Striker Mecha Modules – Multirole is trending recently as an out to Fantastical Dragon Phantazmay.
Phantazmei has a negation effect against targeting effects, making it a very problematic monster for Sky Striker to deal with. After activating Multirole's first effect, the opponent will be unable to respond with Phantazmei's effect against your spells such as Sky Striker Mecha – Widow Anchor or Sky Striker Maneuver – Afterburners!.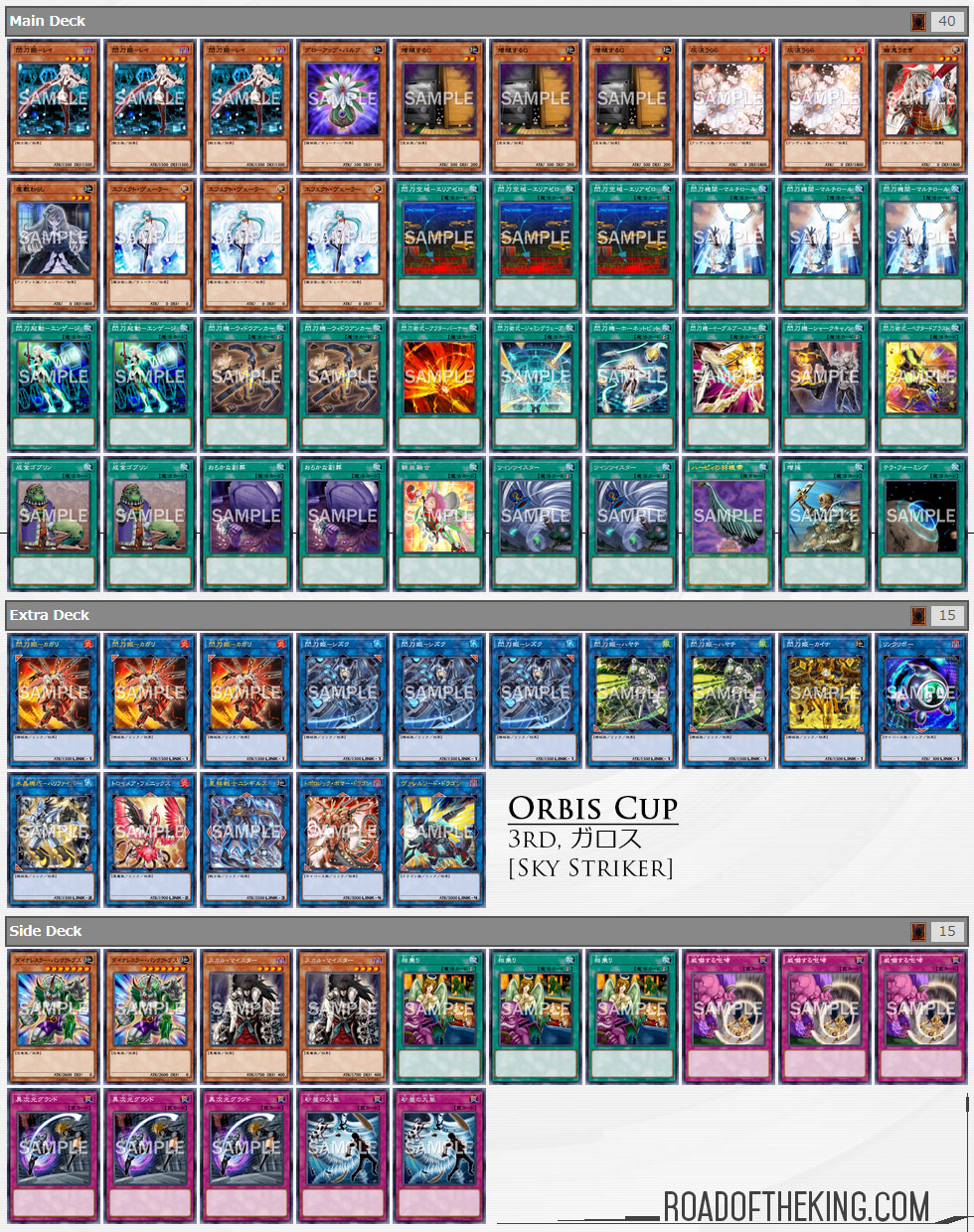 Trickstar
Hsu Fang-Wei went 7-0 and finished 2nd in YOT Taiwan 2018 Asia Premier which had 205 participants.
With the rising popularity of Gouki, running Inspector Boarder in the Main Deck is a reasonable tech that could steal a win from Gouki in Game 1 when they have no answer in their Main Deck.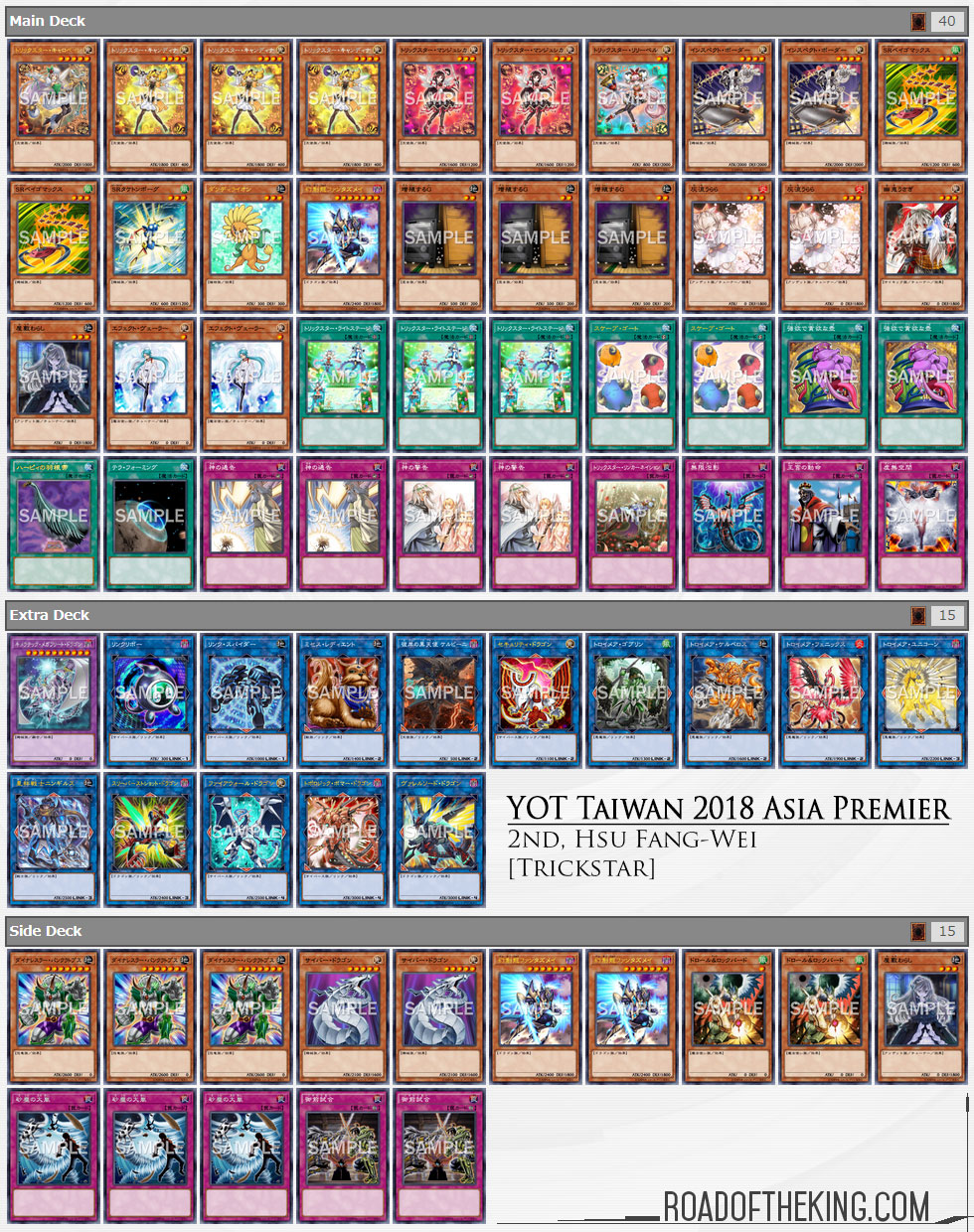 Magician
Ryuto (りゅーと) went 8-1 and finished 1st in "Orbis Cup in Takatsuki with Hatti CS" which had 61 participants.
Borreload Savage Dragon, the cover card of Savage Strike, is a strong addition to Magician.
When Borreload Savage Dragon is Synchro Summoned, it would equip Heavymetalfoes Electrumite to itself, giving itself 2 Borrel Counters for negating cards or effects.
Combined with Mist Valley Apex Avian, this double negation opening setup is extremely difficult to break.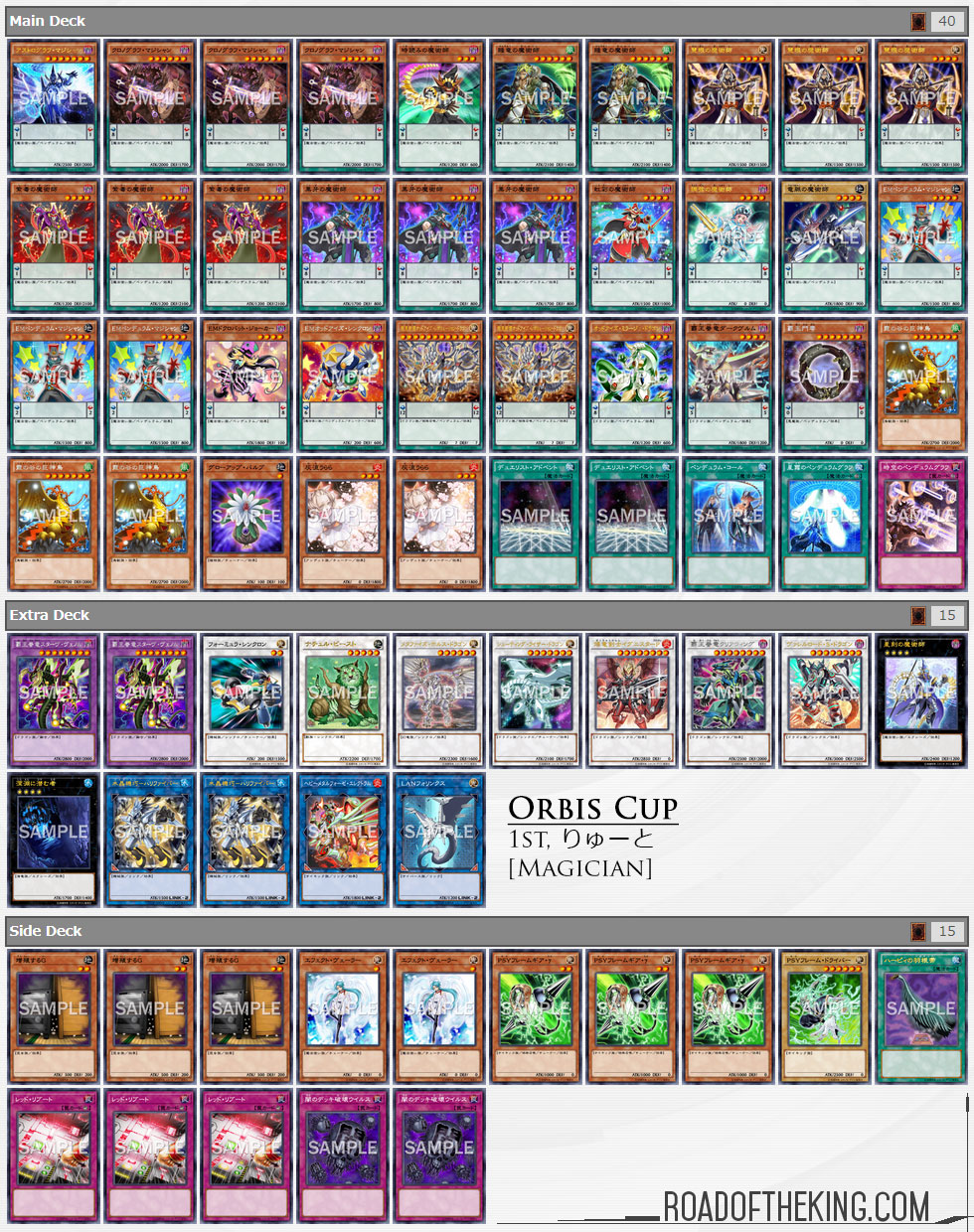 Conclusion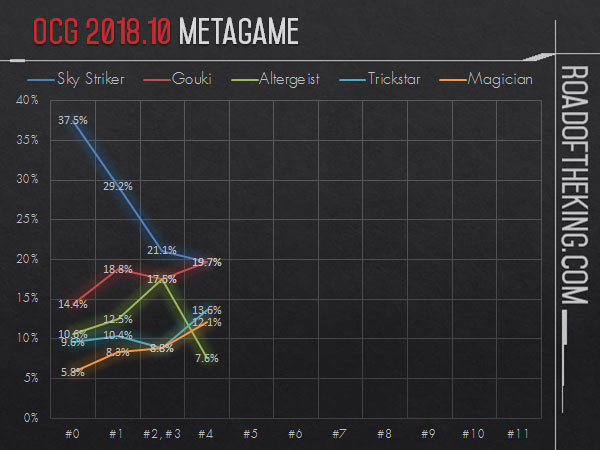 The popularity of Sky Striker continues to drop. While Sky Striker is still one of the more popular deck, it is no longer the clear cut winner.
Gouki has been doing considerable well and has caught up to Sky Striker in performance.
Trickstar, Magician and Altergeist are also strong contenders in the current competitive scene.
The biggest surprise of this week would have to be the Zombie deck based on Structure Deck R: Undead World going 11-3 to finish 2nd in YOT Taiwan 2018.
If you enjoyed these Weekly Metagame Reports, do consider supporting Road of the King on Patreon. Thank you.
References