YOT Singapore 2019
YOT Singapore 2019 was held on 5 – 6 October 2019. There were over 340 participants in the main event and 289 participants in the Asia Premier.
YOT Singapore 2019
1st
Louren Vidad
Thunder Dragon
2nd
Liu Quan
Magician
3 – 4th
Chueh Hao Hsuan
Trickstar Orcust
Li Jin
Endymion Zefra
5 – 8th
Mok Hou Teng
Danger Orcust
Truong Van Thang
Salamangreat
Chan Ka Chon
Danger Orcust
Ng Kei Sum
Trickstar
1st, Louren Vidad (Philippines) [Thunder Dragon]
Source: Yu-Gi-Oh! Events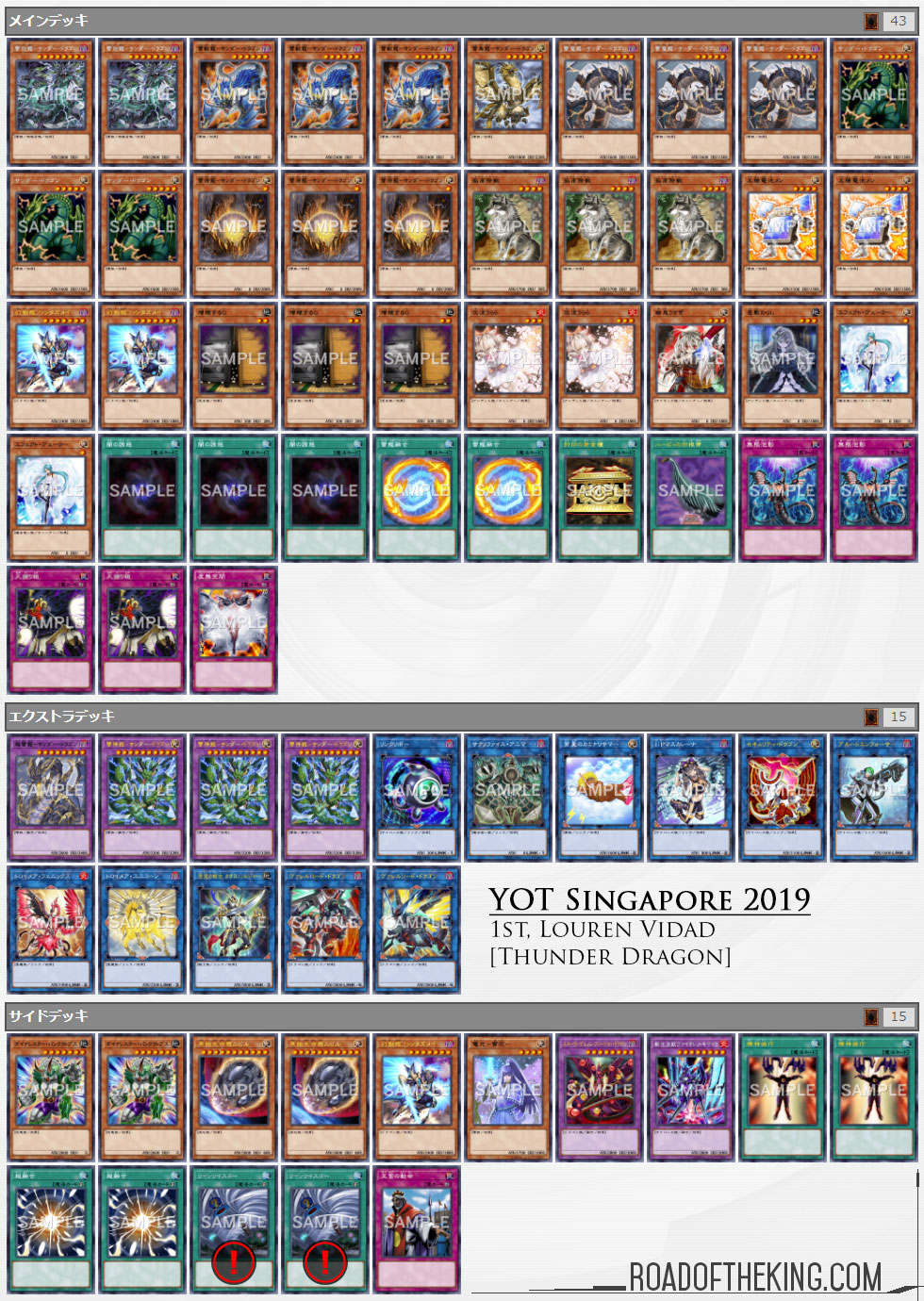 *The player made a Deck List Error of not registering 2 Twin Twisters in the Side Deck, and had to continue playing with 13 cards in the Side Deck.
2nd, Liu Quan (China) [Magician]
Source: Yu-Gi-Oh! Events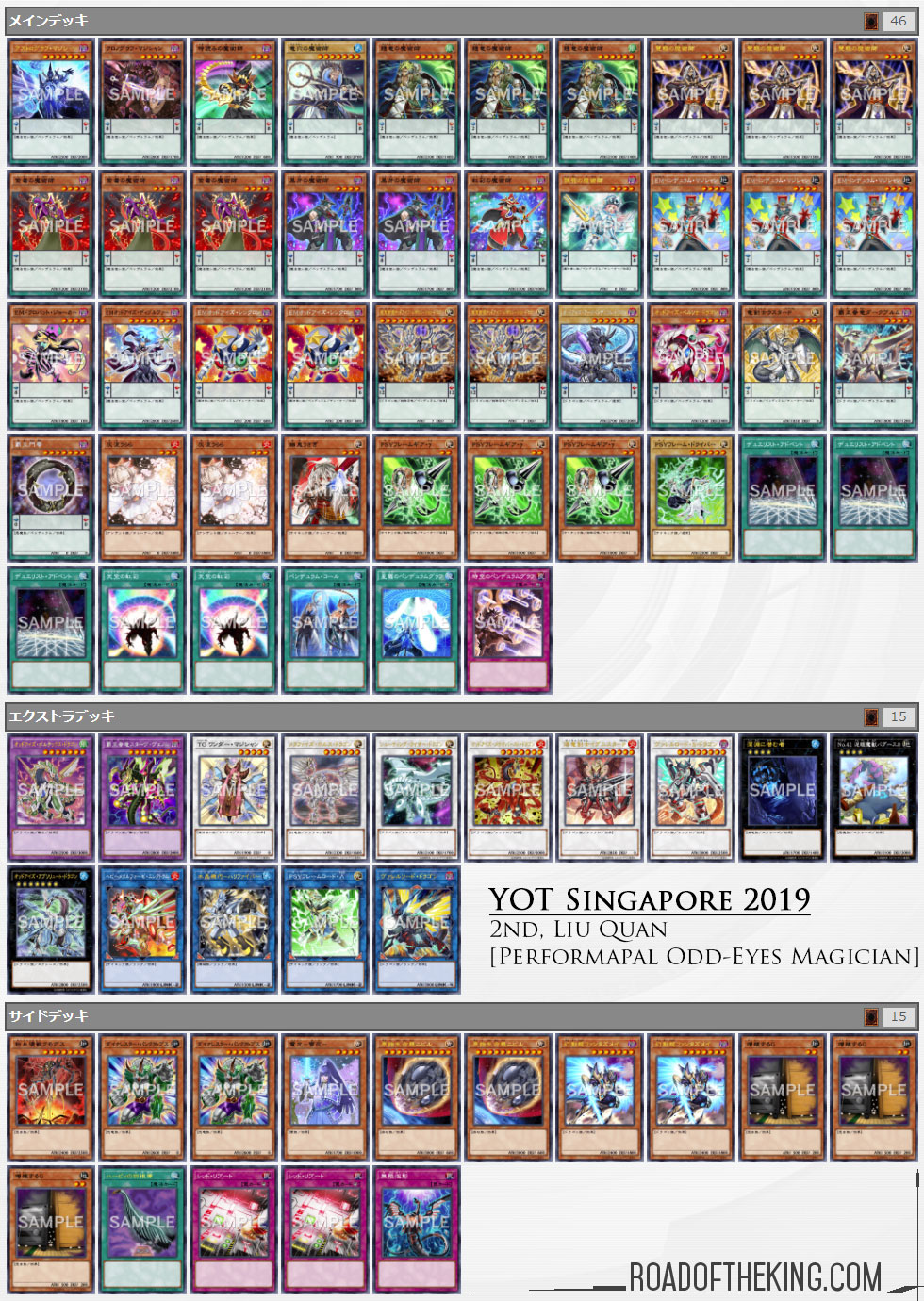 3 – 4th, Chueh Hao Hsuan (Taiwan) [Trickstar Orcust]
Source: Yu-Gi-Oh! Events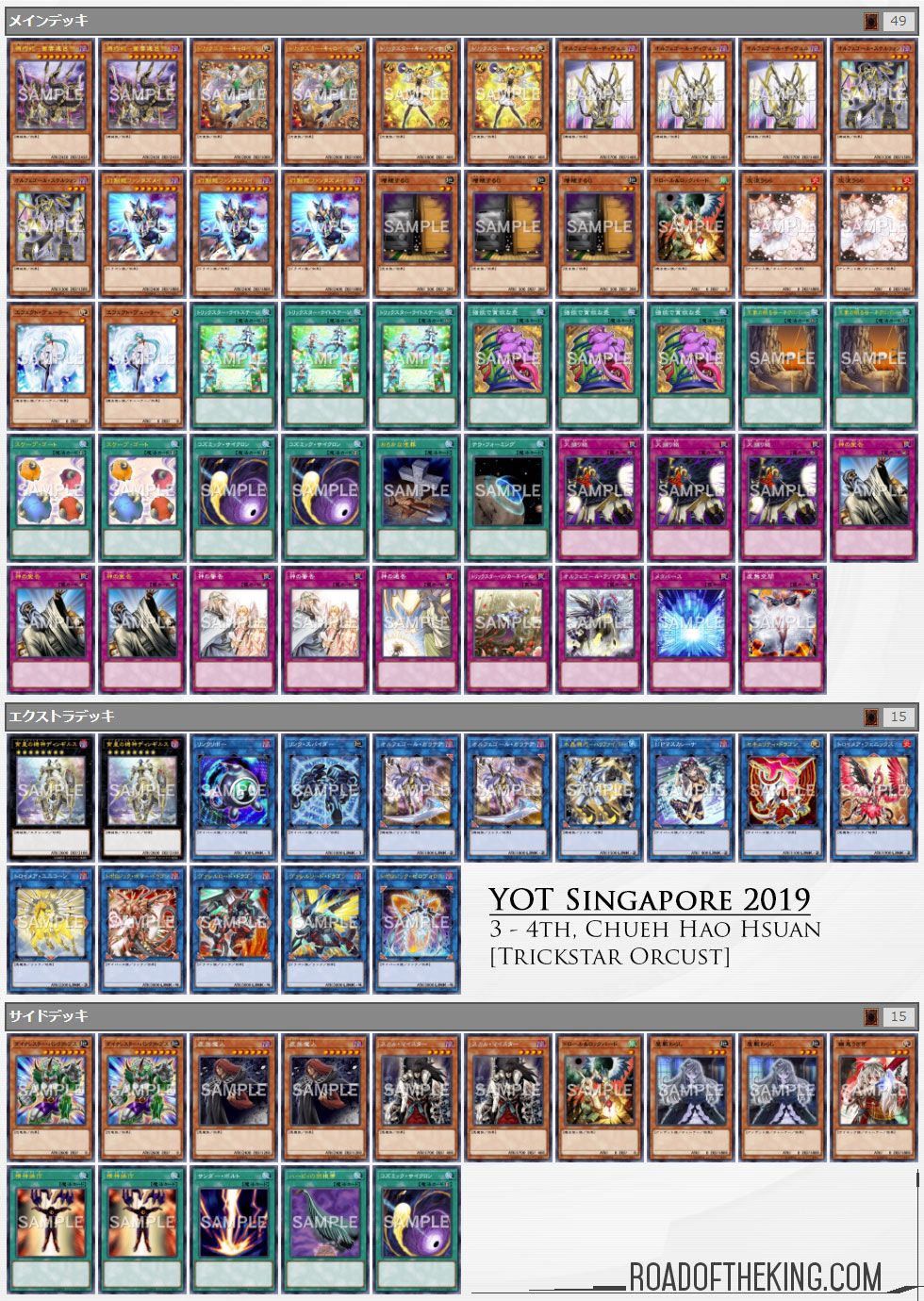 3 – 4th, Li Jin (Taiwan) [Endymion Zefra]
Source: Yu-Gi-Oh! Events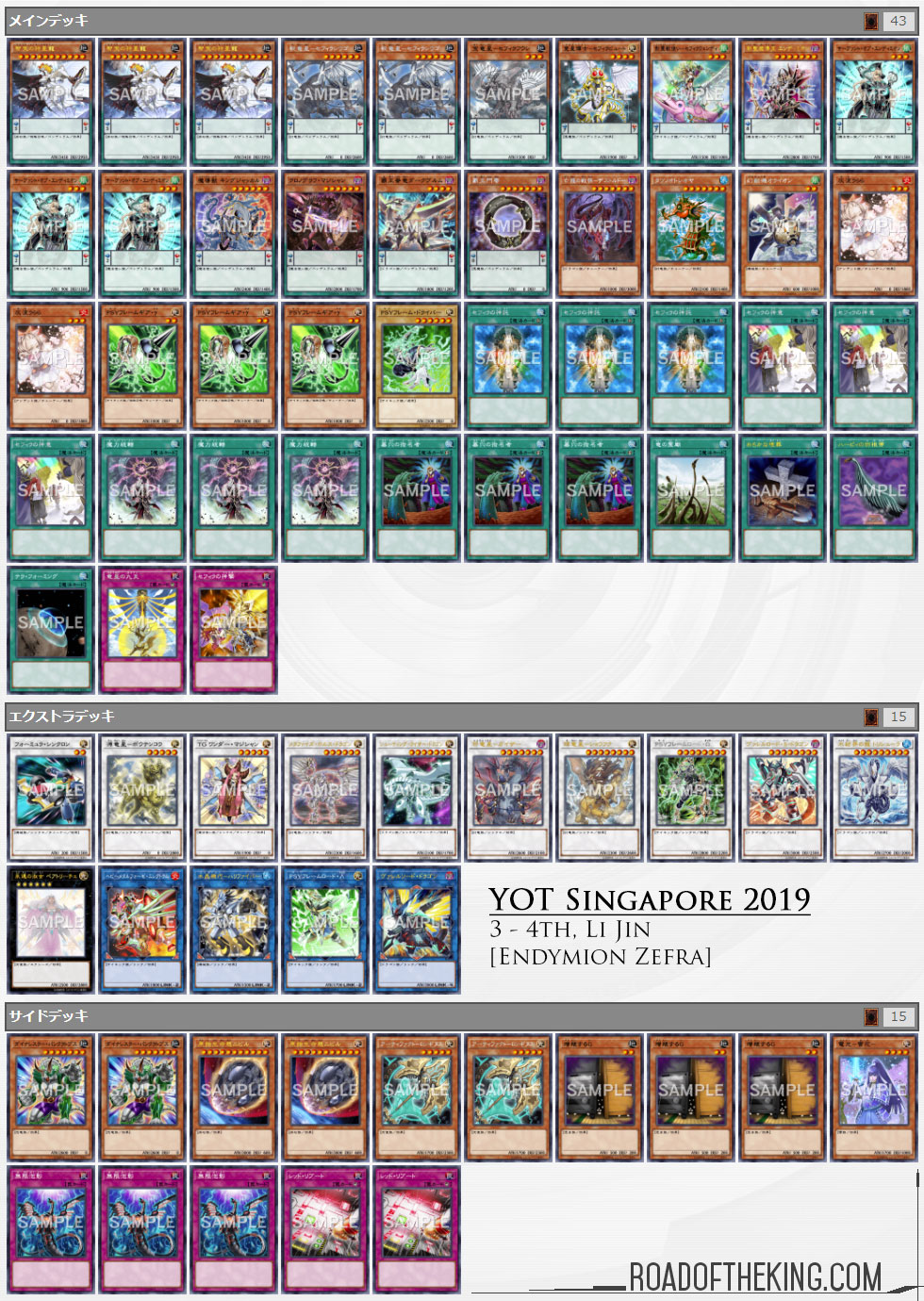 5 – 8th, Mok Hou Teng (Macau) [Danger Orcust]
Source: Yu-Gi-Oh! Events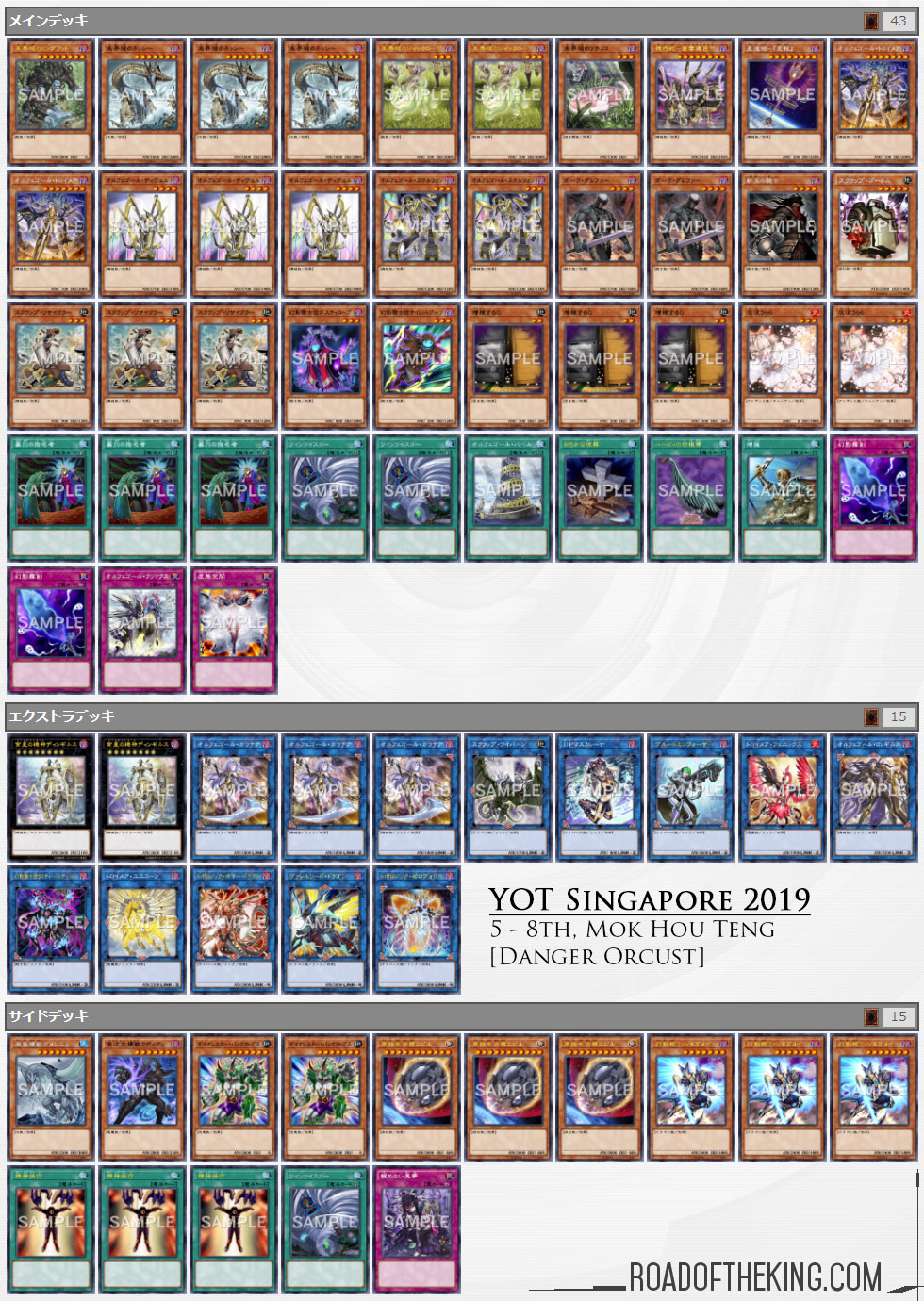 5 – 8th, Truong Van Thang (Vietnam) [Salamangreat]
Source: Yu-Gi-Oh! Events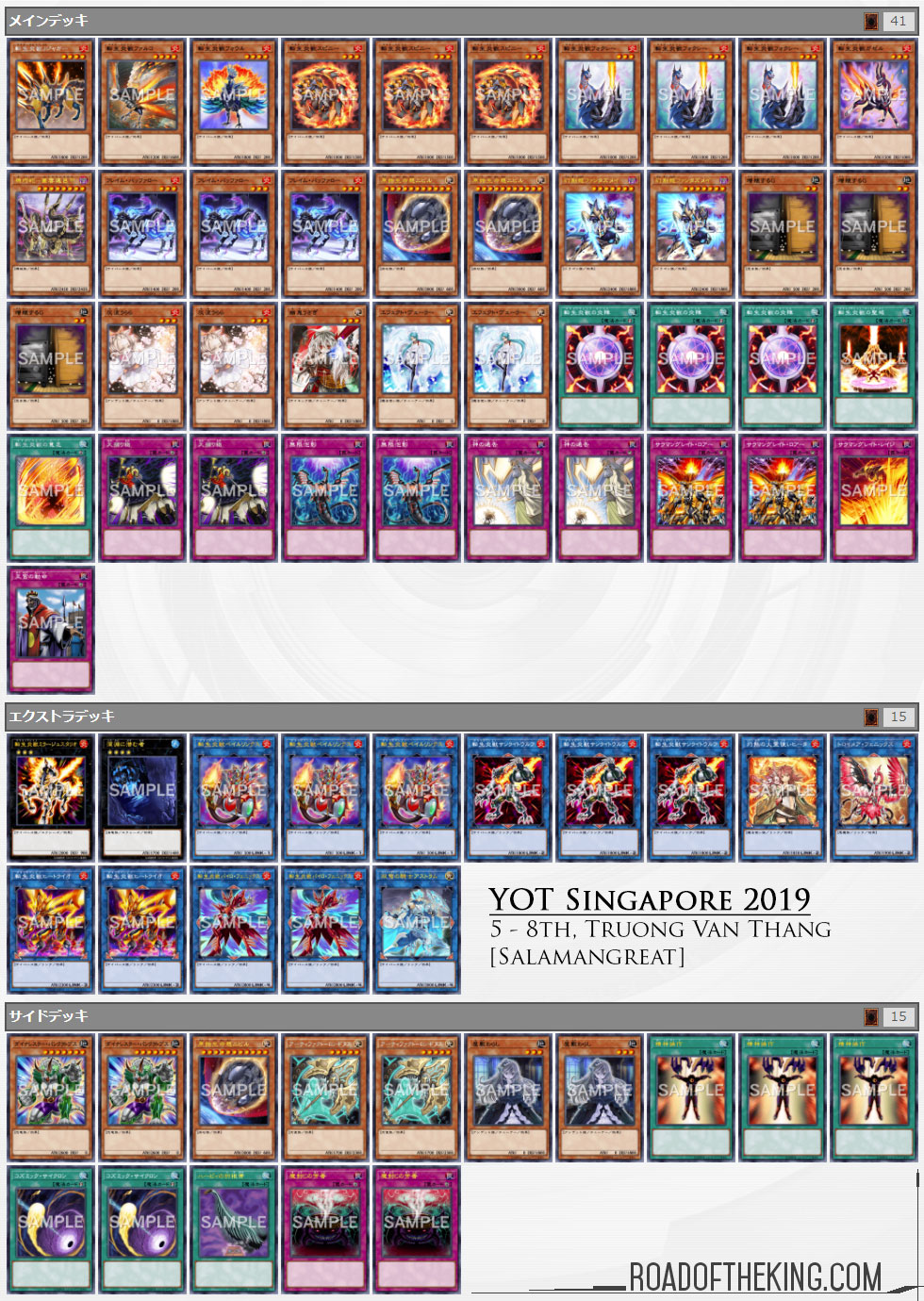 5 – 8th, Chan Ka Chon (Macau) [Danger Orcust]
Source: Yu-Gi-Oh! Events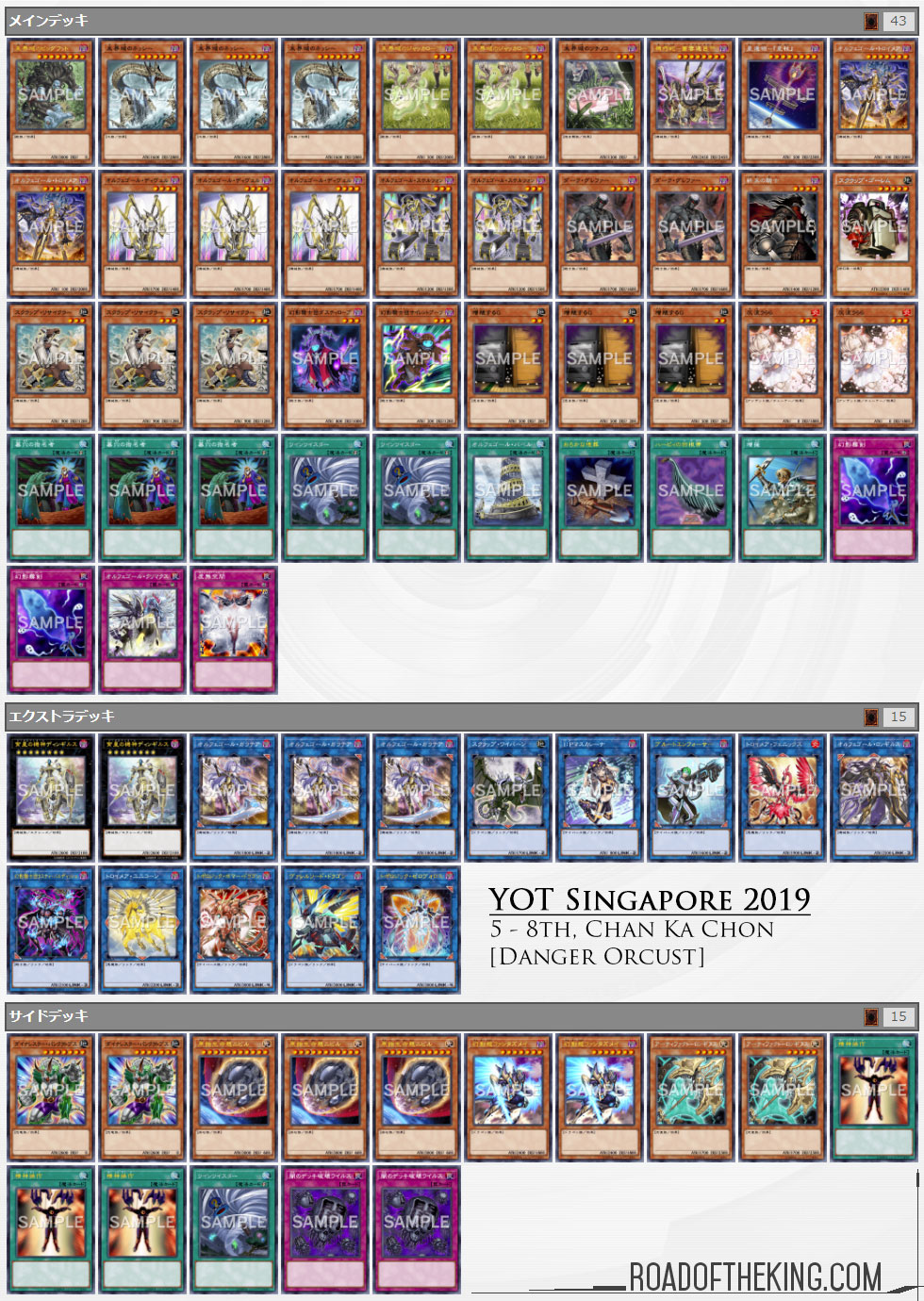 5 – 8th, Ng Kei Sum (Hong Kong) [Trickstar]
Source: Yu-Gi-Oh! Events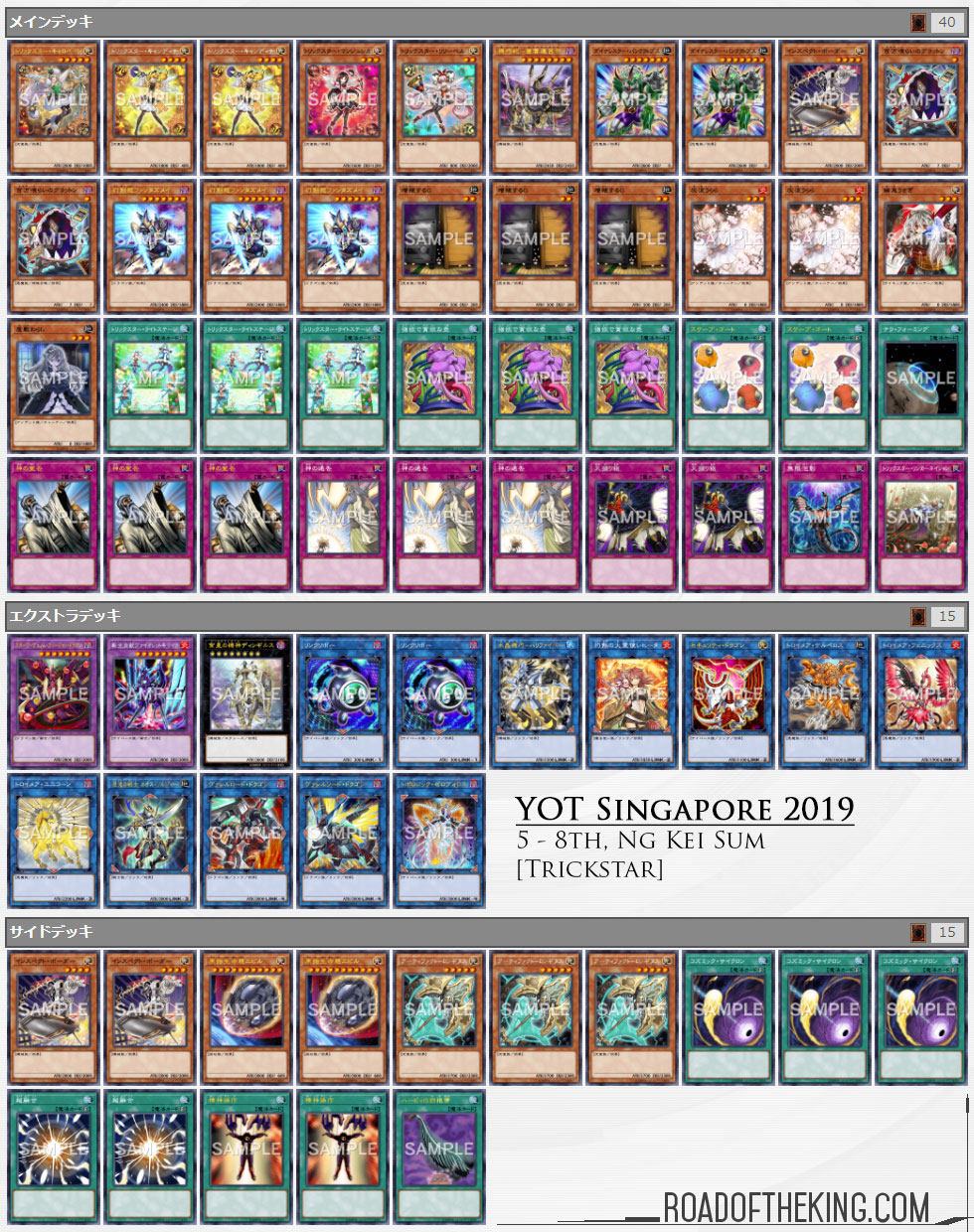 YOT Singapore 2019 Asia Premier
| | | |
| --- | --- | --- |
| 1st | Nattapoom Sangsatitham | Danger HERO Orcust |
| 2nd | Chiu Yu Tang | Sky Striker |
| 3rd | Huang Shin En | Salamangreat |
| 4th | Dexter Neil Veloria | SPYRAL |
| 5th | Ip San | Trickstar Orcust |
| 6th | Dennis Chong Mun Hong | Danger Orcust |
| 7th | Tan Jia Heng | Salamangreat |
| 8th | Veeravarodom Pongsakorn | Altergeist |
1st, Nattapoom Sangsatitham (Thailand) [Danger HERO Orcust]
Source: Yu-Gi-Oh! Events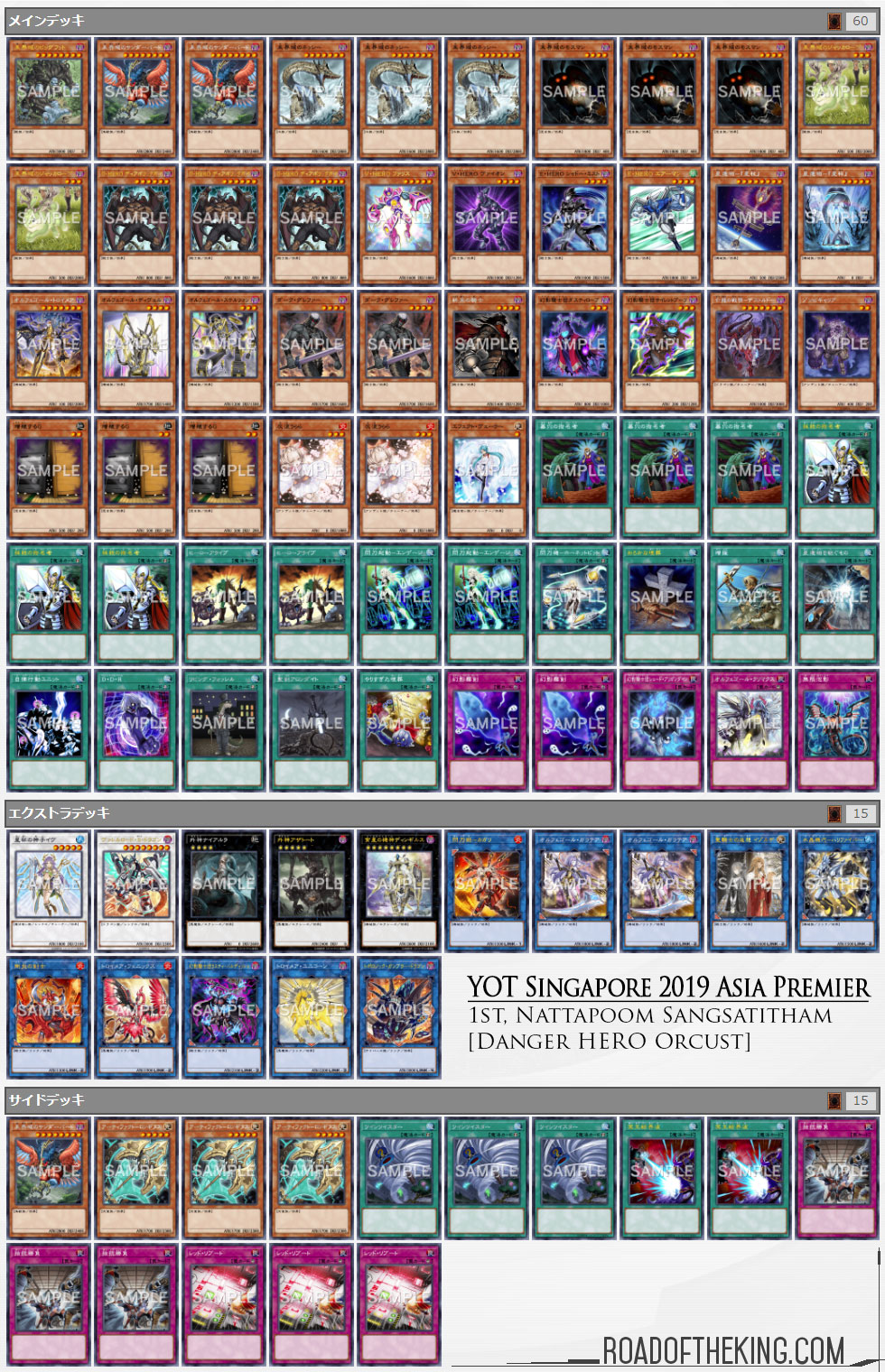 2nd, Chiu Yu Tang (Taiwan) [Sky Striker]
Source: Yu-Gi-Oh! Events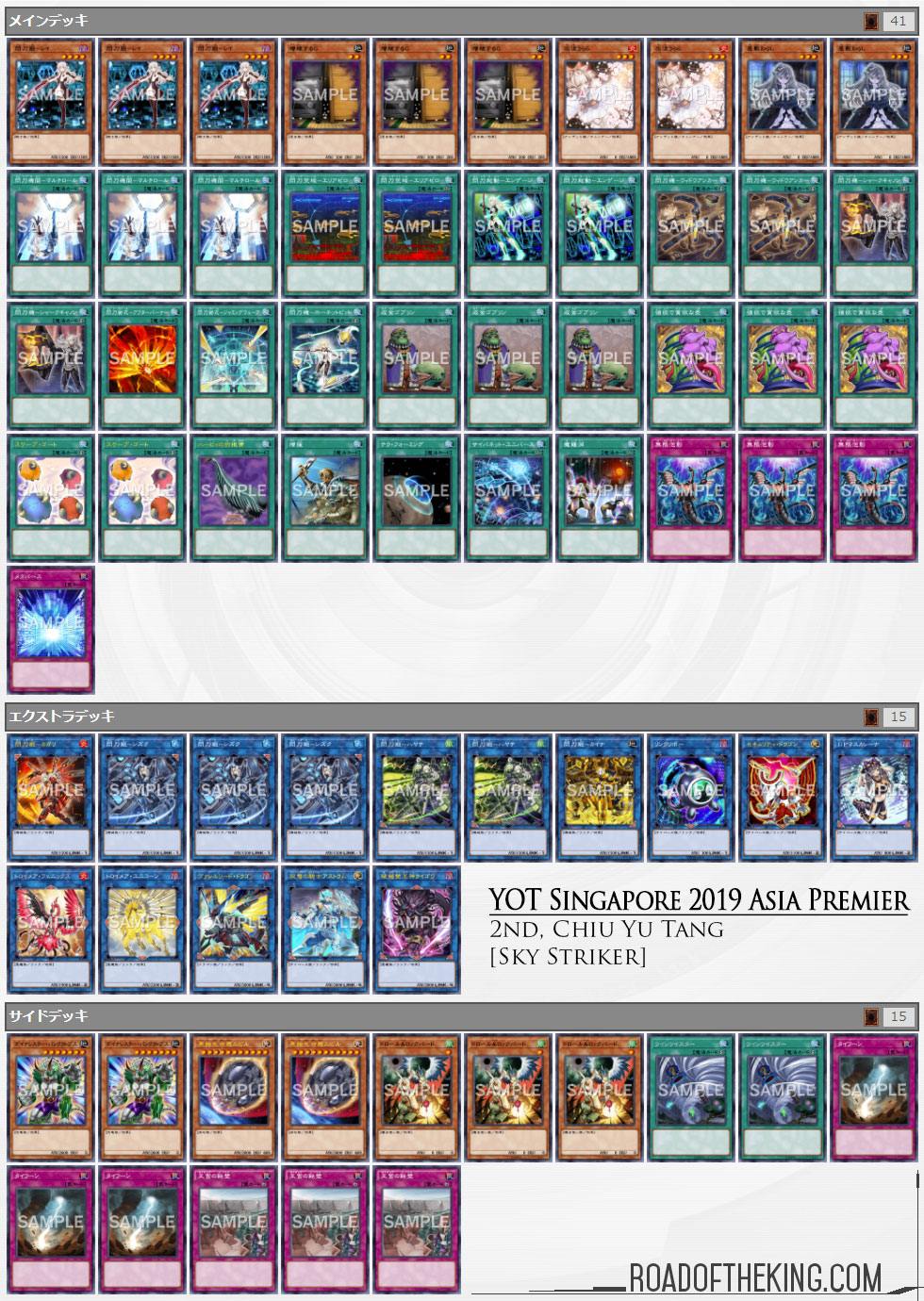 3rd, Huang Shin En (Taiwan) [Salamangreat]
Source: Yu-Gi-Oh! Events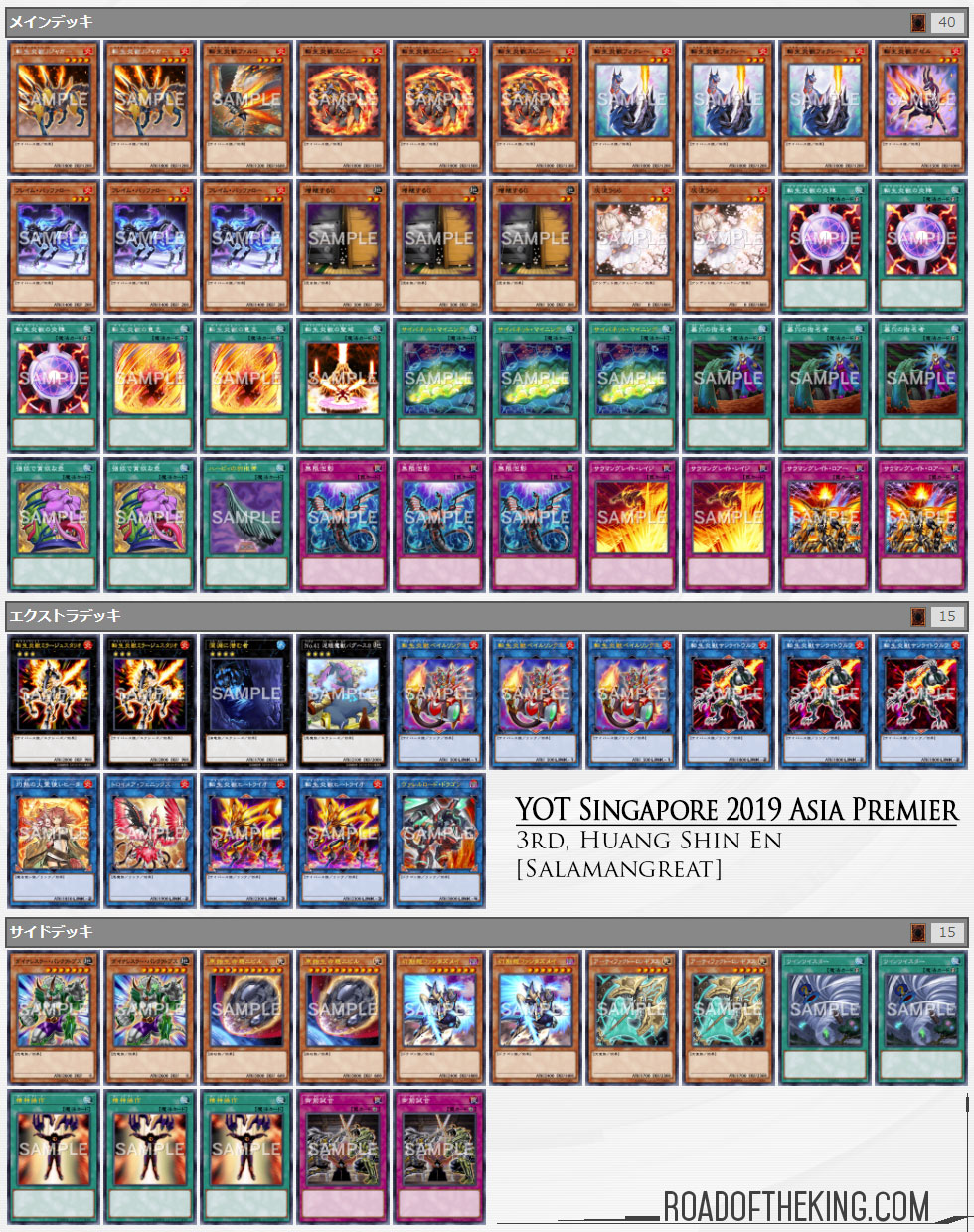 4th, Dexter Neil Veloria (Philippines) [SPYRAL]
Source: Yu-Gi-Oh! Events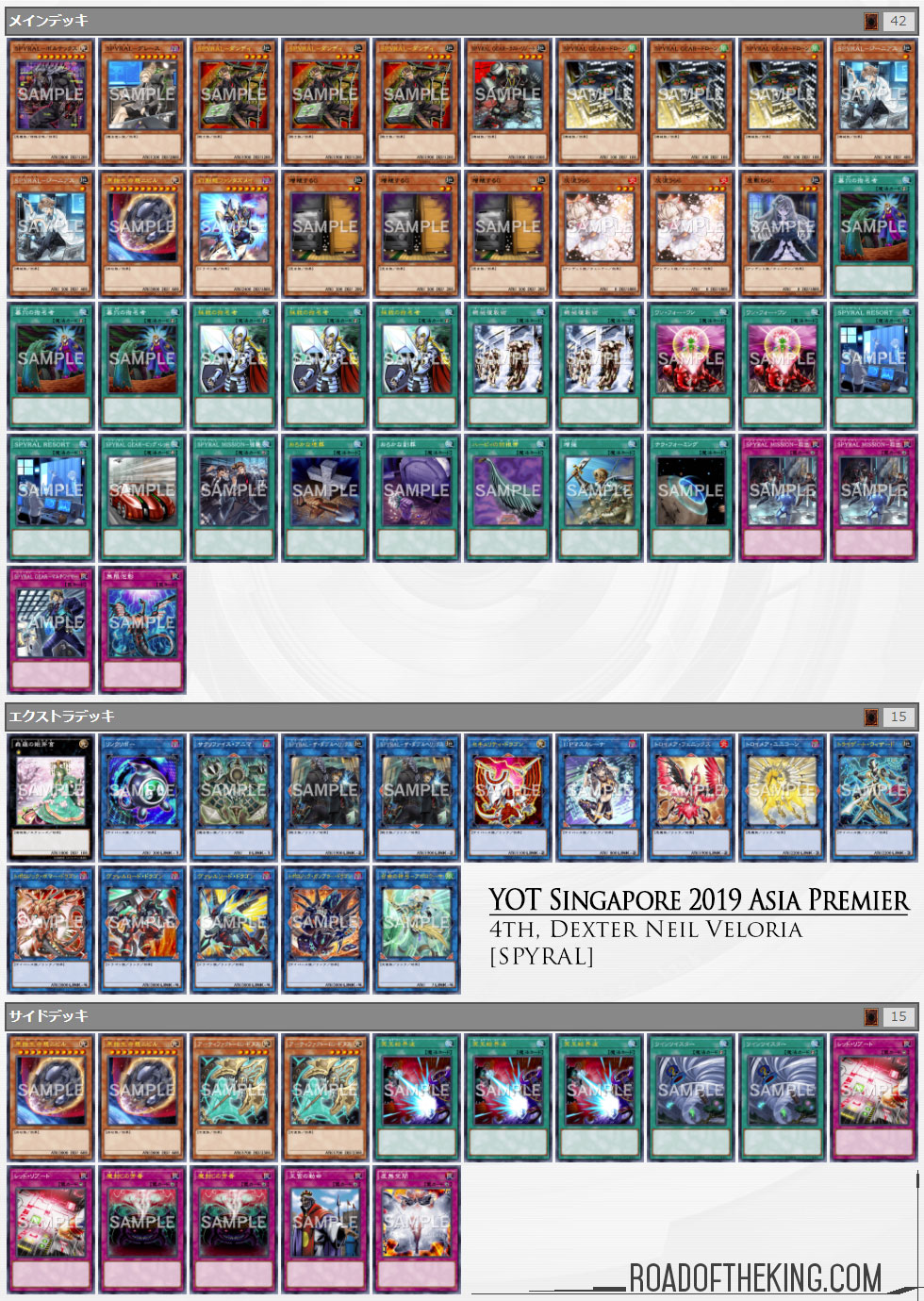 5th, Ip San (Macau) [Trickstar Orcust]
Source: Yu-Gi-Oh! Events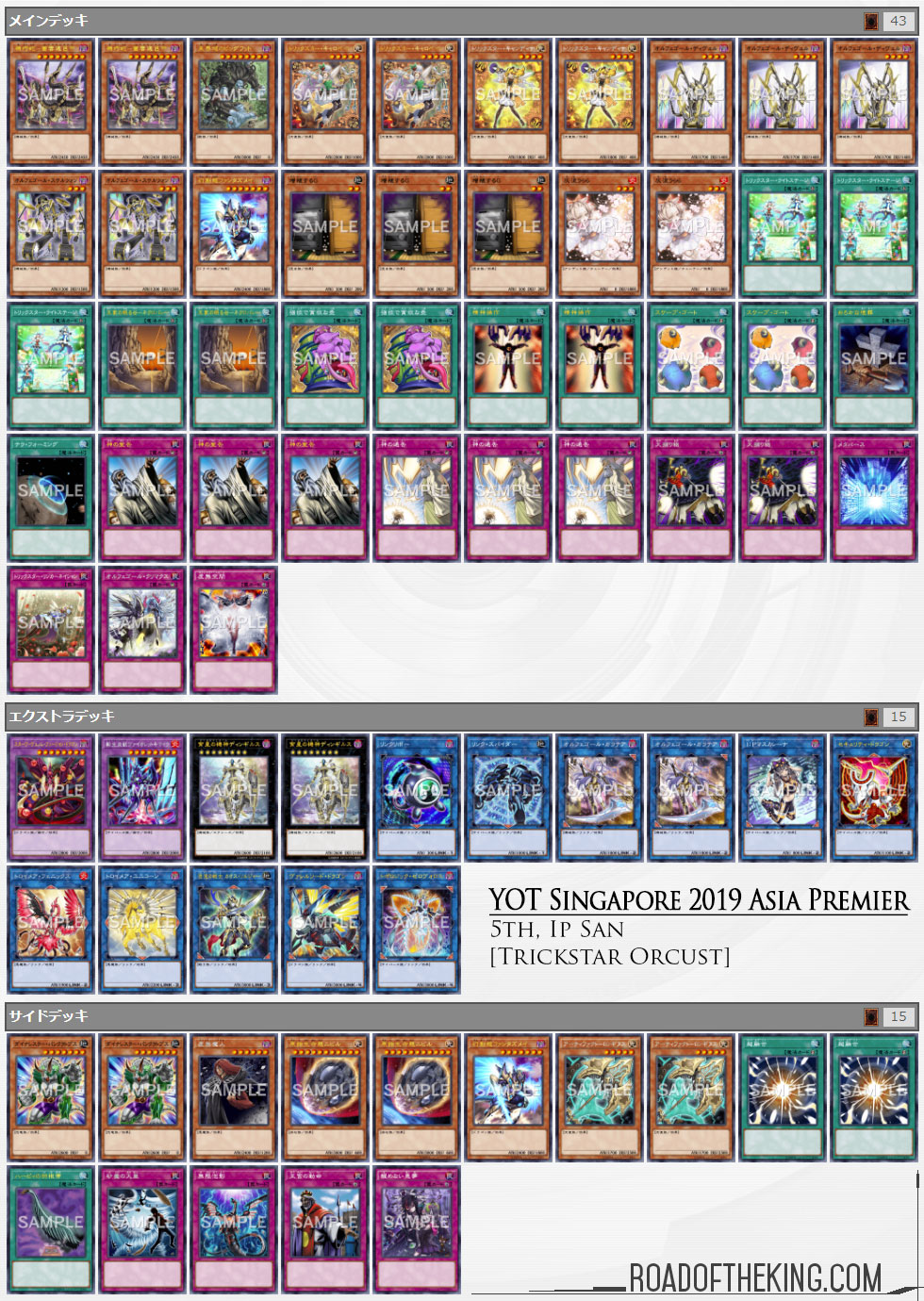 6th, Dennis Chong Mun Hong (Malaysia) [Danger Orcust]
Source: Yu-Gi-Oh! Events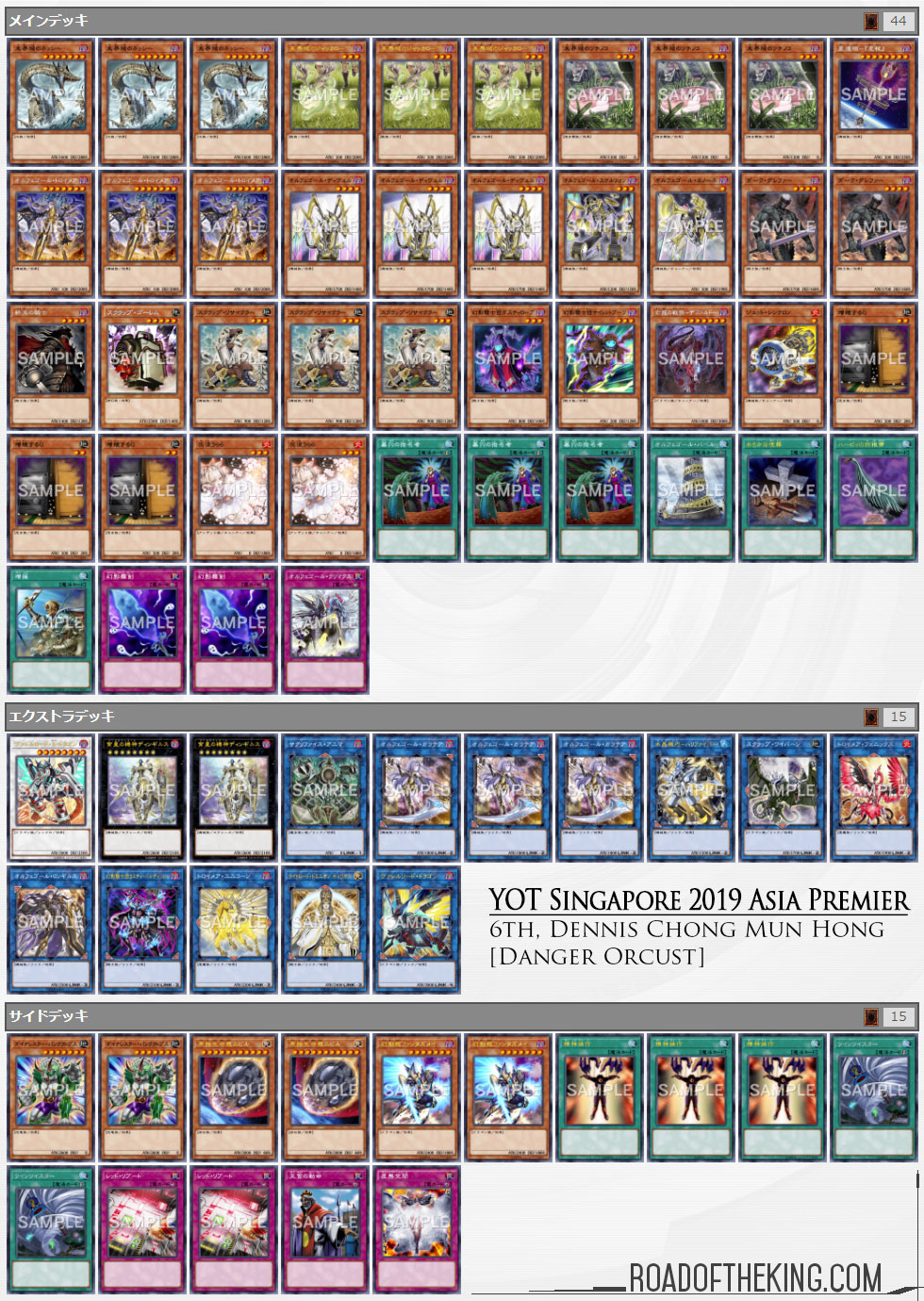 7th, Tan Jia Heng (Singapore) [Salamangreat]
Source: Yu-Gi-Oh! Events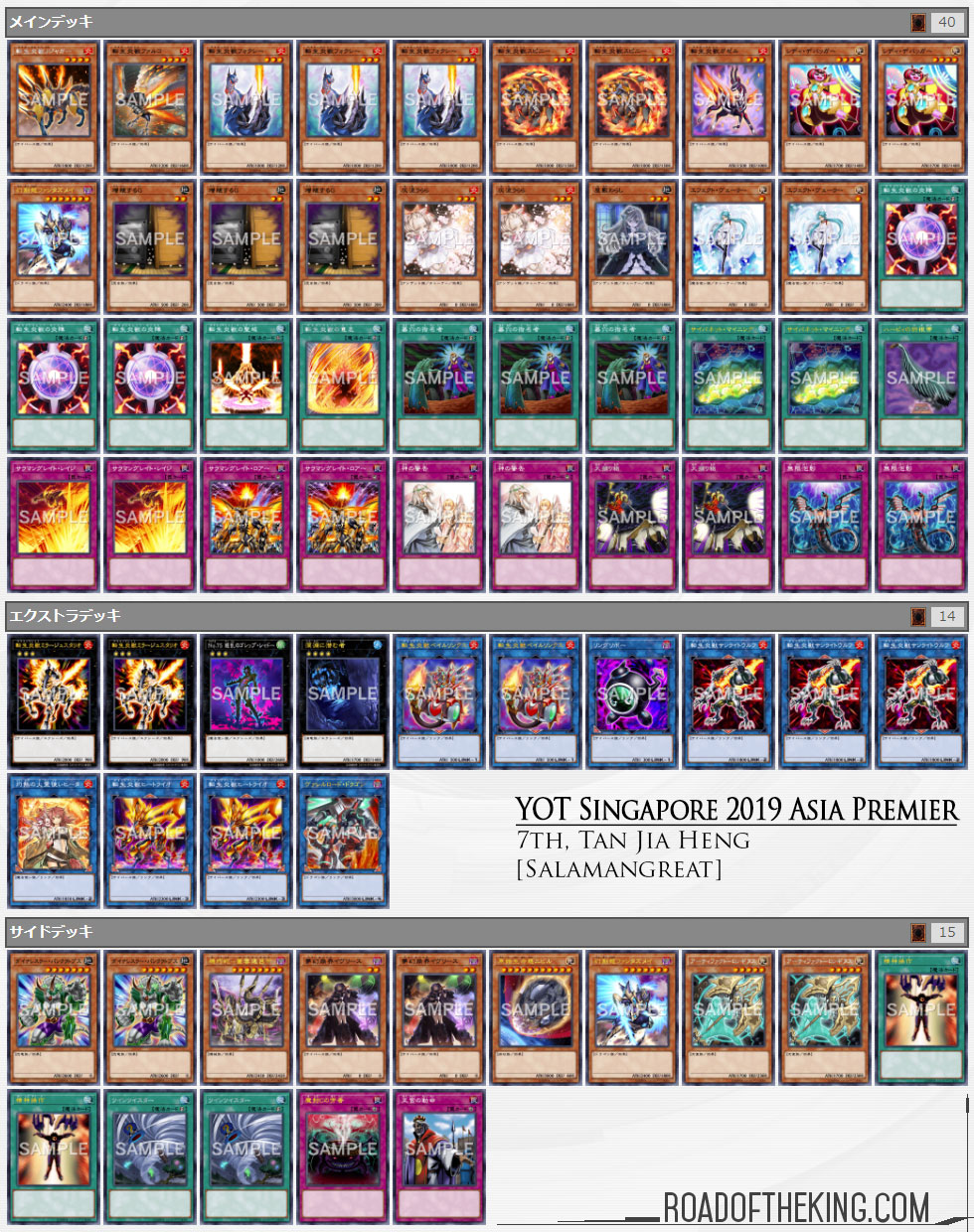 8th, Veeravarodom Pongsakorn (Thailand) [Altergeist]
Source: Yu-Gi-Oh! Events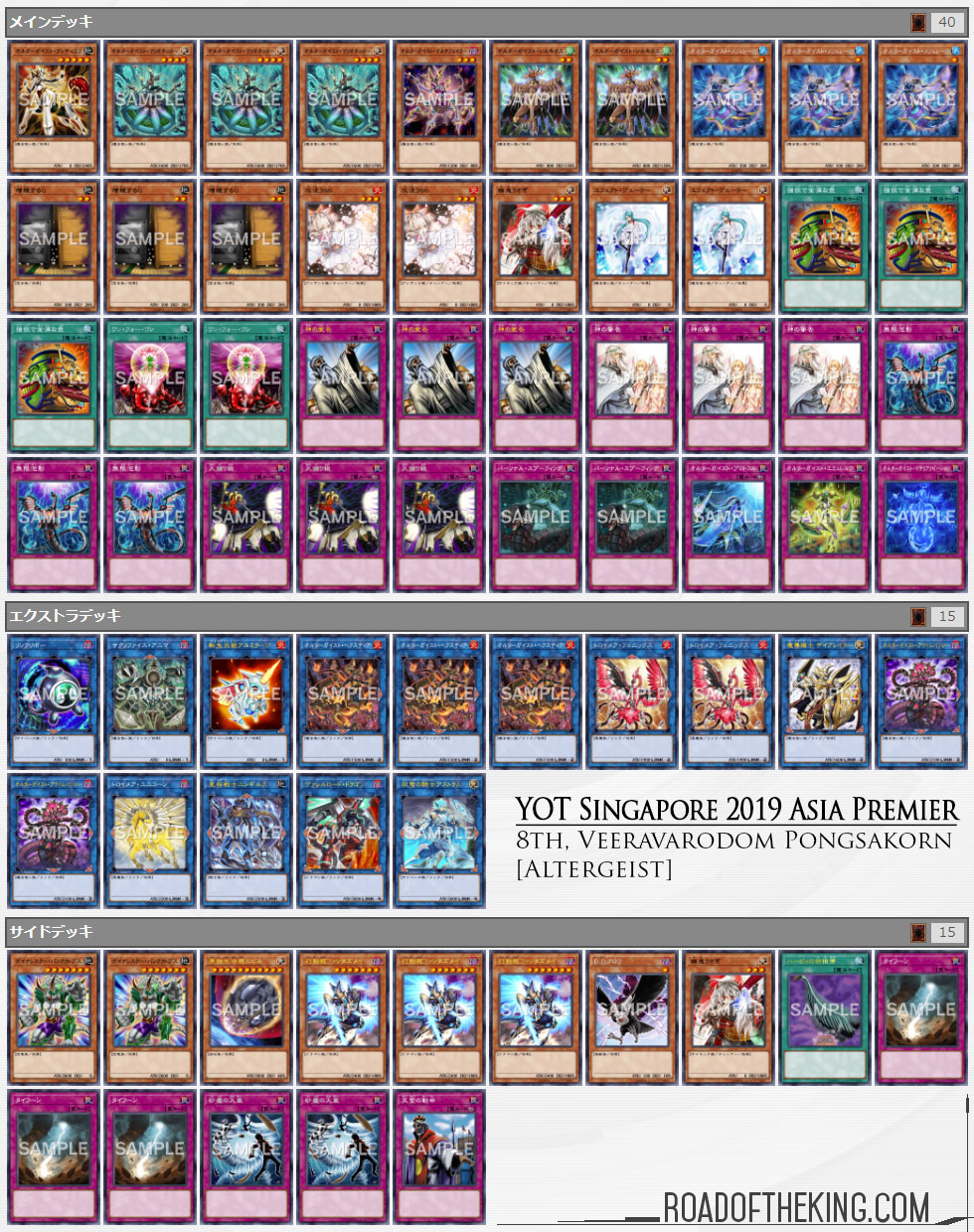 References