OCG 2019.10 Metagame Report #1
Welcome to Week #1 of the OCG 2019.10 format.
This report will cover 88 top-performing decks from 10 tournaments that were held in Japan, Singapore and China during 1 – 8 October 2019.
New Product Release
Saikyō Jump November 2019 promotional card
Metagame Breakdown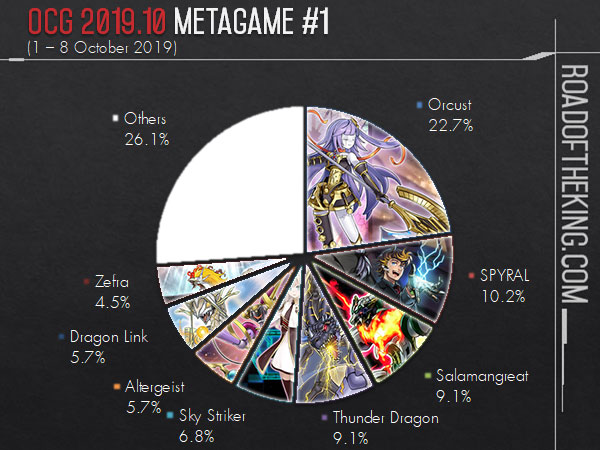 20 Orcust

10 Danger Orcust
6 mono Orcust
3 Trickstar Orcust
1 Danger HERO Orcust

9 SPYRAL

4 Grass HERO SPYRAL
2 Grass Danger SPYRAL
2 mono SPYRAL
1 Grass Danger HERO SPYRAL

8 Salamangreat
8 Thunder Dragon
6 Sky Striker
5 Altergeist
5 Dragon Link
4 Zefra
3 HERO
3 Invoked
3 Mythical Beast Endymion
2 Lunalight

1 Grass Danger Lunalight
1 mono Lunalight

2 Magician
2 Subterror
2 Trickstar

1 Danger Trickstar
1 mono Trickstar

2 World Chalice
1 Danger Dark World
1 Evil Eye
1 Madolche
1 True Draco
Orcust
Andy Mok went 7-3 (excluding 2 byes) and finished 5 – 8th in "YOT Singapore 2019" which had 361 participants.
As more decks are now running Trap cards, we are seeing more Twin Twisters being played in the Main Deck. Orcust and Salamangreat are some decks that can consistently open with a Counter Trap on the field.
Even against Combo decks, Twin Twisters is still not quite a dead card. Against SPYRAL, Twin Twisters can be used to stop SPYRAL Resort. Danger Dark World would first set their Spell cards like The Beginning of the End so they would not be discarded by the Danger effects, and that is an opportunity for Twin Twisters to destroy them.
Being able activate during the opponent's turn and disrupt certain combos is a strong argument for running the 3rd copy of Twin Twisters in the Main Deck, and choosing to keep Harpie's Feather Duster in the Side Deck instead.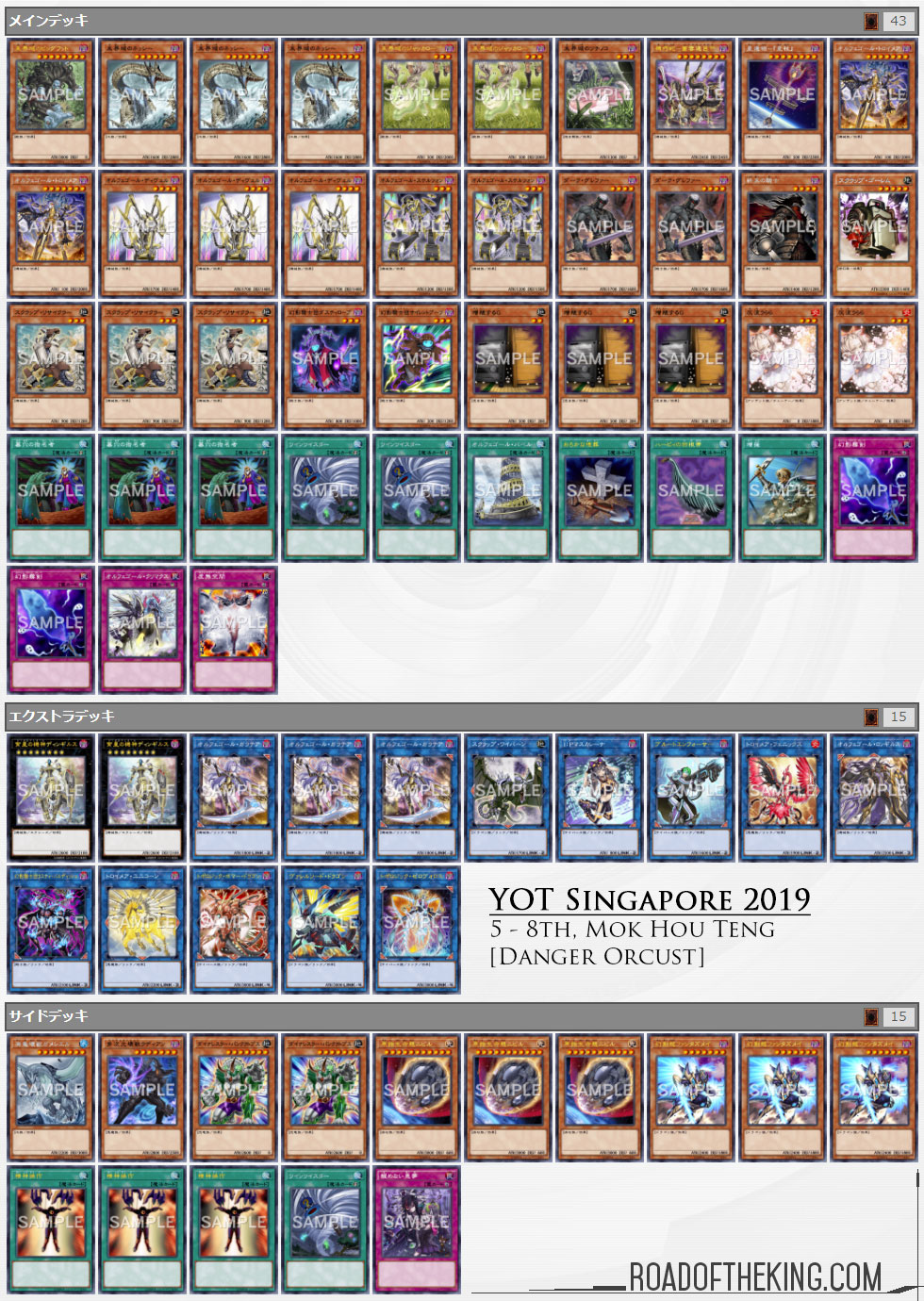 SPYRAL
Fat Sheep (肥羊) went 7-2-1 (excluding 2 byes) and finished 2nd in "Duel City 2019 Guangzhou" which had 171 participants.
This variant of SPYRAL is a very explosive combo deck whose main objective is to discard 4 cards from the opponent's hand using Topologic Gumblar Dragon.
The typical end board will be completed with a Tri-Gate Wizard and either Apollousa, Bow of the Goddess or SPYRAL Sleeper equipped with SPYRAL GEAR – Last Resort, sufficient to negate or destroy the last 2 remaining cards in opponent's hand.
A Hero Lives and Empowerment allows the deck to open with Outer Entity Azathot on the fourth summon to deny Nibiru, the Primal Being.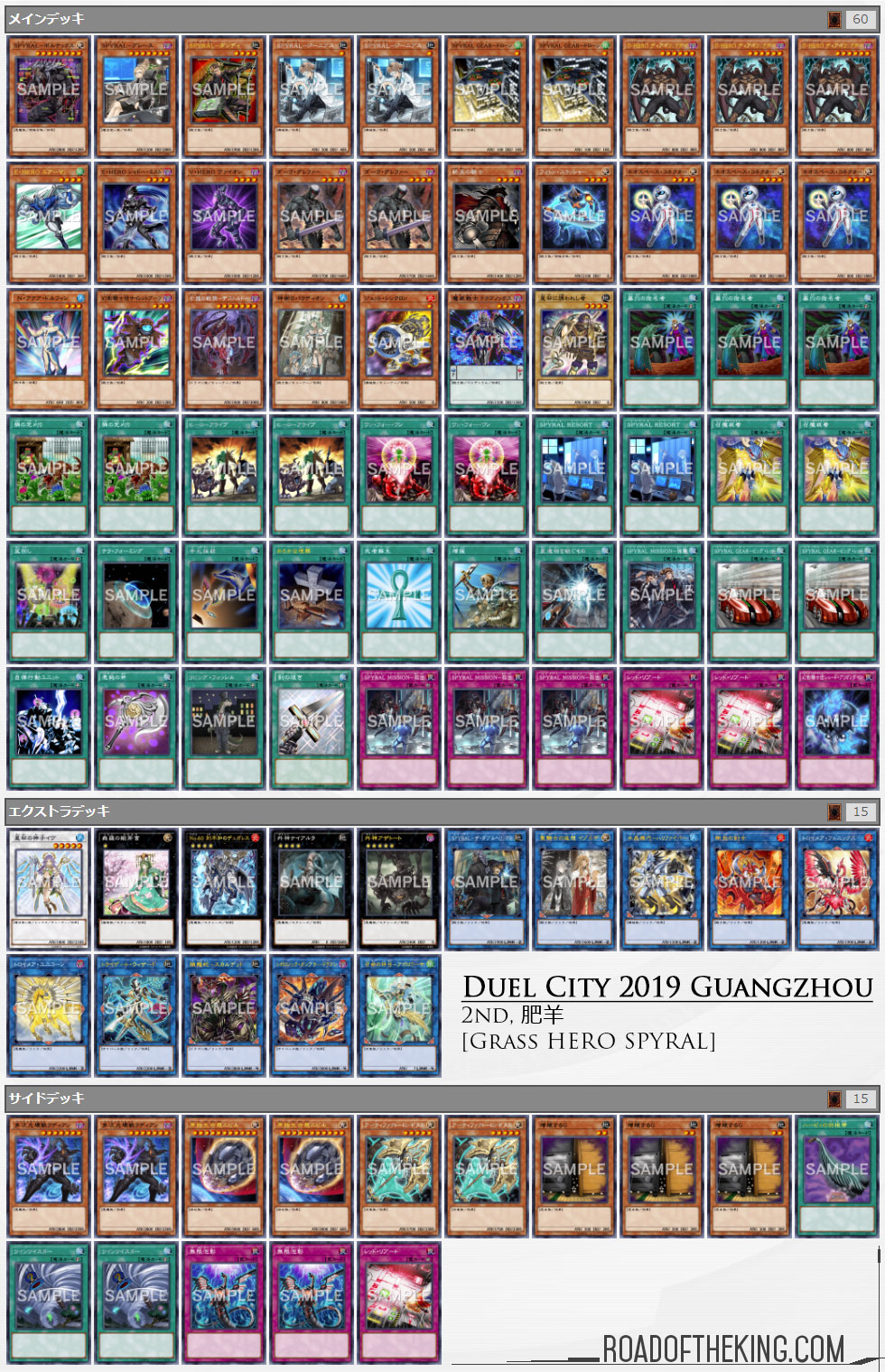 Salamangreat
Hiyama Shunsuke, the 2015 and 2016 World Champion, went 11-4 and finished 1st in "Hatti Grand Championship 2019 -Final-" which had 265 participants.
The "Hatti Grand Championship 2019" is a two-day tournament. Players that made Day 2 are allowed to make changes and resubmit their deck lists before the start of Day 2.
For his Day 2 build, Hiyama added in 1 Nibiru, the Primal Being and 1 D.D. Crow to the Main Deck by cutting out 2 Solemn Warning. This allows him to negate Nibiru, the Primal Being with Crossout Designator.
3 Mind Control in the Main Deck allows him with answers to troublesome threats such as Thunder Dragon Colossus and Altergeist Silquitous. In the event that his monster was taken away by Crackdown, Mind Control would allow him to take it back and continue with his combo.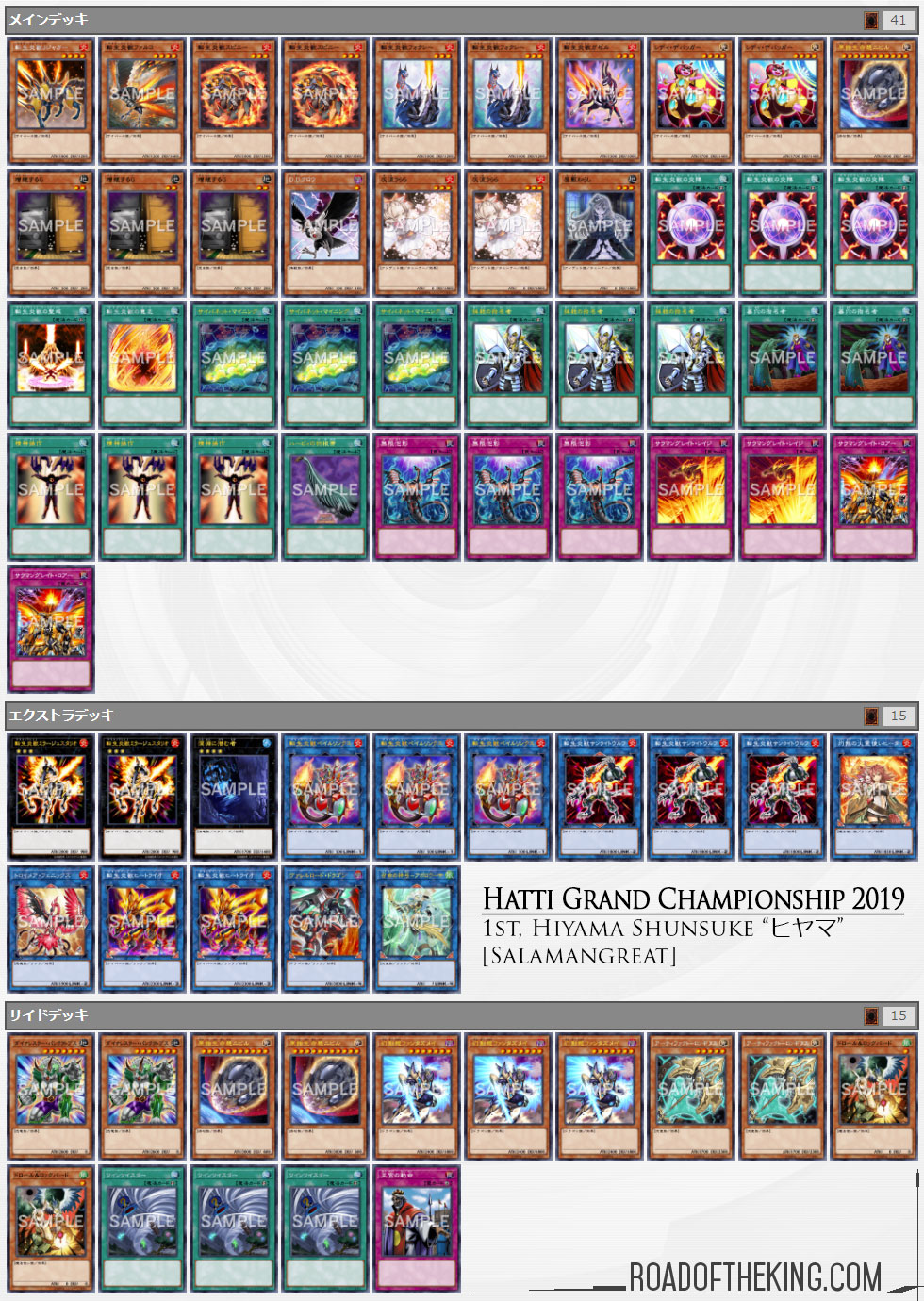 Thunder Dragon
cain went 11-4 and finished 3rd in "Hatti Grand Championship 2019 -Final-" which had 265 participants.
He ran 3 Paleozoic Dinomischus in the Main Deck, a very versatile Trap Card suitable for a diverse metagame. It could answer monster threats from Orcust and Thunder Dragon while at the same time answer backrow threats from Altergeist and True Draco.
For his Day 2 build, he added in 2 Nibiru, the Primal Being to the Main Deck, and cut out 2 Scapegoat, in preparation for a more combo heavy metagame.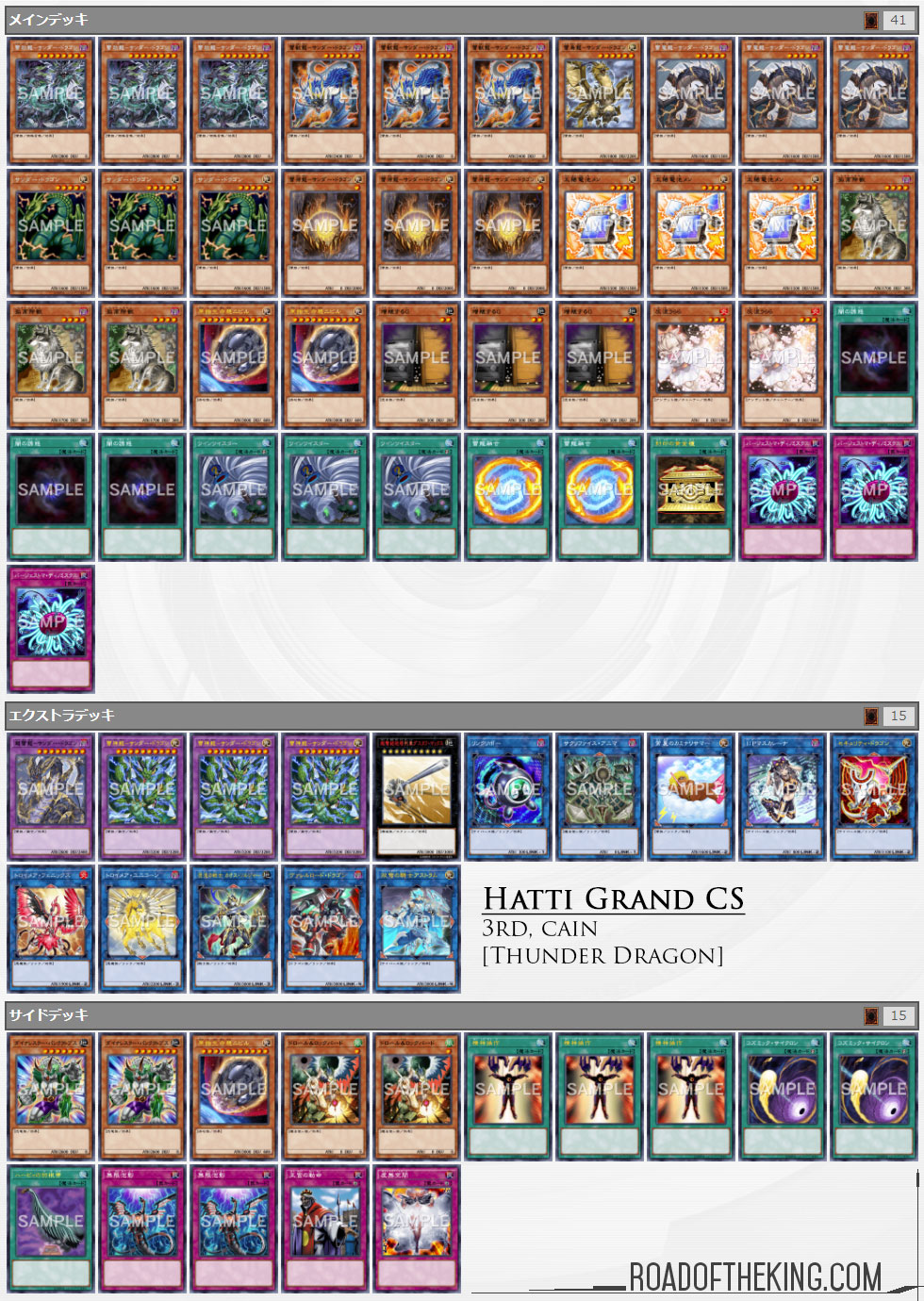 Conclusion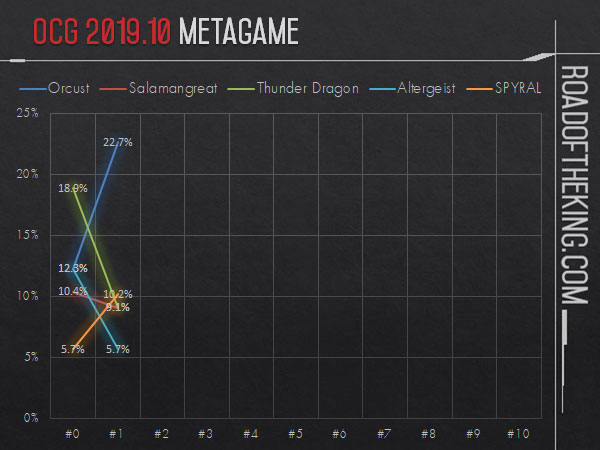 We are seeing a shift towards more combo decks as the popularity of Orcust continues to climb.
In reaction, more players are running Nibiru, the Primal Being directly in the Main Deck.
However, this might not be enough as SPYRAL and Danger Dark World are able to bring out Outer Entity Azathot.
The threat of Thunder Dragon Colossus and Outer Entity Azathot results in a shift towards Infinite Impermanence.
With Nibiru, the Primal Being and Infinite Impermanence trending, we might see more Crossout Designator being played over Called by the Grave, like in Hiyama's Salamangreat build.
Mind Control is also quickly gaining traction as we can often see 3 copies being played in the Side Deck, with some even running them directly in the Main Deck.
If you enjoyed these Weekly Metagame Reports, do consider supporting Road of the King on Patreon. Thank you.
References