OCG 2021.10 Metagame Report #7
Welcome to Week #7 of the OCG 2021.10 format.
This report will tabulate 64 top-performing decks from 11 tournaments that were held in Japan, China Mainland and Hong Kong during 13 – 14 November 2021.
Metagame Breakdown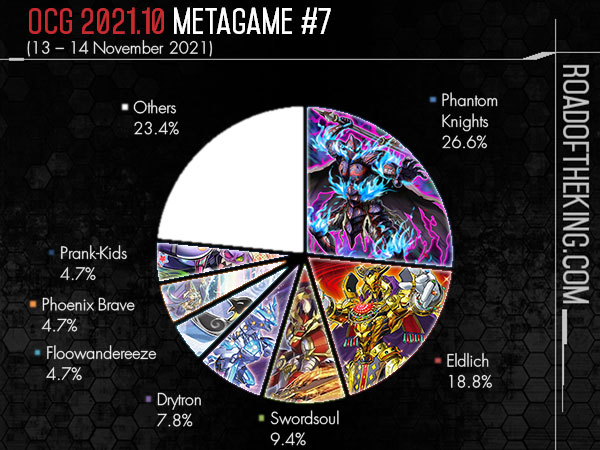 17 Phantom Knights (16 Destiny HERO Adventurer Phantom Knights, 1 Danger Phantom Knights)
12 Eldlich (8 Eldlich, 2 Adventurer Eldlich, 1 Destiny HERO Adventurer Eldlich, 1 Grass Eldlich)
6 Swordsoul (4 Tenyi Swordsoul, 2 Swordsoul)
5 Drytron
3 Floowandereeze
3 Phoenix Adventurer
3 Adventurer Prank-Kids
2 Adventurer Swordsoul Yang Zing Tenyi
2 Salamangreat
1 Adamancipator
1 Agent Fairy
1 Destiny HERO Adventurer Cyberse
1 Destiny HERO Adventurer Nemeses
1 Destiny HERO Adventurer Sky Striker
1 Destiny HERO Invoked Shaddoll
1 Endymion
1 Megalith FTK
1 Thunder Dragon
1 Tri-Brigade
1 True King Dinosaur
Phantom Knights
T went 9-0 and finished 1st in "TKCS" (3v3 Team) which had 40 teams (120 participants).
Opinions on Destiny HERO Adventurer Phantom Knights build are currently split evenly, half of the players are running Artifact Scythe while the other half has dropped it. T has chosen to drop Artifact Scythe, and even brought back Apollousa, Bow of the Goddess, reverting back to an earlier build.
The increase in Eldlich resulted in players running more backrow removal in the Side Deck. 3 Twin Twisters and 1 Red Reboot are the most common picks, while some may top off with an additional Harpie's Feather Duster or Lightning Storm.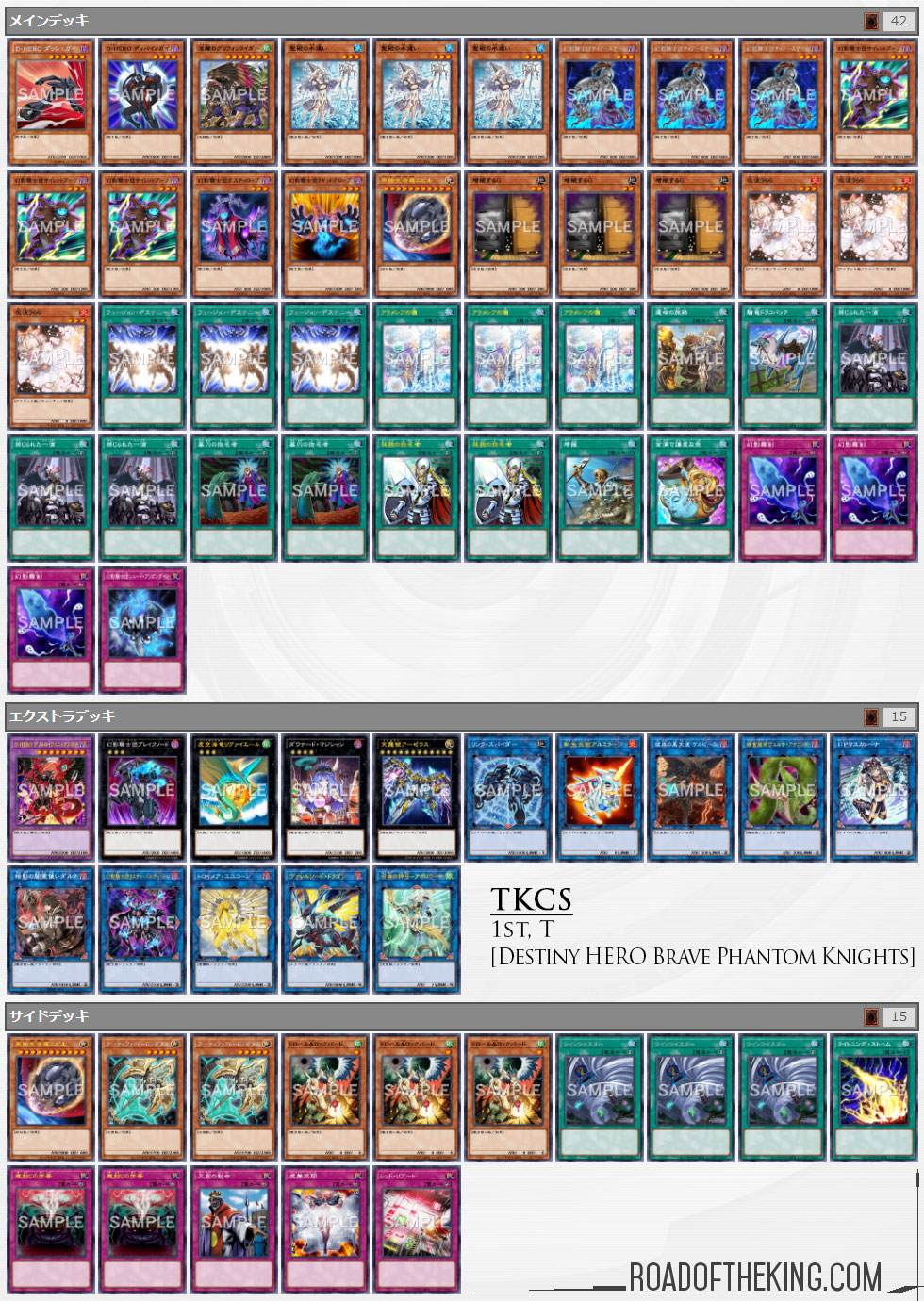 Eldlich
R (あーる。) went 5-0-1 (excluding 1 bye) and finished 1st in "64th Taiyo CS (2v2 Team Battle)" which had 16 teams (32 players).
Galaxy-Eyes Solflare Dragon is ran in the Extra Deck as it is a LIGHT Link-2 monster with the highest ATK. Being LIGHT allows it to be Link Summoned even while Gozen Match is on the field. A regular Eldlich the Golden Lord Special Summoned by Eldlixir of Scarlet Sanguine or Eldlixir of White Destiny, another Eldlich the Golden Lord Special Summoned by its own effect and a Galaxy-Eyes Solflare Dragon would equate to 2500 + 3500 + 2000 = 8000 damage.
Similarly Lyna the Light Charmer, Lustrous can also be used to quickly push for lethal damage. An Eldlich the Golden Lord Special Summoned by its own effect, a Lyna the Light Charmer, Lustrous and a LIGHT monster such as Swordsoul Grandmaster – Chixiao Special Summoned by Lyna effect equates to 3500 + 1850 + 2800 = 8150 damage.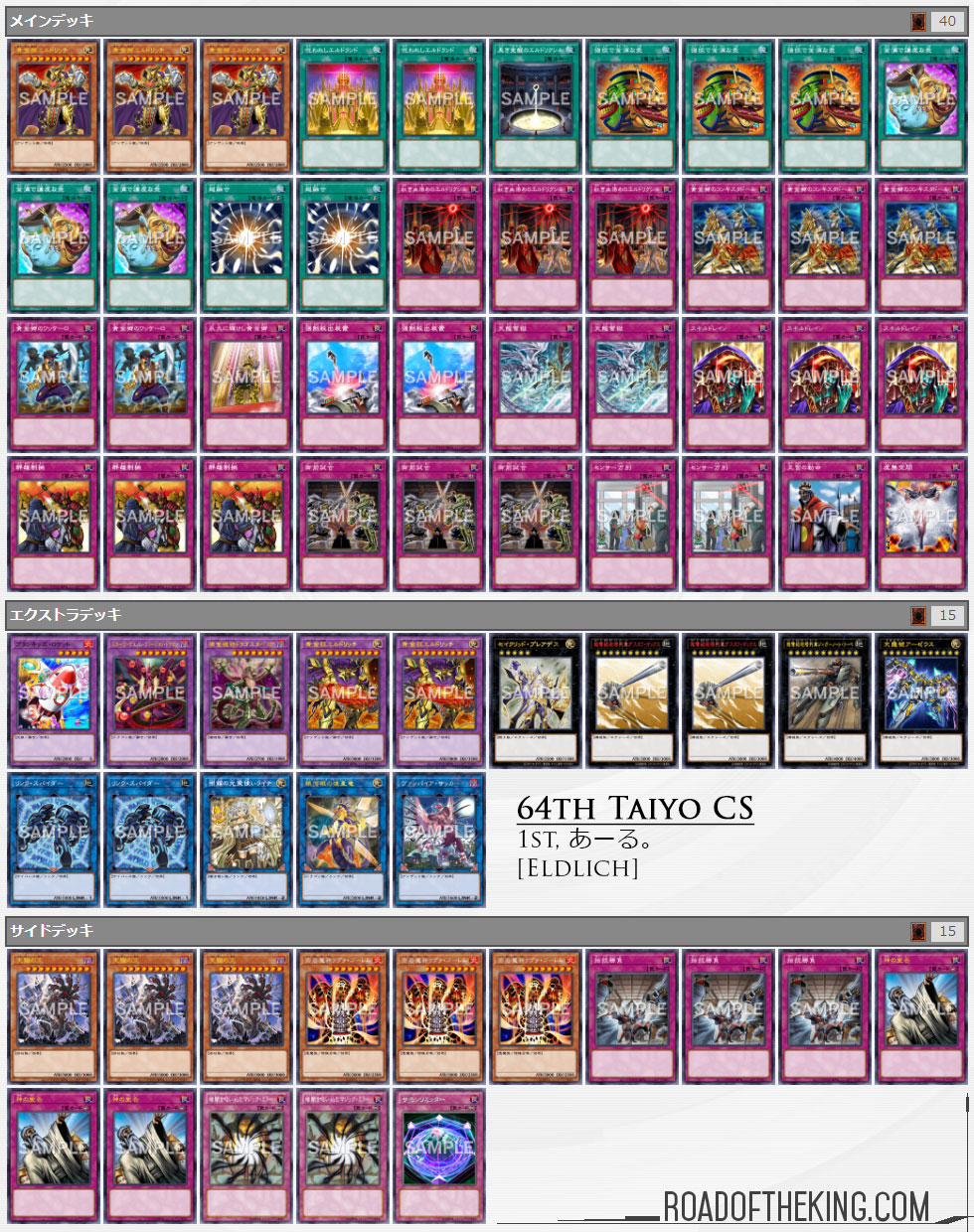 Swordsoul
shinra went 6-1 and finished 2nd in "Asaka Cup (3v3 Team Battle)" which had 15 teams (45 players).
Shadow-Imprisoning Mirror has become a popular tech against Phantom Knights decks. It is mainly seen in the Side Deck of Eldlich decks, but there might be an uptake as other decks that don't play Destiny HERO – Destroyer Phoenix Enforcer such as mono Swordsoul could also run it.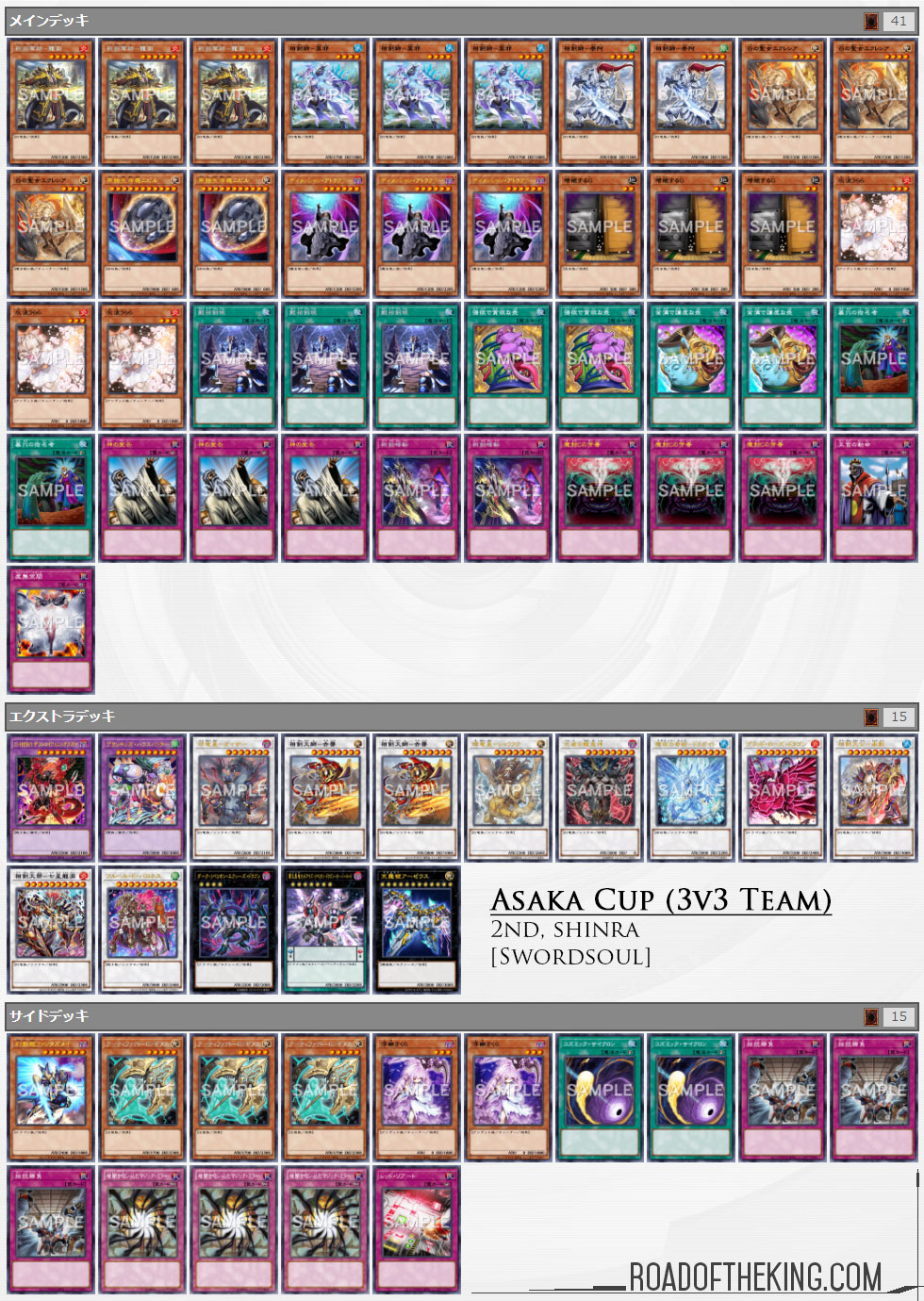 Conclusion
Phantom Knights continues in the lead this week, Eldlich caught up quite a bit, while Swordsoul barely clings on behind.
If you enjoyed these Weekly Metagame Reports, consider supporting Road of the King on Patreon. Cheers!
References