OCG 2021.10 Metagame Report #4
Welcome to Week #4 of the OCG 2021.10 format.
This report will tabulate 93 top-performing decks from 17 tournaments that were held in Japan and China Mainland during 23 – 27 October 2021.
New Product Release
V Jump December 2021 promotional card
Metagame Breakdown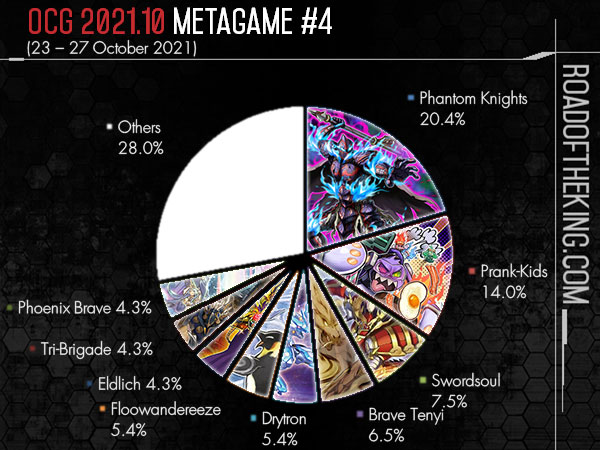 19 Phantom Knights (14 Destiny HERO Adventurer Phantom Knights, 2 Danger P.U.N.K. Phantom Knights, 1 Danger Phantom Knights, 1 Grass Phantom Knights, 1 Grass Danger Burning Abyss Phantom Knights)
13 Prank-Kids (11 Adventurer Prank-Kids, 2 Destiny HERO Adventurer Prank-Kids)
7 Swordsoul (3 Swordsoul, 2 Tenyi Swordsoul, 2 Destiny HERO Tenyi Swordsoul)
6 Adventurer Swordsoul Yang Zing Tenyi
5 Drytron (4 Drytron, 1 Destiny HERO Drytron)
5 Floowandereeze
4 Eldlich (2 Eldlich, 1 Adventurer Eldlich, 1 Grass Adventurer Eldlich)
4 Tri-Brigade (3 Destiny HERO Zoodiac Tri-Brigade, 1 Destiny HERO Tri-Brigade)
4 Phoenix Adventurer
3 Adamancipator (2 Adamancipator, 1 P.U.N.K. Adamancipator)
3 Adventurer Virtual World
2 HERO
2 Salamangreat
2 @Ignister
1 Agent Fairy
1 Adventurer P.U.N.K. Lightsworn
1 Destiny HERO Adventurer Zefra
1 Destiny HERO Despia
1 Destiny HERO Exosister
1 Destiny HERO Invoked Mekk-Knight
1 Dogmatika Invoked
1 D/D
1 Endymion
1 Grass Infernoid
1 Invoked Shaddoll
1 Megalith FTK
1 SPYRAL
1 Tri-Brigade Lyrilusc
Phantom Knights
Hiyama Shunsuke "ひやま" (2015, 2016 World Champion) went 6-1-1 (excluding 1 bye) and finished 1st in "Atsu CS Final" (3v3 Team) which had 64 teams (192 participants). His teammate, Hasegawa Akira "ハセキョン" (3rd in World Championship 2015, 5 – 8th in World Championship 2018) went 6-1-1 (excluding 1 bye) running the exact same build.
Foolish Burial is excellent as an additional point of access to Rite of Aramesir via Water Enchantress of the Temple, but it is mediocre when used to send a Phantom Knights monster from deck to graveyard. Foolish Burial is also often pulled out during Side Decking as it is vulnerable to Anti-Spell Fragrance, Artifact Lancea and Droll & Lock Bird, so they decided to cut it out from the Main Deck altogether.
There has been a slight increase in Floowandereeze in the metagame. Gadarla, the Mystery Dust Kaiju has become the Kaiju of choice for being able to answer Barrier Statue of the Stormwinds. Infinite Impermanence is also being run in the Side Deck to disrupt the Level 1 Floowandereeze monsters, denying them from adding cards and stopping their additional Normal Summon, and could also be used to negate Barrier Statue of the Stormwinds and Floowandereeze & Empen.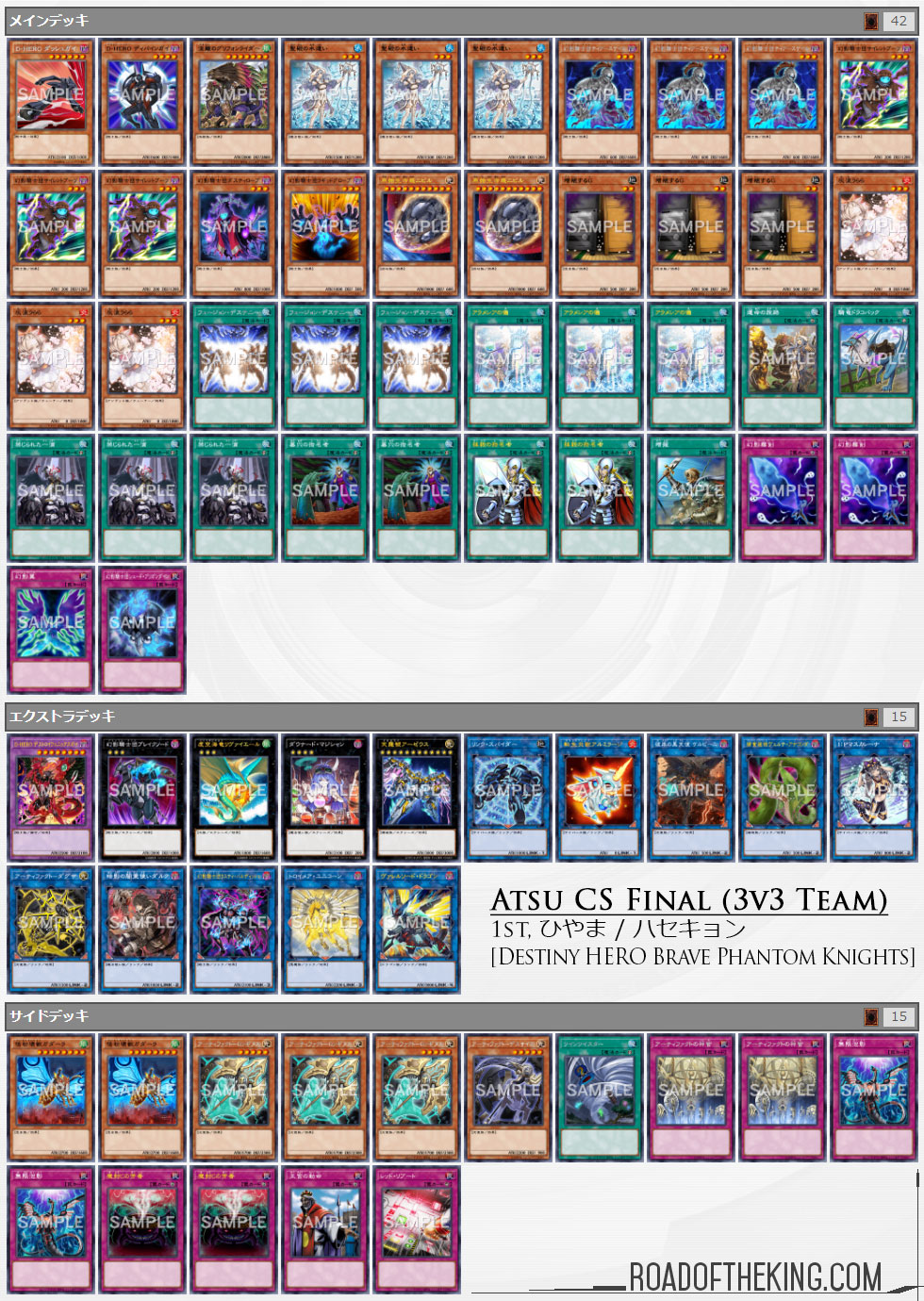 Prank-Kids
Feri (World Championship 2018 Japan Representative) went 7-0 (excluding 1 bye) and finished 1st in "52nd Next Play Cup (3v3 Team Battle)" which had 32 teams (96 participants). His teammate, Yamato (ヤマト) went 5-1-1 (excluding 1 bye) running the exact same build.
Feri had been playing Zoodiac Tri-Brigade in the OCG 2021.04 format and then adapted to Destiny HERO Zoodiac Tri-Brigade in the OCG 2021.07 format. However, he has finally given up on Tri-Brigade and switched over to Adventurer Prank-Kids. He does not find that Prank-Kids is stronger than Phantom Knights, but he simply dislike playing the Phantom Knights mirror match. If the amount of Phantom Knights played in the metagame is reduced and in turn reducing the possibility of mirror matches, he would play Phantom Knights instead.
Similarly, he is also running Gadarla, the Mystery Dust Kaiju and Infinite Impermanence in the Side Deck against Floowandereeze.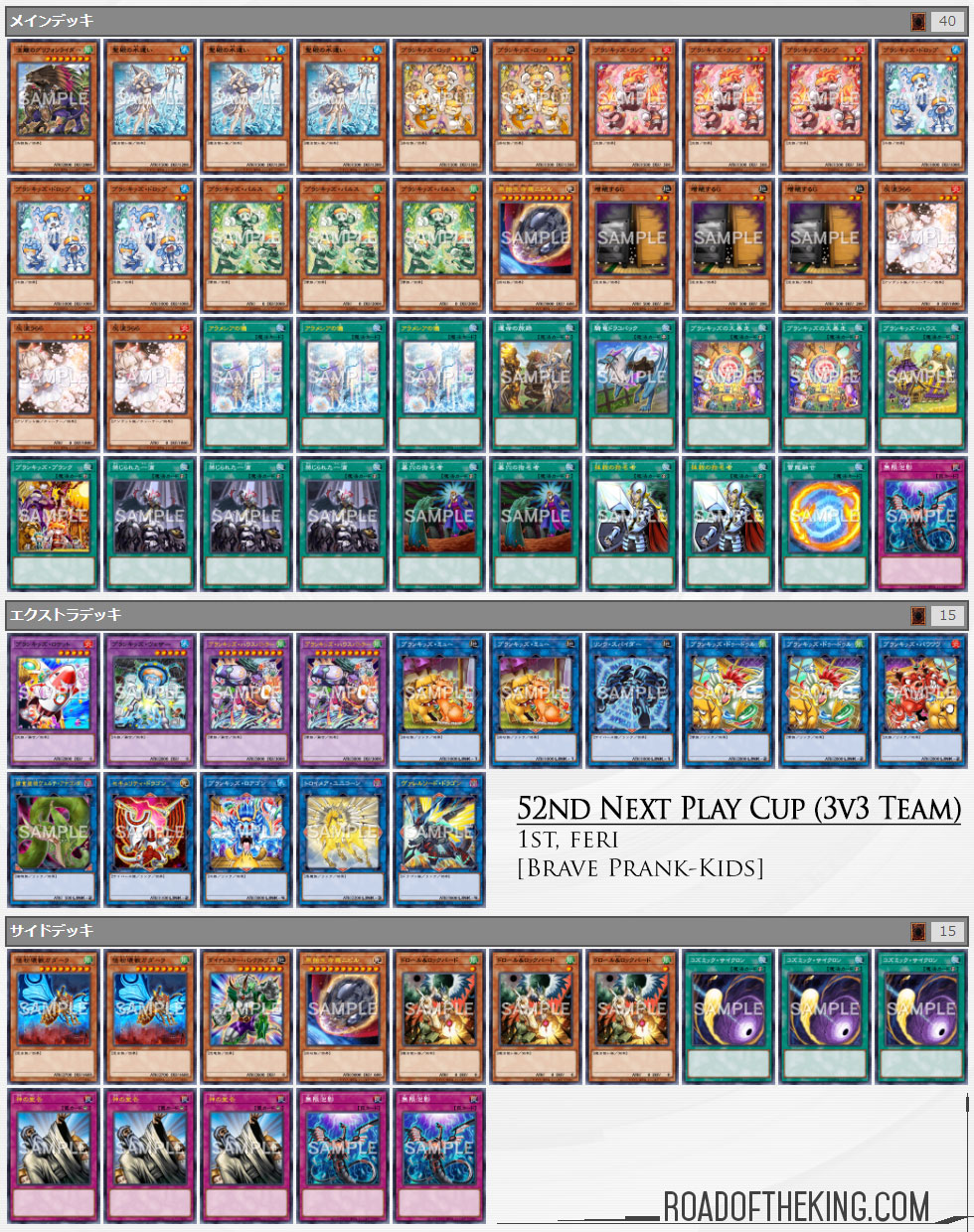 Conclusion
Phantom Knights remains at the forefront this week, while Prank-Kids has a considerable good showing. Prank-Kids might be a deck to watch out in this format, several experienced players have already pivoted over to them.
If you enjoyed these Weekly Metagame Reports, consider supporting Road of the King on Patreon. Cheers!
References