OCG 2021.01 Metagame Report #8
Welcome to Week #8 of the OCG 2021.01 format.
This report will cover 61 top-performing decks from 9 tournaments that were held in Japan during 20 – 23 February 2021.
New Product Release
Limit Regulation
Metagame Breakdown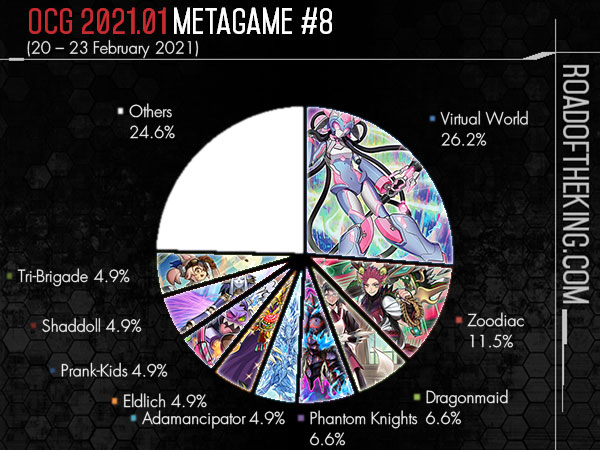 16 Virtual World
7 Zoodiac
4 Dragonmaid (3 Dragonmaid, 1 Amazement Dragonmaid)
4 Phantom Knights
3 Adamancipator
3 Eldlich (2 Zoodiac Eldlich, 1 Eldlich)
3 Prank-Kids
3 Shaddoll (2 Grass Kaiju Invoked Shaddoll, 1 Grass Invoked Shaddoll)
3 Tri-Brigade (2 Ancient Warriors Tri-Brigade, 1 Lyrilusc Ancient Warriors Tri-Brigade)
2 Code Talker
2 Dragon Link
2 Drytron
2 Zefra
1 Amazement Dogmatika Invoked
1 Chaos Thunder Dragon
1 Megalith
1 Orcust
1 Salamangreat
1 Sekka Danger Kaiju Luna
1 SPYRAL
Virtual World
Kai (戒) went 7-1-1 and finished 2nd in "3rd NCS" which had 61 participants.
Virtual World Shell – Jaja is an alternative choice that some players are running in the Extra Deck as a non-targeting banish effect. It is useful for banishing Eldlich the Golden Lord, as well as Conquistador of the Golden Land and Huaquero of the Golden Land when they are Special Summoned as monsters to deny their graveyard effect.
Virtual World Shell – Jaja ① effect could be used to make itself unable to be destroyed by battle. After attacking and banishing an opponent's monster, it could then be used to Xyz Summon Divine Arsenal AA-ZEUS – Sky Thunder.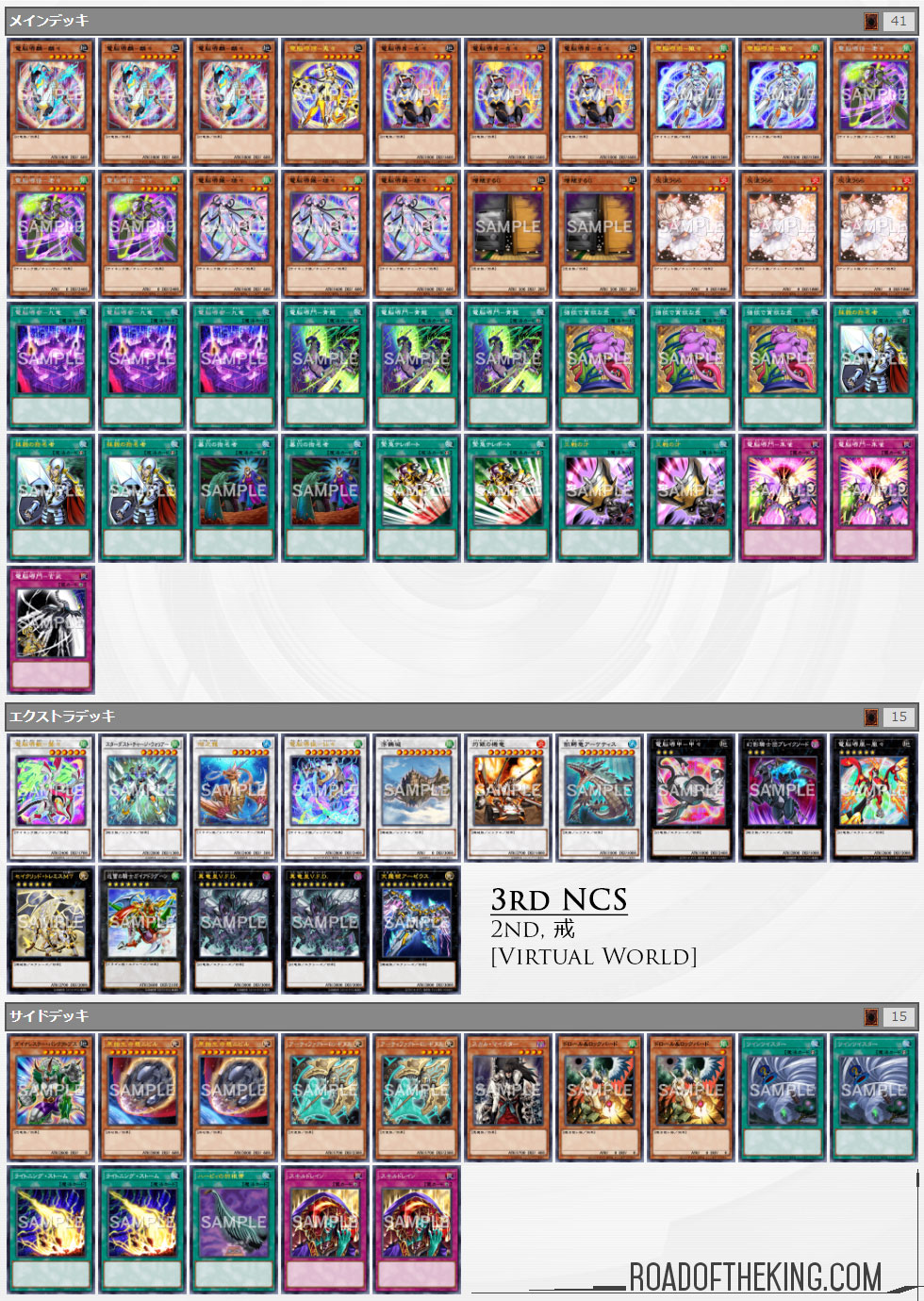 Zoodiac
GT (じーてぃー) went 6-1 and finished 3 – 4th in "Asaka CS (3v3 Team Battle)" which had 45 teams (135 participants).
Recent Zoodiac builds have started dropping Called by the Grave from the Main Deck. After using Called by the Grave to negate the opponent's 'hand trap', the effect would last until the end of the next turn. Because Zoodiac relies heavily on 'hand traps' to disrupt the opponent, this could considered as a drawback for Zoodiac. It would be easier to let the opponent's Maxx "C" resolve and change your opening play than being unable to use Maxx "C" during the opponent's turn.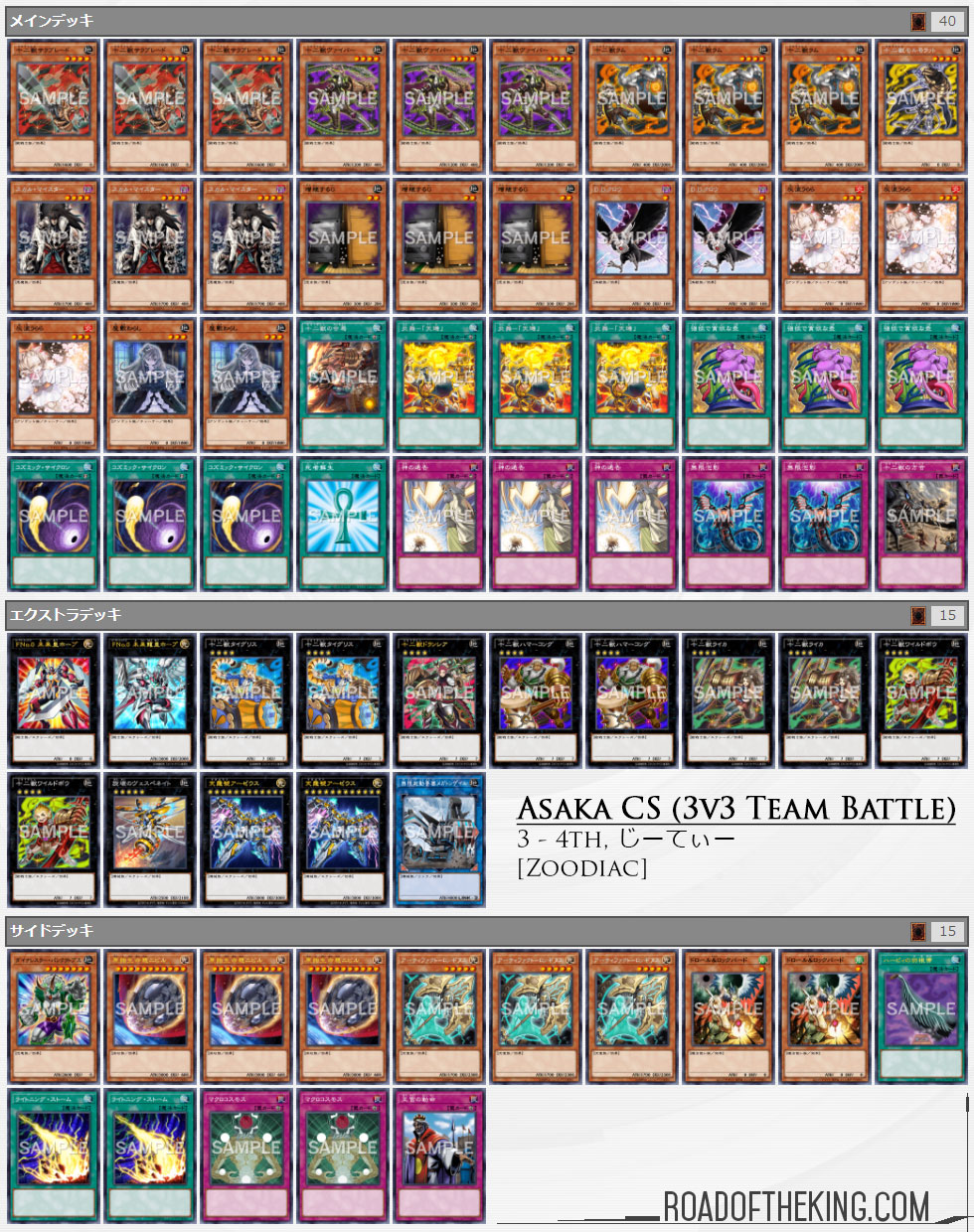 Conclusion
Virtual World takes a dominating share of the metagame this week, far ahead of Zoodiac who is trailing behind.
The metagame is slowly shifting back to the pre Lightning Overdrive format. Drytron had a big impact on launch, but as the metagame adapted, they were unable to keep up with a metagame that is well prepared against them, and are slowly falling off.
If you enjoyed these Weekly Metagame Reports, consider supporting Road of the King on Patreon. Cheers!
References