OCG 2021.07 Metagame Report #9
Welcome to Week #9 of the OCG 2021.07 format.
This report will cover 61 top-performing decks from 12 tournaments that were held in Japan, mainland China and Hong Kong during 28 August – 1 September 2021.
New Product Release
Deck Build Pack: Grand Creators
Metagame Breakdown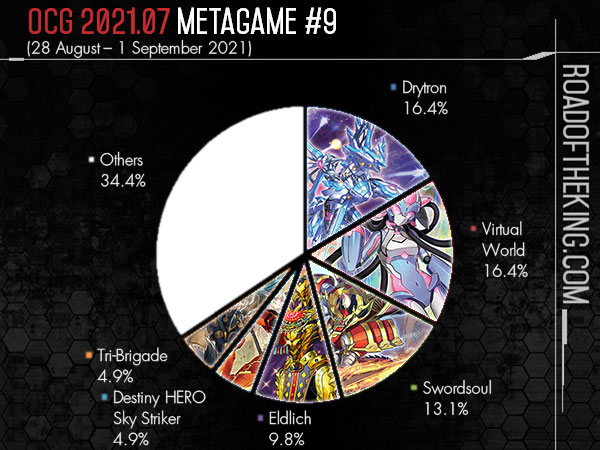 10 Drytron (9 Drytron, 1 Destiny HERO Drytron)
10 Virtual World
8 Swordsoul (3 Swordsoul, 2 Destiny-HERO Swordsoul, 2 Destiny HERO Tenyi Swordsoul, 1 Tenyi Swordsoul)
6 Eldlich (3 Eldlich, 2 Destiny HERO Eldlich, 1 Grass Eldlich)
3 Destiny HERO Sky Striker
3 Tri-Brigade (1 Tri-Brigade, 1 Zoodiac Tri-Brigade, 1 Destiny HERO Zoodiac Tri-Brigade)
2 Danger Dark World
2 Destiny HERO Invoked
2 Floowandereeze
2 HERO
2 Prank-Kids (1 Prank-Kids, 1 Adventurer Prank Kids)
2 @Ignister
1 Adamancipator
1 Agent Fairy
1 Destiny HERO Lunalight
1 Destiny HERO Thunder Dragon
1 Dragonmaid
1 Grass Destiny HERO Invoked Shaddoll
1 Grass Phantom Knights Burning Abyss
1 Mathmech
1 Sekka Danger Kaiju Luna
Drytron
Leung Yu Tak is most notable for finishing 2nd in Asia Championship 2019 Hong Kong Qualifier with his Mythical Beast Endymion deck that would become the basis for the modern Endymion build. He also finished 5 – 8th in YOT Hong Kong 2018 with a 60-card Gouki. This time round he opted for Drytron, went 9-0-1 and finished 1st in "Duelist Cup 2021 Hong Kong" which had 297 participants.
Although not running Maxx "C" in the Main Deck is not uncommon in Drytron builds, he went a step further and excluded Ash Blossom & Joyous Spring from the Main Deck as well. Except for the 3 Herald of Orange Light, every other card in the Main Deck is a combo piece, giving the deck a very high consistency of powering through with the combo.
This build also capitalize on the state of the metagame. In OCG 2021.07 Week #8 before the tournament, the metagame landscape was still largely spread out. This meant that the 15 cards Side Deck is not enough to cover every match-up and players will have to choose between having a narrower coverage but stronger tech against certain decks, or wider coverage but of lesser effectiveness against the decks. Droll & Lock Bird is more specifically effective against Drytron, but is not handy against many other match-ups, so not many players have chose to run it in their Side Deck. However now in OCG 2021.07 Week #9 where Drytron has shot up to the top, players will be allocating more of their Side Deck against Drytron.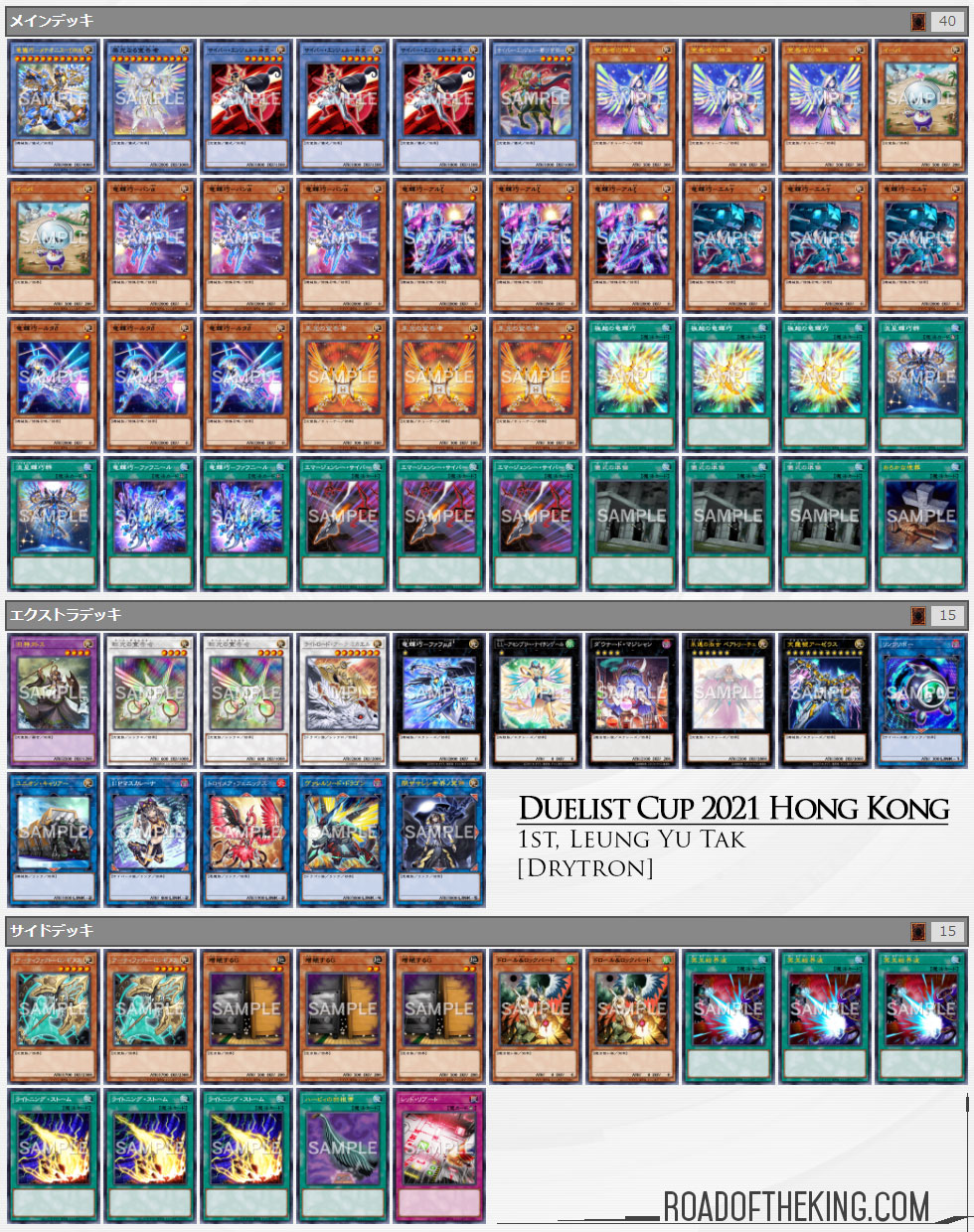 Virtual World
Kong Tze Hing is an experienced competitor that has participated in two Asia Championships. He finished in 9th in Asia Championship 2017, barely missing out on the top cut with True King Yang Zing Dinosaur. He then finished 5 – 8th when he made a return in Asia Championship 2019 with Salamangreat. This time round he opted for Virtual World, went 6-2 and finished 5 – 8th in "Duelist Cup 2021 Hong Kong" which had 297 participants.
He is well prepared against Combo decks such as Drytron, having 2 Nibiru, the Primal Being, 3 Droll & Lock Bird and 3 Dark Ruler No More in the Side Deck. However, that also meant he had lesser Side Deck cards allocated against heavy backrow decks, and he was taken out by an Eldlich opponent in the quarter-final.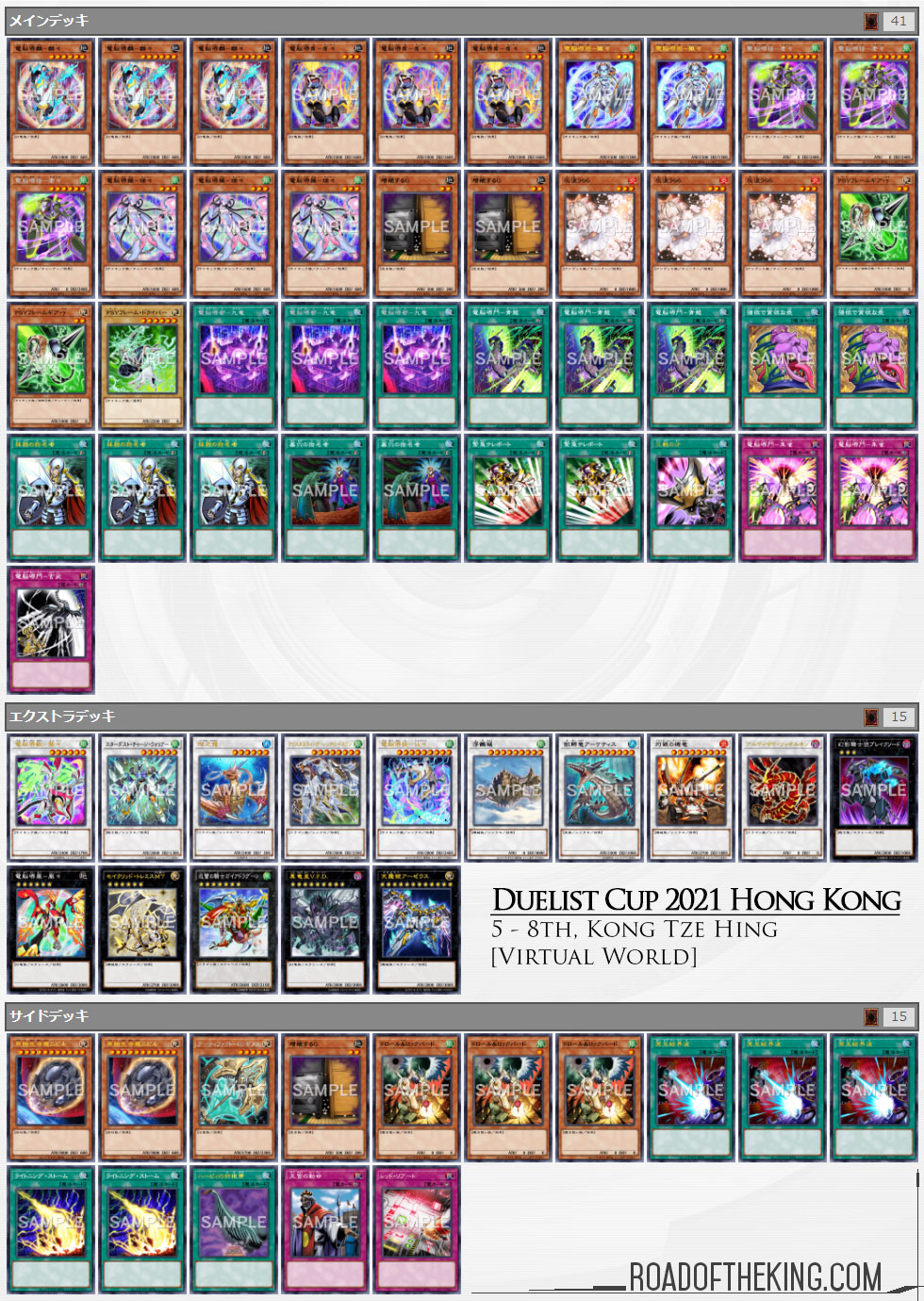 Swordsoul
Yuyanagi (ゆうやなぎ) went 8-0-1 and finished 1st in "Asaka Cup (2nd OCS★SummerCupChallenge2021)" which had 57 participants.
The recent optimization changes to Swordsoul builds saw Swordsoul Sacred Summit dropped from the Main Deck, and Swordsoul Blackout reduced to 1 or 2 copies. Pot of Prosperity and Triple Tactics Talent are ran instead to increase the consistency of the deck.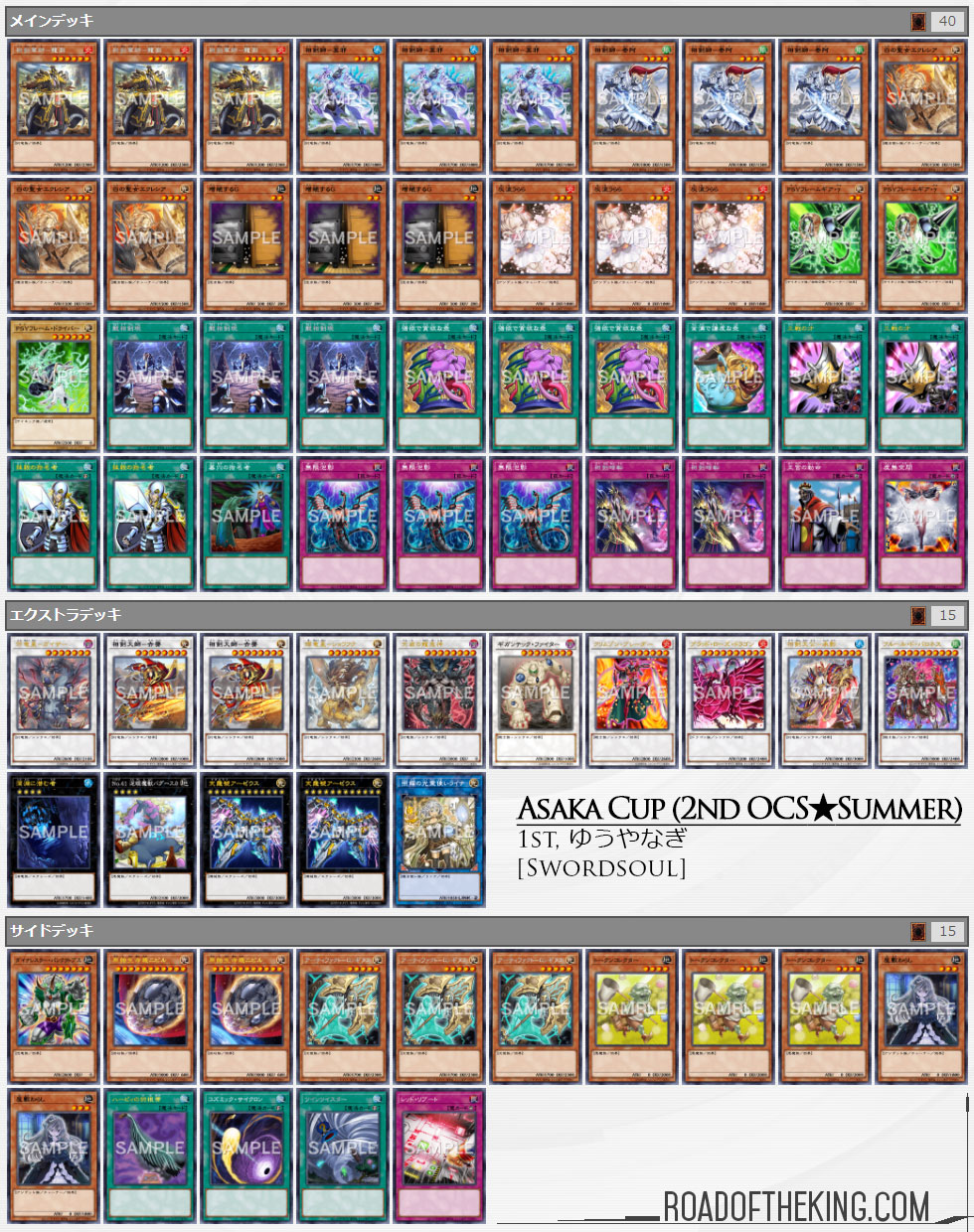 Eldlich
Aki (あき) went 5-1-1 and finished 1st in "4th Reiwa Yugi CS MAX" (3v3 Team) which had 23 team (69 participants).
He ran 2 Dimensional Barrier in the Main Deck, a reasonable tech choice as it can be used against a good number of the current top decks such as Drytron, Virtual World and Swordsoul. It can also be chained to Fusion Destiny to stop the Fusion Summon of Destiny HERO – Destroyer Phoenix Enforcer.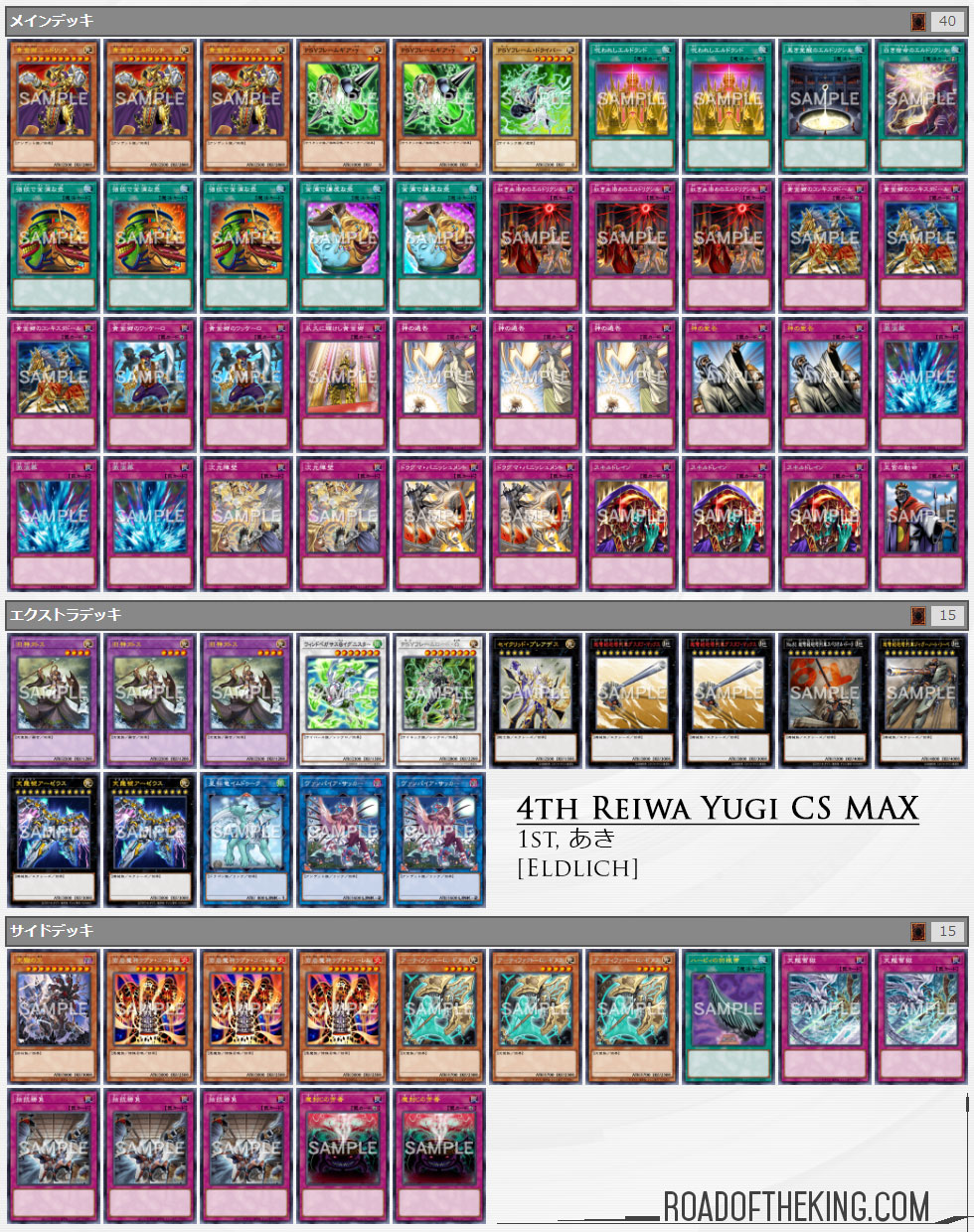 Conclusion
Drytron had a huge presence this week, propelling straight to the top to tie with Virtual World. Swordsoul and Eldlich made a bounce back.
Deck Build Pack: Grand Creators had a decent impact on its release weekend. The Adventurer theme are being played in Prank-Kids and have seen some success in a couple of tournaments. Adventurer Prank-Kids went 5-2 to finish 9 – 16th in "Duelist Cup 2021 Hong Kong" which had 297 participants, and went 8-0 (excluding 1 bye) to finish 1st in "No-Face CS" which had 52 participants.
If you enjoyed these Weekly Metagame Reports, consider supporting Road of the King on Patreon. Cheers!
References