OCG 2021.04 Metagame Report #0
Welcome to Week #0 of the OCG 2021.04 format.
This report will tabulate 101 top-performing decks from 19 tournaments that were held in Japan and China Mainland during 17 – 31 March 2021, played under the new OCG 2021.04 Limit Regulation.
New Product Release
The Valuable Book EX promotional cards

Curse of Dragon, the Magical Knight Dragon
Pile Armed Dragon

V Jump Spring 2021 subscription bonus

Armored Dragon
Crow Tengu
Onmoraki

V Jump May 2021 promotional card

Nowruz Elise the Dragon of Beauty and Faith
Metagame Breakdown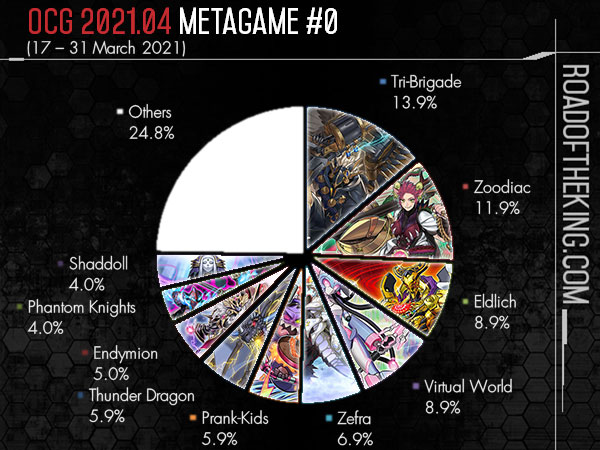 14 Tri-Brigade (6 Tri-Brigade, 5 Zoodiac Tri-Brigade, 2 Lyrilusc Tri-Brigade, 1 Lyrilusc Ancient-Warrior Tri-Brigade)
12 Zoodiac
9 Eldlich (5 Eldlich, 2 Grass Zombie Eldlich, 1 Grass Eldlich, 1 Zoodiac Eldlich)
9 Virtual World
7 Zefra
6 Prank-Kids
6 Thunder Dragon (3 Chaos Thunder Dragon, 2 Thunder Dragon, 1 Chaos Invoked Thunder Dragon)
5 Endymion
4 Phantom Knights
4 Shaddoll (2 Grass Invoked Shaddoll, 1 Invoked Shaddoll, 1 Grass Dogmatika Shaddoll)
3 Code Talker
3 Dragonmaid
3 Sky Striker
3 SPYRAL
2 Adamancipator
2 Orcust
2 Plunder Patroll
1 Burning Abyss
1 Cyber Dragon
1 Danger Dark World
1 Evilswarm
1 Salamangreat
1 Sekka Danger Kaiju Luna
1 @Ignister
Tri-Brigade
Ryuppy (りゅっぴー) went 7-0 and finished 1st in "12th Next Play Cup" which had 30 participants.
The current popular Tri-Brigade build has been streamlined to focus on setting up Apollousa, Bow of the Goddess, Ancient Warriors Oath – Double Dragon Lords and Tri-Brigade Revolt.
Adding the Zoodiac package to Tri-Brigade is gaining popularity. Zoodiac provides additional firepower in the form of Zoodiac Drident and Divine Arsenal AA-ZEUS – Sky Thunder, greatly improving the odds when going second. Zoodiac could be reach with Fire Formation – Tenki, and could be used to test the water before following up with Tri-Brigade Kerass.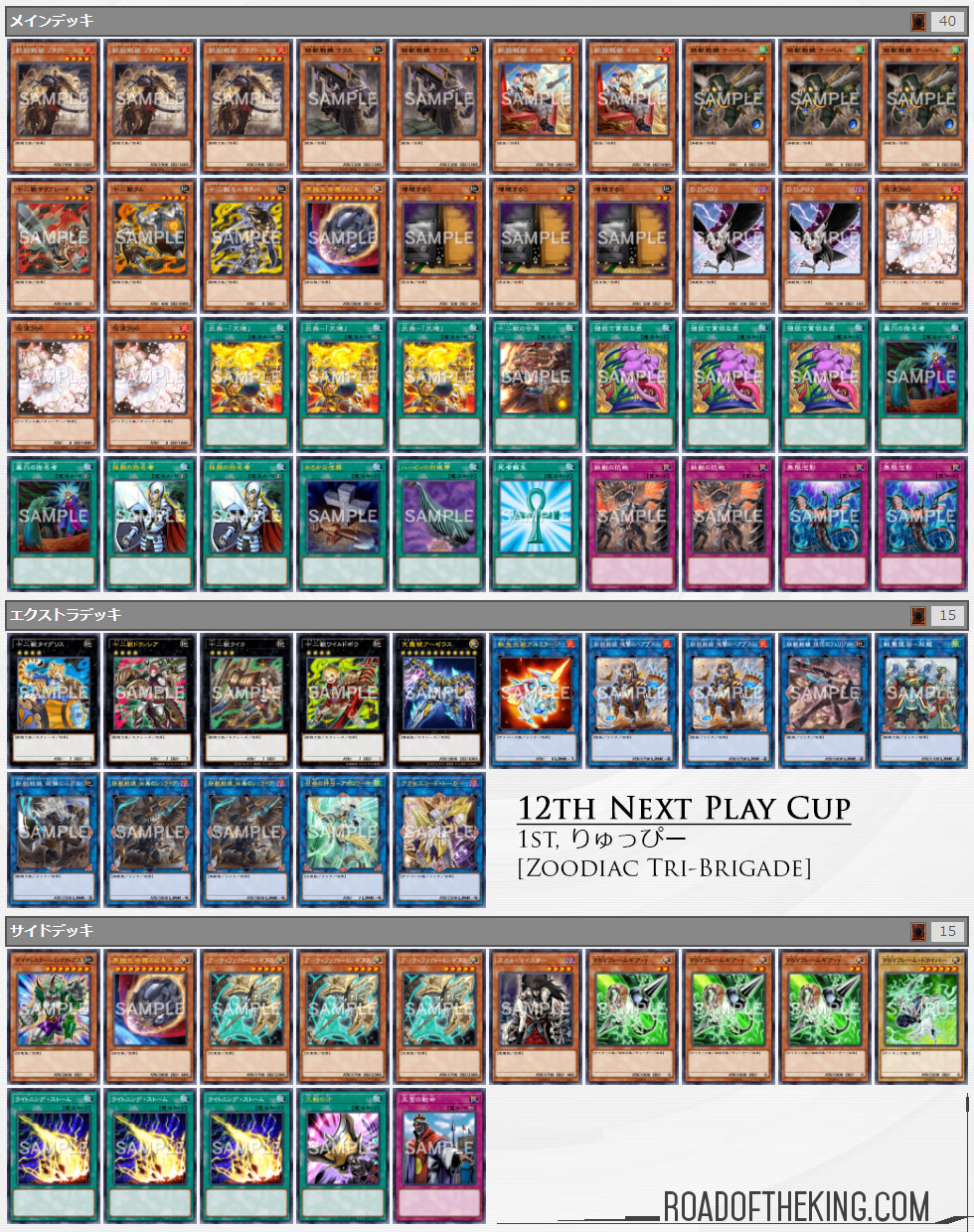 Zoodiac
Shu-chan (しゅうちゃん) went 6-2 and finished 2nd in "Okayama Orbis Cup Individual Battle" which had 33 participants.
The rise of Tri-Brigade saw Infinite Impermanence being brought back into the Main Deck. Using Infinite Impermanence to negate their ② effect that Special Summons 1 Beast, Beast-Warrior, or Winged Beast Link Monster from the Extra Deck is the most direct method to disrupt Tri-Brigade.
Ghost Belle and Haunted Mansion is useful for negating Tri-Brigade Revolt.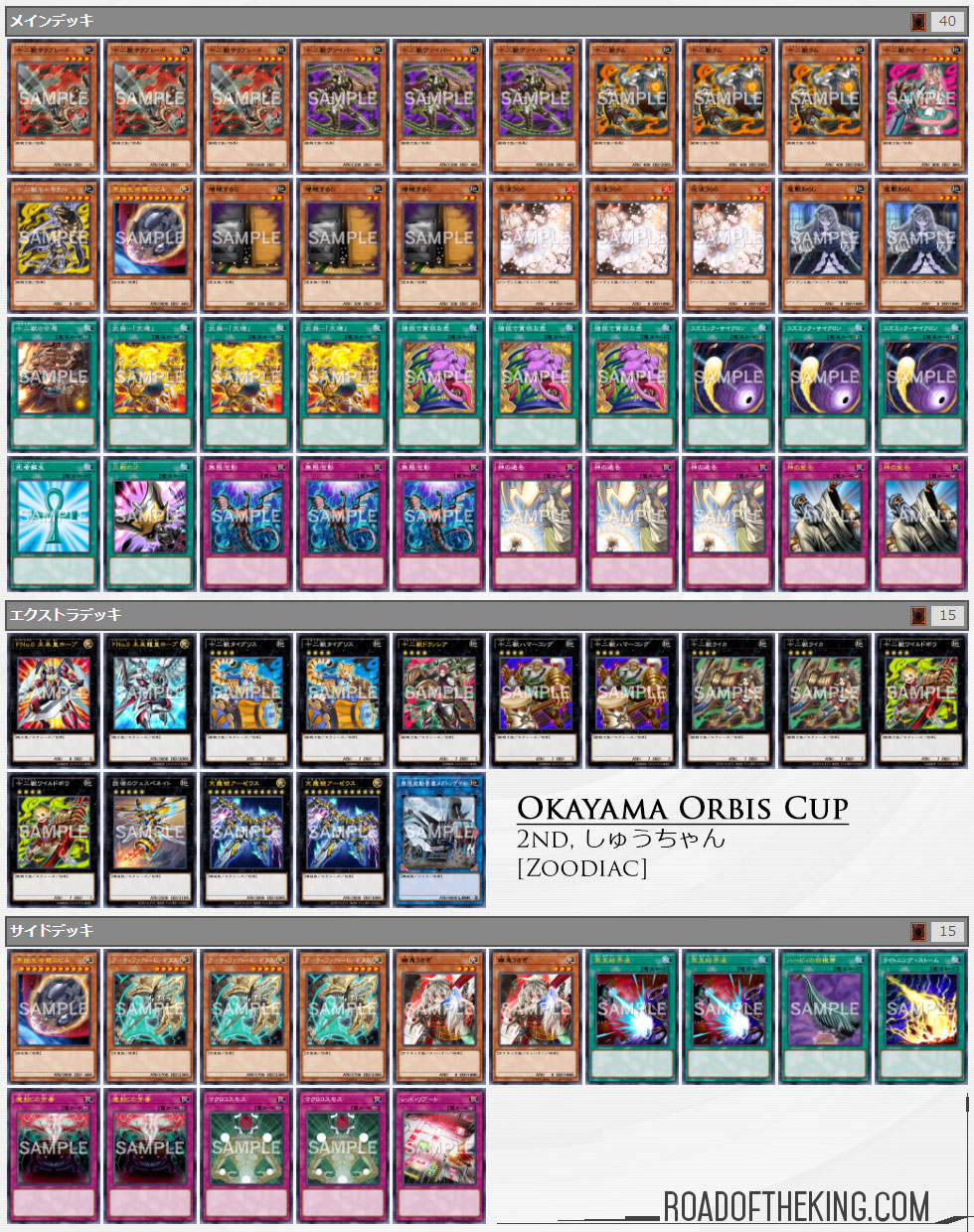 Eldlich
Garosu (ガロス) went 8-1 (including 1 bye) and finished 2nd in "1st Coriander Cup" which had 54 participants.
Torrential Tribute, Paleozoic Dinomischus and Paleozoic Canadia are effective against Tri-Brigade by picking off the Tri-Brigade monster before its ② effect to Special Summons 1 Beast, Beast-Warrior, or Winged Beast Link Monster from the Extra Deck could be activated.
They are also useful for picking off Zoodiac monster to deny Xyz Summon plays, and to pick off Virtual World monsters so they could not target them to Special Summon Virtual World monsters from hand.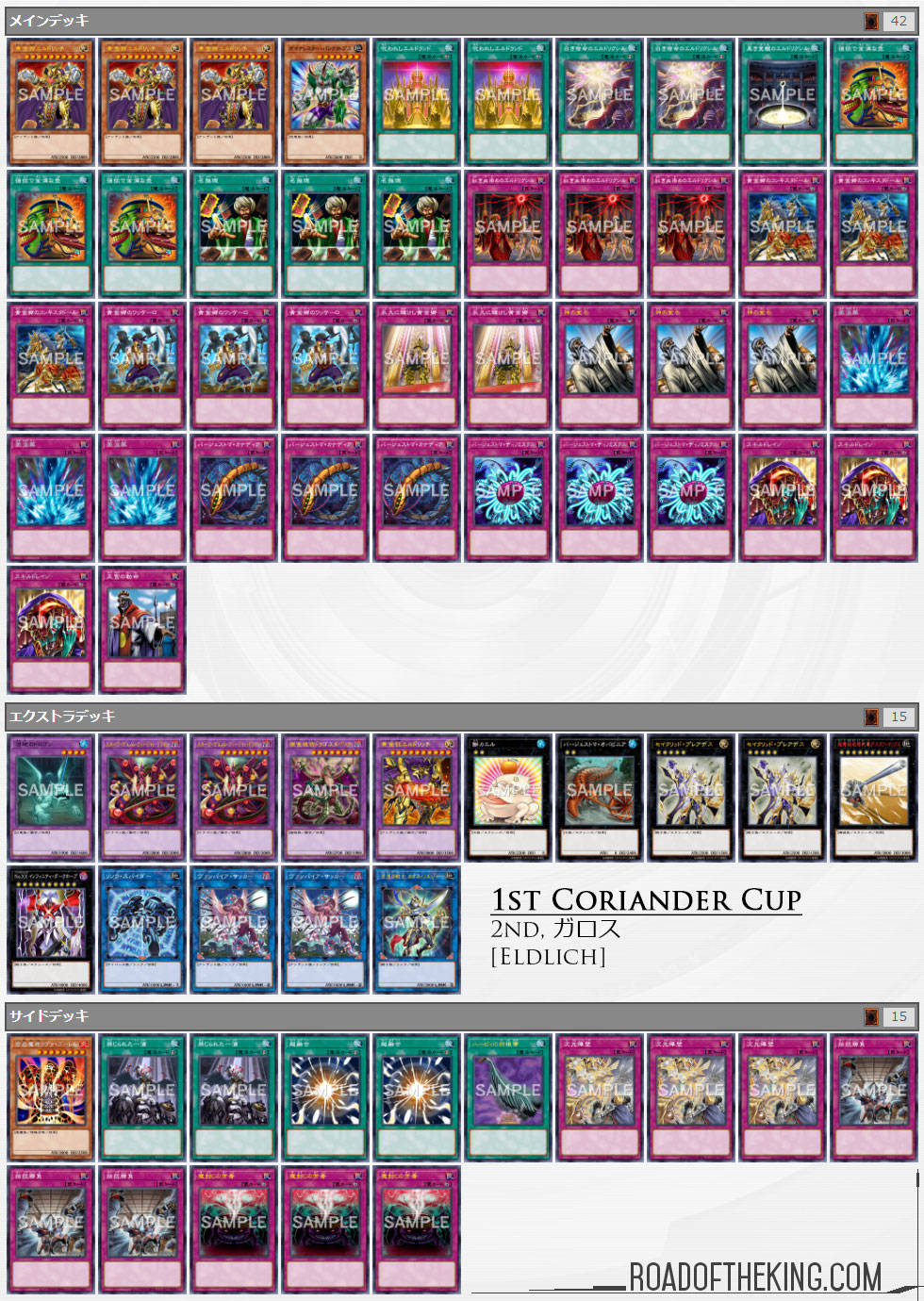 Virtual World
Pluto went 5-2-1 and finished 2nd in "3rd Wayo CS" (3v3 Team) which had 30 teams (90 participants).
As True King of All Calamities became limited, the initial choice was using Number 75: Bamboozling Gossip Shadow as a replacement. However, Number 75: Bamboozling Gossip Shadow requires detaching 2 Xyz materials to activate its Quick Effect, meaning that this is mostly a one-time usage. Its effect only changes the activated effect and does not destroy the monster. Against Nibiru, the Primal Being and PSY-Framegear Gamma, they would remain in hand, and the opponent could use them again on the next turn for Nibiru, the Primal Being or again on the current turn for PSY-Framegear Gamma.
Using Ultimaya Tzolkin to Special Summon Crystal Wing Synchro Dragon is gaining popularity as an alternative choice as it provides a better negation effect that could be used once per turn and also destroys the monster.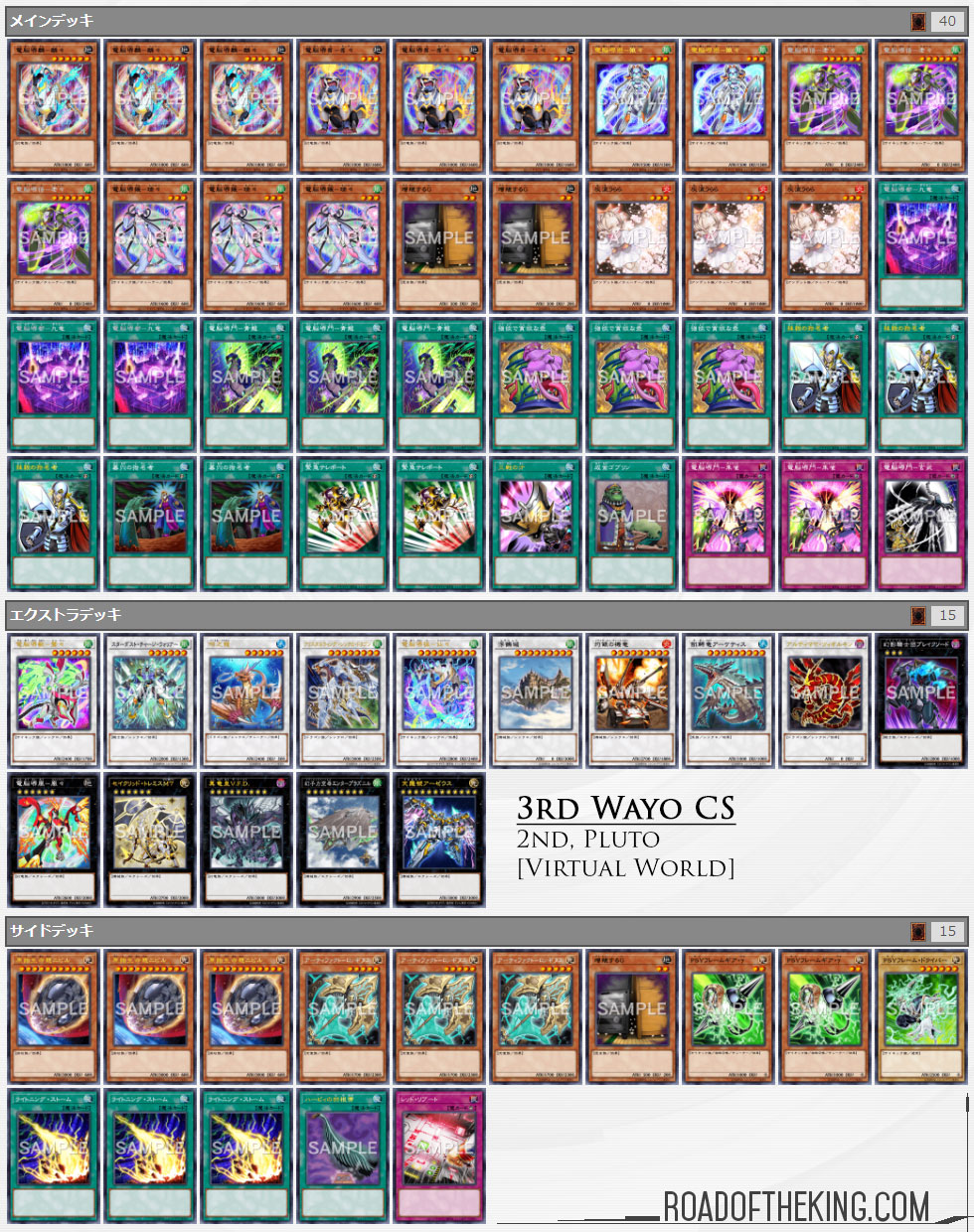 Conclusion
The early OCG 2021.04 format has Tri-Brigade, Zoodiac, Eldlich and Virtual World taking a slight lead ahead of the rest.
The current decks are build around beating Tri-Brigade, Zoodiac and Virtual World as priority. 2-3 copies of Infinite Impermanence in the Main Deck is effective against Tri-Brigade and Zoodiac. 3 copies of Artifact Lancea in the Side Deck is effective against Tri-Brigade and Virtual World.
If you enjoyed these Weekly Metagame Reports, consider supporting Road of the King on Patreon. Cheers!
References
2021-03-21 | Asaka CS (3v3 Team Battle) (1st: A, B, C | 2nd: A, B, C | 3rd: A, B, C | 4th: A, B, C)
2021-03-21 | 37th Yu-Gi-Oh! Shin-Kurashiki CS (3v3 Team Battle) (1st: A, B, C) | 2nd: A, B, C)
2021-03-21 | Purgatrio Cup Day 2 (1st: A, B, C | 2nd: A, B, C)