OCG 2020.10 Metagame Report #1
Welcome to Week #1 of the OCG 2020.10 format.
This report will cover 74 top-performing decks from 15 tournaments that were held in Japan and mainland China during 1 – 6 October 2020.
New Product Release
Metagame Breakdown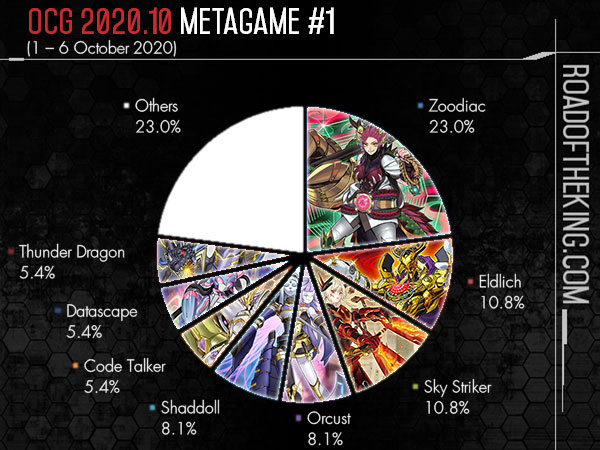 17 Zoodiac (12 Zoodiac, 5 Dogmatika Zoodiac)
8 Eldlich (3 Eldlich, 3 Dogmatika Eldlich, 1 Grass Zombie Eldlich, 1 Grinder Eldlich)
8 Sky Striker
6 Orcust (5 Orcust, 1 Machina Orcust)
6 Shaddoll (5 Dogmatika Invoked Shaddoll, 1 Dogmatika Shaddoll)
4 Code Talker (3 Salamangreat Code Talker, 1 Code Talker)
4 Virtual World
4 Thunder Dragon (3 Thunder Dragon, 1 Chaos Thunder Dragon)
2 Dogmatika Invoked
2 Altergeist
2 Phantom Knights (1 Phantom Knights, 1 Grass Burning Abyss Phantom Knights)
2 Prank-Kids
1 Adamancipator
1 Danger Tempest Magician FTK
1 Draitron Herald
1 Grass Infernoid
1 Kaiju Luna
1 Magician
1 Mekk-Knight Orcust Evil★Twin
1 Orcust Mekk-Knight
1 Numeron
Zoodiac
Niansa (廿卅) finished 1st in "Zhenjiang Fire Dragon Festival Yu-Gi-Oh! Tournament" which had 64 participants.
He ran 2 Mind Control in the Side Deck, a classic tech card for the Zoodiac mirror match.
Mind Control can be used to take control of the opponent's Zoodiac monster and used as Xyz Material to Xyz Summon your own Zoodiac Xyz Monster. It could also be used to take control of the opponent's Negalogia AA-Zeus or Number F0: Utopic Future Dragon. After using another another Xyz Monster to battle, the opponent's Xyz Monster could then be used as Xyz Material to Xyz Summon your own Negalogia AA-Zeus.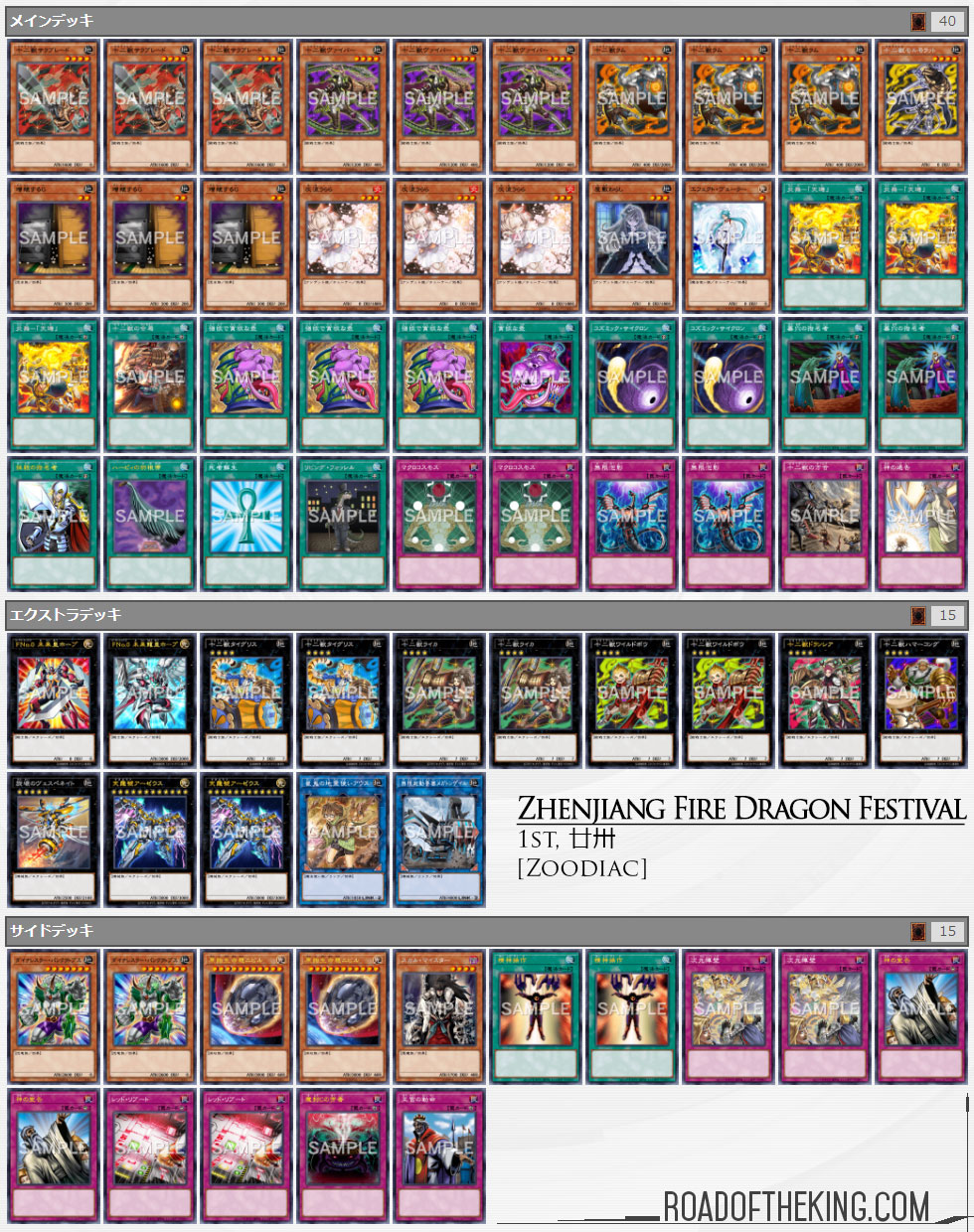 Eldlich
Nurumayu (ぬるま湯) went 7-0 and finished 1st in "158th Oretachi Trading Card Club CS" which had 48 participants.
He ran 3 Crackdown in the Main Deck, and 3 Book of Moon in the Side Deck.
Crackdown is a very versatile Trap Card for disrupting the opponent。 It works especially well against Thunder Dragon by taking control of Thunder Dragon Colossus and turning its ① effect back against them. After using Crackdown to take control of an opponent's monster, Book of Moon could be played to turn that monster face-down. This would cause Crackdown to no longer apply to that monster. You would still retain control of that monster, but it could now attack and activate its effect after being Flip Summoned.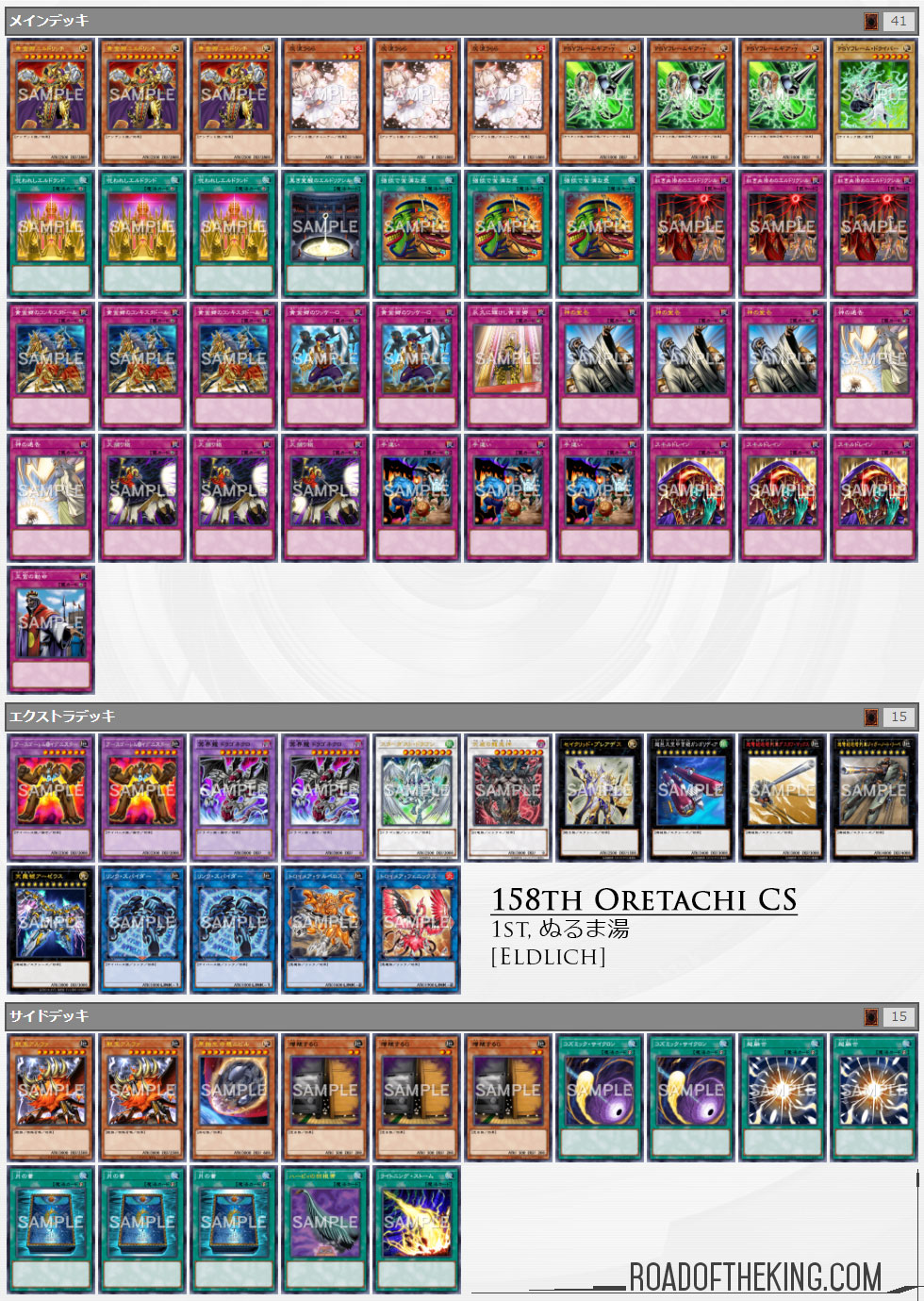 Sky Striker
Kun (困) finished 1st in "Jiaxin CS" which had 64 participants.
He ran 2 Mind Control in the Side Deck.
Mind Control can be used to to take control of the opponent's monster, and then use it as a Link Material. It could also be used for activating Sky Striker Ace – Zeke ② effect, Sky Striker Mecha Modules – Multirole ① effect or Sky Striker Airspace – Area Zero ① effect, and be sent to the graveyard.
Mind Control in the mirror match is also used to take control of the opponent's Sky Striker monster and used as Link Material to Link Summon your own Sky Striker Link Monster.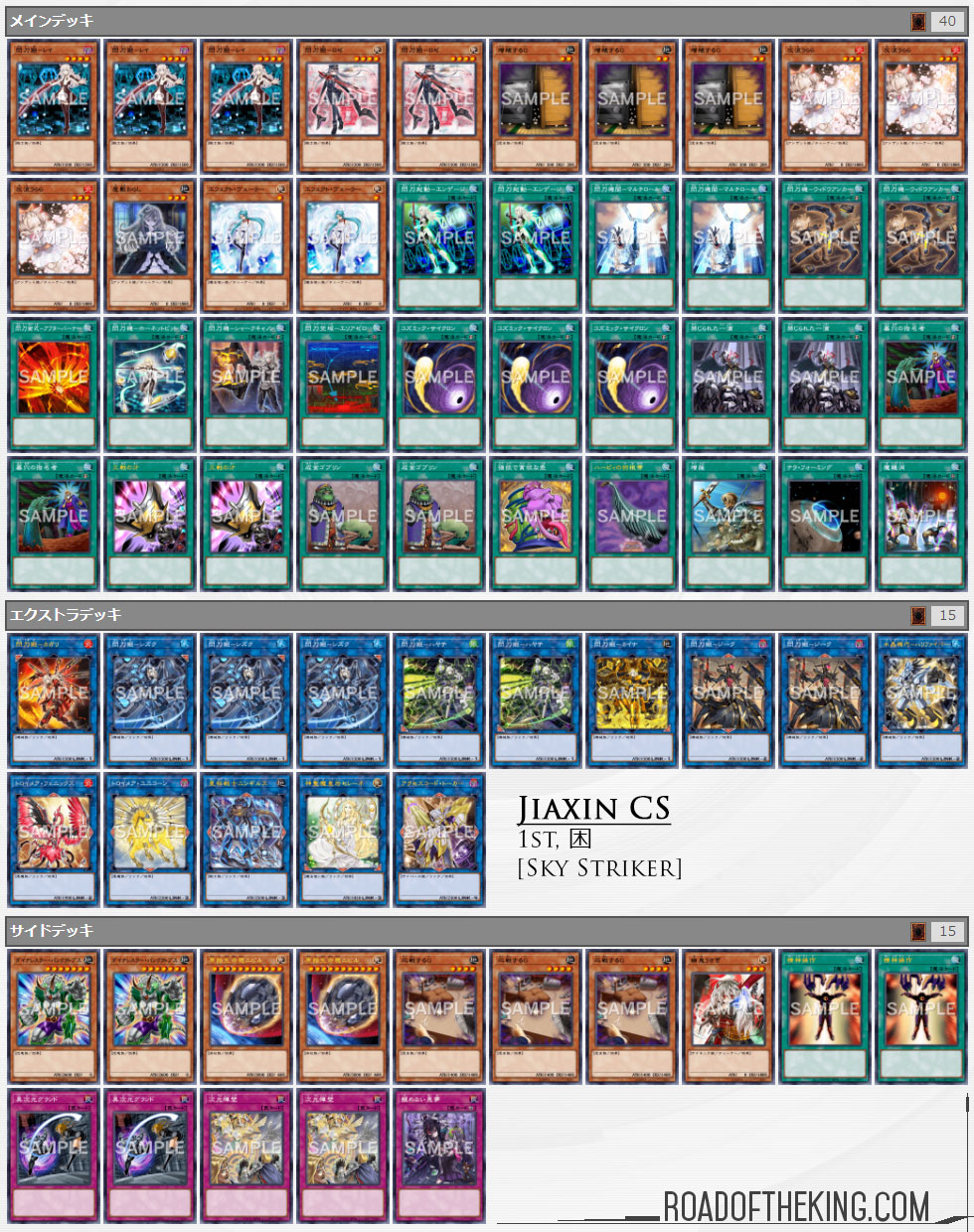 Conclusion
Zoodiac takes an huge lead, taking almost the same amount of tops as Eldlich and Sky Striker combined. The current competitive scene is of a moderately slow beatdown format, putting Eldlich in a good position, and bringing Sky Striker back to the top.
Most players have dropped Artifact Lancea in favor of Retaliating "C" in the Side Deck. This left Orcust unchecked and gave it an opportunity to thrive, while Dogmatika Invoked and Shaddoll were suppressed.
Forbidden Droplet has seen a drop in usage. Without Red-Eyes Dark Dragoon in the format, having a non-targeting answer is no longer a requirement. Players can choose to run more cost-friendly cards such as Book of Moon, Mind Control and Crackdown.
If you enjoyed these Weekly Metagame Reports, consider supporting Road of the King on Patreon. Cheers!
References