OCG 2020.01 Metagame Report #8
Welcome to Week #8 of the OCG 2020.01 format.
This report will cover 44 top-performing decks from 6 tournaments that were held in Japan during 22 – 25 February 2020.
New Product Release
V Jump April 2020 promotional card
Structure Deck R: Machiners Command
Metagame Breakdown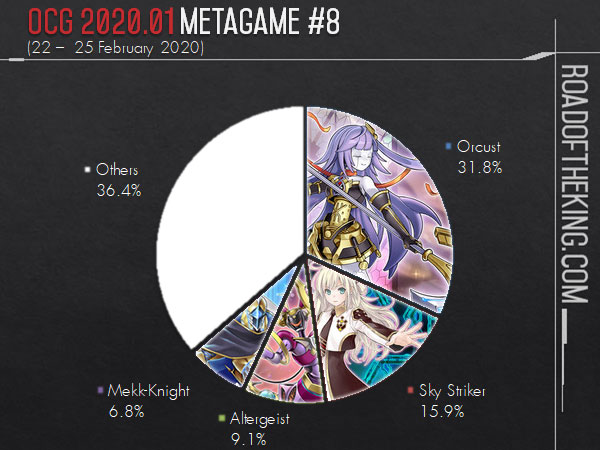 14 Orcust (8 Orcust, 5 Dragoon Orcust, 1 Sky Striker Orcust)
7 Sky Striker (5 Sky Striker, 2 Dragoon Sky Striker)
4 Altergeist
3 Mekk-Knight
2 Danger Dark World
2 Endymion (1 Mythical Beast Endymion, 1 Odd-Eyes Mythical Beast Endymion)
2 Dragoon Invoked
2 Releaser Dragoon
2 SPYRAL
1 Dragon Link
1 Dragoon Thunder Dragon
1 Lunalight
1 Magical Musket
1 Six Samurai
1 Trickstar
Orcust
Chiru (ちる) went 6-1-1 and finished 1st in "72nd Adachi CS" (3v3 Team) which had 64 teams (192 participants).
With the rising popularity of Dragoon being splashed in many different decks, he ran 2 Super Polymerization and 1 Radian, the Multidimensional Kaiju in his Side Deck as answers to Red-Eyes Dark Dragoon.
He had also shared a tabulation of the Extra Deck monsters he summoned during the 8 rounds of the tournament:
Starving Venom Fusion Dragon 1
Dragoon of Red-Eyes 5
Dingirsu, the Orcust of the Evening Star Numerous
Borrelsword Dragon 0
Galatea, the Orcust Automaton Numerous
Longirsu, the Orcust Orchestrator 1
Topologic Zeroboros 1
Topologic Bomber Dragon 1
Knightmare Phoenix 1
Knightmare Unicorn 1
Linkuriboh Numerous
Predaplant Verte Anaconda 4
I:P Masquerena 2
It is intriguing to note how much more often Predaplant Verte Anaconda was summoned over I:P Masquerena, showing that Red-Eyes Dark Dragoon has been winning more games for him compared to the Topologic Link Monsters.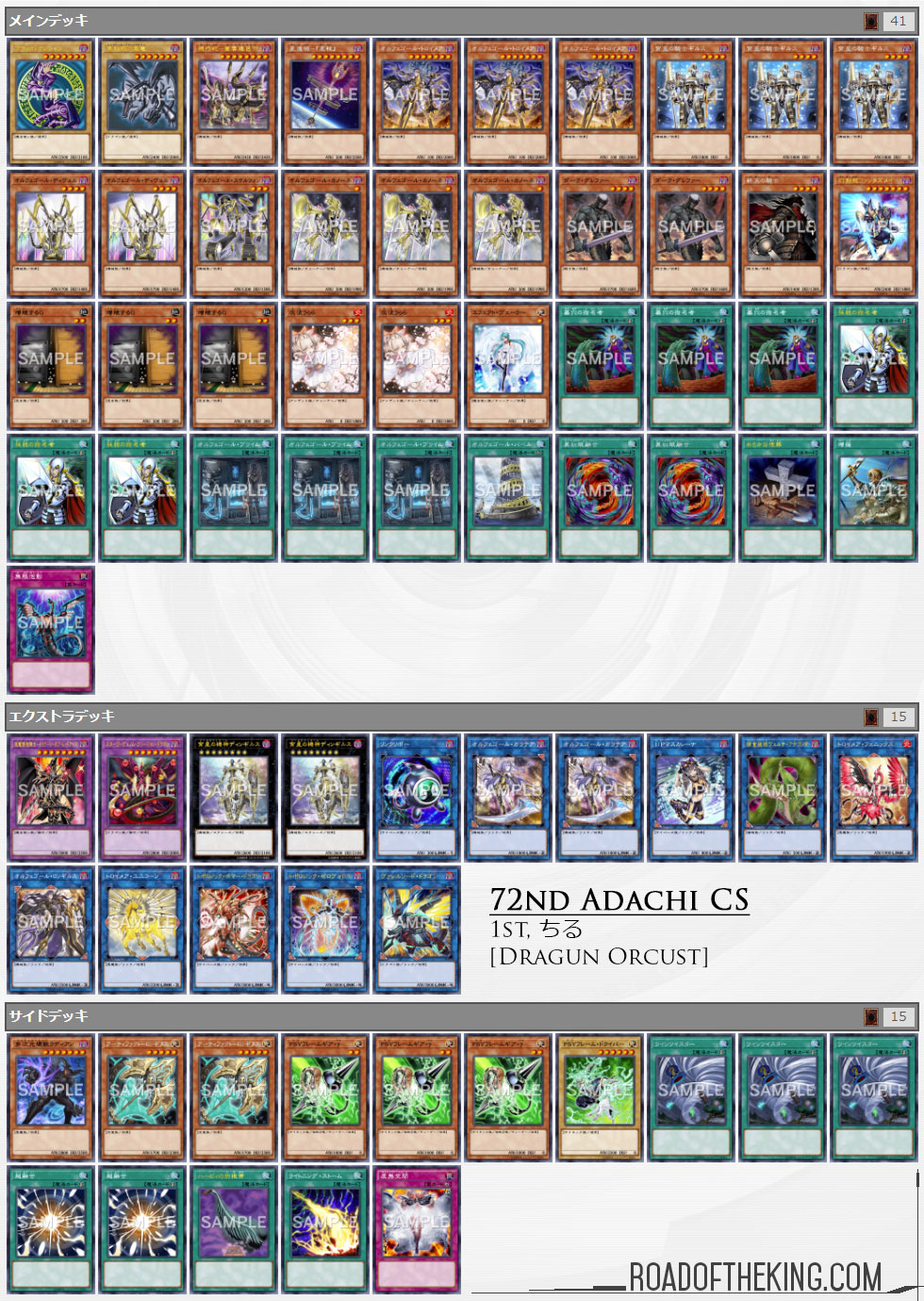 Sky Striker
Shun (しゅん) went 7-1 and finished 1st in "72nd Adachi CS" (3v3 Team) which had 64 teams (192 participants).
Most decks splashing Dragoon would run only 1 or 2 Red-Eyes Fusion and rely on using Predaplant Verte Anaconda to Special Summon Red-Eyes Dark Dragoon. But as Sky Striker prefers to Special Summon Red-Eyes Dark Dragoon in the Extra Monster Zone and keep their Main Monster Zone empty, they are running 3 Red-Eyes Fusion in the Main Deck.
Red-Eyes Dark Dragoon ② effect does not target, making it great for clearing Fantastical Dragon Phantazmay. As Orcust, Sky Striker and Altergeist all requires Link Summoning to setup, Fantastical Dragon Phantazmay could be easily Special Summoned from hand and is seeing a little resurgence in the Main Deck.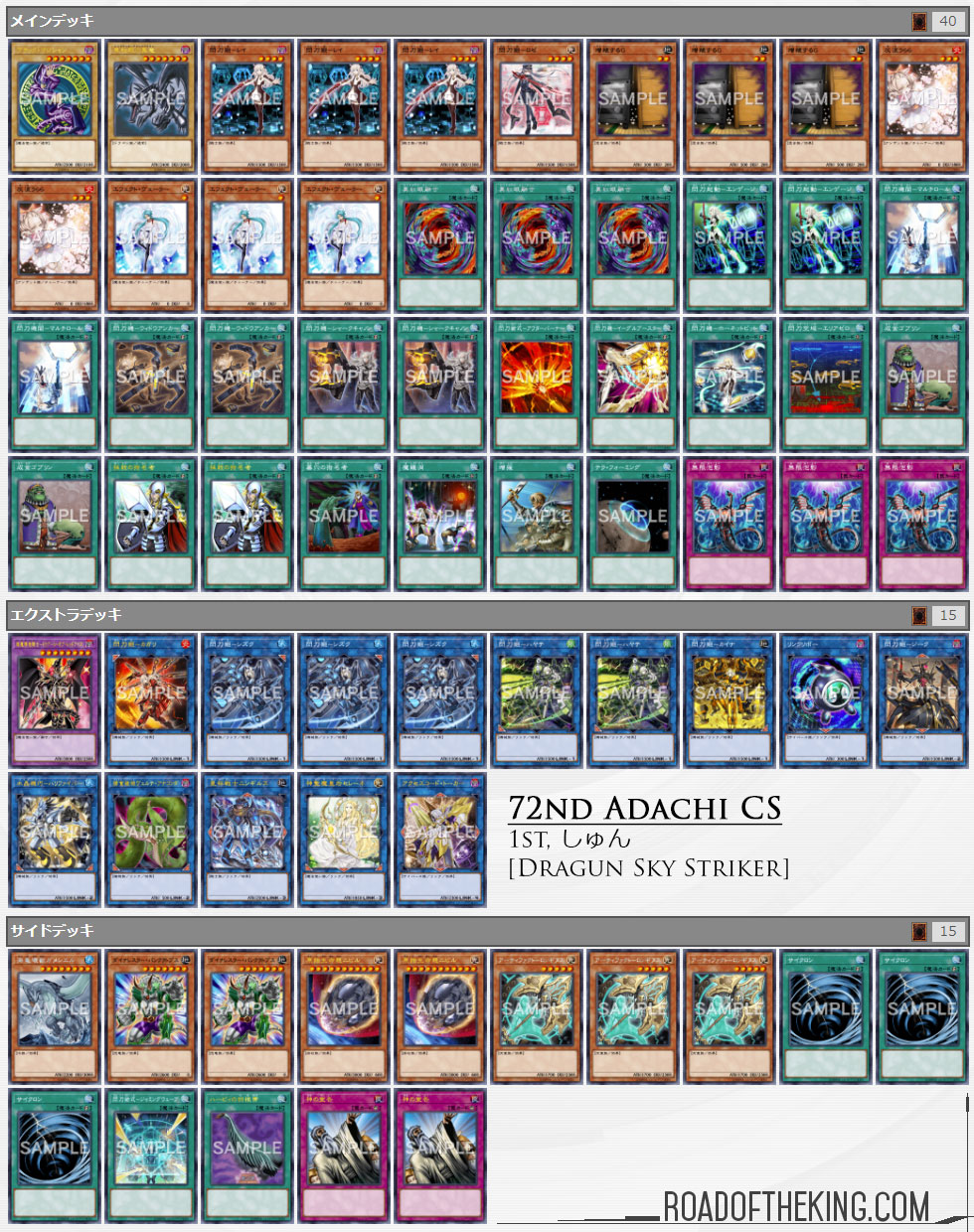 Altergeist
Kabao (カバオ) went 5-2-1 and finished 3rd in "72nd Adachi CS" (3v3 Team) which had 64 teams (192 participants).
In the past few weeks, Solemn Judgment was briefly dropped by quite a few Altergeist builds, with some opting to run them in the Side Deck instead. However, with the increasing amount of Altergeist and Sky Striker, Solemn Judgment plays a very pivotal role in the backrow control match.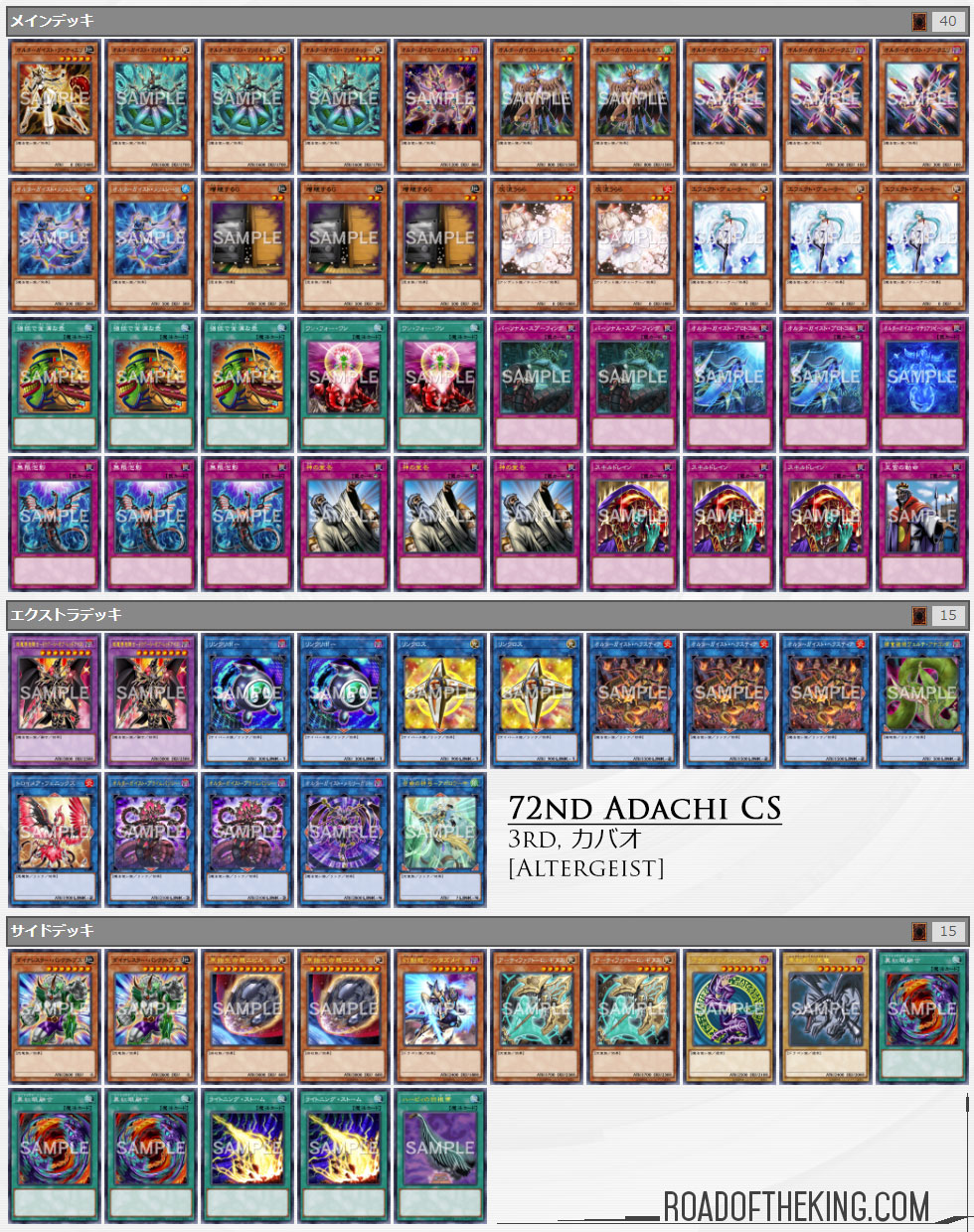 Conclusion
As the OCG 2020.01 format head towards the end of the format, Orcust takes a dominating lead. In an interesting twist, even Sky Striker has incorporated Dragoon into their build.
Chiru's keeping track of cards playing frequency is a good method to evaluate your card choices. Card that are frequently being played during games meant that they are relevant in many gameplay situations and are effective against the metagame. Conversely, if there is a card that you find it rarely useful to play out then perhaps it is not suitable for the current metagame.
This method is not restricted to just the Extra Deck, and can be extended to the Main Deck or Side Deck. It could be taken a step further by also tracking down whether the cards are better when going first or going second. This would be quite helpful in Side Decking when you have the choice to decide to go first or second.
If you enjoyed these Weekly Metagame Reports, consider supporting Road of the King on Patreon. Cheers!
References