OCG 2019.07 Metagame Report #1
Welcome to Week #1 of the OCG 2019.07 format.
This report will cover 34 top-performing decks from 6 tournaments that were held in Japan and China during 2 – 7 July 2019.
New Product Release
Yu-Gi-Oh! ARC-V Manga, Volume 7

Divine Go-D/D/D Zero King Zero G.O.D. Reiji
Metagame Breakdown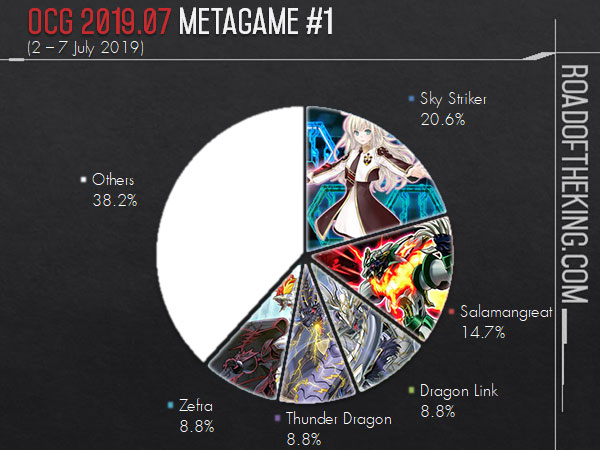 7 Sky Striker
5 Salamangreat
3 Dragon Link
3 Thunder Dragon
3 Zefra
2 Altergeist
2 Murakumo Da Eiza
2 Mythical Beast Endymion
2 Trickstar
1 Grass Lightsworn
1 Invoked
1 Invoked True Draco
1 Magician
1 Subterror
Sky Striker
Mizuki (ミズキ) went 7-0 and finished 1st in "6th Shizuoka YCS" which had 48 participants.
He ran a more traditional Sky Striker build that relies on efficient resource trading to control the game, instead of locking down the opponent with Mystic Mine or There Can Be Only One.
The 3 Solemn Judgment is pivotal in this build as it not only protects the backrow, but to also disrupt the opponent's strategy by negating critical cards.
As more players are running Sky Striker, White Howling is ran in the Side Deck for the mirror match.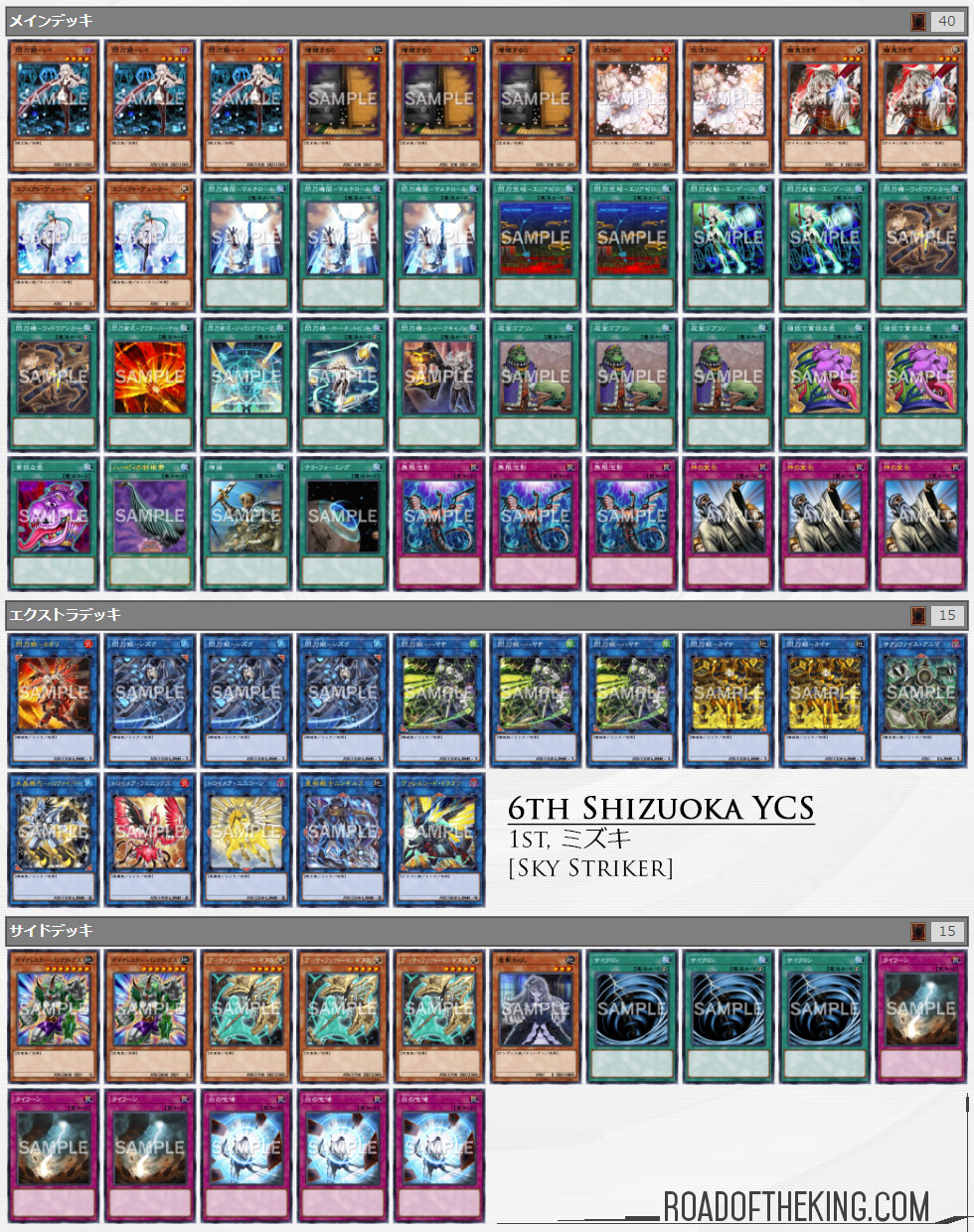 Salamangreat
Kai (戒) went 7-1 and finished 1st in "4th DCS" which had 48 participants.
With Salamangreat Gazelle and Lady Debug both limited in the OCG 2019.07 Limit Regulation, he has chosen to run Flame Bufferlo in the Main Deck.
Flame Bufferlo's Trigger Effect can be activated by Normal Summoning it and then using it to Link Summon Salamangreat Balelynx. Salamangreat Spinny or Salamangreat Foxy would then be discarded to draw 2 cards. Spinny or Foxy could then be Special Summoned from the graveyard later to go into Salamangreat Sunlight Wolf.
Flame Bufferlo helps to dig for Salamangreat Gazelle or Salamangreat Circle for setting up the resource loop, but to also dig for more Trap cards such as Solemn Judgment to reinforce his opening board.
His build is particularly tuned against Sky Striker, running 3 Fantastical Dragon Phantazmay and 1 Imperial Order in the Main Deck.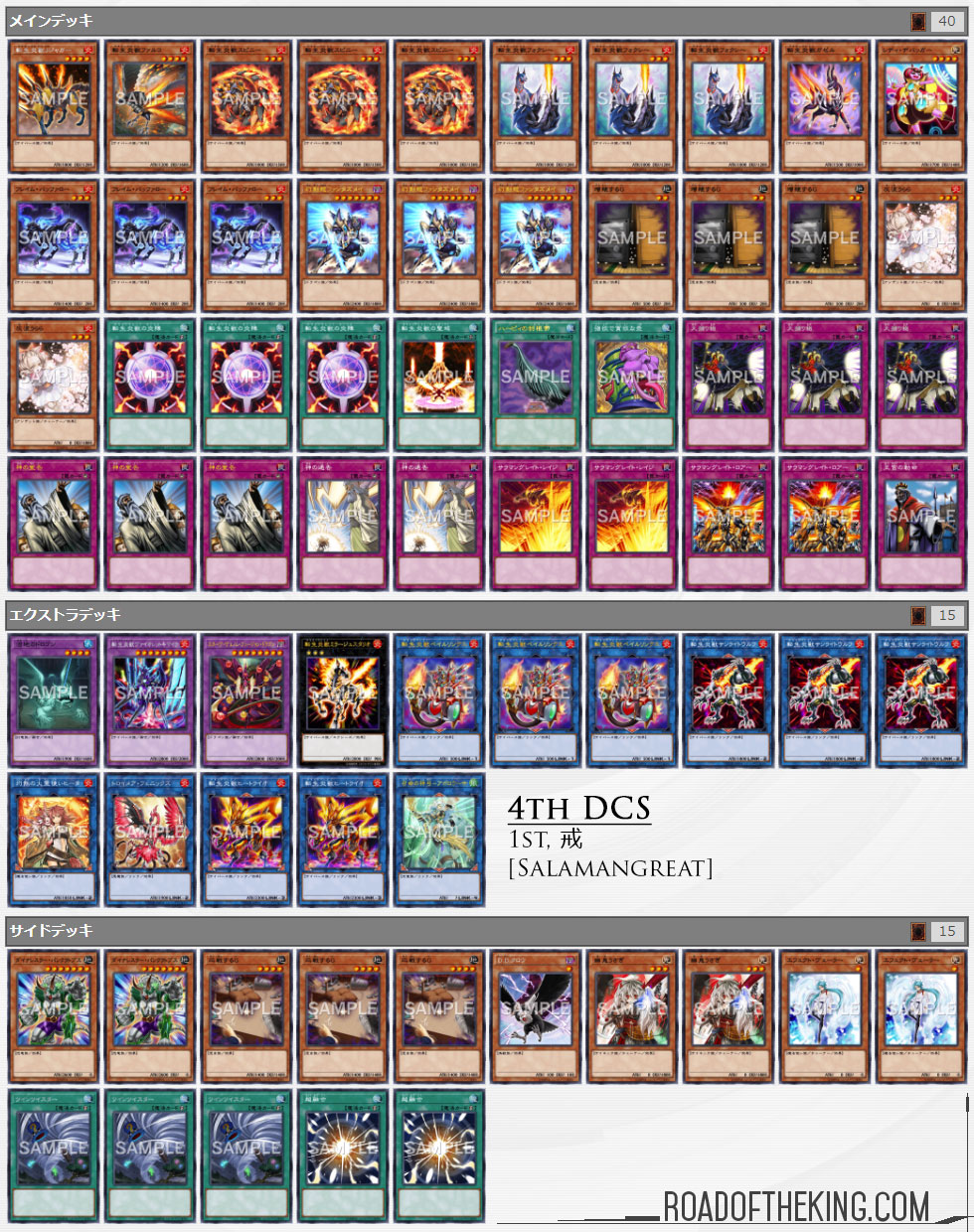 Conclusion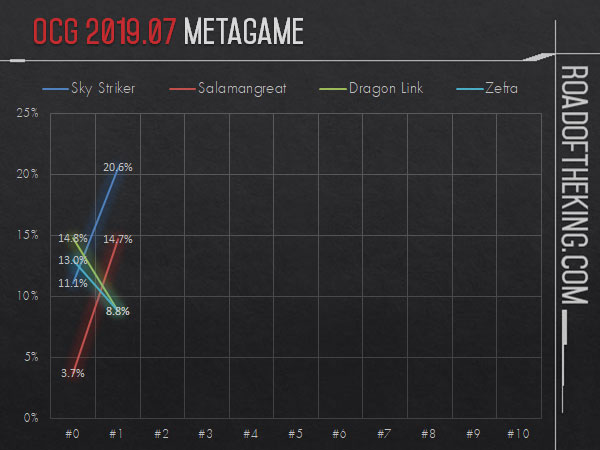 In a surprising turn, the backrow control decks, Sky Striker and Salamangreat, took the lead this week.
Having Solemn Judgment to protect their opening board allows them to snowball in card advantage through Sky Striker Mecha Modules – Multirole and Salamangreat Sunlight Wolf respectively.
Chaos Impact will be released in the upcoming weekend and we will see if it could shake up the competitive scene.
If you enjoyed these Weekly Metagame Reports, do consider supporting Road of the King on Patreon. Thank you.
References