OCG 2017.04 Metagame Report #0
Welcome to Week #0 of the OCG 2017.04 format.
The OCG 2017.04 Limit Regulation will officially take effect on 1 April 2017, but a number of tournaments were held last weekend with the new Limit Regulation and the New Master Rules.
This report will cover 33 top-performing decks from 7 tournaments that were held in Japan during 25 – 26 March 2017.
Edit: Corrected a calculation error.
New Product Release
Metagame Breakdown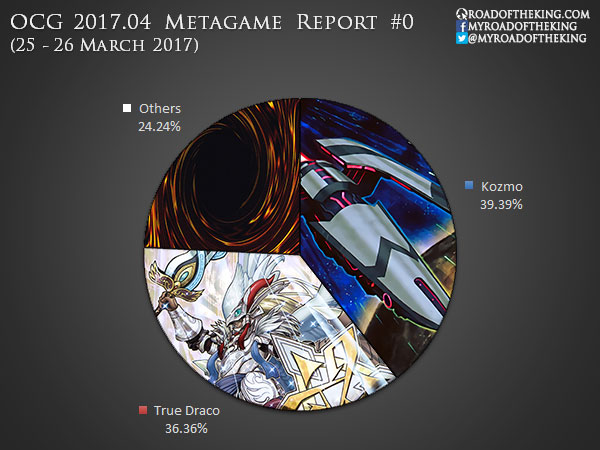 13 Kozmo:

9 True Draco Metalfoes Kozmo
3 True Draco Kozmo
1 Mono Kozmo

12 True Draco:

7 Demise True Draco
1 Mono True Draco
1 ABC True Draco
1 Invoked True Draco
1 Windwitch True Draco
1 Zoodiac True Draco

5 Dinosaur:

4 True King Dinosaur
1 True Draco Dinosaur

1 Dinosaur Yang Zing
1 Greener Infernoid
1 True Draco Monarch
True Draco
With only Decode Talker and Link Spider available, there are insufficient generic Link Monsters to support archetype that relies on flooding with Extra Deck monsters. Archetypes that do not depend on the Extra Deck, like True Draco, becomes the preferred choice.
With Zoodiac gone in OCG 2017.04, True Draco takes the stage.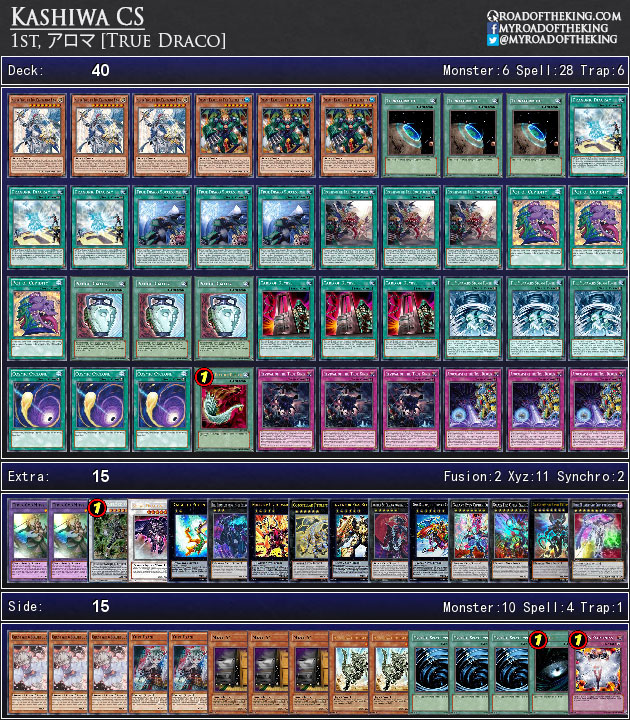 Kozmo
True Draco Metalfoes Kozmo put up a surprisingly strong performance alongside True Draco.
The deck takes advantage of Revolving Stage to bring out Dragonic Diagram for yourself, while giving the opponent Kozmotown. Dragonic Diagram would fetch you Master Peace, the True Dracoslaying King, whose effect could destroy Kozmotown to fetch yourself a Kozmo card.
Metalfoes synergies well with True Draco. By using their Pendulum Effect to set Metalfoes Combination, the Continuous Trap Cards could then be used for Tribute Summoning Master Peace. After being tributed and sent to the graveyard, the graveyard effect of both Metalfoes Combination could be activated to add 2 Metalfoes Pendulum monsters from deck to hand. This opens up the potential to use them as Pendulum Scales, or to use them as materials for Fusion Summoning a Metalfoes Fusion monster.
Alongside Master Peace, Kozmo Dark Destroyer doubles up as additional threats.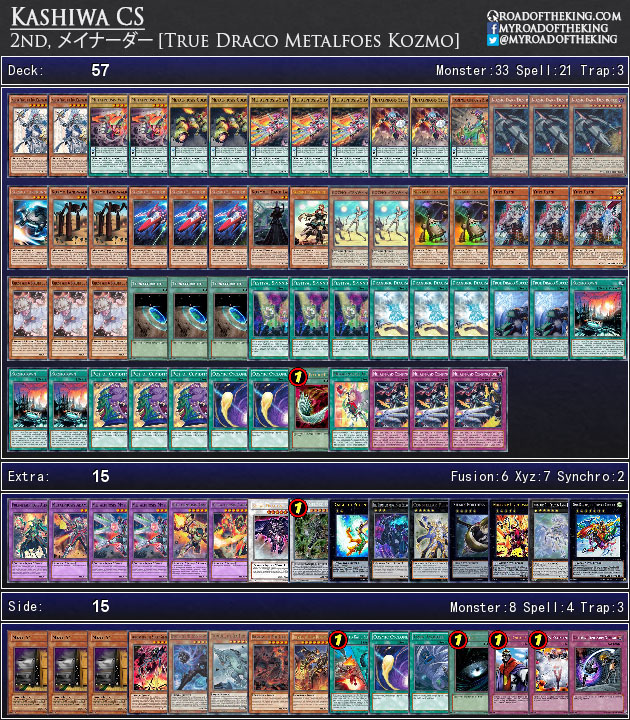 Conclusion
The limitation of Interrupted Kaiju Slumber significantly weakens Kaiju by lowering their consistency. This in turn makes Main Deck monsters such as Master Peace, the True Dracoslaying King and Kozmo Dark Destroyer much stronger threats that could win the game by themselves.
With the Zoodiac engine weakened, most players have moved over to the True Draco engine instead. Among the 33 decks, only 3 decks (1 mono Kozmo, 1 Dinosaur Yang Zing, and 1 Greener Infernoid) were not running Dragonic Diagram to take advantage of either True Draco or True King.
True King Dinosaur had a decent showing, but many failed to place far in tournaments.
The True Draco trend would likely continue until the release of Code of the Duelist. Hopefully we will get better Link Monsters, allowing archetypes that are reliant on Extra Deck monsters to be viable again under the New Master Rules.
References