OCG 2019.07 Metagame Report #0
Welcome to Week #0 of the OCG 2019.07 format.
This preliminary report will cover 54 top-performing decks from 11 tournaments that were held in Japan and China during 22 – 30 June 2019, played under the new OCG 2019.07 Limit Regulation.
New Product Release
Metagame Breakdown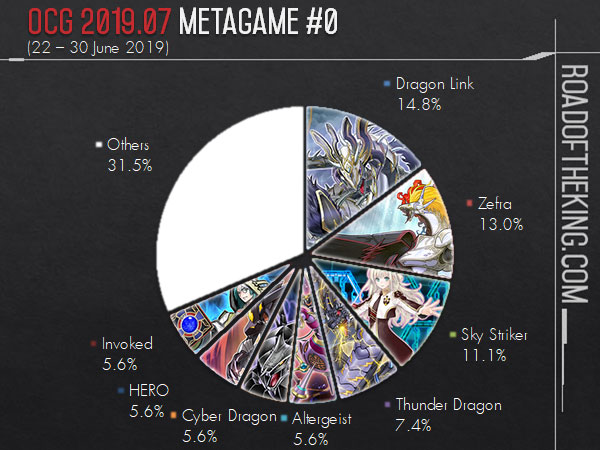 8 Dragon Link
7 Zefra
6 Sky Striker
4 Thunder Dragon
3 Altergeist
3 Cyber Dragon
3 HERO
3 Invoked
2 Magician
2 Orcust
2 Salamangreat
2 Subterror
1 Buster Blader
1 Grass Scrap
1 Mekk-Knight
1 Mythical Beast Endymion
1 Sekka Kaiju Luna
1 Train
1 Trickstar
1 True Draco
1 World Chalice
Dragon Link
The new Rokket cards from Structure Deck: Revolver has boosted the Guardragon combo and made Dragon Link a strong contender in the early OCG 2019.07 format.
The standard opening involves Synchro Summoning Ib the World Chalice Justiciar, whose effect will add World Legacy Guardragon to hand. World Legacy Guardragon will Special Summon a Dragon that will be used with Ib to Link Summon Crystron Halqifibrax. Halqifibrax will bring out Rokket Synchron, while Ib will bring out World Chalice Guardragon, setting up for the standard Guardragon combo.
The typical setup involves using Topologic Gumblar Dragon will discard 2 cards from the opponent's hand and Chaos Dragon Levianeer will shuffle another card from the opponent's hand to their deck. During the opponent's turn, Gumblar will discard another 2 cards, leaving the opponent with only 1 card left, and that could be negated by a Borreload Savage Dragon or Hot Red Dragon Archfiend Abyss.
Ueni (うえにー) went 6-3 and finished 4th in "2nd TOGO Cup with Hatti CS" which had 64 participants.
He uses Draconnet to bring out Galaxy Serpent and use them for the Synchro Summoning of Ib the World Chalice Justiciar to start his combo.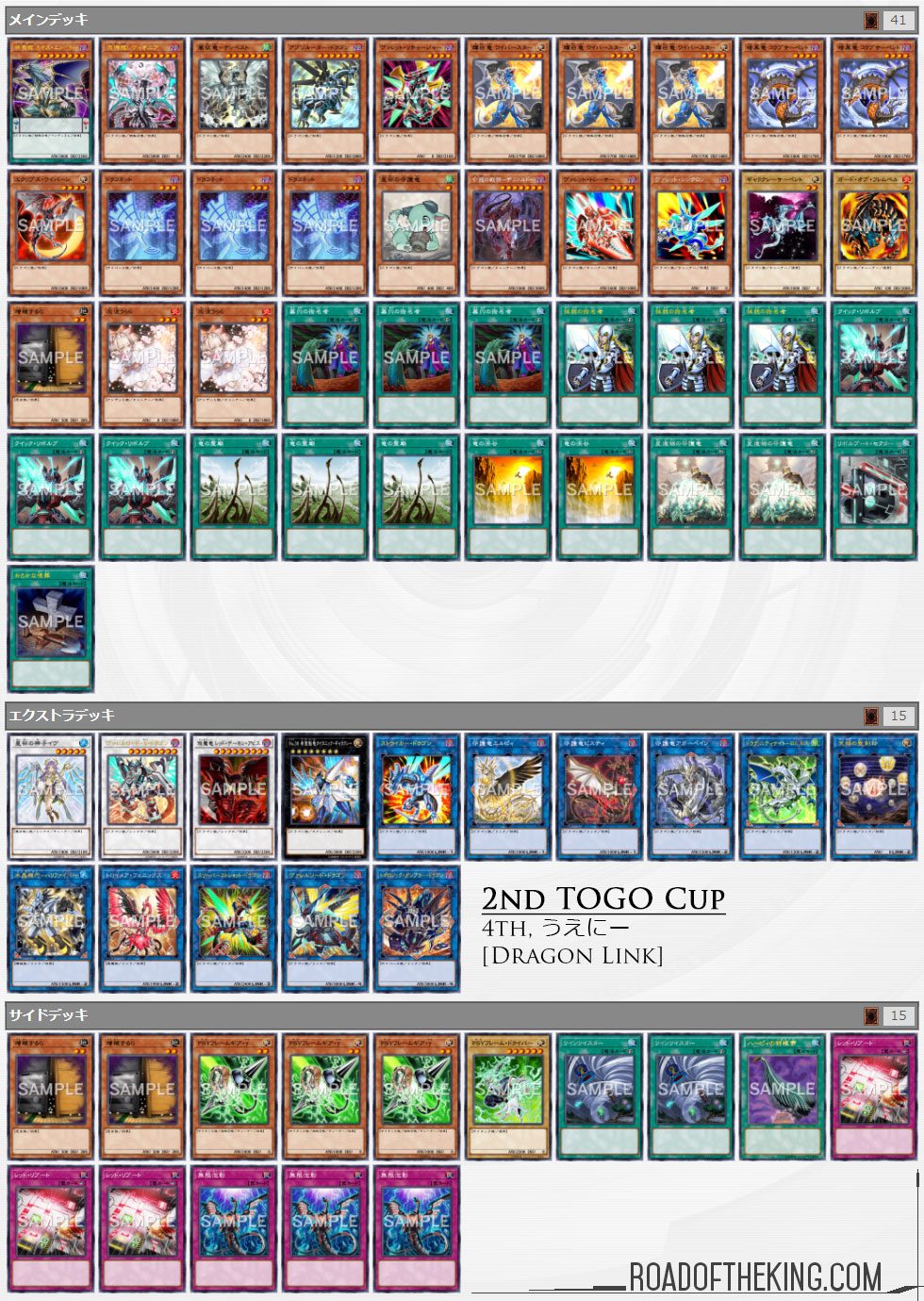 Zefra
Untouched by the OCG 2019.07 Limit Regulation, Zefra is in a good position, especially when the power and consistency of the previous top decks have being lowered.
The Darkwurm Combo will setup Nine Pillars of Yang Zing and Zefra Divine Strike for a double negation and then follow up with Synchro Summoning Borreload Savage Dragon during the opponent's turn for the third negation, enough to disrupt most decks from playing their strategy.
Sakuma (さくま) went 6-1-1 and finished 1st in "102nd Aichi CS Team Battle in NextPro Osu Shop with Hatti CS" (3v3 Team) which had 33 teams (99 participants).
He is using a combination of the Speedroid engine and Dinosaur engine in his Zefra build.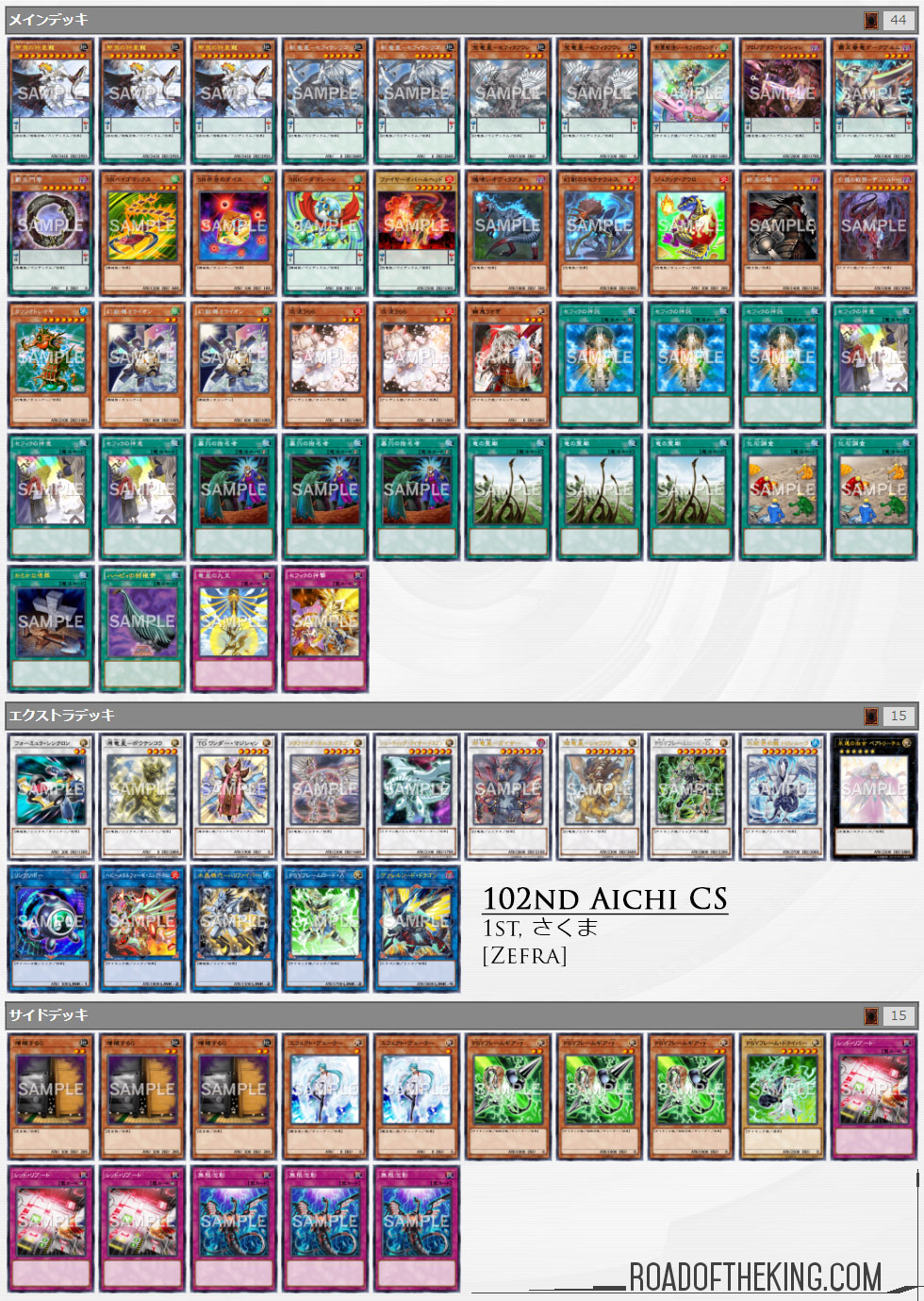 Sky Striker
Similarly, Sky Striker is also untouched by the OCG 2019.07 Limit Regulation, putting it in a good position in the new format.
Although Mystic Mine became semi-limited and Metaverse became limited, the Mystic Mine build is still ran by some players due to its incredible ability to supress Dragon Link.
There Can Be Only One is also an option to disrupt Dragon Link's game plan.
Massuu (まっすー) went 7-1 and finished 3rd in "9th Ryuppy CS with Hatti" which had 39 participants.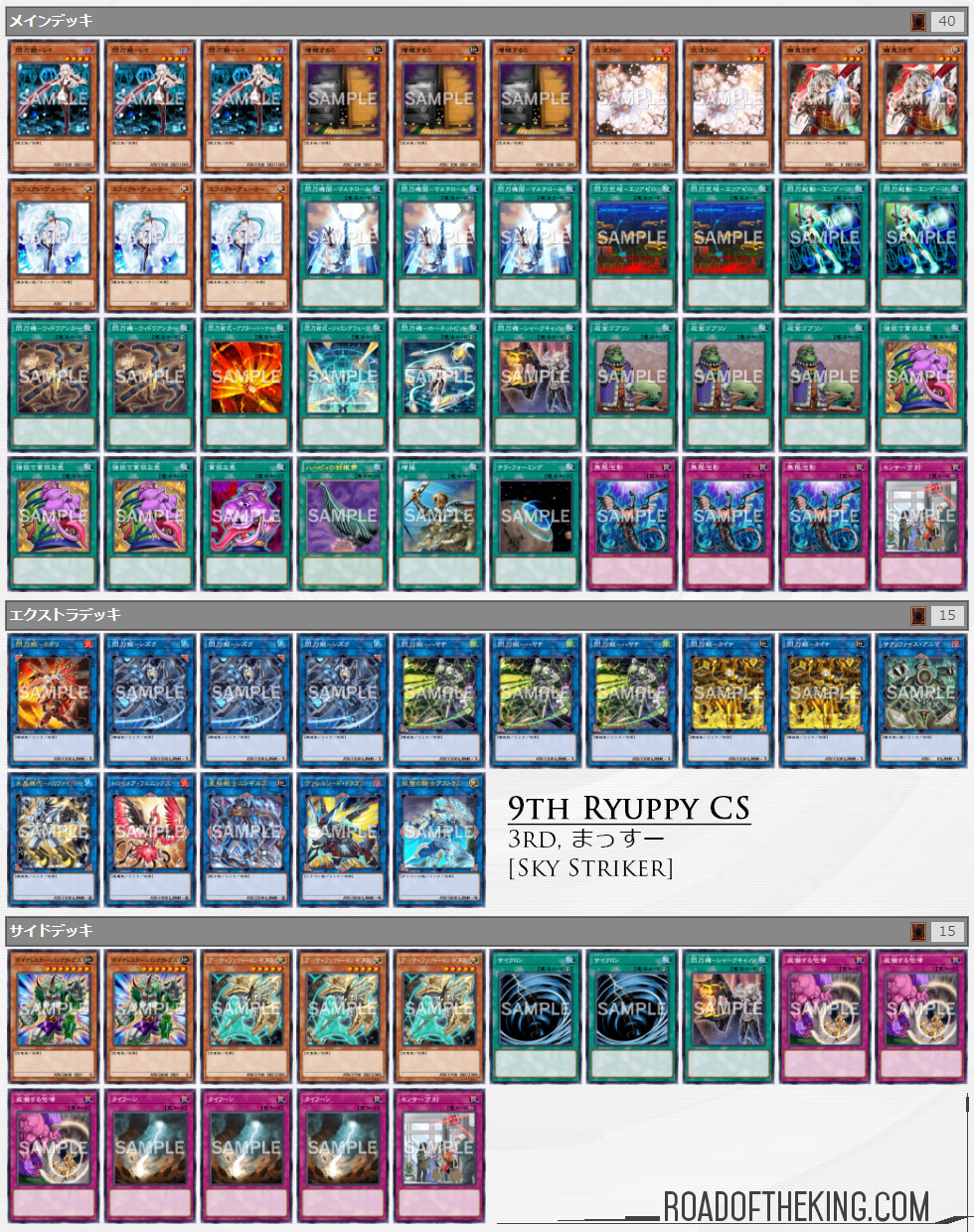 Conclusion
Dragon Link, Zefra and Sky Striker takes a small lead at the dawn of OCG 2019.07 format. The current competitive scene is so diverse that even the most popular deck is only 15% of the top performers.
Retaliating "C" is now the preferred choice of tech against Dragon Link. It can chained to the activation of World Legacy Guardragon and Quick Launch. This would disrupt the combo by denying Eclipse Wyvern.
However, Dragon Link do have counter plays against Retaliating "C".
PSY-Framegear Gamma is ran in the Side Deck to negate Retaliating "C", and provides 2 additional bodies for extending the combo.
After Retaliating "C" has been Special Summoned, Guardragon Agarpain's effect can be used to Special Summon Hot Red Dragon Archfiend Abyss from the Extra Deck. In turn, Hot Red Dragon Archfiend Abyss's effect can be used to negate Retaliating "C".
Ghost Ogre & Snow Rabbit is also seeing a resurgence in the Main Deck. Against Dragon Link, it is used to disrupt the Guardragons. Against Zefra, it is used to disrupt Zefraath, Heavymetalfoes Electrumite or Crystron Halqifibrax. Against Sky Striker, it is used to disrupt Sky Striker Mecha Modules – Multirole.
If you enjoyed these Weekly Metagame Reports, do consider supporting Road of the King on Patreon. Thank you.
References