OCG 2019.04 Metagame Report #6, #7
Welcome to Week #6, #7 of the OCG 2019.04 format.
This report will cover 88 top-performing decks from 15 tournaments that were held in Japan, China, Malaysia, Philippines, Singapore and Thailand during 11 – 19 May 2019.
New Product Release
Promotion Pack 2019
Collection Pack: Duelist of Revolution Version
Metagame Breakdown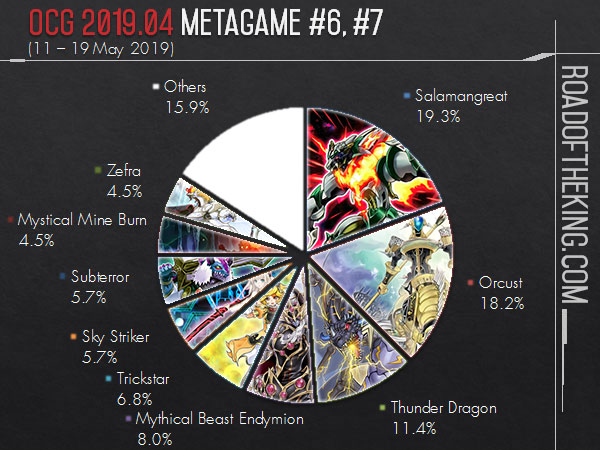 17 Salamangreat
16 Orcust:

11 Phantom Knights Orcust
3 DARK Warrior Phantom Knights Orcust
2 Scrap Phantom Knights Orcust

10 Thunder Dragon
7 Mythical Beast Endymion
6 Trickstar
5 Sky Striker
5 Subterror
4 Mystic Mine Burn
4 Zefra
3 Magical Musket
3 Magician
2 Altergeist
2 Gandora-X FTK
2 Grass Infernoid
1 Frog Paleozoic
1 HERO
Salamangreat
Babelbobul (バベルボブル) went 7-1 and finished 3rd in "2nd DCS" which had 48 participants.
He went with a backrow build that relies heavily on generic good Trap cards like Crackdown, Compulsory Evacuation Device and Paleozoic Dinomischus.
He even cut out Salamangreat Falco and Rank 4 monsters, shaving down the Salamangreat monsters to a bare minimal.
While it is an interesting take on Salamangreat, it is unlikely that this build will be popularized especially with Orcust running Red Reboot again.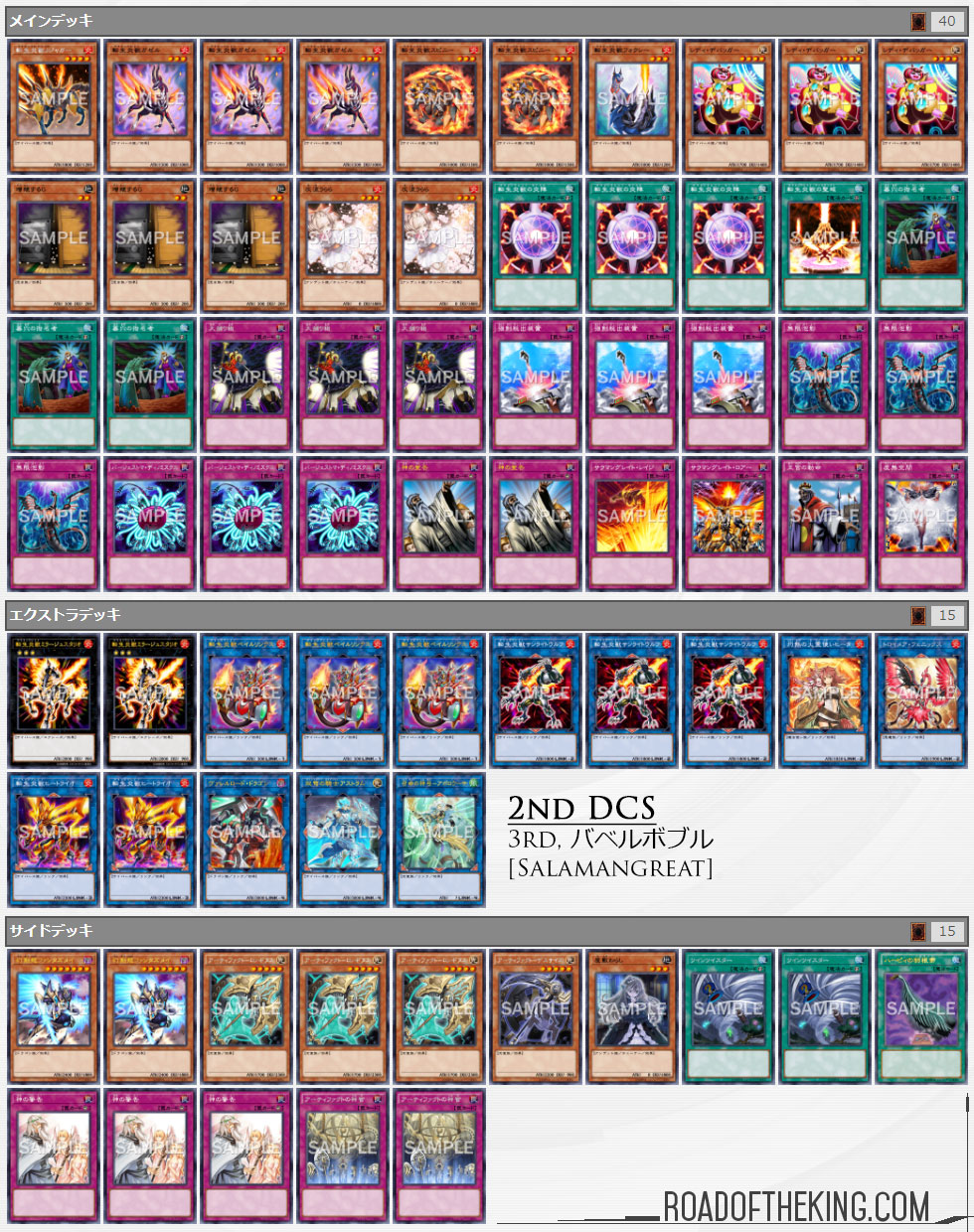 Orcust
T went 7-0-1 and finished 1 – 2nd in "Super! Ryusei no Arashi Cup with Hatti CS" which had 71 participants.
He took another step further with the Scrap Recycler and Mecha Phantom Beast O-Lion build.
A small Psychic engine consisting of Dr. Frankenderp, Psychic Wheeleder and 2 Emergency Teleport was added to improve the deck's extendibility by increasing the amount of monsters that could be Special Summoned.
He also ran 3 Red Reboot in the Main Deck and have 3 Maxx "C" in the Side Deck instead.
This optimization is very similar to Plant Link and Gouki in the previous formats where the Main Deck is focused on maximizing pulling off the combo. Going forward this could be a potential trend for Orcust builds.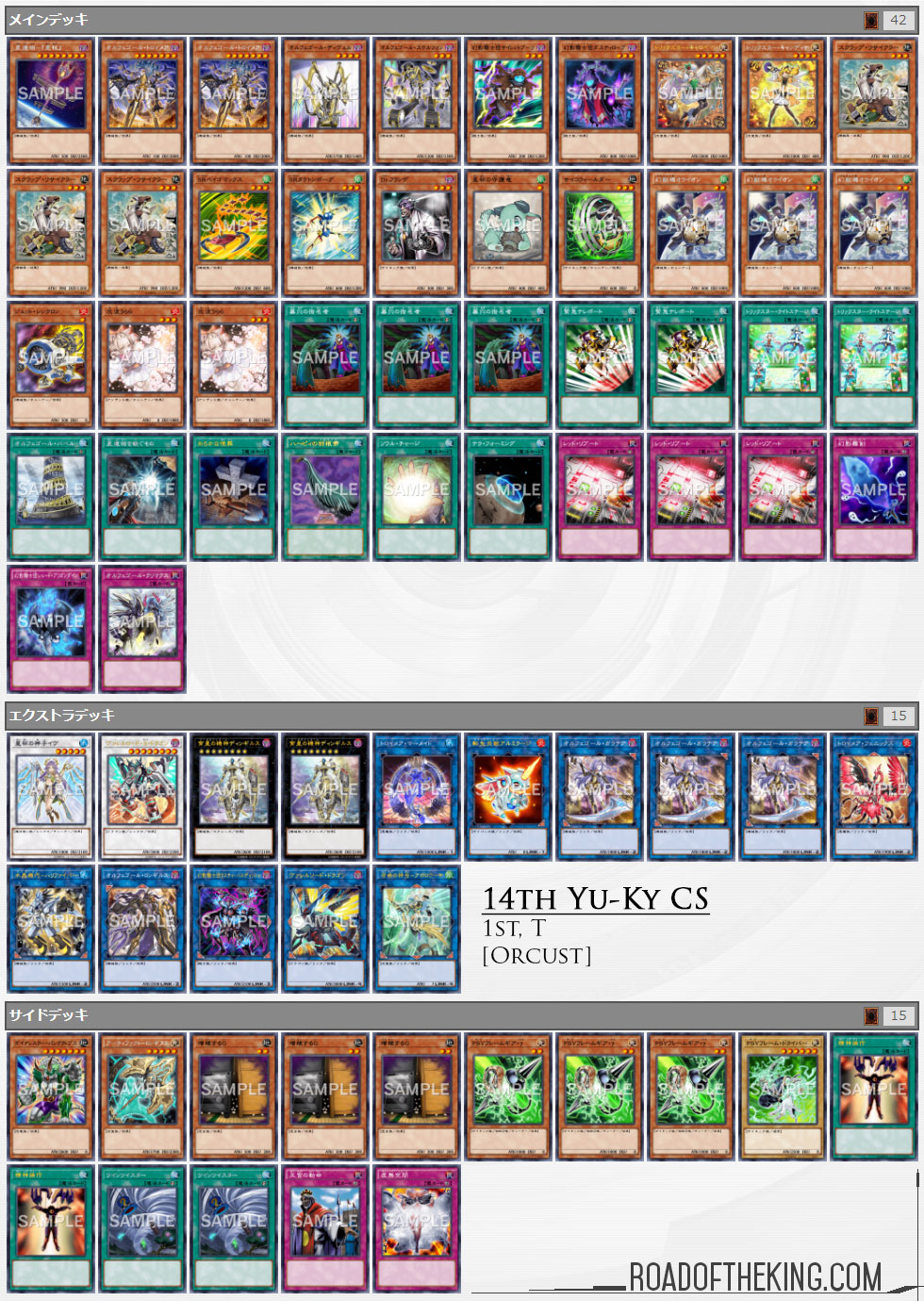 Thunder Dragon
Karyu (かりゅー) went 5-2 and finished 2nd in "7th Okayama Orbis CS Team Battle with Hatti CS" (3v3 Team) which had 20 teams (60 participants).
He ran 3 Skill Drain in the Side Deck against Orcust, instead of the typical Marco Cosmos.
Although Marco Cosmos is more effective by banishing the Orcust monsters so their graveyard effects cannot be used, it has the weakness of being destroyed by Knightmare Phoenix.
Skill Drain on the other hand does not stop the graveyard effect of Orcust monsters, but is able to negate Knightmare Phoenix and prevent itself from being destroyed. Similarly it also negates Scrap Recycler, Knightmare Mermaid, The Phantom Knights of Rusty Bardiche and Dingirsu, the Orcust of the Evening Star, disrupting the Orcust player from developing their board.
Without their Monster Effects, Orcust has a difficult time getting over the high ATK of Thunder Dragon Titan.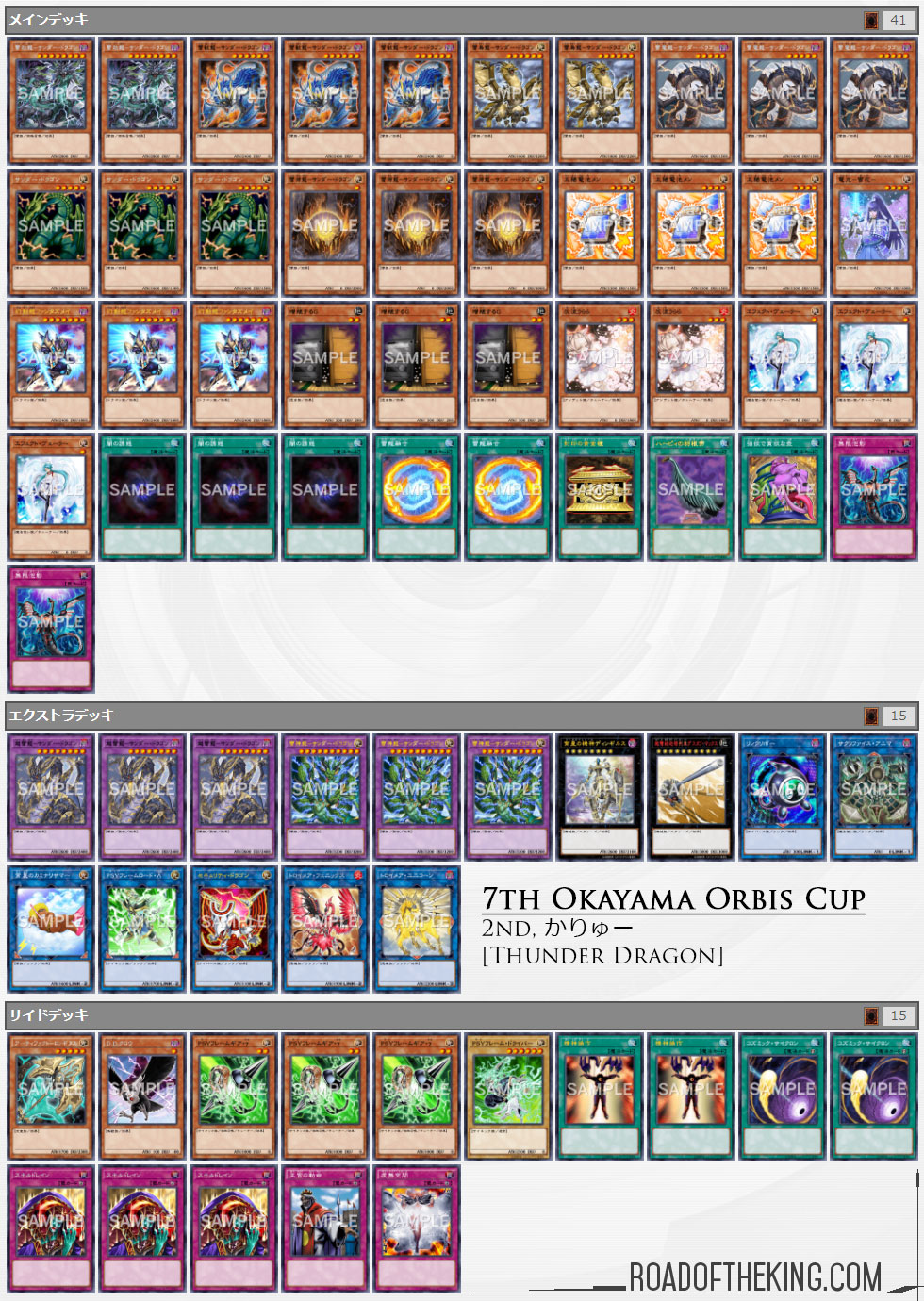 Conclusion
The past two weekends saw the conclusion of most Asia Championship 2019 Qualifiers.
Orcust had a dominating victory, winning the Hong Kong, Philippines and Thailand Qualifiers. The Singapore Qualifier was won by Frog Paleozoic, while the Malaysia Qualifier was won by Salamangreat. Mythical Beast Endymion made the finals of the Hong Kong, Malaysia and Thailand Qualifiers, but all 3 were defeated and finished in 2nd place.
The Asia Championship 2019 Taiwan Qualifier will be held in the following weekend to determine the last player invited to the Asia Championship 2019.
The upcoming two weekends will also be the Block Qualifiers in Japan. Players who had won a Shop Qualifier will be invited to play in the Block Qualifer to earn a spot in the Japan World Championship Qualifier (WCQ) held in late June.
The OCG 2019.04 metagame is slowly shaping up as we get closer to the WCQ.
If you enjoyed these Weekly Metagame Reports, do consider supporting Road of the King on Patreon. Thank you.
References