Yu-Gi-Oh! Asia Championship 2019 Singapore Qualifier
Yu-Gi-Oh! Asia Championship 2019 Singapore Qualifier was held on 18 May 2019 and had 98 participants.
Metagame Breakdown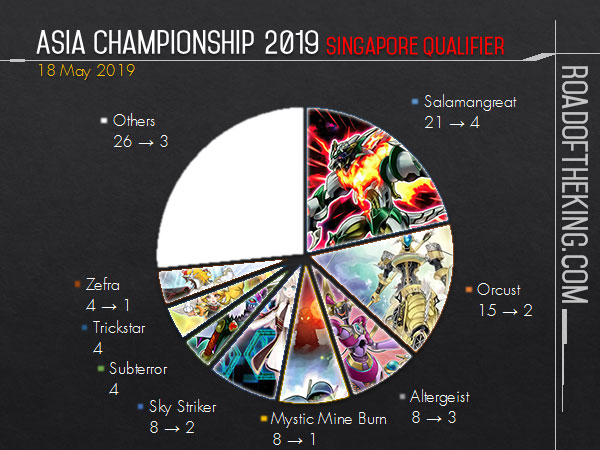 Similar to the Duelist Cup 2019 Singapore held last month, the format remains diverse with Salamangreat and Orcust taking the lead.
4 Salamangreat, 3 Altergeist, 2 Orcust, 2 Sky Striker, 1 Mystic Mine Burn, 1 Zefra, 1 Frog Paleozoic, 1 Infernoid, 1 Magical Musket made the Top 16.
Result
1st
Winson Lim
Frog Paleozoic
2nd
Yong Qian Rui
Salamangreat
3 – 4th
Jonas Bai
Mystic Mine Burn
Sherwyn Lim
Altergeist
5 – 8th
Calvin Ang
DARK Warrior Phantom Knights Orcust
Michael Santoso
DARK Warrior Phantom Knights Orcust
Kevin Neo
Magical Musket
Ng Wei Feng
Zefra
Despite Salamangreat and Altergeist having a majority showing in the Top 16, they were quickly knocked down to just 1 each in the Top 8.
The final match was a song of water and fire – Winson Lim with Frog Paleozoic against Yong Qian Rui with Salamangreat.
Duel 1, Winson went first and was able to fill his graveyard early with Paleozoic Marrella. A Compulsory Evacuation Device on Lady Debug denied Qian Rui of his combo and that gave Winson the tempo to control the game with Toadally Awesome.
Duel 2, Qian Rui went first and setup his board. Winson could not deal with Salamangreat Sunlight Wolf and was slowly grind out of resources.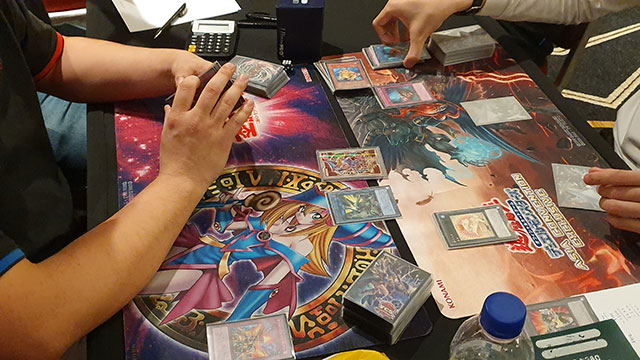 Duel 3, Swap Frog allowed Winson to setup an early Toadally Awesome. Qian Rui's Trap-heavy build bricked at the most ill-timing as he drew a hand of Salamangreat Trap Cards and Salamangreat Sanctuary but not a single Salamangreat monster. Winson flooded the board on the next turn and went for an One-Turn-Kill with Borrelsword Dragon.
1st, Winson Lim [Frog Paleozoic]
Source: Asia Championship 2019 Singapore Qualifier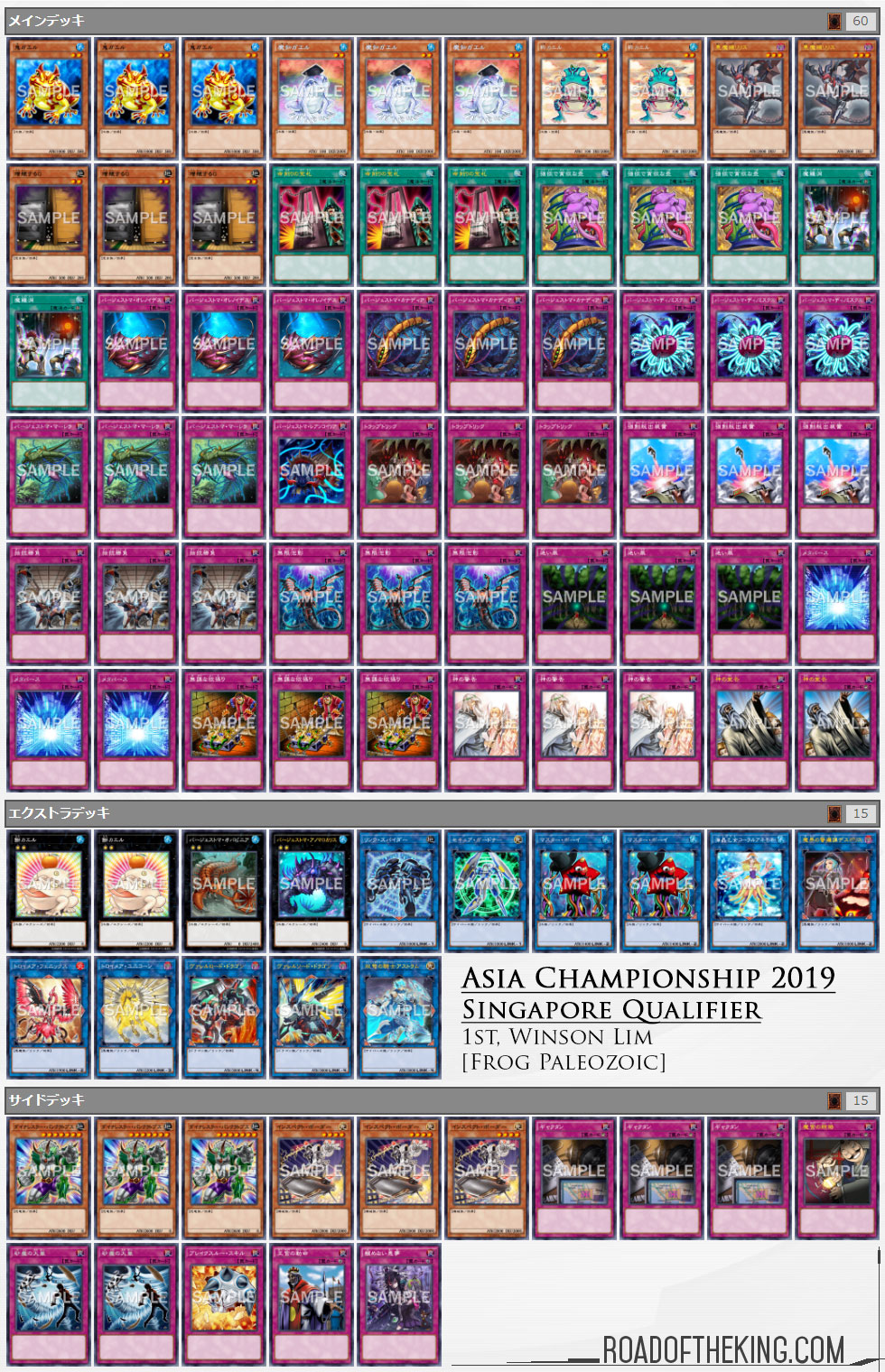 2nd, Yong Qian Rui [Salamangreat]
Source: Asia Championship 2019 Singapore Qualifier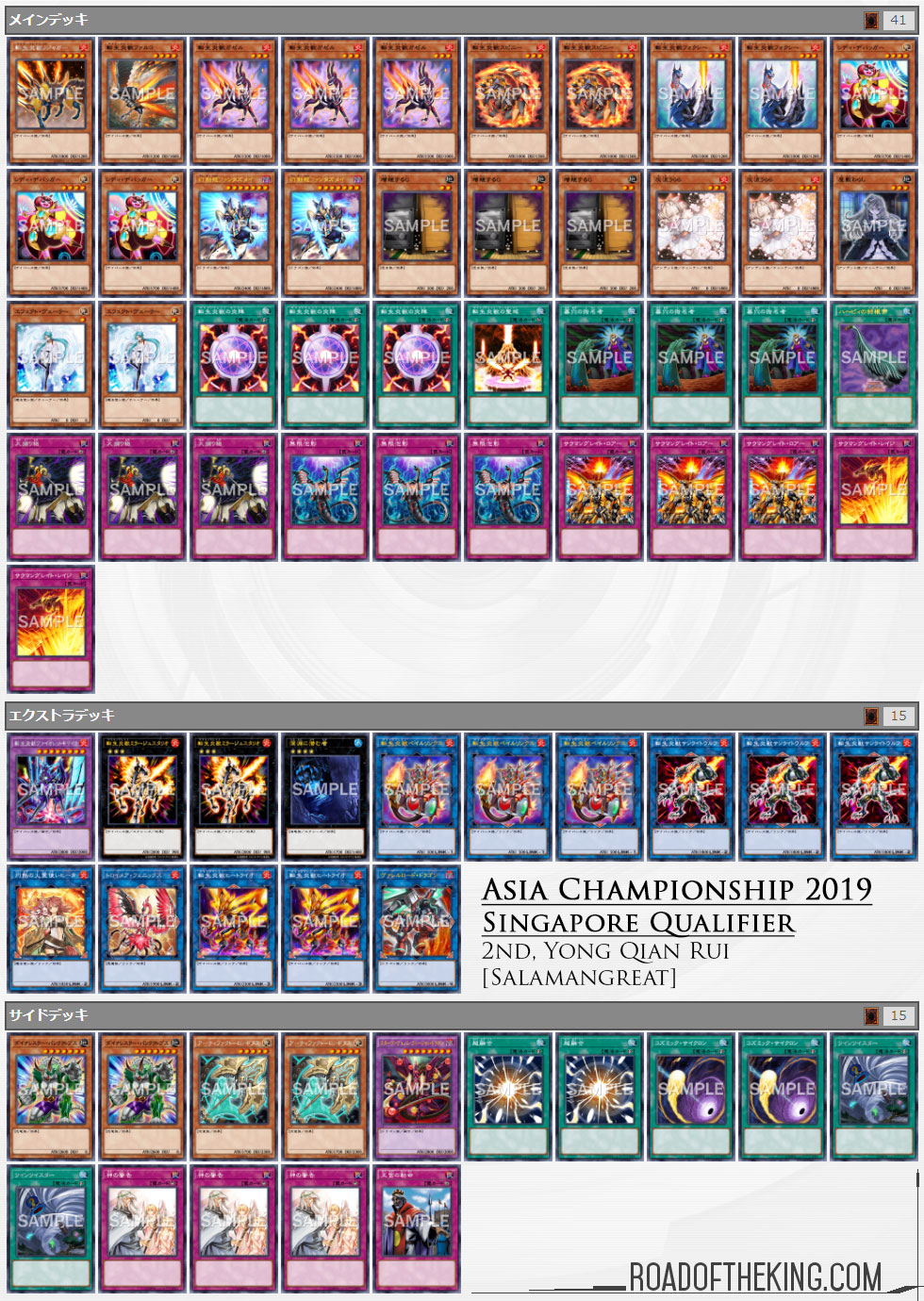 3 – 4th, Jonas Bai [Mystic Mine Burn]
Source: Asia Championship 2019 Singapore Qualifier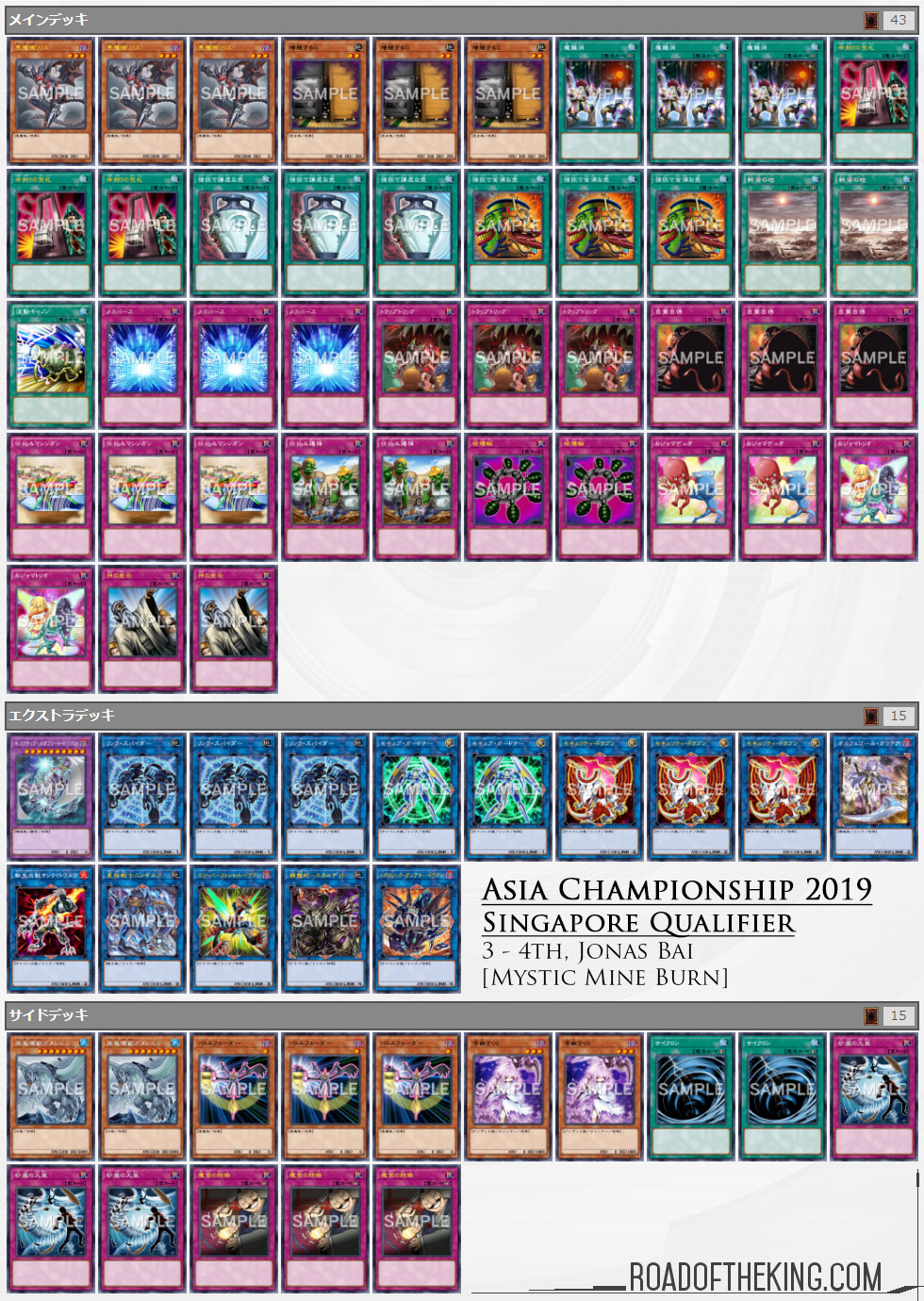 3 – 4th, Sherwyn Lim [Altergeist]
Source: Asia Championship 2019 Singapore Qualifier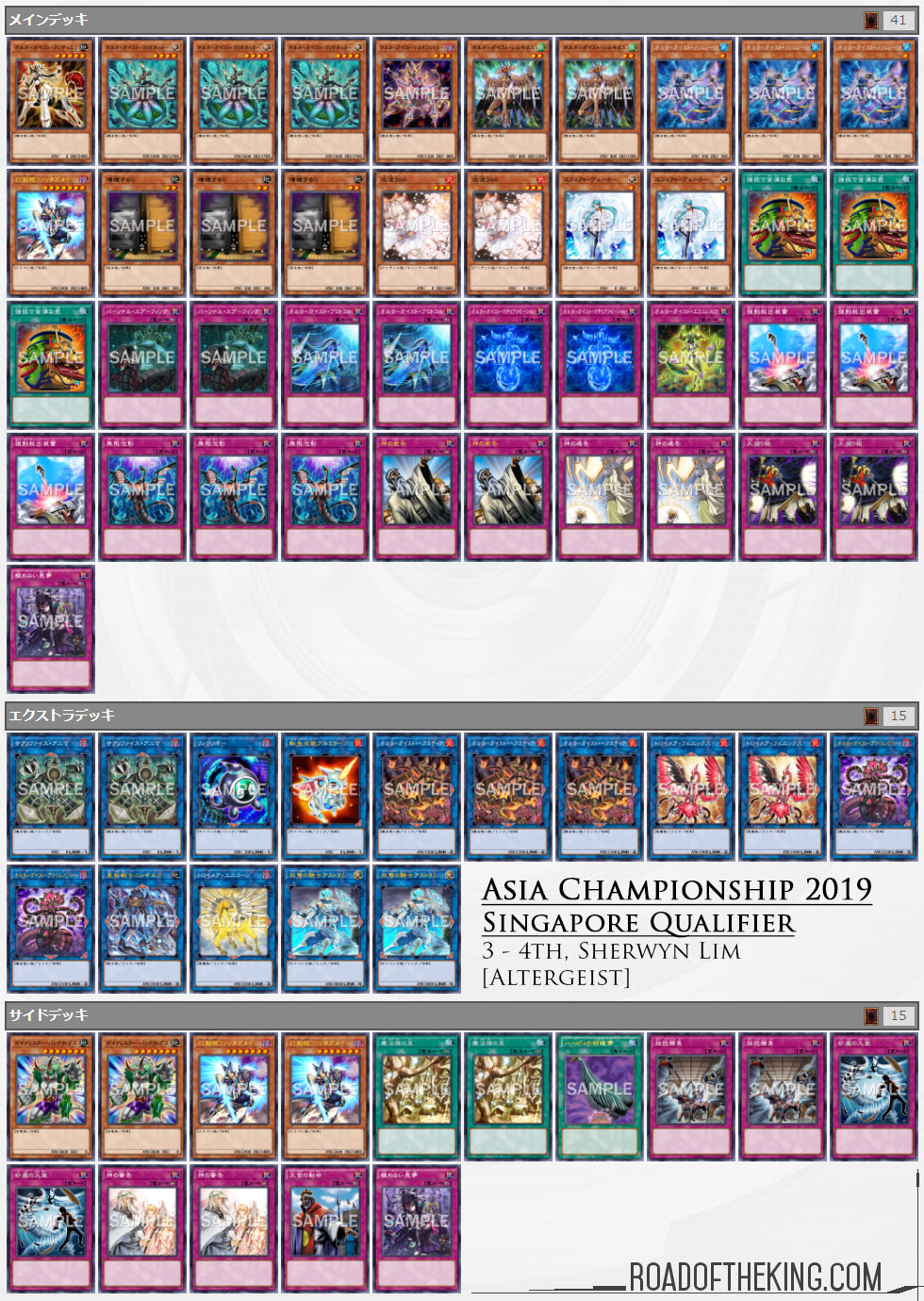 5 – 8th, Calvin Ang [Orcust]
Source: Asia Championship 2019 Singapore Qualifier, @Calvin_Munk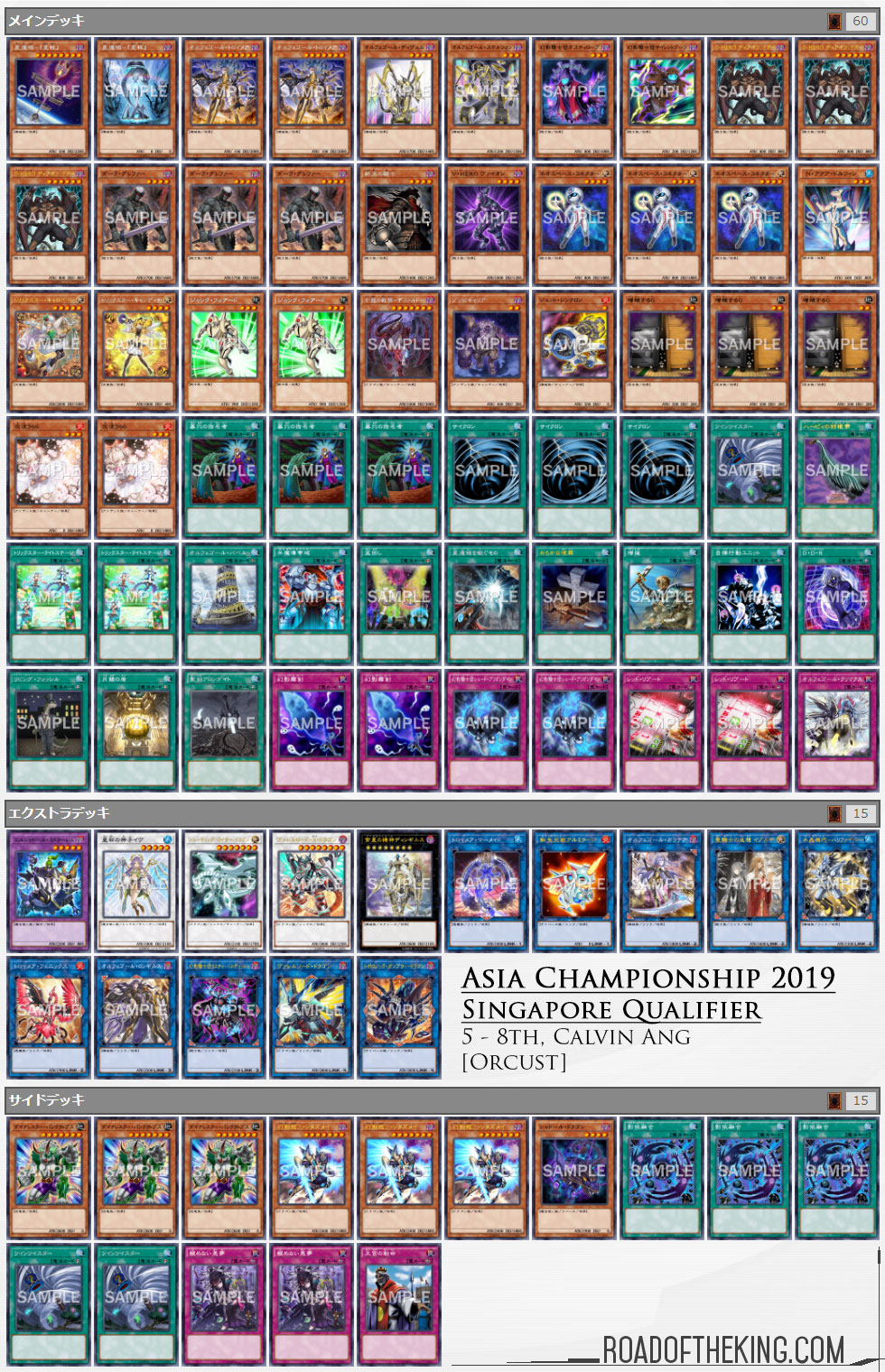 5 – 8th, Michael Santoso [Orcust]
Source: Asia Championship 2019 Singapore Qualifier, @DuelingDays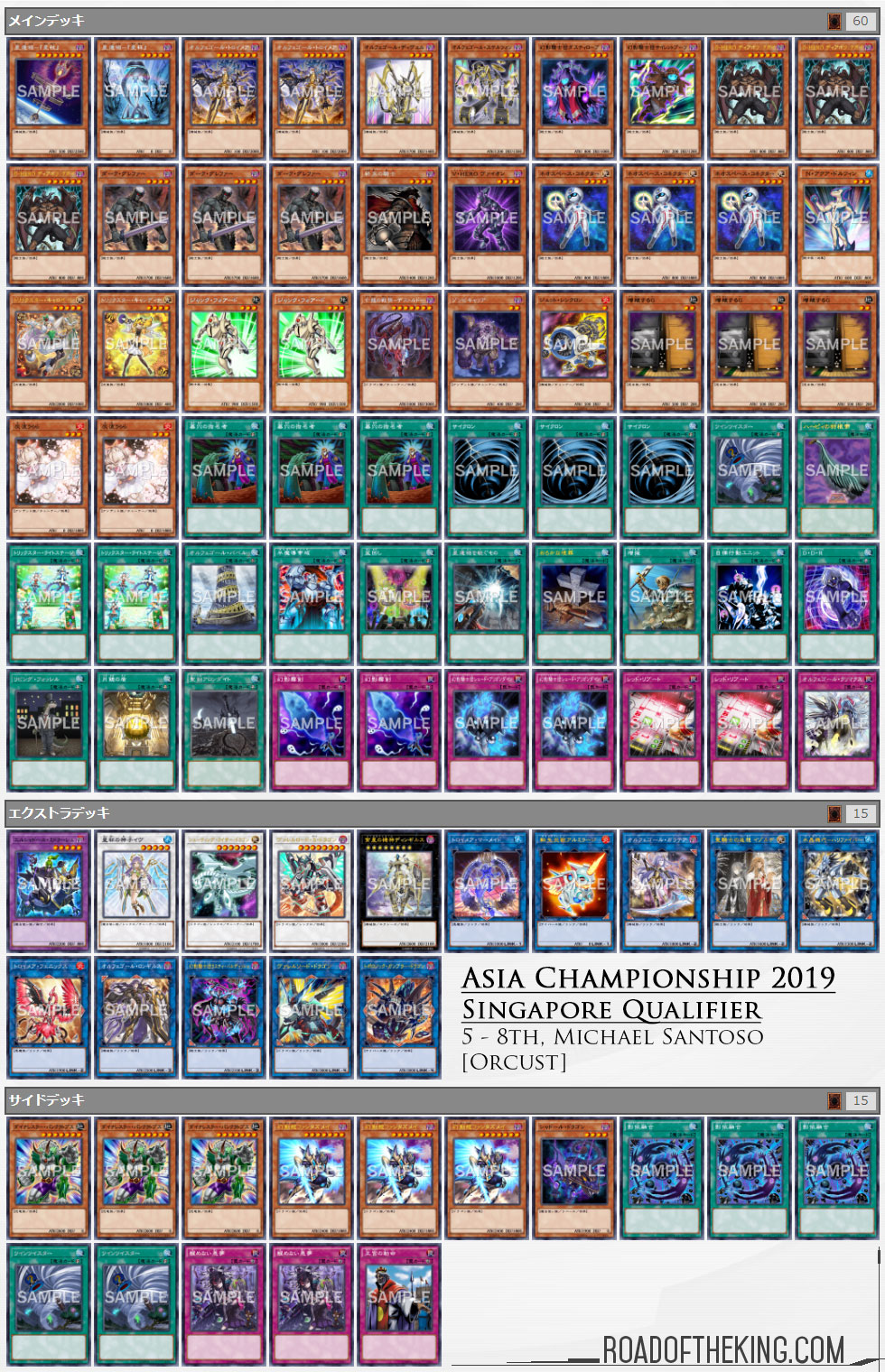 5 – 8th, Kevin Neo [Magical Musket]
Source: Asia Championship 2019 Singapore Qualifier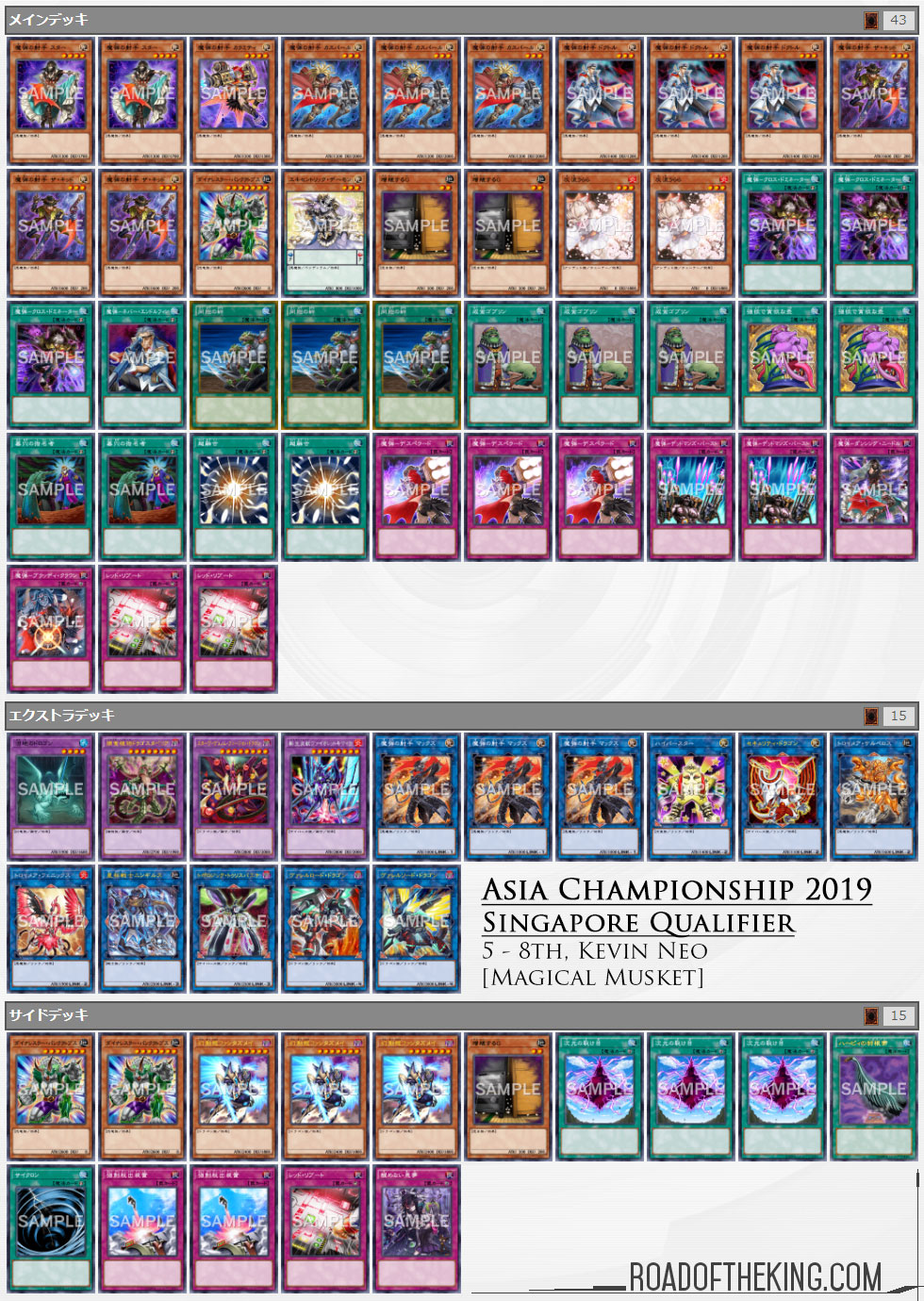 5 – 8th, Ng Wei Feng [Zefra]
Source: Asia Championship 2019 Singapore Qualifier