OCG 2017.04 Metagame Report #10
Welcome to Week #10 of the OCG 2017.04 format.
This report will cover 67 top-performing decks from 8 tournaments that were held in Japan and Taiwan during 3 – 4 June 2017.
New Product Release
Duelist Pack: Legend Duelist
Metagame Breakdown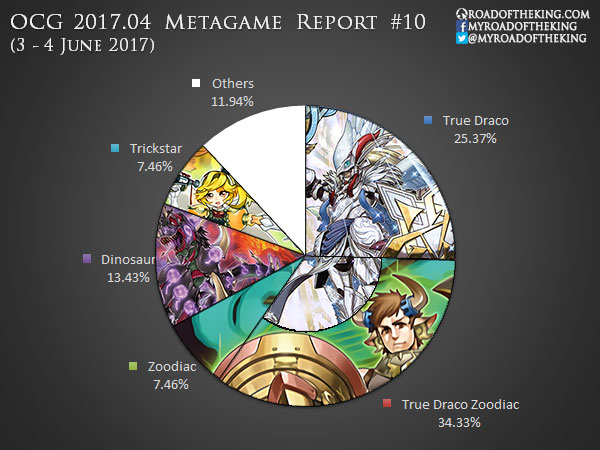 28 Zoodiac:

23 True Draco Zoodiac
4 Mono Zoodiac
1 Kaiju Zoodiac

17 True Draco:

11 Demise True Draco
4 Windwitch Spellbook True Draco
1 Invoked True Draco
1 Invoked Spellbook True Draco

9 Dinosaur:

6 True King Yang Zing Dinosaur
2 True King Dinosaur
1 True King Grandsoil Dinosaur

5 Trickstar:

3 Windwitch Trickstar
2 Mono Trickstar

2 Windwitch Kaiju Luna
1 Fluffal
1 Kaiju Invoked
1 Kaiju Performapal Odd-Eyes Magician
1 True Draco Metalfoes Kozmo
1 True Draco Metalfoes Zefra
1 Windwitch Spellbook Infernoid
True Draco Zoodiac
The rebound of True King Yang Zing Dinosaur made it necessarily to pack the full 3 copies of Skull Meister as well as additional Different Dimension Ground or Macro Cosmos in the Side Deck.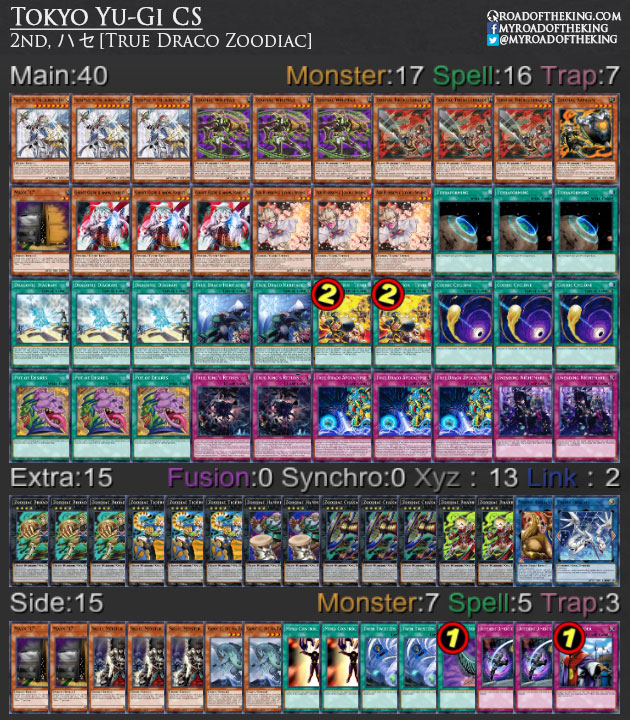 Demise True Draco
The list for Demise True Draco has been largely optimised and there are only very minor variations among them.
The Extra Deck is rarely utilised so most players tend to fill it up with random irrelevant cards.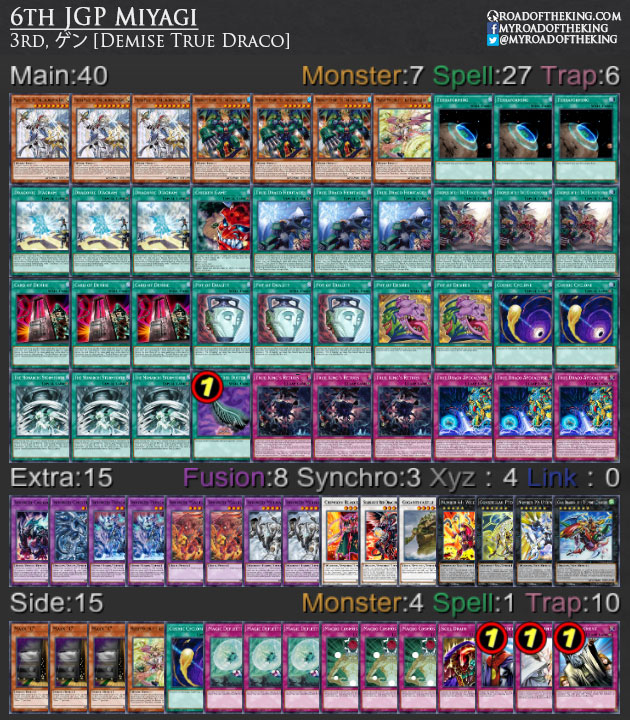 Conclusion
There are a little more rogue decks which are not running Dragonic Diagram performing well this week.
We have a good amount of Trickstar, but the bigger surprise is Windwitch Kaiju Luna. Windwitch Kaiju Luna finished 1st at the 6th JGP Miyagi (55 participants), and 2nd at the 16th Yu-Gi-Oh! Takatsuki CS (67 participants).
References