OCG 2016.10 Metagame Report #8
Welcome to Week #8 of the OCG 2016.10 Zoodiac format.
This report will cover 63 top-performing decks from 10 Japanese tournaments that were held during 19 – 23 November 2016.
Update: Added "Kita-Osaka CS with Hatti CS" and "2nd K-1 Grand Prix".
New Product Release
V Jump January 2017 promotional card
Metagame Breakdown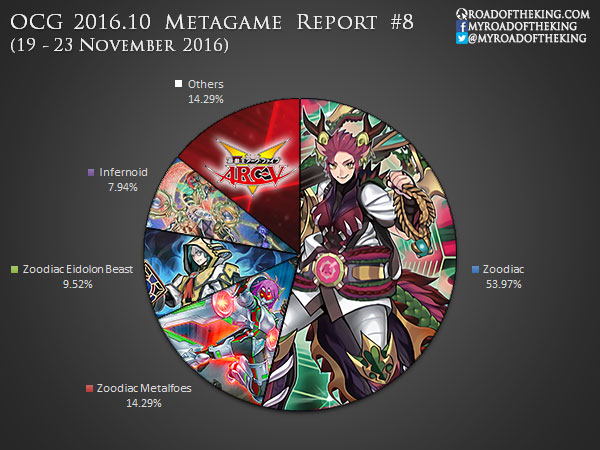 34 Zoodiac (13 Kaiju, 2 Artifact variant)
9 Zoodiac Metalfoes
6 Zoodiac Invoked
5 Lawnmowing Infernoid (2 Zoodiac variant)
9 Others:

2 ABC
2 Lawnmowing Zoodiac Lightsworn
1 Artifact HERO
1 Artifact Zoodiac Kozmo
1 Kaiju Zoodiac Frog
1 Lawnmowing Zoodiac Shiranui
1 Speedroid Metalfoes Yang Zing
Zoodiac

Flying "C" is making a return this week as a tech choice against Zoodiac.
Flying "C" was initially a poor choice as earlier builds of Zoodiac had outs in the form of Elemental Triangle of the Zoodiac, Book of Moon and Book of Eclipse. But as Zoodiac started dropping Book of Moon and Book of Eclipse, leaving with just Elemental Triangle, they had become quite vulnerable to Flying "C".
As a countermeasure, Zoodiac are running Forbidden Chalice instead. Forbidden Chalice is not only great against Zoodiac Drident, but also against Flying "C" and Fossil Dyna Pachycephalo.
Fossil Dyna Pachycephalo has also become quite a threat as Zoodiac are no longer running Number S39: Utopia the Lightning and Diamond Dire Wolf in the Extra Deck.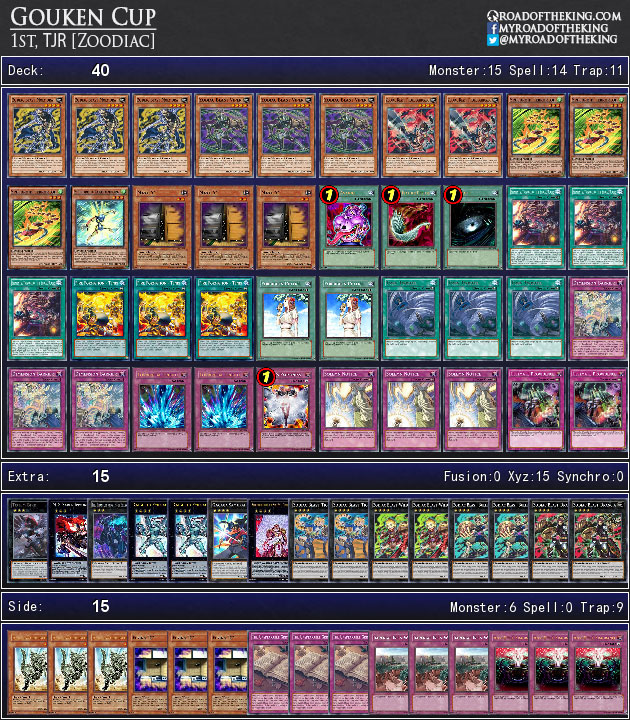 Conclusion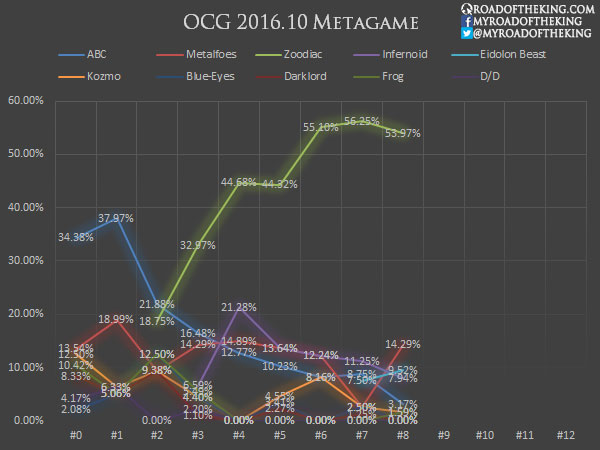 Despite Imperial Iron Wall having a regular spot in the Side Deck, Zoodiac Invoked is doing rather decently.
This is perhaps largely due to the Zoodiac engine having Zoodiac Drident as an easy out to Continuous Trap cards.
In a similar fashion, Zoodiac Metalfoes fares quite decently against Anti-Spell Fragrance.
References