YOT Hong Kong 2015
In first half of the year we had YOT Singapore 2015, and in the second half we had YOT Hong Kong 2015 held on the 29th and 30th August 2015.
YOT Hong Kong 2015 saw over 250 participants, while the Asia Premier had over 120 participants.
For in depth coverage, do visit Yu-Gi-Oh! Events.
YOT Hong Kong 2015
The metagame was dominated by Performapal Perfomage and it was evident as it took 40 slots in the Top 64 on Day 2.
Performapal Perfomage continued with their dominance into the Top 8, giving up only 1 seat to the lone HERO.
The Performapal Perfomage mirror matches boils down to which players are able to time their Wavering Eyes better to gain a huge advantage, and playing around Performage Damage Juggler.
In the end it was Lin Ching Ting from Taiwan with his Performapal Perfomage who became the third Yu-Gi-Oh! Open Tournament Champion!
YOT Hong Kong 2015 Asia Premier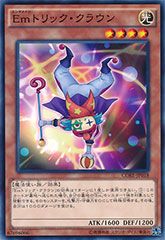 The YOT Hong Kong 2015 Asia Premier reflects a similar metagame with Performapal Perfomage taking 7 out of 8 seats in the Top 8.
But Lai Cheuk Shing from Hong Kong managed to upset the metagame with his Clown Blade.
Running Anti-Spell Fragrance in the main and Magical Spring in the side, his deck was tuned perfectly to deny Performapal Perfomage from their combo.
And with a perfect 7-0 run, he become the third Asia Premier Champion!
| | | |
| --- | --- | --- |
| 1st | Lai Cheuk Shing | [Clown Blade] |
| 2nd | Feng Wen Long | [Performapal Perfomage] |
| 3rd | Liu Hui | [Performapal Perfomage] |
| 4th | Chan Wing Him | [Performapal Perfomage] |
| 5th | Hsu Fang Wei | [Performapal Perfomage] |
| 6th | Kong Tze Hing | [Performapal Perfomage] |
| 7th | Ke Chi Yuen | [Performapal Perfomage] |
| 8th | Yang Zi Jian | [Performapal Perfomage] |
References