Card Games Asia 2015

Over the last weekend, 15th – 16th August 2015, Card Games Asia held their very first convention at Suntec City Convention Hall 405.
Major participating brands includes Bushiroad, Kadokawa and Takara Tomy which brought in their respective TCGs, namely Cardfight!! Vanguard, Weiβ Schwarz, Future Card Buddyfight, Dreadnought, Ange Vierge, Arcadia Tribe of Sliver Key and Wixoss.
Various other TCGs such as Magic: The Gathering, Force of Will, Sangokushi Taisen and Hearthstone were present as well.
Card Games Asia 2015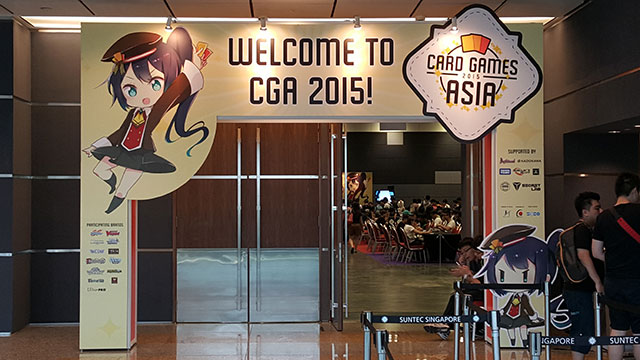 Card Games Asia is an unique convention concept where the focus is strictly on Trading Card Games.
For fans of TCGs, there's various tournaments held throughout the weekend to keep everyone engaged. Plenty of workshops were held for those interested in picking up a new TCG as well.
CGA Goodie Bag
Entry to Card Games Asia 2015 costs S$2, but it came with a Goodie Bag that could be redeemed by filling in a survey form.
The Goodie Bag is mostly filled with promotional brochures, but the Wixoss Trial Deck is exclusive to the event with the CGA logo printed on every card.
Conclusion
Card Games Asia 2015 is quite a refreshing event but with a rather niche focus, the crowd seems to be a little underwhelming on Sunday. Perhaps most of the crowd went on Saturday, and the entry fee might have been a deterrence to non-TCG players.
Essentially CGA was only able to capture the limited pool of existing players, instead of seizing the opportunity to attract new players. Unless you're participating in the various tournaments, there is little else to do here.