OCG 2022.01 Metagame Report #5, #6
Welcome to Week #5, #6 of the OCG 2022.01 format.
This report will cover 96 top-performing decks from 19 tournaments that were held in Japan, mainland China and South Korea during 29 January – 9 February 2022.
Metagame Breakdown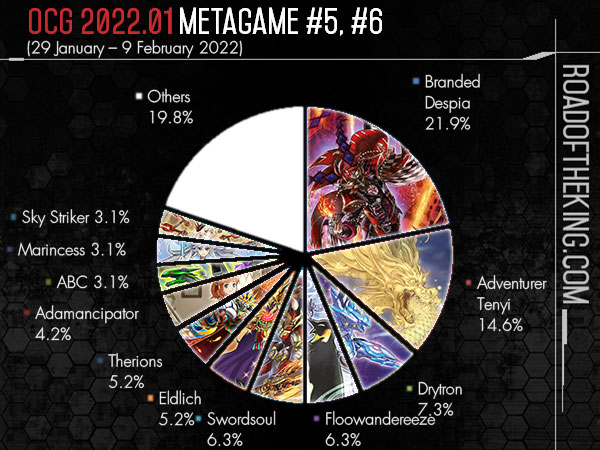 21 Branded Despia (17 Adventurer Branded Despia, 4 Branded Despia)
14 Rose Dragon Adventurer Tenyi
7 Drytron
6 Floowandereeze
6 Swordsoul (5 Tenyi Swordsoul, 1 Branded Tenyi Swordsoul)
5 Eldlich (4 Branded Eldlich, 1 Eldlich)
5 Therion (2 Branded Therion, 1 Grass Adventurer Branded Therion, 1 Lightsworn Therion, 1 Plant Therion)
4 Adamancipator (2 Adamancipator, 1 Grass Adamancipator, 1 Grass P.U.N.K. Adamancipator)
3 ABC (2 Adventurer Therion ABC, 1 Adventurer Branded Therion ABC)
3 Marincess
3 Sky Striker (2 Therion Sky Striker, 1 Sky Striker)
2 Magician
2 Shaddoll (1 Grass Adventurer Branded Shaddoll, 1 Grass Branded Invoked Shaddoll)
2 Tri-Brigade Lyrilusc
2 Virtual World (1 Adventurer Virtual World, 1 Virtual World)
1 Adventurer Prank-Kids
1 Adventurer 3-Axis Synchro
1 Branded Dinomorphia
1 Branded Predaplant
1 Branded Tri-Brigade
1 Code Talker
1 Dogmatika Invoked
1 Evil★Twin
1 Salamangreat
1 SPYRAL
1 @Ignister
Branded Despia
The Extra Deck for Branded Despia builds have largely standardized around 12 Fusion Monsters with 3 Link Monsters. The Link Monsters are mainly to aid in poor opening hands that has no Branded Fusion or could not fetch for it. Link Spider enables "Adventurer Token" to be used for the Link Summoning of Predaplant Verte Anaconda which can then copy Branded Fusion effect.
Hiyama Shunsuke "ひやま" (2015, 2016 World Champion) finished 1st in "13th Wayo CS" (3v3 Team) which had 31 teams (93 participants).
As mentioned in his note (世界王者が徹底解説!読むだけで勝率UPデスピア解体新書), Hiyama chose to run Relinquished Anima so that in the event that he only opened with Despian Tragedy and Branded in Red, he could at least still make some plays. Normal Summoning Despian Tragedy and then using it Link Summon Relinquished Anima would put a Despia monster in the graveyard and in turn enables Branded in Red. Branded in Red can then be used to Fusion Summon Guardian Chimera by using Relinquished Anima, Despian Tragedy and another monster. Despian Tragedy Trigger Effect would also add another Despia monster from deck to hand.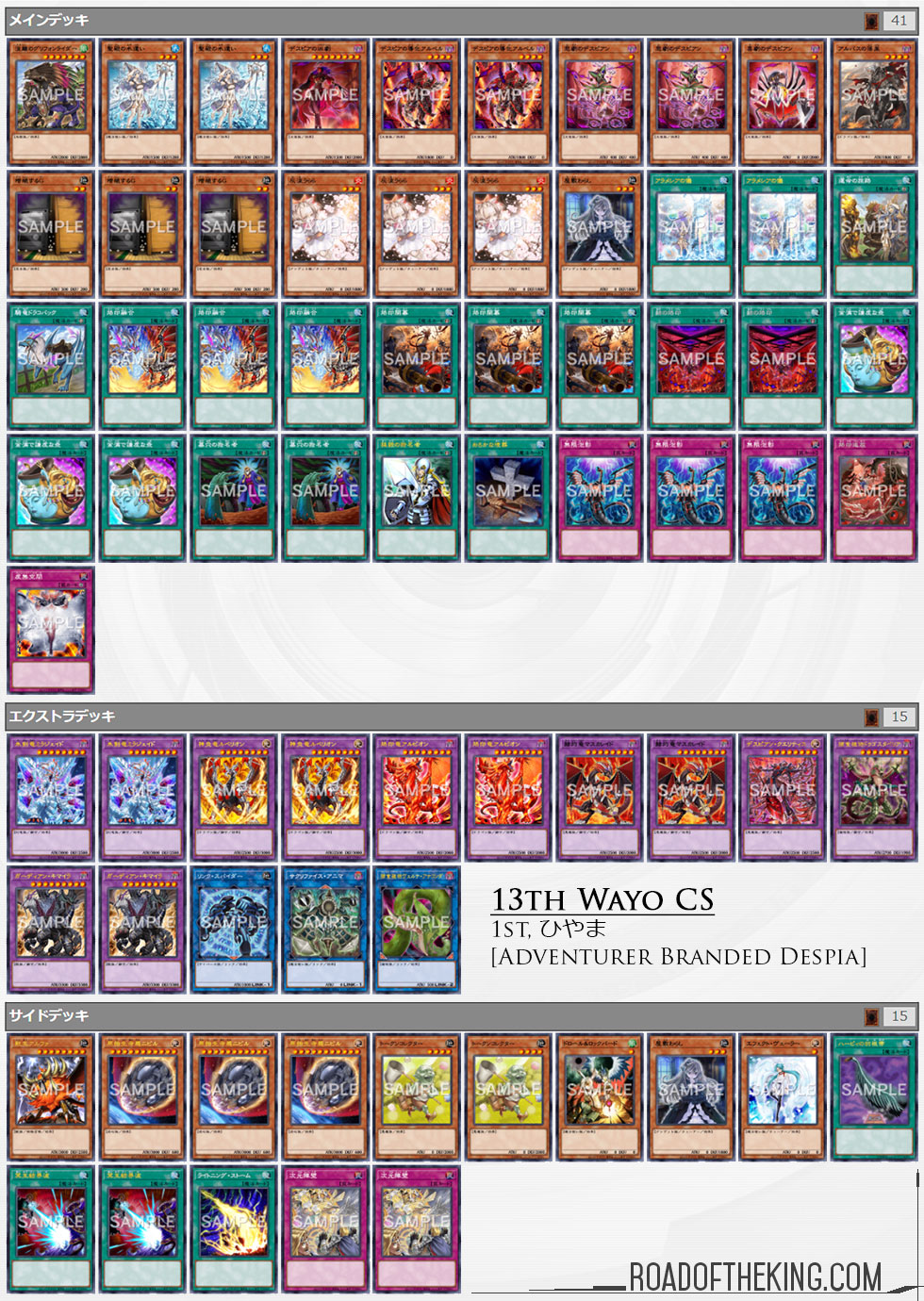 Kosaka Kouki "魔鏡" (2019 World Champion) went 7-0-1 and finished 1st in "13th Wayo CS" (3v3 Team) which had 31 teams (93 participants).
Unlike his teammate, he chose to run Striker Dragon instead of Relinquished Anima. Normal Summoning Fallen of Albaz and then using it to Link Summon Striker Dragon would put Fallen of Albaz in the graveyard and in turn enables Branded in Red. Branded in Red can then be used to Fusion Summon Mirrorjade the Iceblade Dragon by using Striker Dragon and Fallen of Albaz.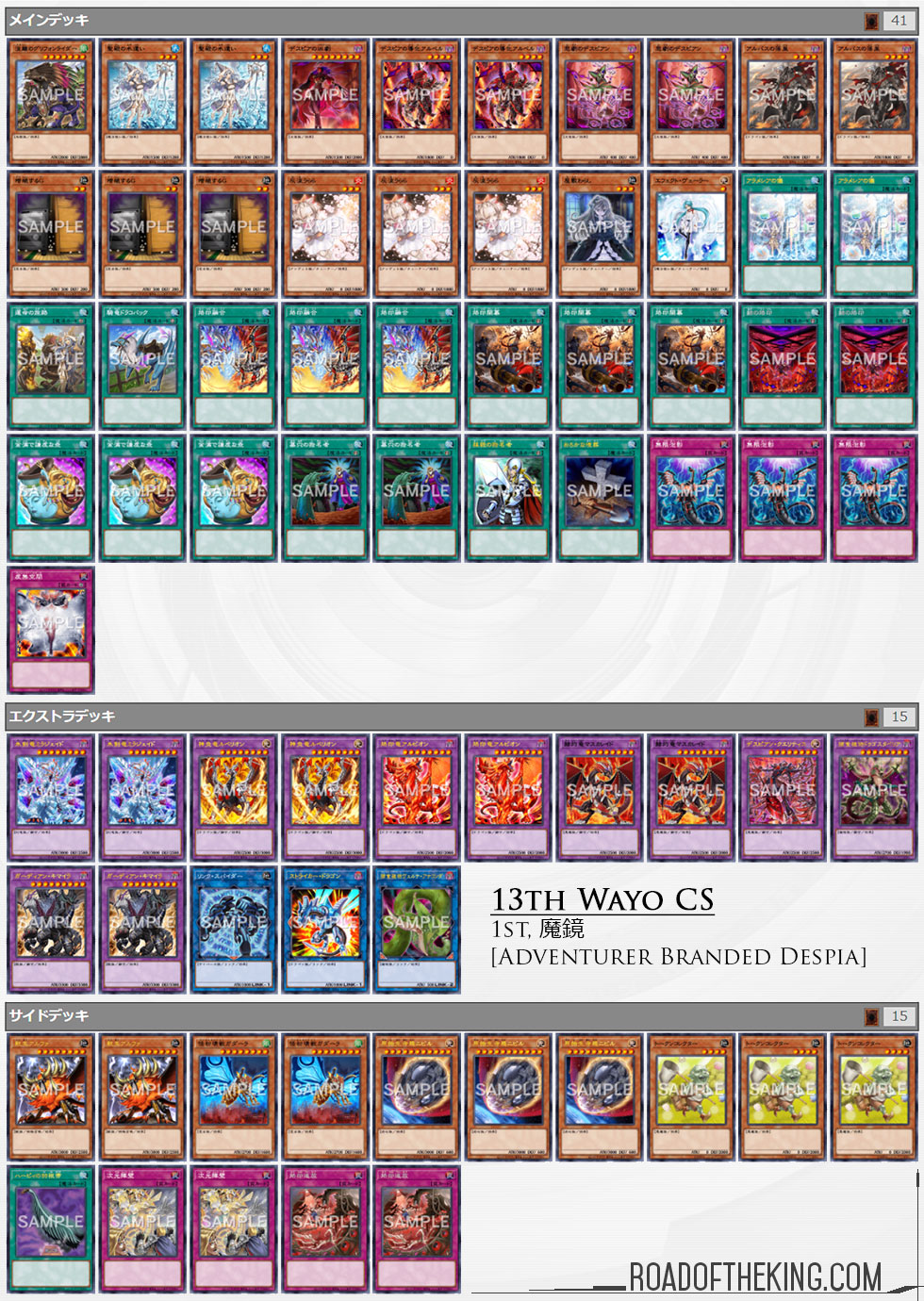 Adventurer Tenyi
Azusa (あずさ) went 6-2 and finished 2nd in "70th Next Play Cup" which had 32 participants.
He ran 1 Raigeki and 1 Dark Hole in the Side Deck, two classic board wipe cards that have not seen play for a long time in the modern competitive scene. Quite a number of threats in the current competitive scene have effects that mainly affects monsters, such as Swordsoul Grandmaster – Chixiao, Swordsoul Sinister Sovereign – Qixing Longyuan, Barrier Statue of the Stormwinds, Floowandereeze & Empen. Raigeki and Dark Hole are adequate for clearing them.
On his Peing question box (azusa_yusyo), he gave an example of how he would side when going second in the Adventurer Tenyi mirror match.
Out:
1 Archnemeses Protos
1 Wandering Gryphon Rider
2 Called by the Grave
1 Crossout Designator
1 Swordsoul Emergence
2 Pot of Prosperity
1 Nine Pillars of Yang Zing
1 Vanity's Emptiness
In:
2 Nibiru, the Primal Being
1 Maxx "C"
1 Ghost Belle & Haunted Mansion
1 Droll & Lock Bird
2 Infinite Impermanence
1 Raigeki
1 Dark Hole
1 Red Reboot
As seen above, Raigeki and Dark Hole are not an absolute answer by themselves, but goes along with the other multiple 'hand traps'. 'Hand traps' are still required to disrupt the opponent sufficiently such that their remaining weakened opening setup that they could mustered becomes vulnerable to Raigeki and Dark Hole.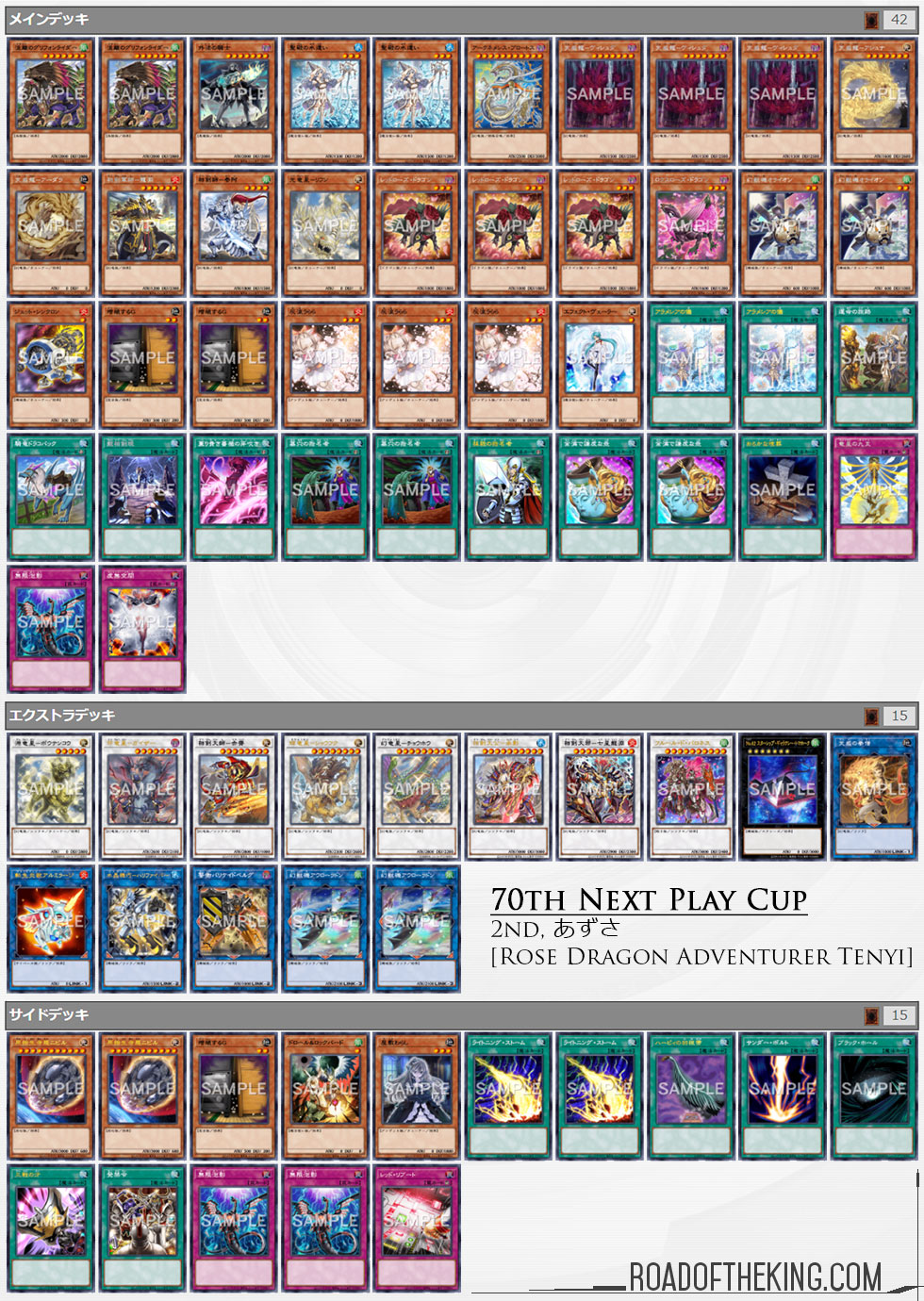 Conclusion
Midway into the OCG 2022.01 format, Branded Despia and Adventurer Tenyi have been holding on strong to their position in the forefront since the start of the year. These two deck builds are mostly fully optimized, with only marginal difference between players' preference.
Therion continues to show potential as it leaves a decent presence on the metagame. ABC has made a comeback to the competitive scene with the power of Therion package. The Therion ABC deck list can be seen in "70th Next Play Cup".
If you enjoyed these Weekly Metagame Reports, consider supporting Road of the King on Patreon. Cheers!
References
2022-01-30 | 13th Wayo CS (1st: A, B, C | 2nd: A, B, C | 3rd: A, B, C)
2022-01-30 | 16th Hagetaka CS
2022-01-30 | Purgatrio Cup Day 2 (1st: A, B, C | 2nd: A, B, C)