OCG 2021.07 Metagame Report #6
Welcome to Week #6 of the OCG 2021.07 format.
This report will cover 65 top-performing decks from 12 tournaments that were held in Japan and mainland China during 7 – 12 August 2021.
New Product Release
Structure Deck R: Lost Sanctuary
Metagame Breakdown
11 Swordsoul (5 Tenyi Swordsoul, 4 Swordsoul, 2 Destiny HERO Swordsoul)
10 Tri-Brigade (6 Zoodiac Tri-Brigade, 2 Tri-Brigade, 1 Lyrilusc Ancient Warriors Tri-Brigade, 1 Destiny HERO Zoodiac Tri-Brigade)
9 Virtual World
6 Drytron (5 Drytron, 1 Destiny HERO Drytron)
6 Eldlich (3 Eldlich, 2 Grass Zombie Eldlich, 1 Destiny HERO Eldlich)
3 Prank-Kids (2 Prank-Kids, 1 Destiny HERO Prank-Kids)
2 Destiny HERO Invoked
2 Destiny HERO Orcust
2 Dragonmaid
2 Magician
2 Sky Striker
1 Cyber Dragon
1 Destiny HERO Adamancipator
1 Destiny HERO Phantom Knights
1 Destiny HERO Thunder Dragon
1 Destiny HERO 3-Axis Synchro
1 Dogmatika Floowandereeze
1 Dogmatika Invoked Shaddoll
1 Dragon Link
1 Swordsoul Yang Zing Tenyi
1 Tri-Brigade Lyrilusc
Swordsoul
kazuma went 5-0-2 and finished 1st in "6th Hitsuji CS in Kawasaki" (3v3 Team) which had 28 teams (84 participants).
There is an increase in players running the Tenyi Swordsoul build as it is able to play around Token Collector. The Tenyi monsters are used to Synchro Summon Swordsoul Grandmaster – Chixiao or Draco Berserker of the Tenyi for negating or banishing Token Collector respectively, before following up with Swordsoul monsters.
Token Monsters are Normal Monsters, hence a "Swordsoul Token" can be used to fulfill the activation requirement of controlling a face-up non-Effect Monster for the graveyard effect of Tenyi monsters. A useful application is activating Swordsoul Strategist Long Yuan ① effect by discarding Tenyi Spirit – Vishuda to Special Summon itself from hand, and then Special Summon 1 "Swordsoul Token". Tenyi Spirit – Vishuda ② effect can then be activated to return the opponent's Skill Drain to hand.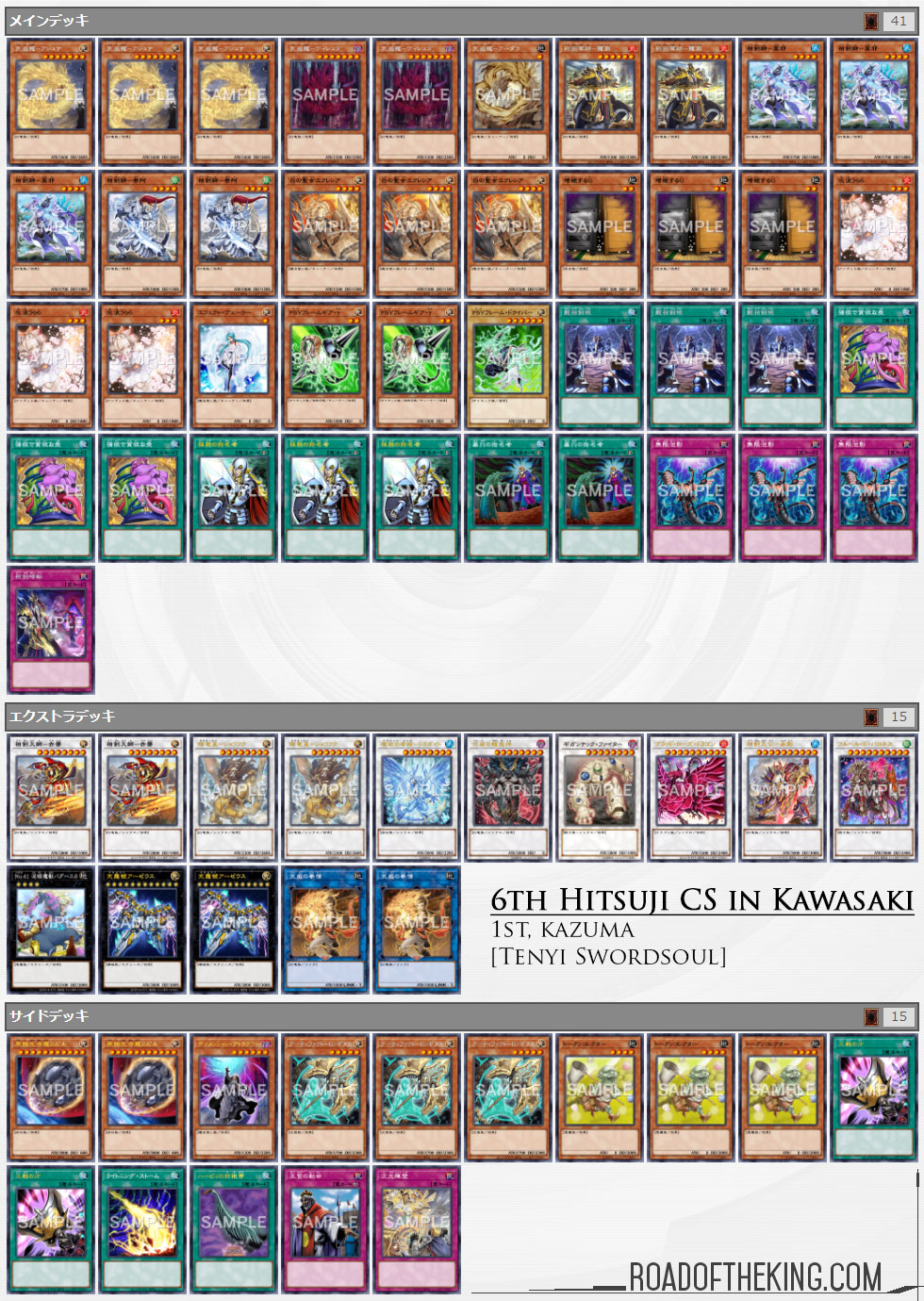 Tri-Brigade
Feri (ふぇーり), World Championship 2018 Japan Representative, went 6-1 and finished 1st in "7th Hitsuji CS in Kawasaki" (3v3 Team) which had 21 teams (63 participants).
Zoodiac Tri-Brigade has made a big return to the competitive with the inclusion of Zoodiac Kataroost in the Main Deck. While Zoodiac Boarbow has Zoodiac Kataroost as its Xyz Material, it gains an effect that can be used to prevent Swordsoul Grandmaster – Chixiao effect from negating it. This ensures that Zoodiac Boarbow would be able to direct attack successfully so it could be used to Xyz Summon Divine Arsenal AA-ZEUS – Sky Thunder.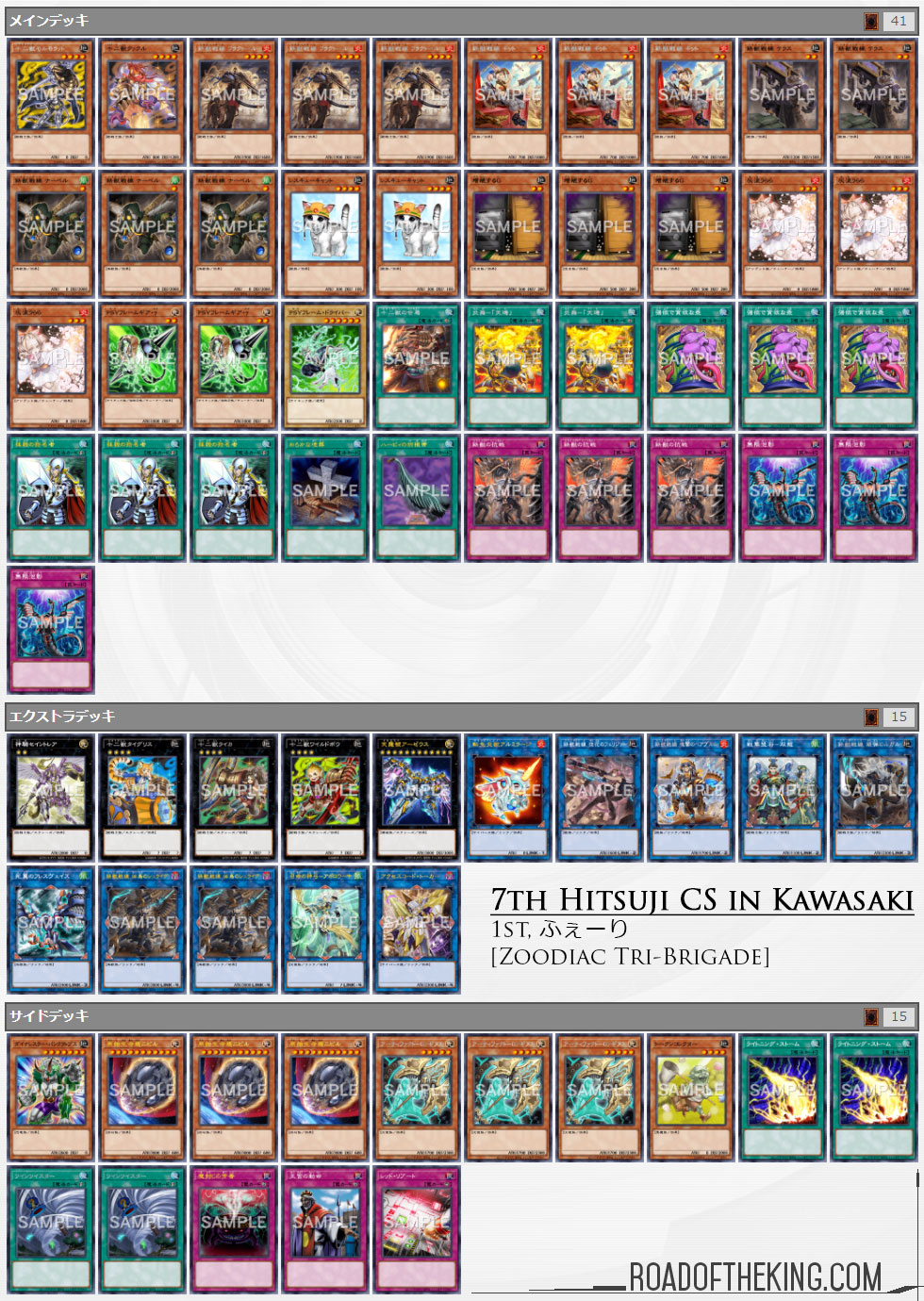 Virtual World
Ryu (リュウ) went 7-0 (excluding 1 bye) and finished 2nd in "Asaka Cup (2v2 Team Battle)" which had 41 teams (82 participants).
As the metagame is slowly leaning towards more combo decks, several players have chosen to run 3 Nibiru, the Primal Being in the Side Deck. Although Tenyi Swordsoul is more resilient against Token Collector, they became more vulnerable to Nibiru, the Primal Being.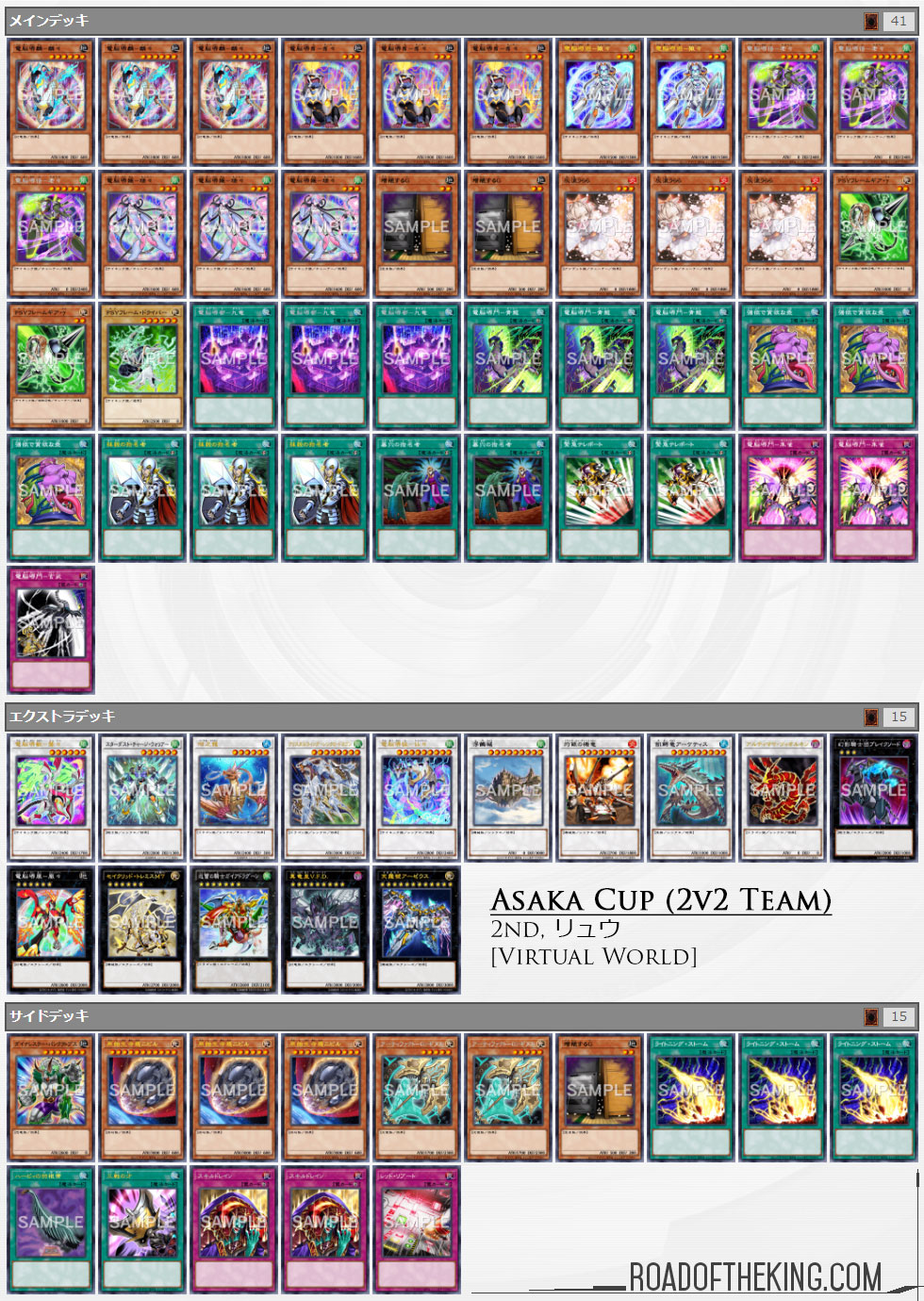 Conclusion
Swordsoul, Tri-Brigade and Virtual World are the top three for this week with just a deck count apart from each other, while Drytron and Eldlich are not too far behind. The power level difference between the top decks in this metagame is quite minute and no single deck has been able to consistently make the top cut.
If you enjoyed these Weekly Metagame Reports, consider supporting Road of the King on Patreon. Cheers!
References