OCG 2021.07 Metagame Report #1, #2
Welcome to Week #1, #2 of the OCG 2021.07 format.
This report will cover 92 top-performing decks from 22 tournaments that were held in Japan and mainland China during 3 – 11 July 2021.
Metagame Breakdown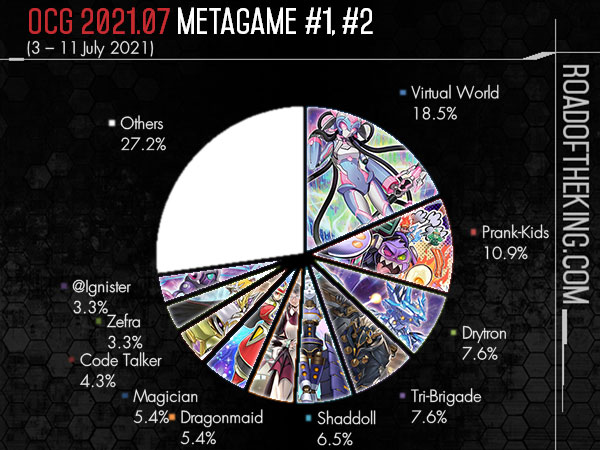 17 Virtual World
10 Prank-Kids
7 Drytron
7 Tri-Brigade (6 Tri-Brigade, 1 Dogmatika Tri-Brigade)
6 Shaddoll (5 Grass Invoked Shaddoll, 1 Dogmatika Invoked Shaddoll)
5 Dragonmaid
5 Magician
4 Code Talker
3 Zefra
3 @Ignister
2 Adamancipator
2 Eldlich (1 Eldlich, 1 Dogmatika Eldlich)
2 Orcust
2 Phantom Knights
2 Sky Striker
2 Tri-Brigade Lyrilusc
1 Da Eiza
1 Danger Dark World
1 Dogmatika Invoked
1 Dragon Link
1 Endymion
1 HERO
1 Kragen Shark
1 Madolche
1 Salamangreat
1 Sekka Danger Kaiju Luna
1 Thunder Dragon
1 True Draco
1 Utopia
Virtual World
Kinnikuso (きんにくそ) had an impressive run over these two weeks. On Week #1 Saturday, he went 7-1 (excluding 1 bye) and finished 1st in "Mirin CS Individual Battle" which had 50 participants. On Week #1 Sunday, he went 8-1 and finished 1st in "8th Hagetaka CS" which had 52 participants. On Week #2 Saturday, he went 7-2 and finished 2nd in "No-Face CS" which had 60 participants.
He initially ran 2 Dark Ruler No More in the Side Deck on Week #1, but switched over to 2 Droll & Lock Bird on Week #2 to better prepare against Drytron.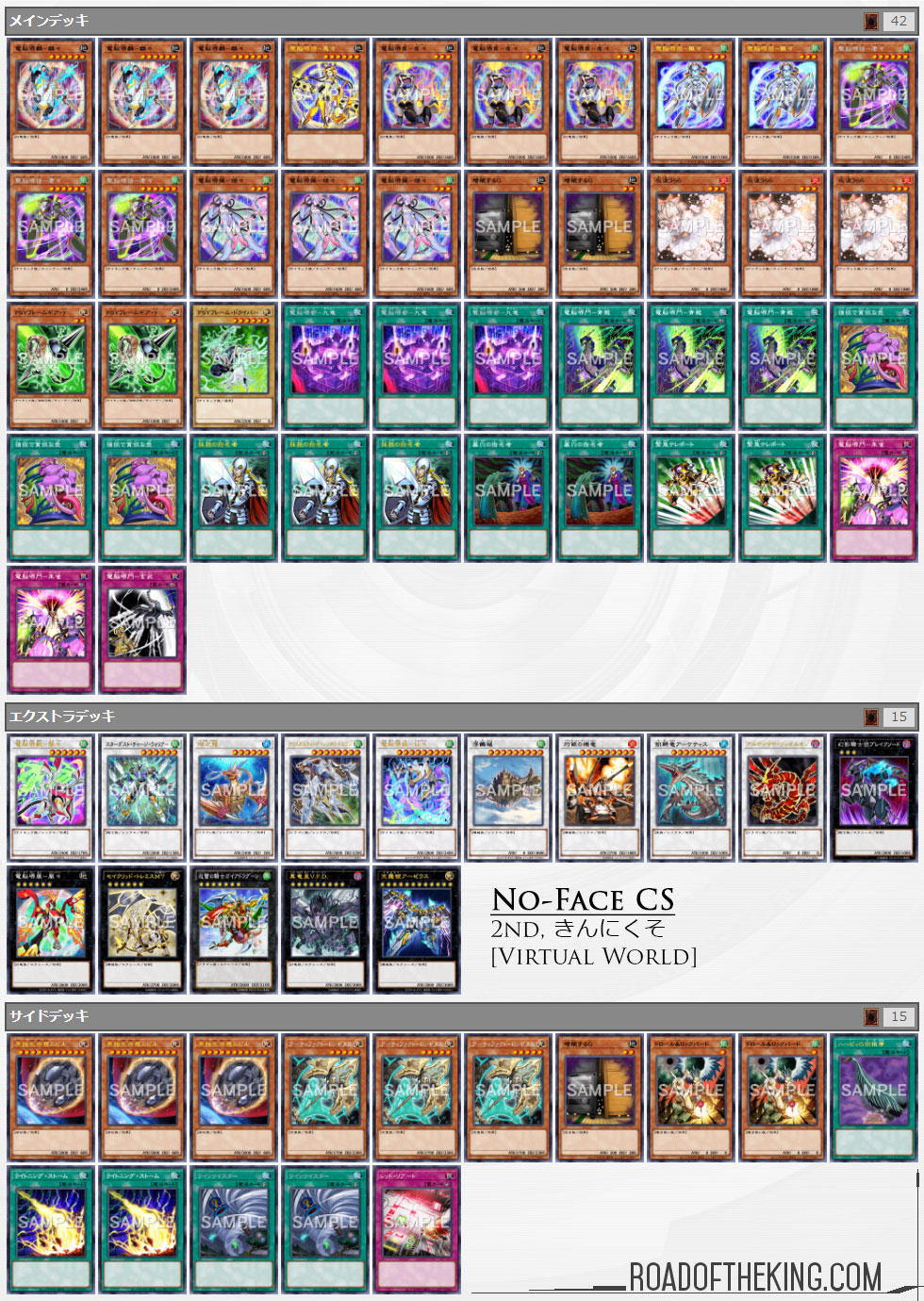 Prank-Kids
Among the 10 Prank-Kids deck that made the top-cut in these two weeks, 4 decks were running 3 Prank-Kids Pandemonium and 2 – 3 Polymerization, 5 decks were running 3 Prank-Kids Pandemonium, and only 1 deck was running just 1 Prank-Kids Pandemonium. Overall, there is a shift towards a more Fusion style for Prank-Kids.
The main deck to beat in the current format is Virtual World, and Virtual World Kyubi – Shenshen shutdowns Prank-Kids' 1-card combo of using Prank-Kids Effect Monster to Link Summon Prank-Kids Meow-Meow-Mu. Since Virtual World Kyubi – Shenshen only banishes cards that are sent from the field to the graveyard, using Prank-Kids Pandemonium or Polymerization to Fusion Summon with materials from hand would allow the Prank-Kids Effect Monsters to reach the graveyard and thus be able to activate their effects.
One of the possible outs to Virtual World Kyubi – Shenshen is to Fusion Summon Prank-Kids Rocket Ride using materials from hand to the Main Monster Zone right below the Extra Monster Zone (2nd MMZ or 4th MMZ). The two Prank-Kids Effect Monsters used for the Fusion Summon would trigger their effects and Special Summon 2 Prank-Kids Effect Monsters from the deck, which would be used to Link Summon Prank-Kids Bow-Wow-Bark to the Extra Monster Zone above Prank-Kids Rocket Ride. Prank-Kids Bow-Wow-Bark ① effect would cause Prank-Kids Rocket Ride to gain 1000 ATK, allowing it to attack over Virtual World Kyubi – Shenshen.
While the Fusion style does enable some plays against Virtual World Kyubi – Shenshen, Virtual World still has True King of All Calamities and Virtual World Gate – Chuche. Virtual World Kyubi – Shenshen reviving from the graveyard is also a recurring threat.
Ogaon (おがおん) went 5-3 and finished 4th in "40th Taiyo CS" which had 32 participants.
Compared to his deck build in Week #0, he swapped 1 Droll & Lock Bird for 1 Ghost Belle & Haunted Mansion, and added 1 more Prank-Kids Place to the Main Deck.
As Prank-Kids become one of the more popular decks in the metagame, having 3 Prank-Kids Pandemonium provides him with the flexibility of using Crossout Designator to negate it in the mirror match.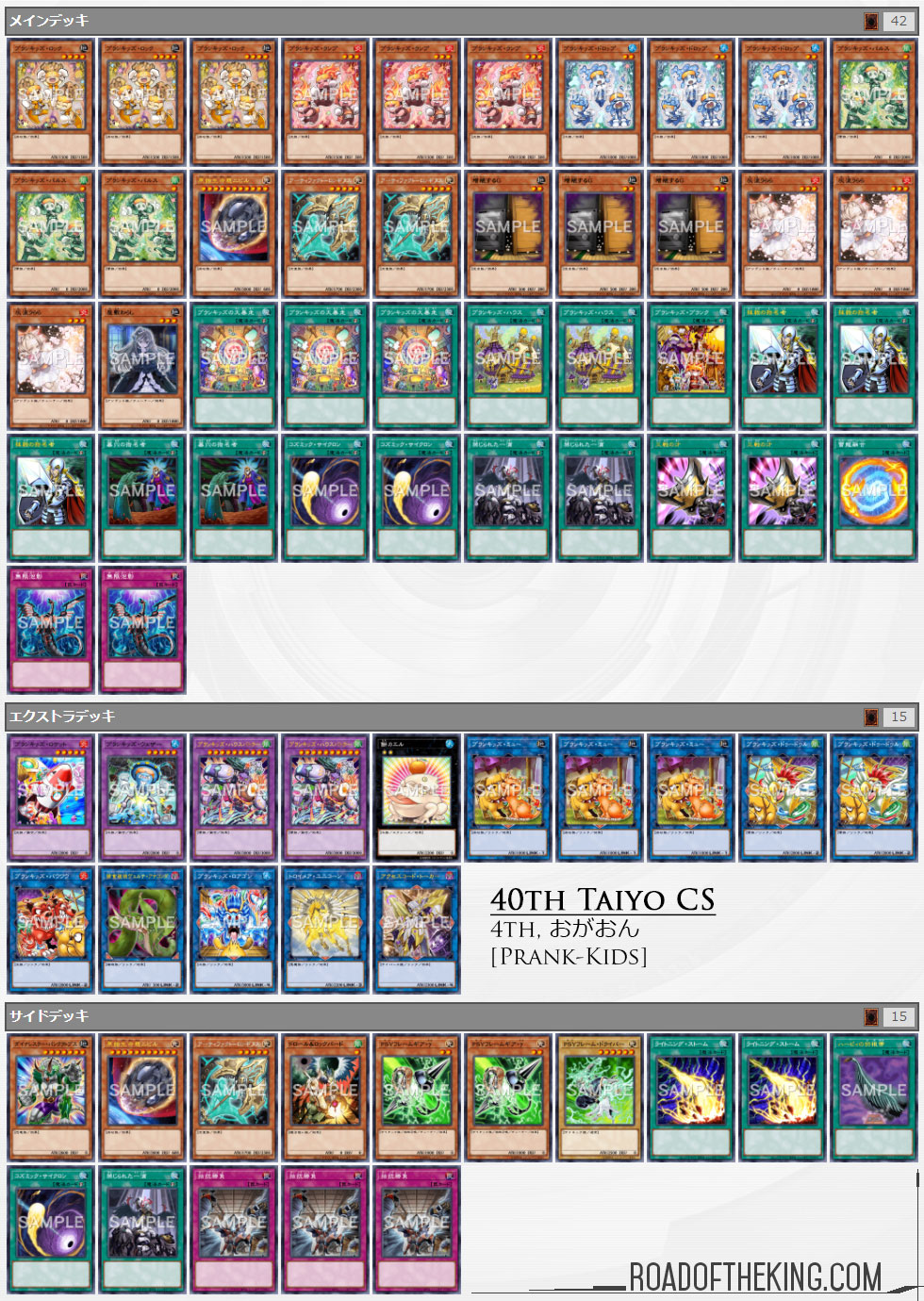 Conclusion
Virtual World remains comfortably in the lead, while Prank-Kids caught up considerably to a second position. Drytron continues to make strides in the format, moving up to third position tying with Tri-Brigade.
In the match-up between Virtual World and Prank-Kids, Virtual World has the advantage in terms of engine. Prank-Kids has difficulty against Virtual World Kyubi – Shenshen, while Virtual World could answer Prank-Kids Battle Butler with Virtual World Gate – Qinglong. However, the bigger deciding factor is still who goes first and Prank-Kids can rely on generic tech cards against Virtual World.
Despite being semi-limited, PSY-Framegear Gamma is still one of the stronger 'hand trap' in the format and is still seeing widespread play in many top decks.
If you enjoyed these Weekly Metagame Reports, consider supporting Road of the King on Patreon. Cheers!
References