OCG 2021.04 Metagame Report #9, #10
Welcome to Week #9, #10 of the OCG 2021.04 format.
This report will cover 86 top-performing decks from 17 tournaments that were held in Japan and mainland China during 29 May – 9 June 2021.
New Product Release
Legendary Monsters Pack

Mystical Elf – Mystical Burst Stream
Kaiser Glider – Golden Burst
Giltia the D. Knight – Soul Spear
Metagame Breakdown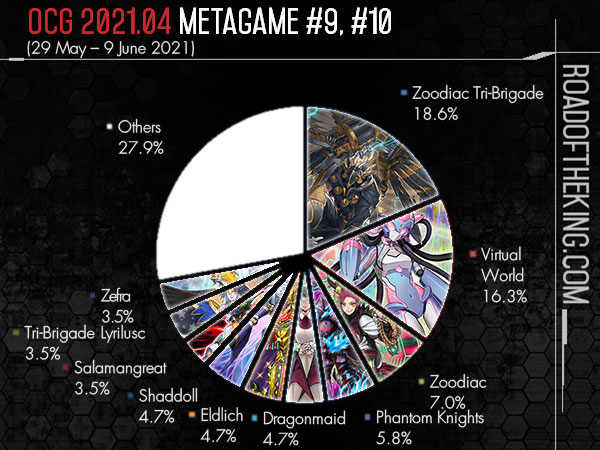 16 Zoodiac Tri-Brigade
14 Virtual World
6 Zoodiac
5 Phantom Knights
4 Dragonmaid
4 Eldlich (2 Eldlich, 1 Dogmatika Eldlich, 1 Zombie Eldlich)
4 Shaddoll (2 Invoked Shaddoll, 2 Grass Invoked Shaddoll)
3 Salamangreat
3 Tri-Brigade Lyrilusc
3 Zefra
2 Adamancipator
2 Drytron
2 Endymion
2 Megalith
2 Orcust
2 Sky Striker
2 @Ignister
1 Code Talker
1 Evil★Twin
1 Gravekeeper
1 Numeron
1 Prank-Kids
1 Sky Striker Mekk-Knight
1 Speedroid
1 SPYRAL
1 True King Scrap Dinosaur
1 Grass Chaos Necro Thunder Dragon
Tri-Brigade
Inco (インコ) went 6-0-3 and finished 1 – 2nd in "Asaka Cup (Individual Battle)" which had 65 participants.
Running 2 or 3 copies of Solemn Judgment in the Side Deck is a recent change among Zoodiac Tri-Brigade. Solemn Judgment could be used to negate Spell/Trap cards and are sided in when going first to supplement their weakness towards Spell/Trap cards, thus strengthening their opening setup.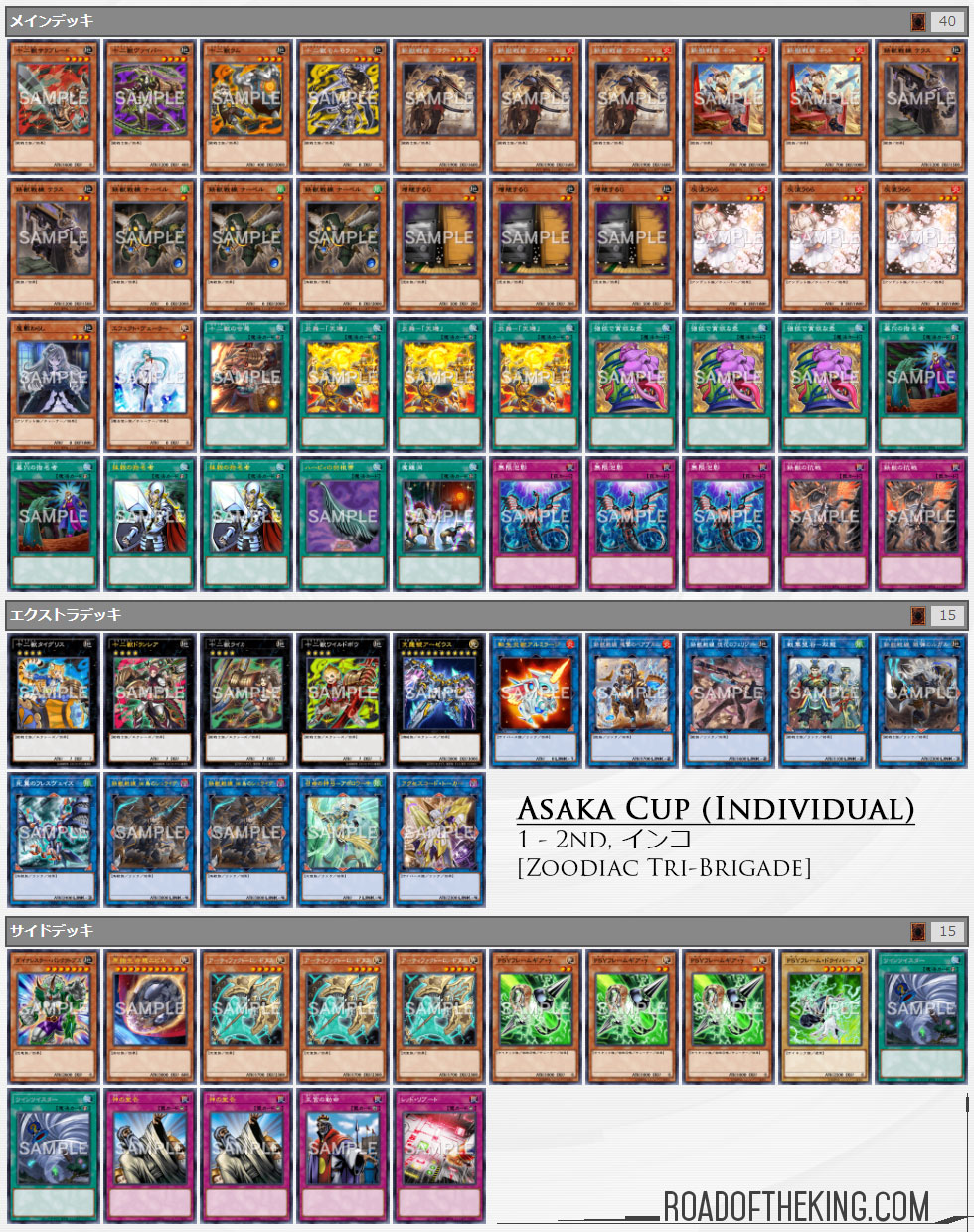 Virtual World
Scordia (スコーディア) went 7-0-1 and finished 1st in "24th Next Play Cup" which had 61 participants.
Dark Ruler No More is being played in the Side Deck as an answer against Tri-Brigade Lyrilusc, which has been seeing an increase in usage and is often one of the most played decks among participants in several tournaments. Lyrilusc are able to negate Spell/Trap cards using Mist Valley Apex Avian Special Summoned by Simorgh, Bird of Sovereignty, hence the answer needs to be able to play through an untargetable Mist Valley Apex Avian. Kaiju is an alternative choice that some players would choose to run in the Side Deck.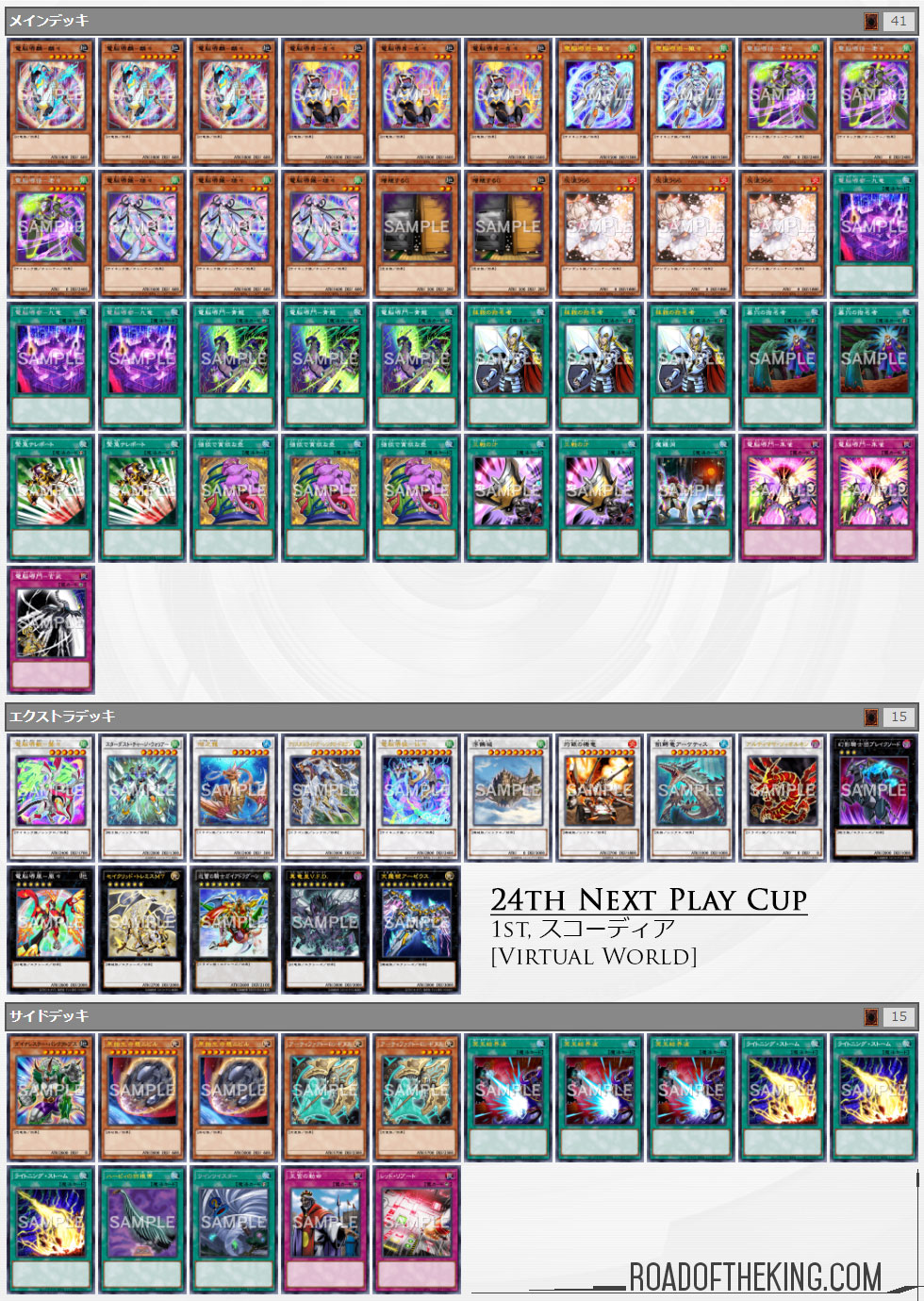 Conclusion
At the end of the OCG 2021.04 format, Tri-Brigade maintains its lead. It has managed to hold onto the first position throughout the whole OCG 2021.04 format. The last deck that was able to hold onto the first position across consecutive weeks throughout the format was Orcust in the OCG 2020.01 format when they could run 3 copies of Girsu, the Orcust Mekk-Knight.
Even so, Zoodiac Tri-Brigade is seeing a relatively slight decrease in usage, possibly due to some players switching over to experiment with Tri-Brigade Lyrilusc. This has allowed Virtual World to significantly close up on the gap between them.
If you enjoyed these Weekly Metagame Reports, consider supporting Road of the King on Patreon. Cheers!
References