OCG 2021.04 Metagame Report #2
Welcome to Week #2 of the OCG 2021.04 format.
This report will cover 96 top-performing decks from 18 tournaments that were held in Japan, mainland China and Taiwan during 10 – 14 April 2021.
Metagame Breakdown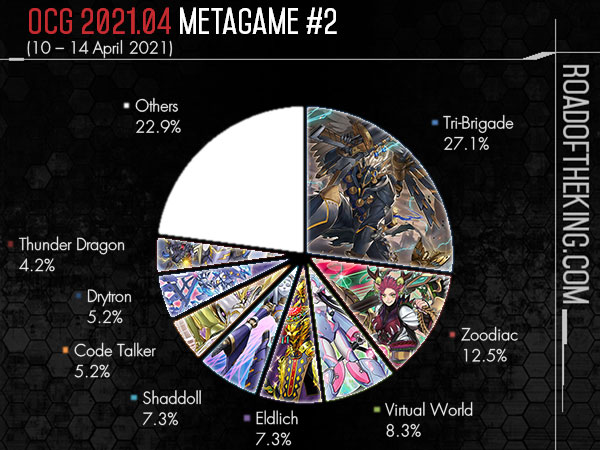 26 Tri-Brigade (17 Zoodiac Tri-Brigade, 7 Tri-Brigade, 2 Lyrilusc Ancient-Warrior Tri-Brigade)
12 Zoodiac
8 Virtual World
7 Eldlich (3 Eldlich, 2 Grass Zombie Eldlich, 1 Ancient Warriors Eldlich, 1 Dogmatika Eldlich)
7 Shaddoll (2 Grass Invoked Shaddoll, 1 Dogmatika Invoked Shaddoll, 1 Grass Shaddoll, 1 Grass Dogmatika Invoked Shaddoll, 1 Invoked Shaddoll, 1 Magistus Shaddoll)
5 Code Talker
5 Drytron
4 Thunder Dragon (3 Thunder Dragon, 1 Chaos Thunder Dragon)
3 Adamancipator (2 Adamancipator, 1 Grass Adamancipator)
3 @Ignister
2 Orcust (1 Ogdoadic Orcust, 1 Scrap Orcust)
2 Salamangreat
2 Sekka Danger Kaiju Luna
2 Sky Striker
1 Da Eiza
1 Endymion
1 HERO
1 Magician
1 Numeron
1 Prank-Kids
1 SPYRAL
1 Zefra
Tri-Brigade
Xiaoan (宵暗) went 9-0-2 and finished 1st in "China City Tournament Ningbo 2021" which had 245 participants.
Tri-Brigade's main threats are Apollousa, Bow of the Goddess, Ancient Warriors Oath – Double Dragon Lords and Tri-Brigade Shuraig the Ominous Omen Special Summoned by Tri-Brigade Revolt. They can negate Monster Effect, return a face-up card to hand, and banish a card on the field.
As they have no negation against Spell cards, using Lightning Storm to destroy monsters, Triple Tactics Talent and Mind Control to take control of the monsters, or Dark Ruler No More to negate all the monsters are some of the popular methods that the opponent could utilize to break Tri-Brigade's opening board. Hence when going first, Tri-Brigade may side in Imperial Order and Anti-Spell Fragrance to protect their opening.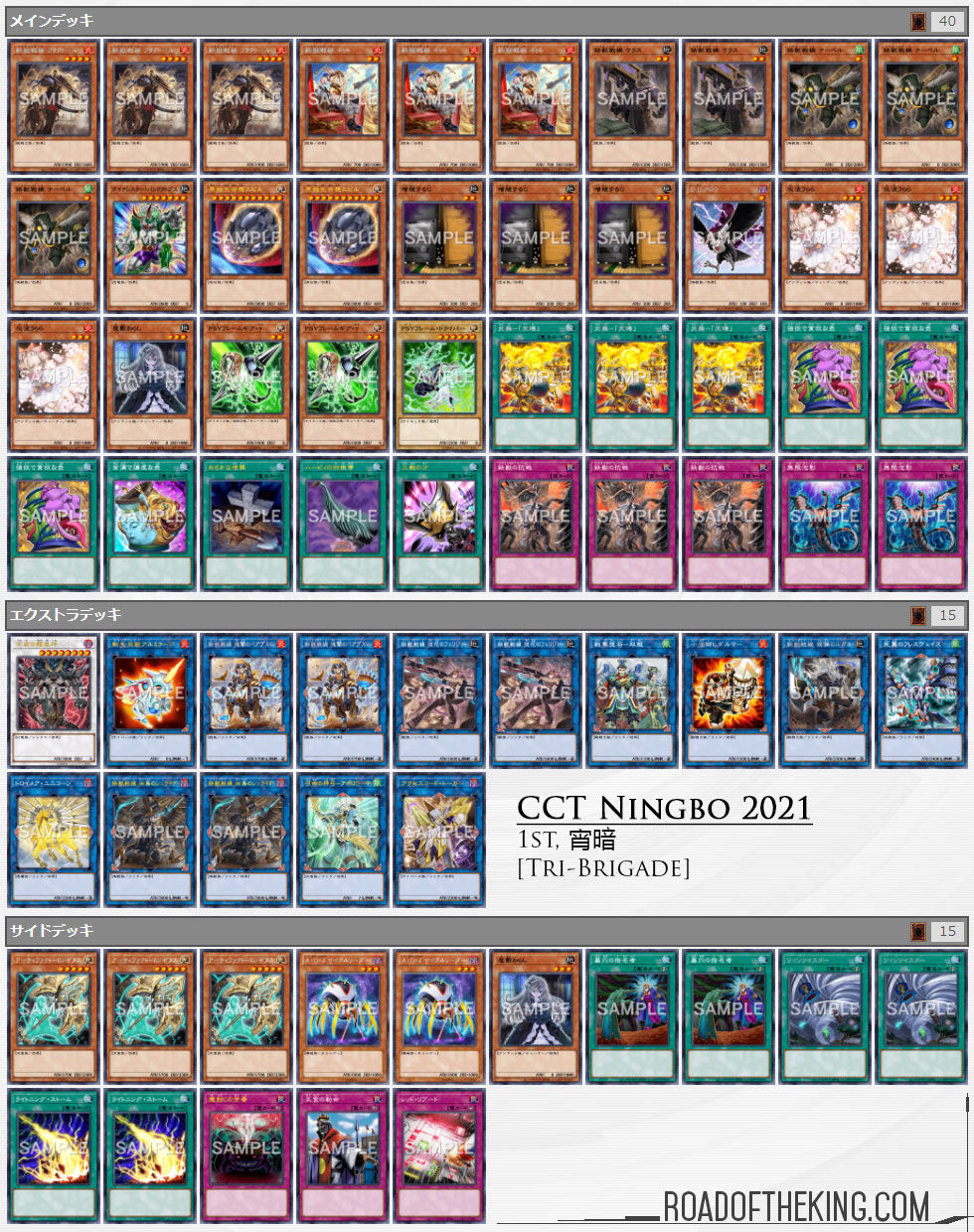 Budong Huanying (不动幻影) went 8-2 and finished 3 – 4th in "China City Tournament Ningbo 2021" which had 245 participants.
For Zoodiac Tri-Brigade, Crossout Designator is their main counter against Spell/Trap cards. One advantage they have is that they run the same cards with Tri-Brigade and Zoodiac, so Crossout Designator could also be used to negate Fire Formation – Tenki, Zoodiac Barrage and Tri-Brigade Revolt.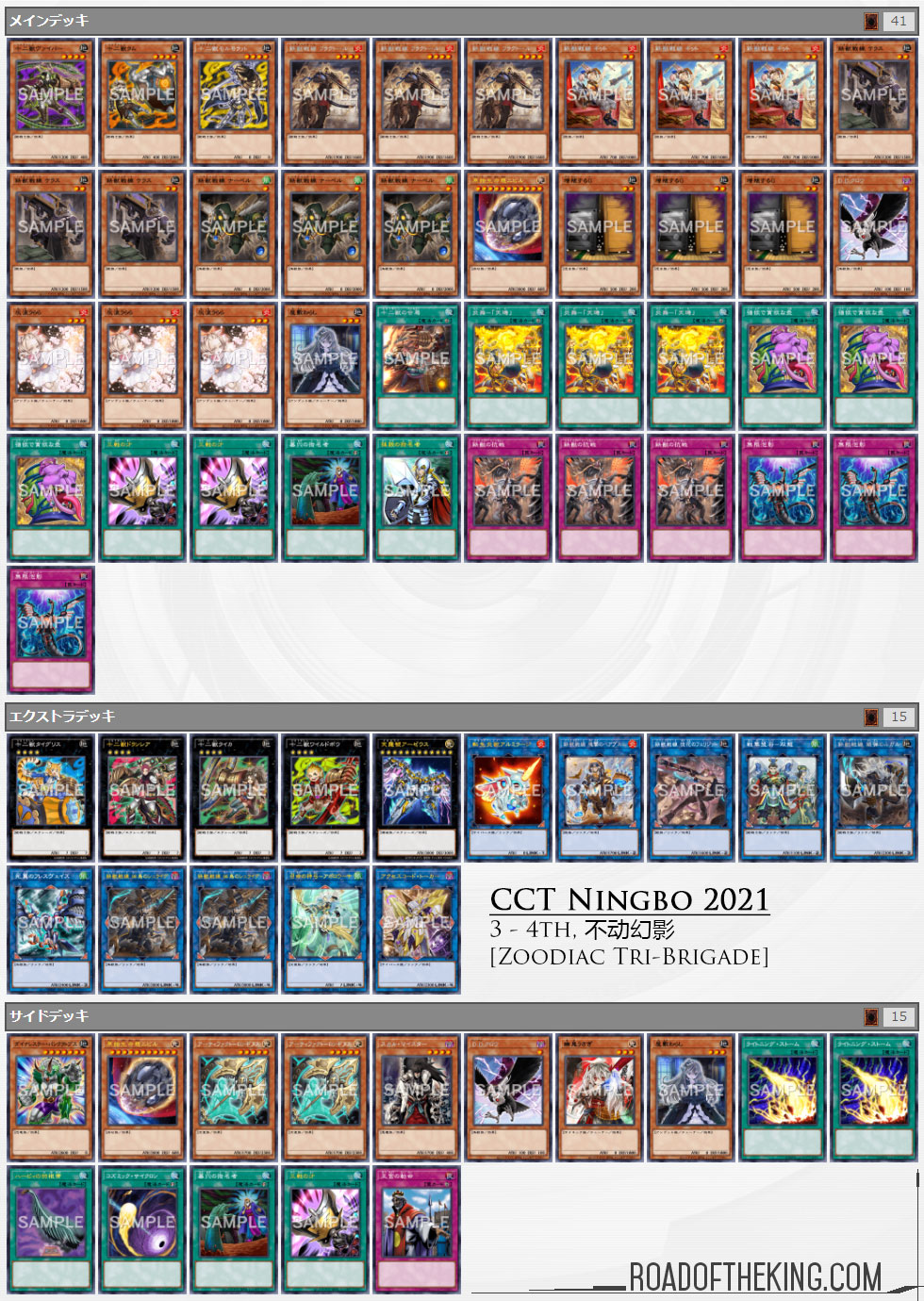 Zoodiac
Tsui Cheng Hao went 8-0 and finished 2nd in "Spring Duel Festival 2021" which had 1199 participants.
Zoodiac's main threats are Number F0: Utopic Draco Future, Zoodiac Drident and Divine Arsenal AA-ZEUS – Sky Thunder. They can negate Monster Effect, destroy a face-up card on the field, or send all other cards from the field to the graveyard.
Similar to Tri-Brigade, Zoodiac have no negation against Spell cards. In these match-ups, Shaddoll could use their Fusion Spells to generates a good amount of card advantage.
Other than using Macro Cosmo and Imperial Order against Shaddoll Fusion Spells, Retaliating "C" and Dimensional Barrier are also good counters. Being able to be used in other match-ups such as Retaliating "C" against Virtual World and Dimensional Barrier against Zoodiac mirror match is an important consideration in the current tight Side Deck allocation.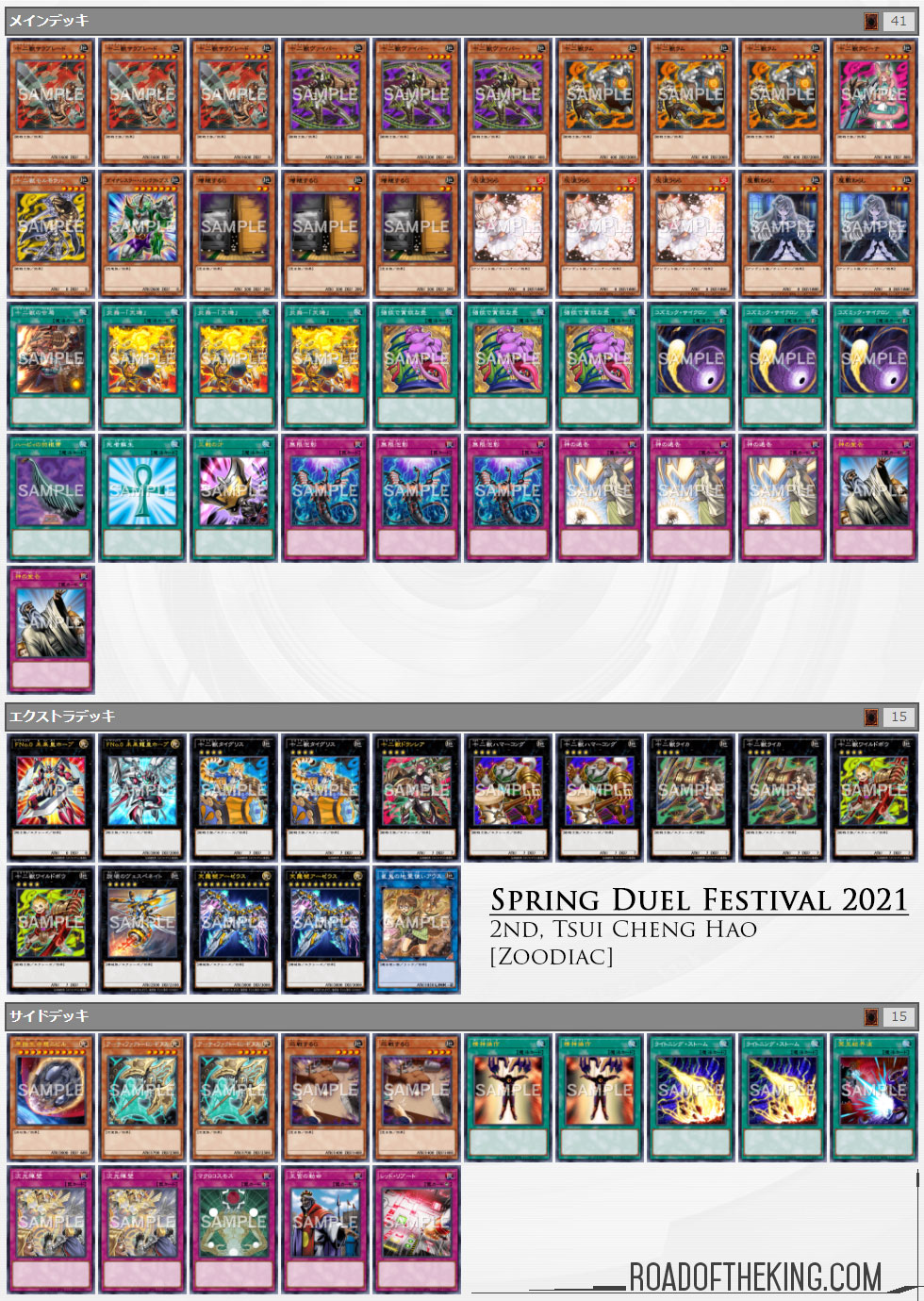 Conclusion
Tri-Brigade takes a dominating lead, and in particular the Zoodiac Tri-Brigade build by itself has more top placements than Zoodiac in the second spot. Virtual World holds onto its third spot. These three decks had stayed in their same position for 3 weeks in a row.
If you enjoyed these Weekly Metagame Reports, consider supporting Road of the King on Patreon. Cheers!
References