OCG 2021.01 Metagame Report #2
Welcome to Week #2 of the OCG 2021.01 format.
This report will tabulate 76 top-performing decks from 10 tournaments that were held in Japan during 9 – 11 January 2021.
Metagame Breakdown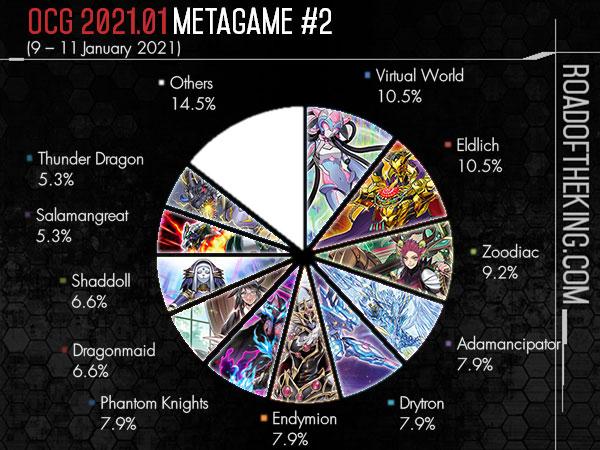 8 Virtual World
8 Eldlich (6 Zoodiac Eldlich, 2 Eldlich)
7 Zoodiac
6 Adamancipator
6 Drytron
6 Endymion
6 Phantom Knights
5 Dragonmaid
5 Shaddoll (2 Dogmatika Invoked Shaddoll, 2 Invoked Shaddoll, 1 Grass Invoked Shaddoll)
4 Salamangreat
4 Thunder Dragon (2 Thunder Dragon, 2 Chaos Thunder Dragon)
3 Prank-Kids
3 Zefra
1 Code Talker
1 Danger Dark World Tempest Magician FTK
1 Dinosaur
1 Sky Striker Mekk-Knight
1 SPYRAL
Virtual World
Shino (しの) finished 2nd in "4th Adachi CS in Saitama Kamifukuoka 3v3 Team Battle" which had 31 teams (93 participants).
In his tweet (@Shino_NextPlay), Shino pointed out two unique points of his deck build.
He ran 1 Virtual World Oto-Hime – Toutou in the Main Deck, giving him options to continue developing his opening board when being disrupted by an Artifact Lancea.
He also ran 1 Beatrice, Lady of the Eternal in the Extra Deck and 1 Mischief of the Gnomes in the Side Deck. Against the Virtual World mirror match or Phantom Knights, Beatrice, Lady of the Eternal could be used to send Mischief of the Gnomes from the deck to the graveyard. Then during the opponent's turn, activating Mischief of the Gnomes ② effect would reduce the Levels of all monsters in each player's hand by 1 (even after they are Summoned/Set), causing the opponent to be unable to make their standard Synchro Summon and Xyz Summon.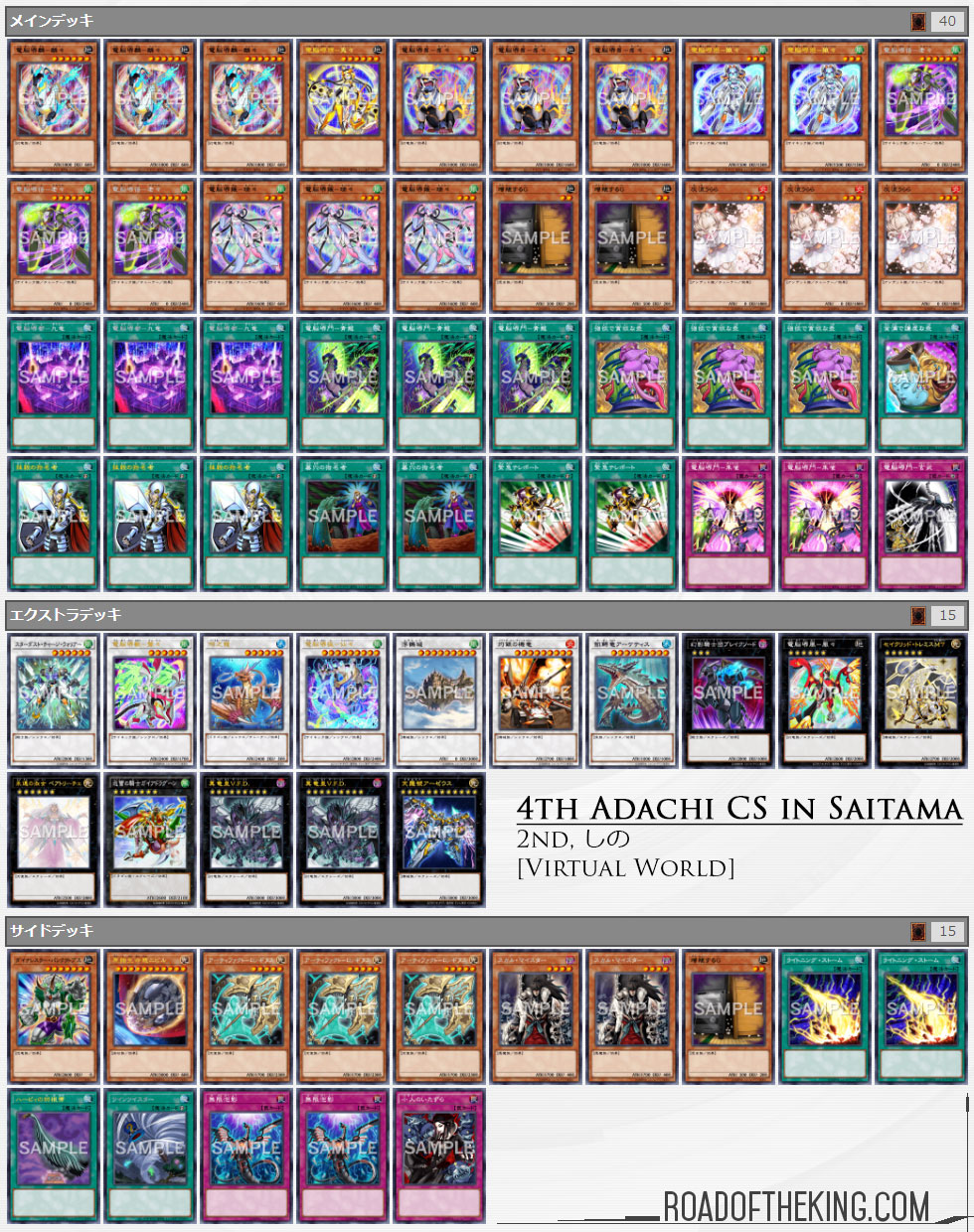 Eldlich
On Sunday, Bao (バオ) went 5-2 and finished 3 – 4th in "49th Garosu CS with Osaka Yugi" (3v3 Team) which had 38 teams (114 participants). On Monday, he went 5-2 and finished 3 – 4th in "50th Garosu CS with Osaka Yugi" (2v2 Team) which had 30 teams (60 participants). This puts his overall results at 10-4.
For both days, he ran the exact same deck build. He chose to run a standard Eldlich in his Main Deck, but left the Zoodiac package in the Side Deck so he could swap over to a Zoodiac Eldlich build after Side Decking. The 2 Eldlich in the top cut are contributed by him, so all 8 Eldlich builds this week are a form of Zoodiac Eldlich.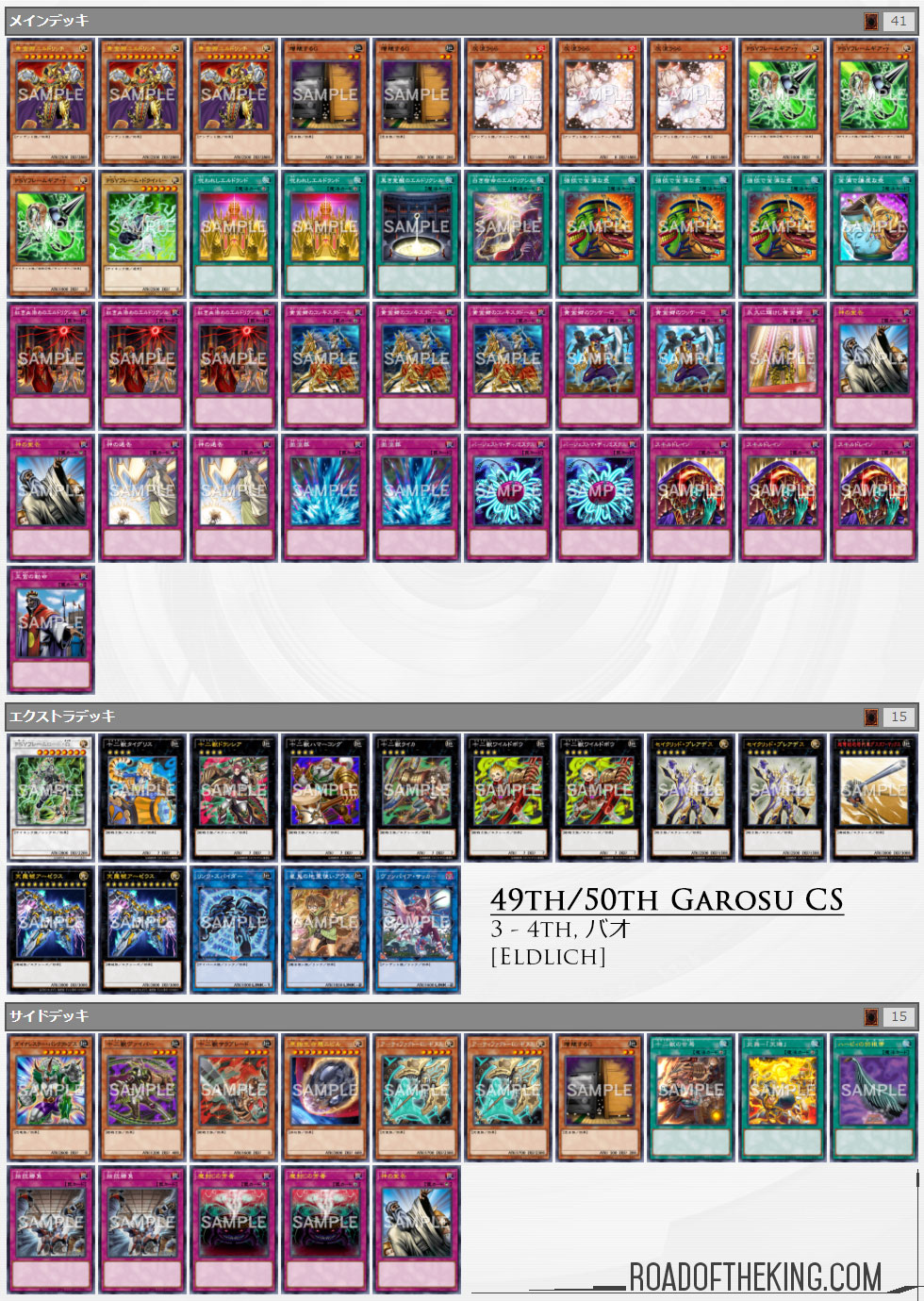 Zoodiac
Hakua (はくあ) went 5-2 and finished 2nd in "50th Garosu CS with Osaka Yugi" (2v2 Team) which had 30 teams (60 participants).
Zoodiac is a deck with a lot of flex spot in the Main Deck to run the tech cards of your choice. Interestingly, the 7 Zoodiac deck builds this week chose to run very similar tech choices in the Main Deck. All 7 builds ran 3 Book of Moon and 3 Cosmic Cyclone in the Main deck. 4 builds ran the full set of 3 Solemn Strike, 2 builds ran 2 Solemn Strike, while the last build chose to run none.
This might be the common understanding among Zoodiac players that this is the best configuration against the current metagame.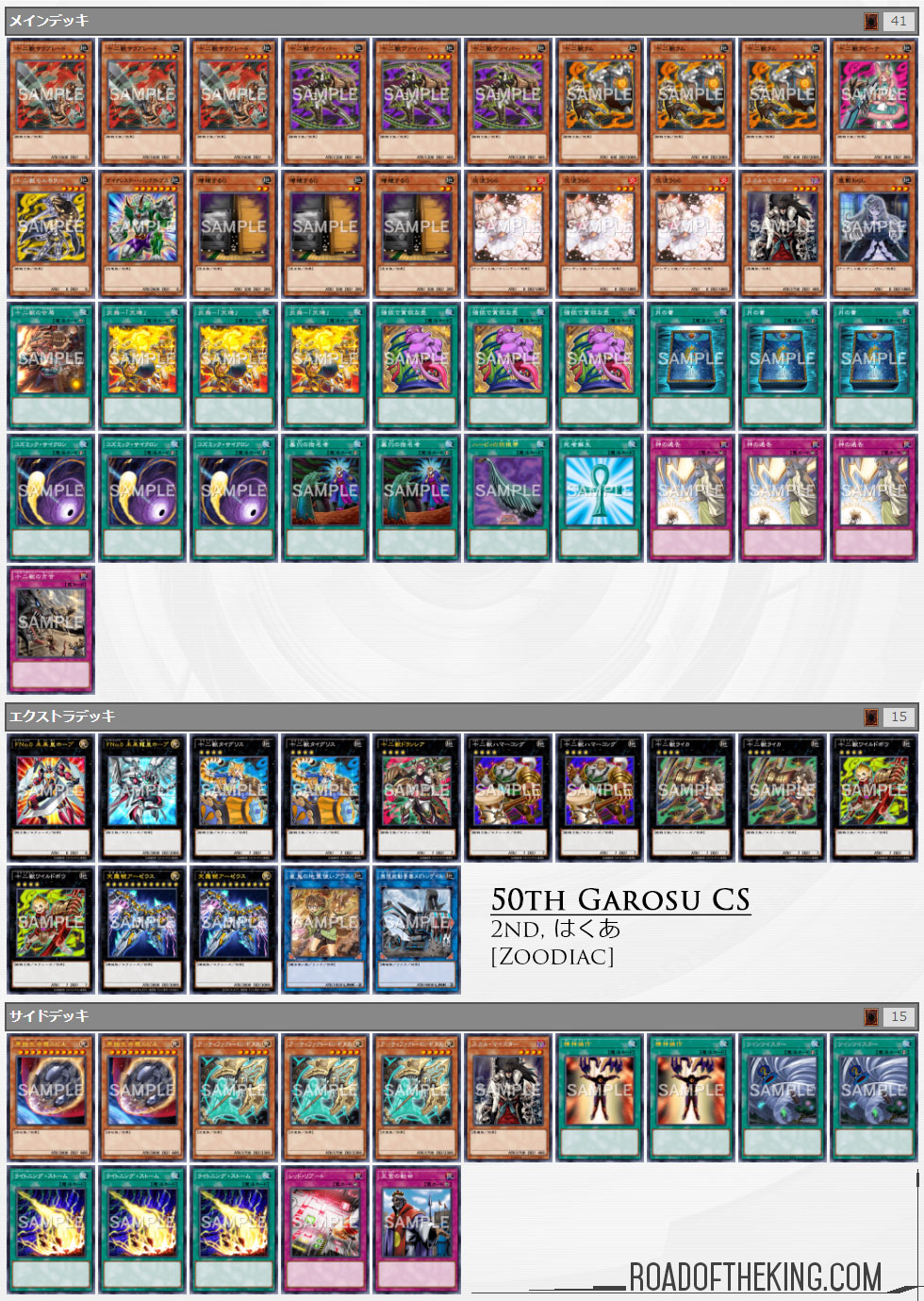 Conclusion
Virtual World, Eldlich and Zoodiac takes the lead this week, with Adamancipator, Drytron, Endymion and Phantom Knights following very closely behind. The power difference between the decks are incredible small as the difference is mostly just 1 deck count.
There is a shifting preference towards the Combo decks as Adamancipator, Drytron, and Phantom Knights inched ahead of the Beatdown decks such as Dragonmaid, Salamangreat, Thunder Dragon. We could expect to see more Dark Ruler No More being run in the Side Deck to combat against the Combo deck.
The next main booster set Lightning Overdrive will be released this weekend and with it comes a new Xyz Monster for Drytron. We could expect Lightning Overdrive to have an impact on the metagame.
If you enjoyed these Weekly Metagame Reports, consider supporting Road of the King on Patreon. Cheers!
References
2021-01-11 | 5th Adachi CS in Saitama Kamifukuoka 5v5 Team Battle (1st: A, B, C, D, E | 2nd: A, B, C, D, E)
2021-01-11 | 34th Yu-Gi-Oh! Shin-Kurashiki CS (3v3 Team Battle) (1st: A, B, C | 2nd: A, B, C)