OCG 2020.04 Store Metagame Report #3, #4
Welcome to Week #3, #4 of the OCG 2020.04 format.
Due to the current situation, the original criteria that the metagame reports had of only including tournaments with 30 or more participants is no longer feasible. The store metagame report takes a different approach by lowering the requirement to 16 or more participants. With a lower participant count and lesser rounds being played, we would expect to see a larger variance in top decks, in particular more random one-off rogue decks. But decks with multiple tops would still be a good gauge of the current metagame.
This report will cover 50 decks from 13 store tournaments held in China and South Korea during 18 – 26 April 2020.
Update: Added "Gwangju Win & Hunt TCG Lounge Japanese Pool Tournament".
New Product Release
Rise of the Duelist
V Jump June 2020 promotional card

Origin Gaia the Fierce Knight
Store Metagame Breakdown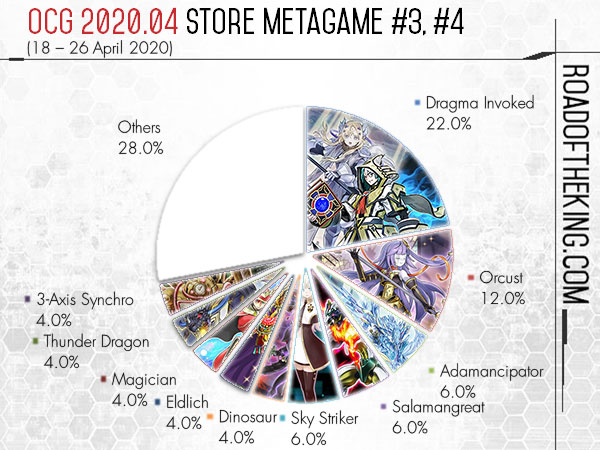 11 Dogmatika Invoked
6 Orcust (5 Dragoon Orcust, 1 Grinder Orcust)
3 Adamancipator
3 Salamangreat
3 Sky Striker
2 Eldlich
2 Magician
2 Thunder Dragon
2 3-Axis Synchro
1 Altergeist
1 Dinosaur
1 Dragoon Cyber Dragon
1 Dragoon Invoked
1 Dragoon Invoked Shaddoll
1 Dragoon Zefra
1 Grass Danger Dark World Tempest Magician FTK
1 HERO
1 Infernoble Knight
1 Madolche
1 Megalith
1 Mekk-Knight Orcust
1 Mythical Beast Endymion
1 SPYRAL
1 Subterror
1 True King Dinosaur
Dogmatika Invoked
Dogmatika is a new theme from Rise of the Duelist and it has already taken over the metagame.
Dogmatika Invoked can consistently setup a board of Invoked Mechaba and El Shaddoll Winda, backed with Dogmatika Fleurdelis, the Knighted and/or Dogmatika Punishment. A more detailed explanation can be found in the Dogmatika Invoked article.
Now that Dogmatika Invoked is most popular deck, not only is there a high chance of playing a mirror match, non-Dogmatika decks are also running counters such as Elder Entity N'tss in their Extra Deck. This results in Dogmatika Maximus becoming undesirable and we see quite some Dogmatika players are opting to run only 1 copy.
On Week #3, Maoxian (毛线) went 5-1-1 and finished 2nd in "Huoguoyang Cards 1101 Release Tournament" which had 26 participants. On Week #4, he went 4-2 and finished 3 – 4th in "Huoguoyang Cards April Weekly Tournament #2" which had 23 participants.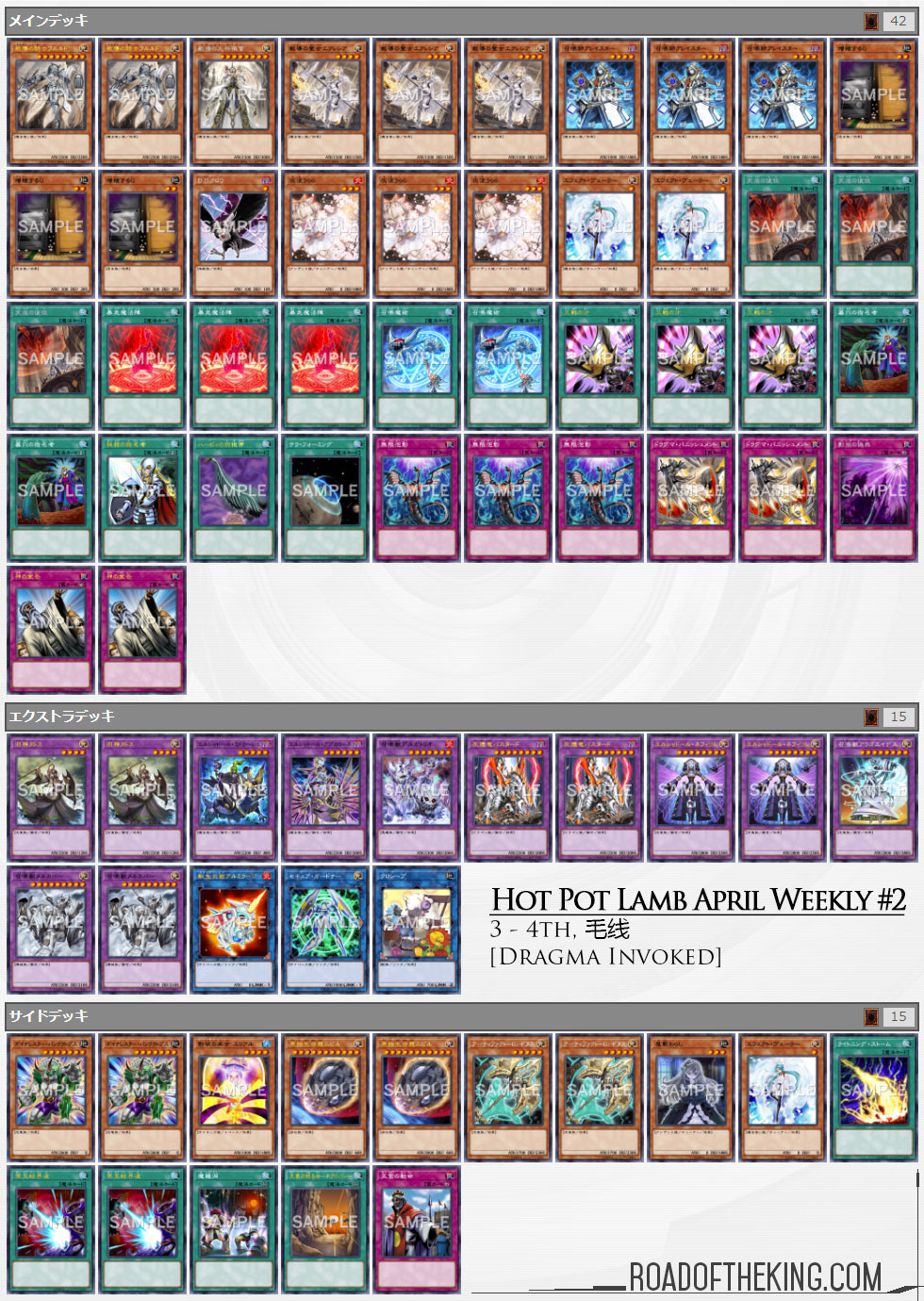 Orcust
Rise of the Duelist has released quite a number of new cards with non-targeting effects, namely Dogmatika Fleurdelis, the Knighted, Triple Tactics Talents and Shaddoll Schism. As many decks now have an answer to Red-Eyes Dark Dragoon, Orcust could no longer rely on just Dragoon to carry them.
Pikaren (皮卡人) went 5-1 and finished 2nd in "Primal Seed Cards 4.18 Ranking Tournament" which had 16 participants.
He ran Elder Entity N'tss and Cyber Dragon Nova in the Extra Deck against Dogmatika.
When the opponent activates Dogmatika Maximus ① effect, he would choose to send Elder Entity N'tss and Cyber Dragon Nova from the Extra Deck to the graveyard. Elder Entity N'tss would destroy 1 of opponent's card on the field, while Cyber Dragon Nova would Special Summon Invoked Mechaba from the Extra Deck. A very punishing tech to discourage the Dogmatika player from using Dogmatika Maximus.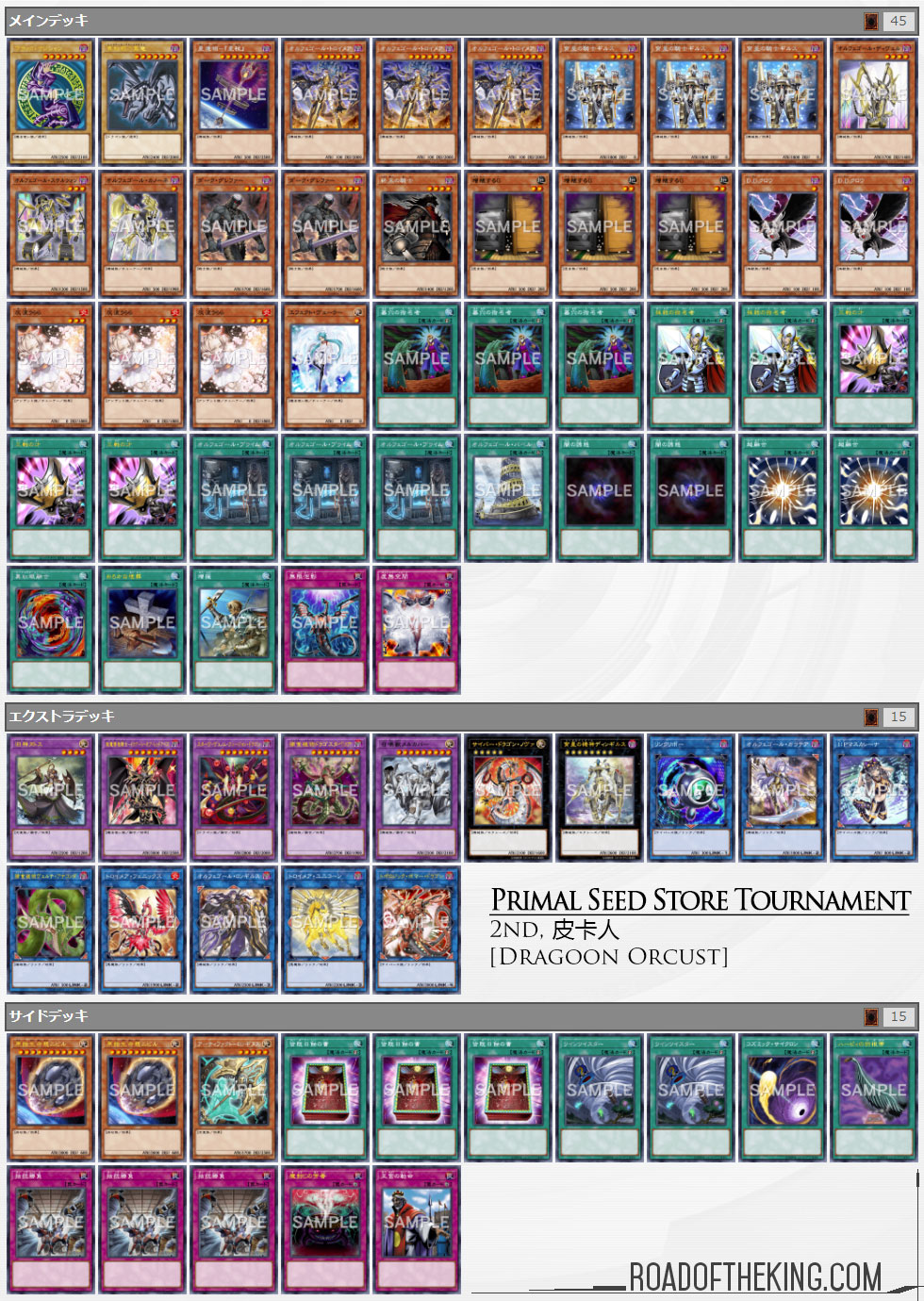 Conclusion
Shortly after the release of Rise of the Duelist, Dogmatika Invoked has quickly rose to the top and is now the deck to beat. Most of the Orcust tops were from Week #3, and they have mostly disappeared in Week #4.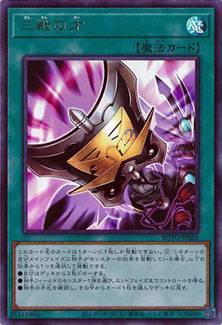 Triple Tactics Talents was initially heavily hyped on its reveal, and after some playtesting, many players have found that it lived up to its hype.
Initially some players were running the combination of 3 Called by the Grave, 2 Crossout Designator and 2 Triple Tactics Talents in the Main Deck. Since Crossout Designator and Triple Tactics Talents could only be activated once per turn, running just 2 copies was a sound approach to minimize drawing multiple copies.
After being impressed by the power and versatility of Triple Tactics Talents, some players have up it to the full 3 copies in the Main Deck. If Combo decks are not disrupted during their setup, then their end board would often be too difficult to break. Modern beatdown decks such as Orcust, Salamangreat, Thunder Dragon have a setup that if not disrupted, could quickly snowball into overwhelming card advantage. This results in many decks having to run multiple 'hand traps' in their builds to disrupt these setup plays, making Triple Tactics Talents very unlikely to brick in the current OCG metagame.
If you enjoyed these Weekly Metagame Reports, consider supporting Road of the King on Patreon. Cheers!
References