OCG 2019.10 Metagame Report #9
Welcome to Week #9 of the OCG 2019.10 format.
This report will tabulate 78 top-performing decks from 11 tournaments that were held in Japan and China during 30 November – 1 December 2019.
Metagame Breakdown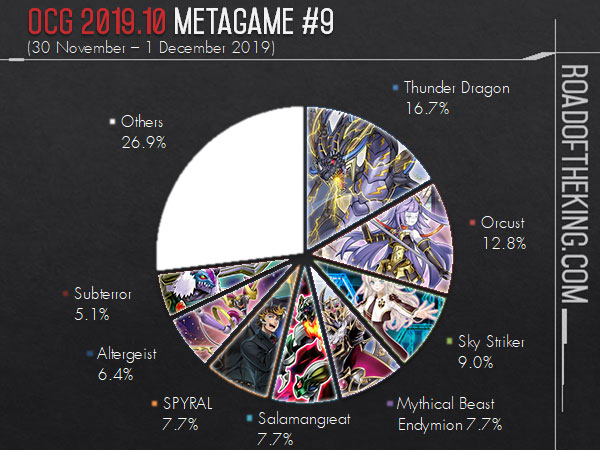 13 Thunder Dragon

12 mono Thunder Dragon
1 Invoked Thunder Dragon

10 Orcust
7 Sky Striker
6 Mythical Beast Endymion
6 Salamangreat
6 SPYRAL
5 Altergeist
4 Subterror
3 Dragon Link
2 Burning Abyss
2 Cyber Dragon
2 Danger Dark World
2 Gizmek Orochi Da Eiza
2 HERO
2 Magician
2 Zefra
1 Gizmek Orochi Zeroboros
1 Grass Danger Thunder Dragon
1 Grass Infernoid
1 Six Samurai FTK
Thunder Dragon
Zekkei (ぜっけい) went 6-1 and finished 1st in "5th Mizue CS" which had 34 participants.
He ran 3 Paleozoic Dinomischus in the Main Deck, a conscious choice he made over Crackdown.
He reasoned that Crackdown is a poor choice in the current metagame due to Salamangreat Rage, Altergeist Silquitous, Dingirsu, the Orcust of the Evening Star are all able to remove Crackdown and allowing the opponent to take back control of his monster.
With the threat of Pendulum decks such as Endymion, Paleozoic Dinomischus being able to banish face-up Spell card is an advantage.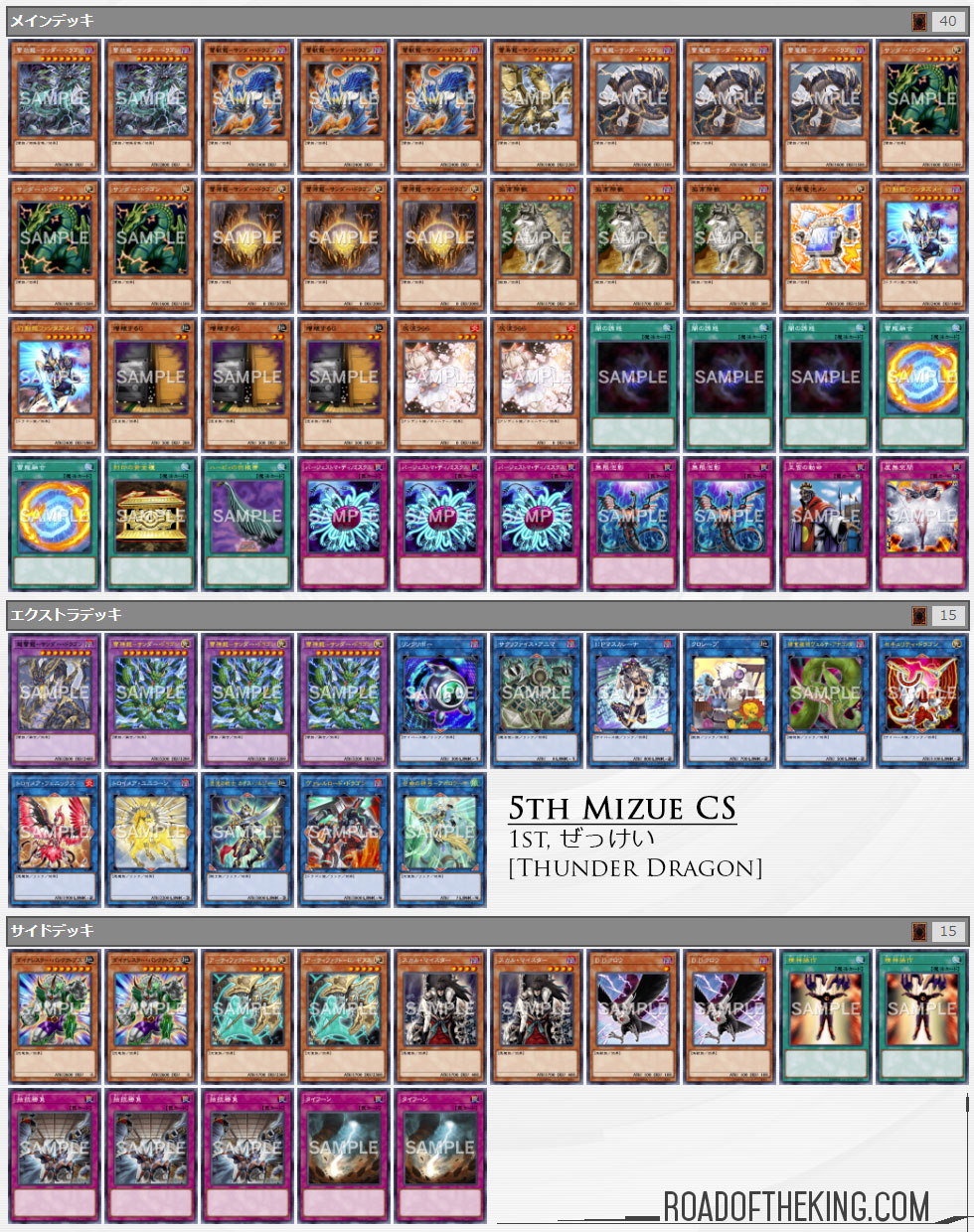 Orcust
Inakingu (いなきんぐ) went 7-0 and finished 2nd in "Lancelord Cup @ 3v3 Team Battle" which had 33 teams (99 participants).
He has 2 Ghost Ogre & Snow Rabbit and 1 Dark Ruler No More in the Side Deck prepared against Pendulum decks.
Dark Ruler No More in particular is very powerful against Endymion as they rely on using monster effects for disrupting. As being able to hold Spell Counters is part of the monster effect, when the Endymion and Mythical Beast monster effects are negated by Dark Ruler No More, that would cause all their Spell Counters to disappear.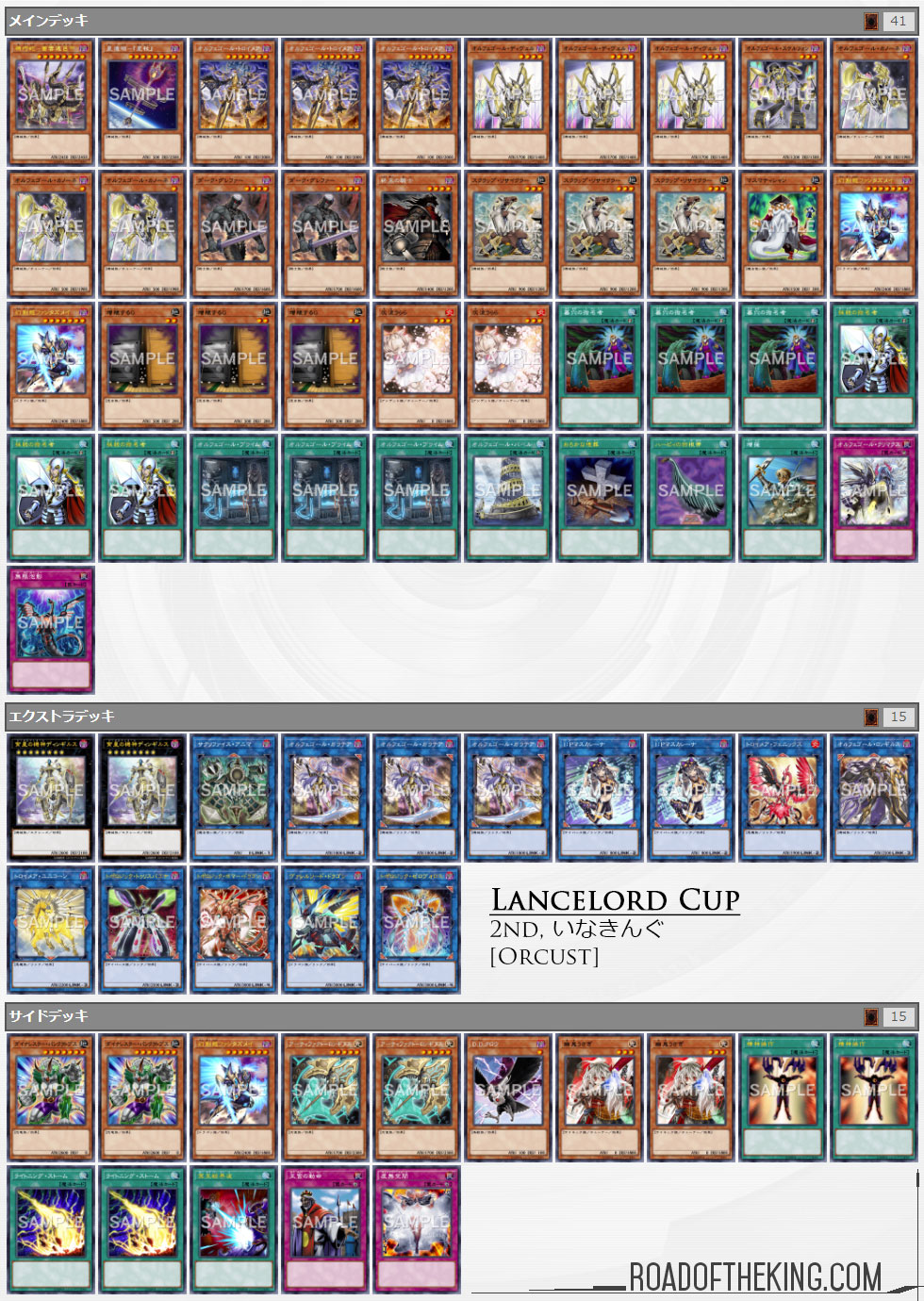 Sky Striker
Ao Inori (碧いのり) went 7-1 (including 2 byes) and finished 3rd in "4th Izumo CS" which had 50 participants.
As Endymion is one of Sky Striker's worst match-up, he is well prepared by having 2 Cosmic Cyclone, 3 Typhoon and 2 Dimensional Barrier in the Side Deck for Pendulum decks.
Droll & Lock Bird is also useful against Endymion, preventing they from playing Spell Power Mastery, Upstart Goblin, Chicken Game, Pot of Desires, causing them to be unable to accumulate Spell Counters.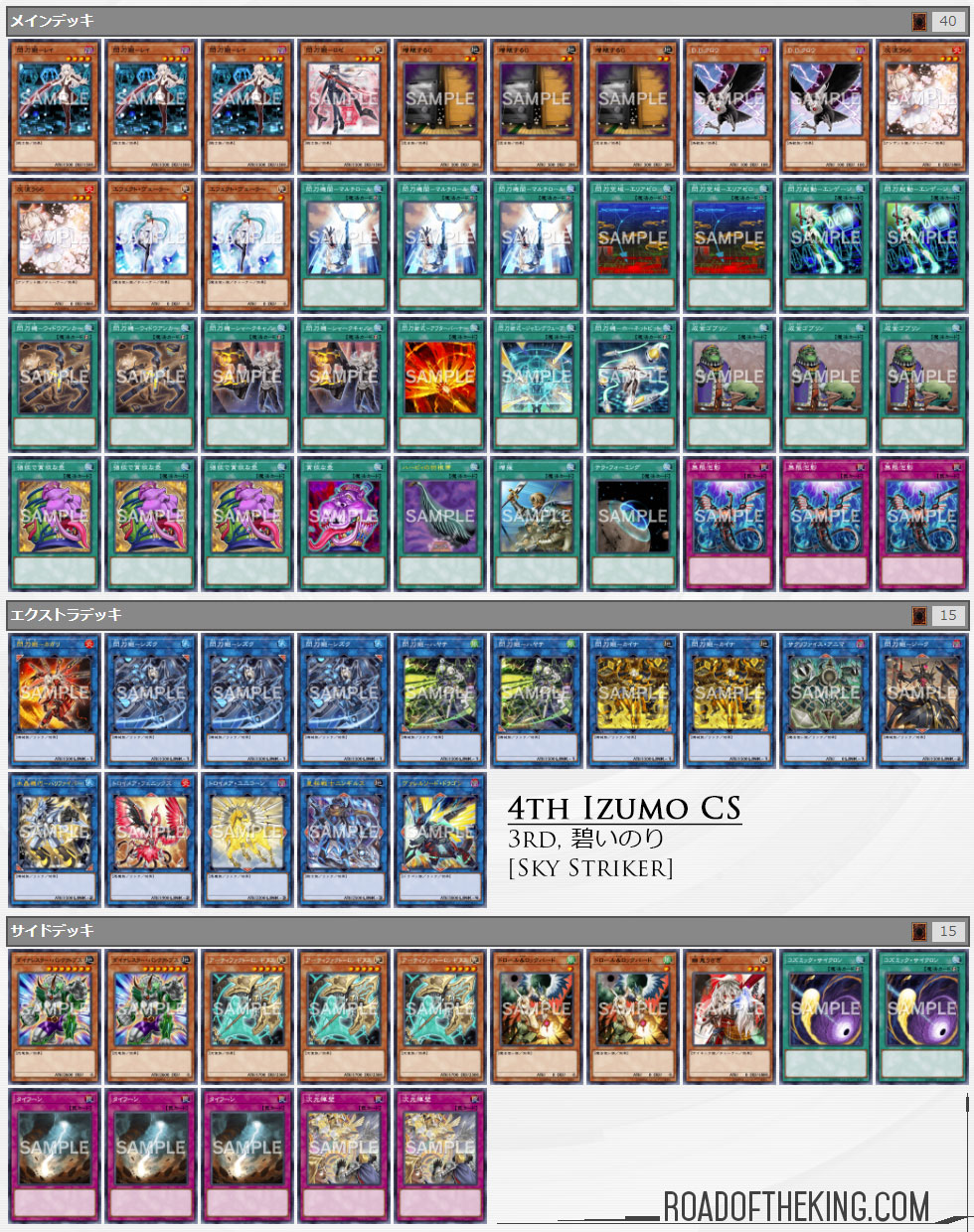 Conclusion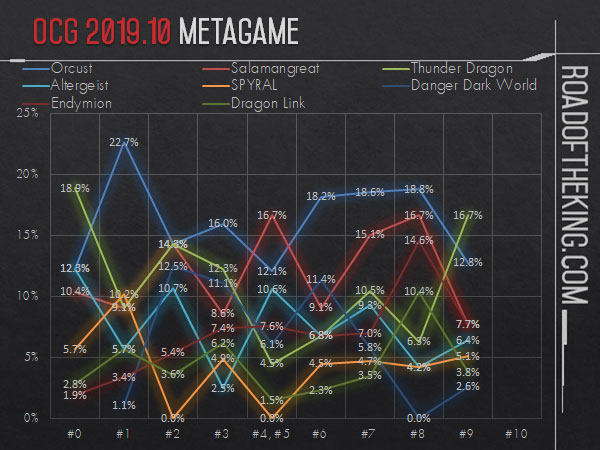 We are seeing some innovative builds as players continue to experiment with the new Link Monsters from LINK VRAINS Pack 3.
SPYRAL could set up the Mist Valley Apex Avian and Mist Valley Thunderbird infinite negate by using Lyrilusc – Recital Starling to Link Summon Simorgh, Bird of Sovereignty.
Altergeist is also starting to run Selene, the Sacred Sovereign of Magic to Special Summon their Altergeist monsters such as Altergeist Multifaker from the graveyard during the opponent's turn.
The Asia Championship Winter 2020 Qualifiers is starting this upcoming weekend with Philippines and Malaysia. This coincides with the release of Structure Deck: Rebirth of Shaddoll. It would interesting to see if Shaddoll could return to the peak of the competitive scene.
If you enjoyed these Weekly Metagame Reports, consider supporting Road of the King on Patreon. Cheers!
References