OCG 2019.01 Metagame Report #2
Welcome to Week #2 of the OCG 2019.01 format.
This report will tabulate 44 top-performing decks from 6 tournaments that were held in Japan during 12 – 15 January 2019.
The following were excluded from this tabulation as Dark Neostorm was not allowed in these tournaments:
3rd Okayama Orbis Cup Team Battle with Hatti CS
3rd Hayato CS with Hatti
New Product Release
Metagame Breakdown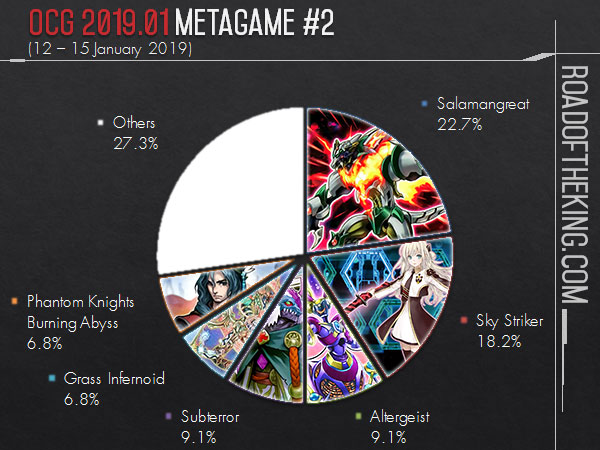 10 Salamangreat
8 Sky Striker
4 Altergeist
4 Subterror
3 Grass Infernoid
3 Phantom Knights Burning Abyss
2 Dinosaur Thunder Dragon
2 Magician
2 Orcust:

1 Phantom Knights Orcust
1 Sky Striker Phantom Knights Orcust

2 Thunder Dragon
1 Blackwing
1 Cyber Dragon
1 World Chalice
1 Zefra
Salamangreat
Shakeneru (しゃけねる) went 7-0-1 and finished 1 – 2nd in "34th Takatsuki CS with Hatti CS" which had 86 participants.
He has taken a more control approach for his Salamangreat build, cutting out Speedroid Terrortop for Pot of Desires and running more Traps.
From the Salamangreat Reference Sheet, we can see that Speedroid Terrortop is often redundant and a win-more card as the deck already has plenty of methods to open consistently with Salamangreat Circle and Lady Debug. Running Speedroid Terrortop also comes with the risk of drawing Speedroid Taketomborg.
On the other hand, Pot of Desires is also useful for digging into the combo pieces. But if you already opened with the combo pieces in hand, then Pot of Desires can be activated after the combo to draw into more Traps and 'Hand Traps' to strengthen the opening board.
Salamangreat Roar and Salamangreat Rage are also increased to 2 copies to avoid Pot of Desires banishing the singular copy.
Although some players are testing with running 1 copy of Cynet Mining, but as Salamangreat builds are going for stability rather than explosive opening, it is very likely that Cynet Mining is not necessary for Salamangreat, especially with Salamangreat Circle and Lady Debug at 3 copies each.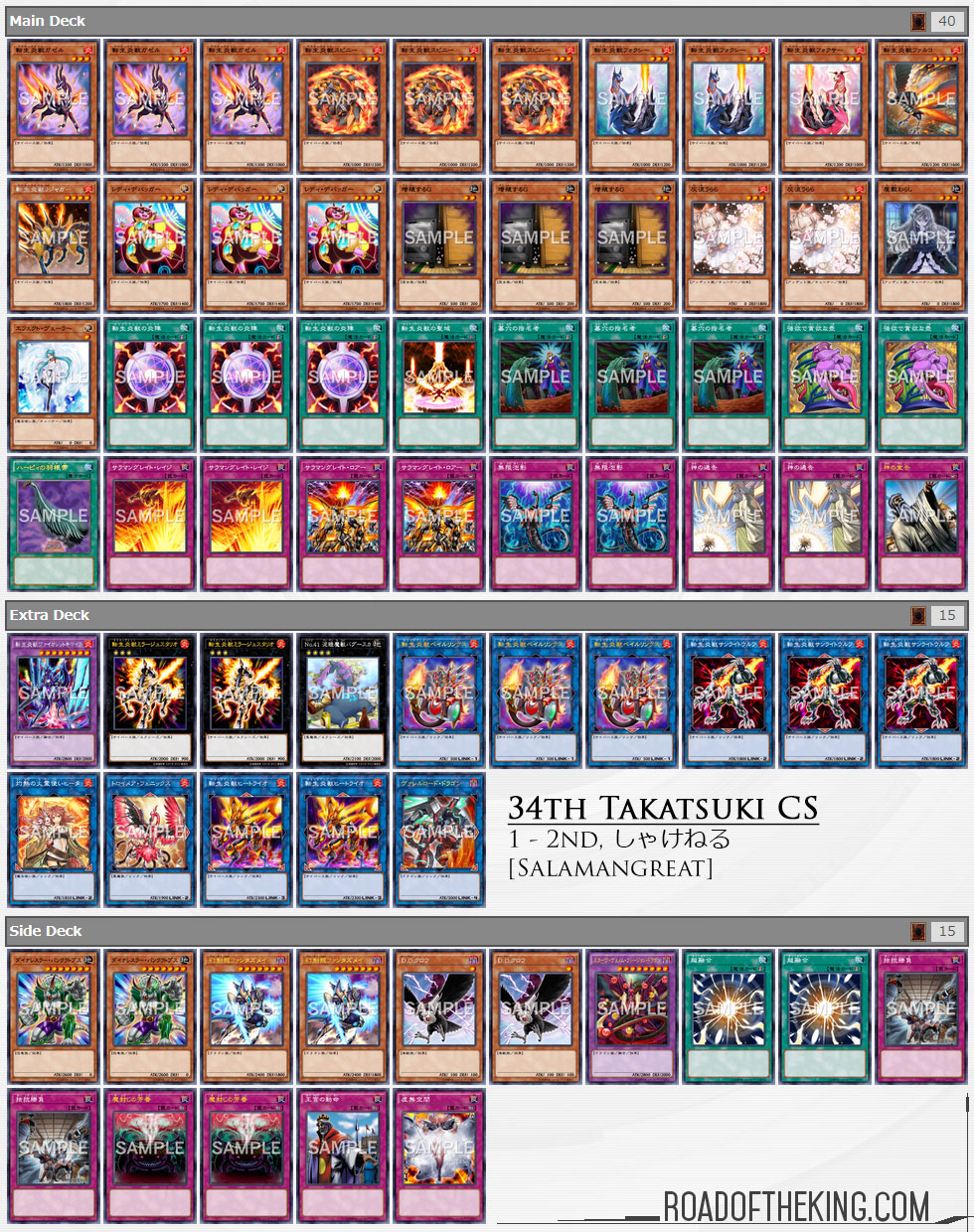 Sky Striker
Aroma (アロマ) went 8-0 and finished 1st in "49th Adachi CS with Hatti CS" (3v3 Team). He then went 7-1 and finished 1st in "79th Oretachi Trading Card Division CS" which had 46 participants.
Amphibious Swarmship Amblowhale is a perfect replacement for Topologic Bomber Dragon.
Topologic Bomber Dragon is mainly run for its lenient summoning condition. The "2+ Effect Monsters" summoning condition allows a Link-3 monster and another monster to be used for the Link Summoning. This is crucial to keep the Main Monster Zones empty but still having a monster with a threatening ATK.
Amphibious Swarmship Amblowhale has the same "2+ Effect Monsters" summoning condition but comes with a much more useful effect. The (2) effect in particular is useful for reviving Sky Striker Ace – Kagari.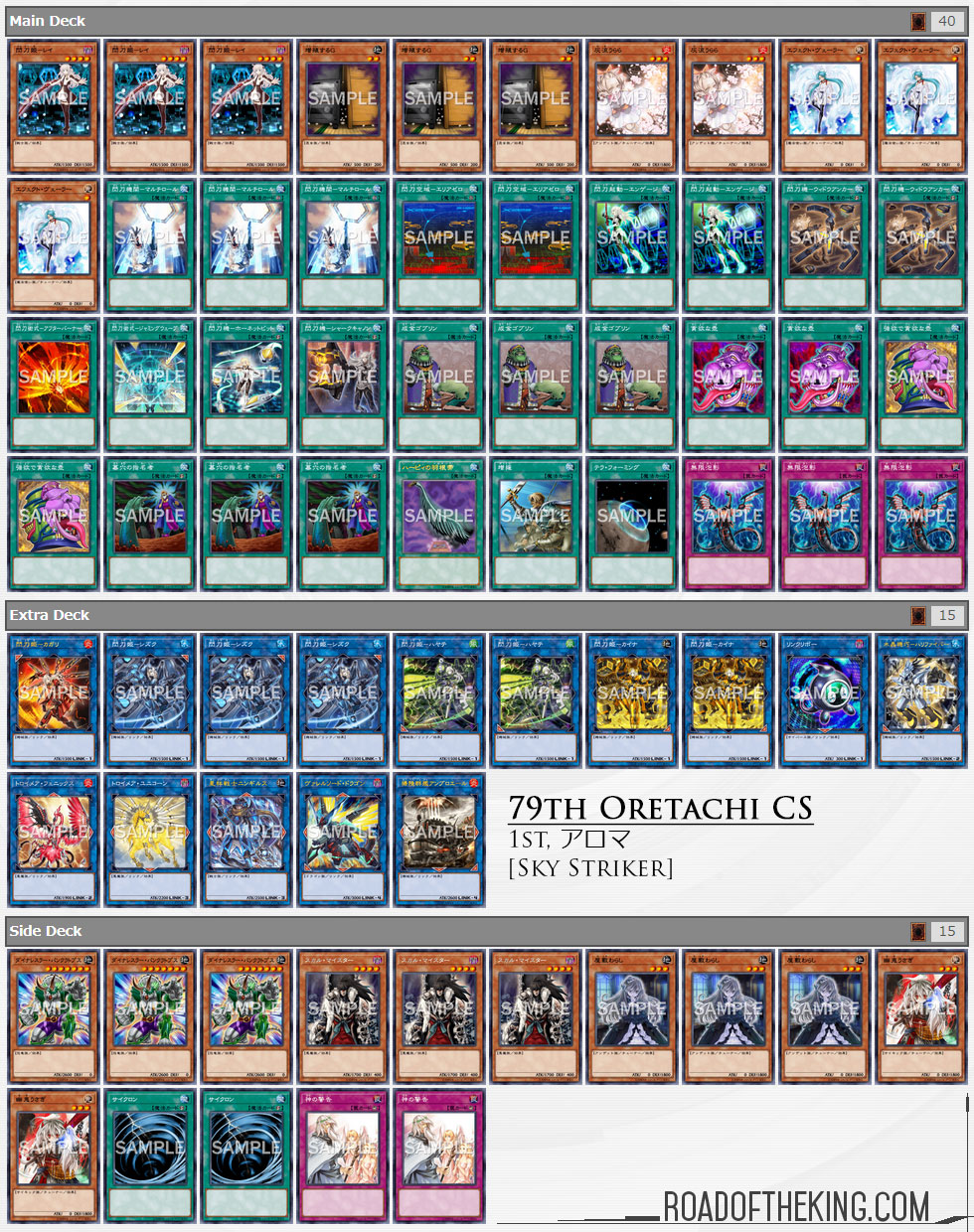 Conclusion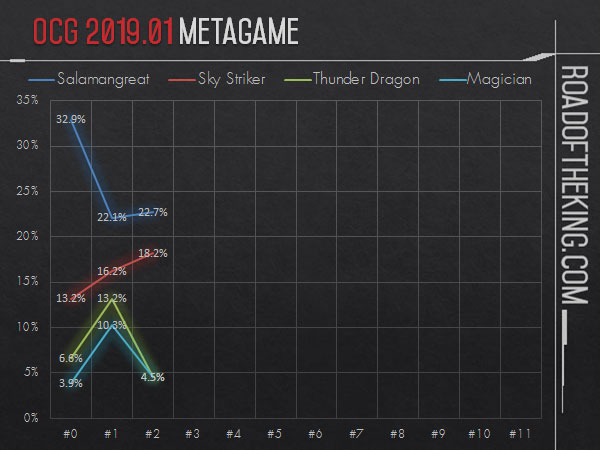 Dark Neostorm has a rather low impact on its debut weekend.
Salamangreat and Sky Striker did not gain any significant boost from it.
Meanwhile Altergeist has been doing well with running Crackdown in the Main Deck. Crackdown is a new Continuous Trap from Dark Neostorm that takes control of an opponent's monster.
During the opponent's turn, it can be activated right after a monsters summon to take control it and deny the opponent from activating its Ignition Effect. Since Crackdown only prevents the monster from activating its effect, the monster's Continuous Effect will still be applied. Taking control of the opponent's Thunder Dragon Colossus will deny them from adding cards from the deck to hand.
Dark Neostorm has also boosted Orcust with Dingirsu, the Orcust of the Evening Star and Orcust Crescendo. This results in a popularity spike for Orcust, but its performance has been mediocre so far.
If you enjoyed these Weekly Metagame Reports, do consider supporting Road of the King on Patreon. Thank you.
References