OCG 2017.01 Metagame Report #8
Welcome to Week #8 of the OCG 2017.01 format.
This report will cover 56 top-performing decks from 10 tournaments that were held in Japan and Taiwan during 18 – 19 February 2017.
Metagame Breakdown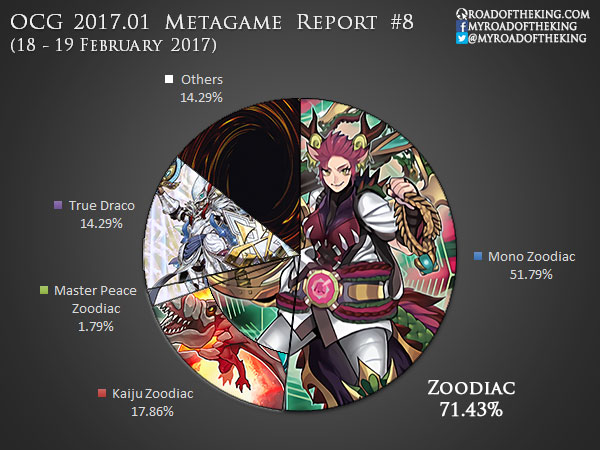 40 Zoodiac:

29 Mono Zoodiac
10 Kaiju Zoodiac
1 Master Peace Zoodiac

8 True Draco:

7 Zoodiac True Draco
1 Kaiju True Draco

8 Others:

3 Zoodiac True Draco Metalfoes
3 Zoodiac True King
1 Greener Zoodiac Infernoid
1 Kaiju Zoodiac Kozmo
Zoodiac

Mono Zoodiac remains as the most popular variant of Zoodiac.
Stardust Charge Warrior is gaining popularity for breaking out of Flying "C", by using Ghost Ogre & Snow Rabbit or Ash Blossom & Joyous Spring as the Tuner for the Synchro Summon.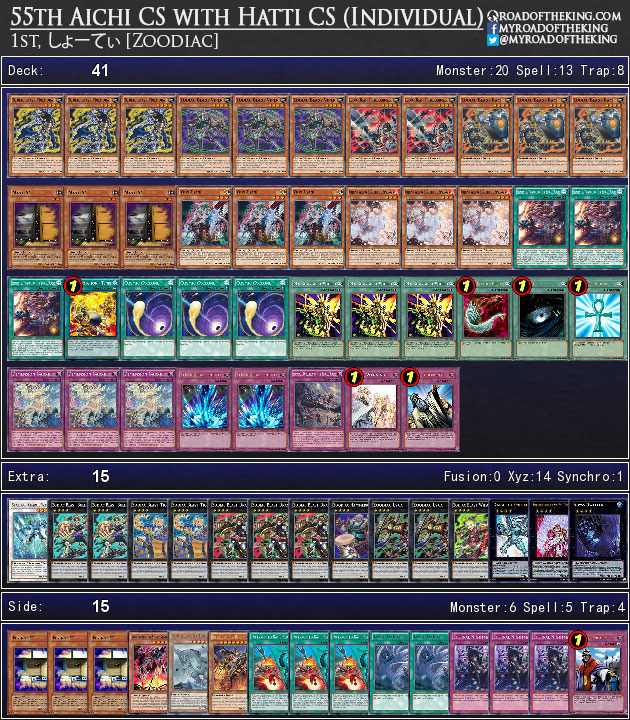 Conclusion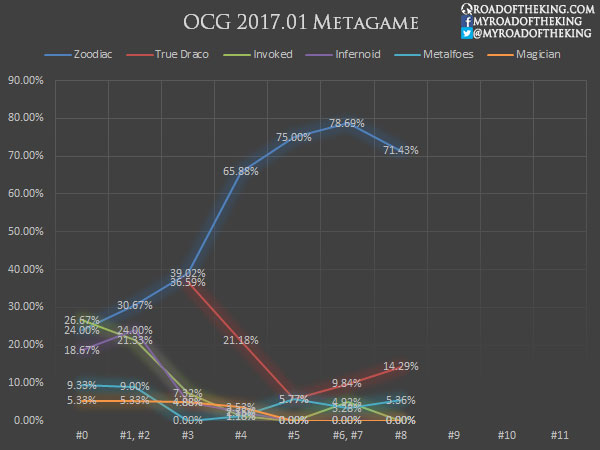 The 1st Hero CS had 76 participants with the following distribution:
23 Zoodiac True Draco (30.26%)
21 mono Zoodiac (27.63%)
11 Kaiju Zoodiac (14.47%)
Although Zoodiac True Draco had the majority representation, only 1 made it to the Top 4. The other Top 4 were 2 mono Zoodiac and 1 Kaiju Zoodiac.
Zoodiac True Draco remains popular, but performs poorly in tournaments.
References