Yu-Gi-Oh! Asia Championship Winter 2018 Singapore Qualifier
Yu-Gi-Oh! Asia Championship Winter 2018 Singapore Qualifier was held on 17 December 2017 at Singapore and had 80 participants.
Metagame Breakdown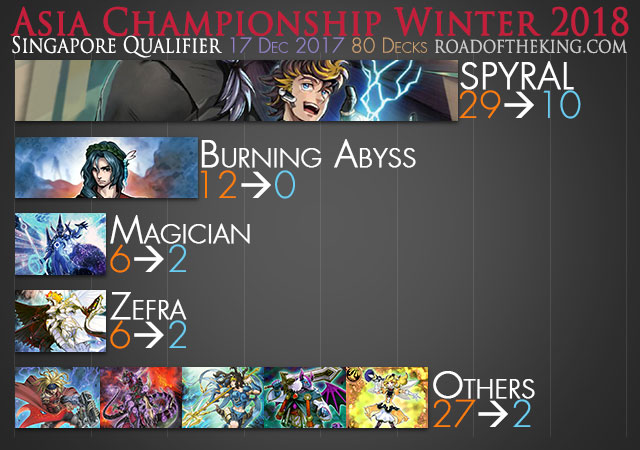 SPYRAL was the most popular deck and they performed extremely well as expected. The 29 SPYRAL decks were spilt between 17 with Grinder Golem and 12 without Grinder Golem. 10 SPYRAL decks made the Top 16 – 7 were the Grinder Golem variant, while 3 were the non-Grinder Golem variant.
Burning Abyss was the second most popular deck, but performed very poorly. All 12 failed to make the Top 16 cut-off.
Magican and Zefra performed equally well. Both had 2 out of 6 making into the Top 16.
The last 2 decks that made the Top 16 were Shiranui and Subterror.
Results
1st
Calvin Ang
Grinder SPYRAL
2nd
Kenneth Koh
SPYRAL
3 – 4th
Lim Jun Jie
Grinder SPYRAL
Zhao Yi Kang
Subterror
5 – 8th
Yeo Gou Jie "Alex"
Grinder SPYRAL
Dimas Adiputra
Shiranui
Wallace Wee
Grinder SPYRAL
Ryan Leong
Grinder SPYRAL
In the round of 16, both Magician and Zefra were knocked out, while Shiranui and Subterror managed to move onto the Top 8. They were eventually eliminated as well, leaving the finals to a battle between Grinder SPYRAL and mono SPYRAL.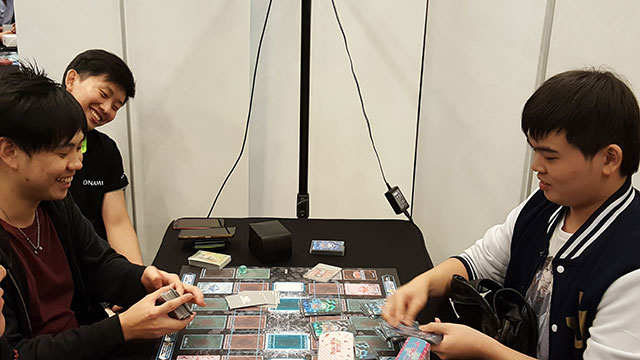 The final match was a rematch of the Asia Championship 2012 Singapore Qualifier final match – Kenneth Koh versus Calvin Ang. Back in 2012, Kenneth was victorious against Calvin.
However, the results for the final match of the Asia Championship Winter 2018 Singapore Qualifier was a reversal. In both duels, Calvin was able to pull off his SPYRAL combos with no disruptions from Kenneth, making it a quick 2-0 victory.
Calvin Ang had a rocky start, losing his very first match, but he was able win all his following matches, finishing with a 8-1 record to win the tournament and earned his invitation to the Asia Championship Winter 2018.
1st, Calvin Ang [Grinder SPYRAL]
Source: @Calvin_Munk, Asia Championship Winter 2018 Singapore Qualifier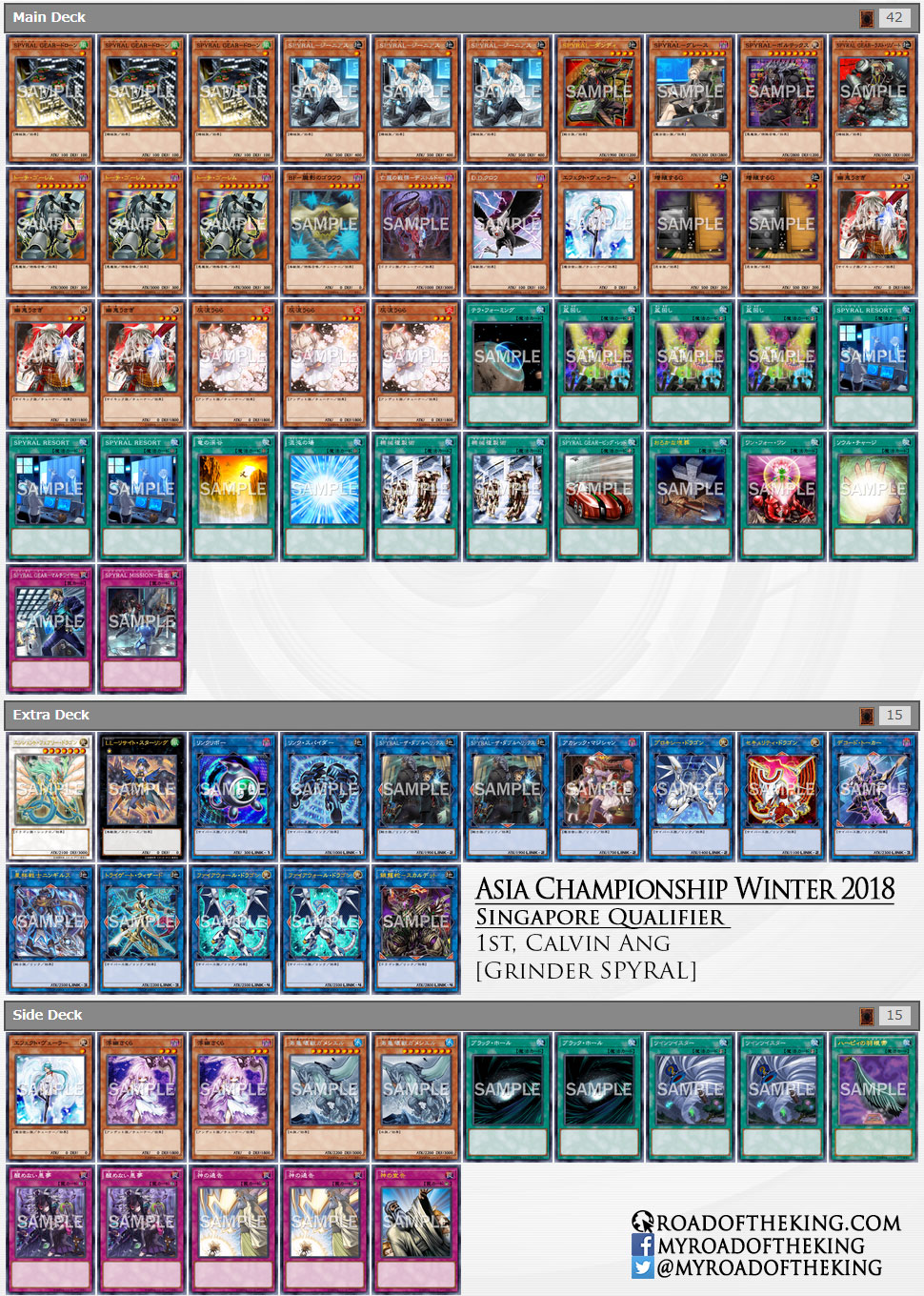 2nd, Kenneth Koh [SPYRAL]
Source: Asia Championship Winter 2018 Singapore Qualifier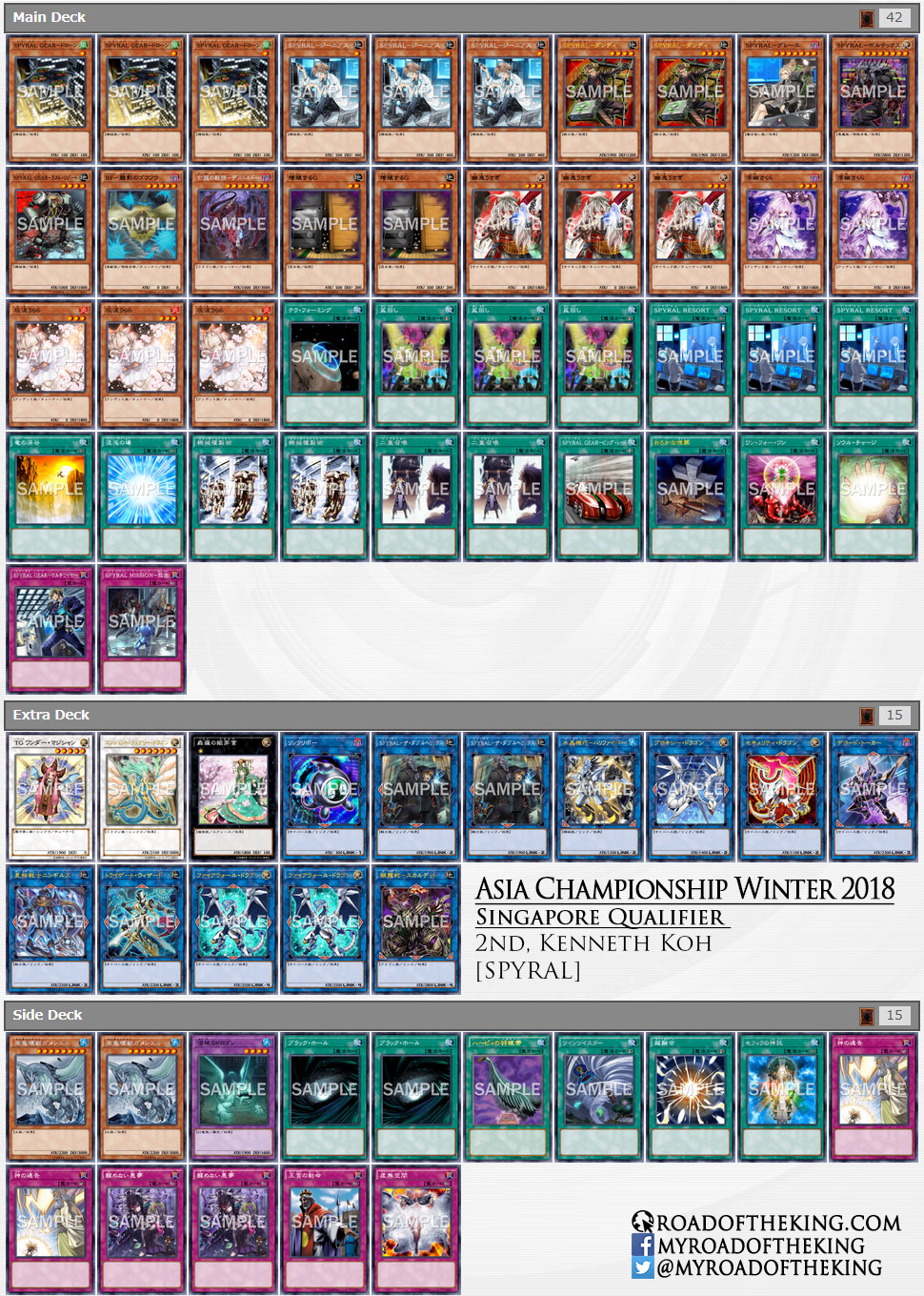 3 – 4th, Lim Jun Jie [Grinder SPYRAL]
Source: Asia Championship Winter 2018 Singapore Qualifier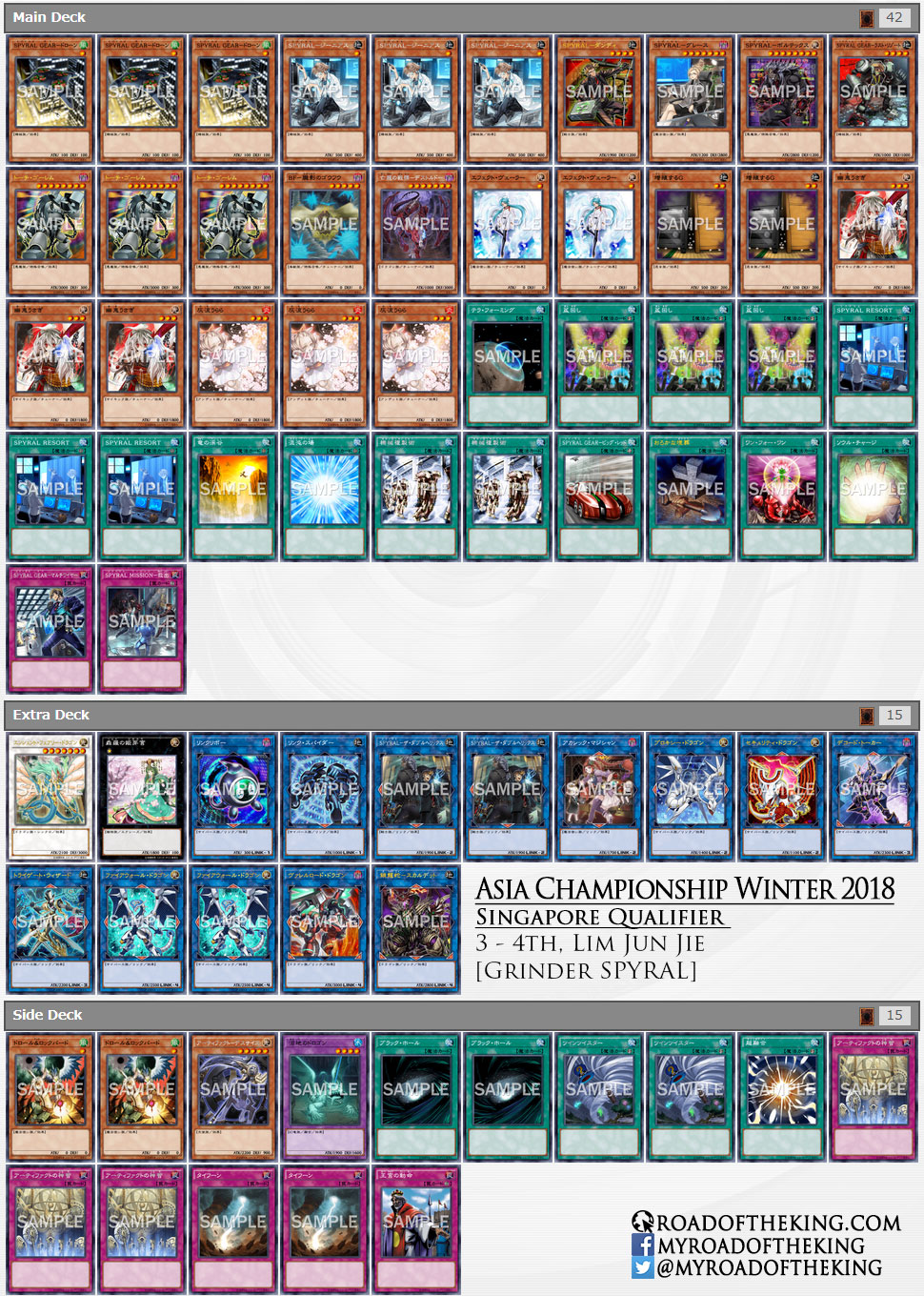 3 – 4th, Zhao Yi Kang [Subterror]
Source: Asia Championship Winter 2018 Singapore Qualifier