OCG 2020.10 Metagame Report #5
Welcome to Week #5 of the OCG 2020.10 format.
This report will cover 109 top-performing decks from 21 tournaments that were held in Japan, mainland China, Taiwan and South Korea during 31 October – 4 November 2020.
New Product Release
Metagame Breakdown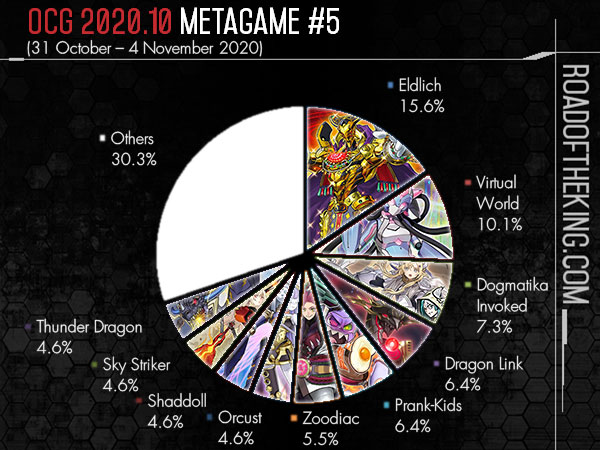 17 Eldlich (10 Eldlich, 5 Dogmatika Eldlich, 1 Grass Zombie Eldlich, 1 Zoodiac Eldlich)
11 Virtual World
8 Dogmatika Invoked
7 Dragon Link
7 Prank-Kids
6 Zoodiac
5 Orcust (3 Orcust, 1 Grass Orcust, 1 Zoodiac Mekk-Knight Orcust)
5 Shaddoll (3 Dogmatika Shaddoll, 1 Dogmatika Invoked Shaddoll, 1 Grass Dogmatika Magistus Shaddoll)
5 Sky Striker
5 Thunder Dragon (3 Thunder Dragon, 2 Chaos Thunder Dragon)
3 Adamancipator
3 Altergeist
3 Code Talker
3 Danger Dark World Tempest Magician FTK
3 Salamangreat
2 Grass Infernoid
2 Lyrilusc Tri-Brigade
2 Mythical Beast Endymion
2 SPYRAL
1 Chaos Dragon
1 Demise True Draco
1 Dragonmaid
1 Frog Paleozoic
1 Madolche
1 Magician
1 Phantom Knights
1 Sekka Danger Kaiju Luna
1 Unchained
1 Zefra
Eldlich
Kurama (鞍馬) went 7-1 and finished 3rd in "2nd Cardbox Nipponbashi Store Renewal Commemorative Tournament" which had 46 participants.
With more Combo decks appearing in the metagame, he ran a more 'hand traps' heavy build. He had also cut the Solemn Counter Traps from the Main Deck, in favor for Dogmatika Punishment and Torrential Tribute . Being able to destroy multiple monsters is more effective in disrupting Combo decks such as Virtual World.
Virtual World
Sea (しい) went 6-1-1 and finished 1st in "Asaka CS (2v2 Team Battle)" which had 52 teams (104 participants).
Virtual World is a combo deck that locks out the opponent with True King of All Calamities. Against the current popular decks in the metagame, he declares the following attributes to lock out their plays.
Dogmatika variants – LIGHT
Zoodiac – EARTH
Thunder Dragon – DARK, sometimes LIGHT
Code Talker – DARK
Virtual World (mirror match) – WIND
Unknown Deck – LIGHT
He ran 1 Number C73: Abyss Supra Splash in the Side Deck as an out to Raidraptor – Ultimate Falcon that was Special Summoned by Waking the Dragon. Raidraptor – Ultimate Falcon is unaffected by other cards' effects, and the standard Virtual World deck has no answer against it, hence Number C73: Abyss Supra Splash ① effect would allow his monsters to attack and destroy Raidraptor – Ultimate Falcon by battle.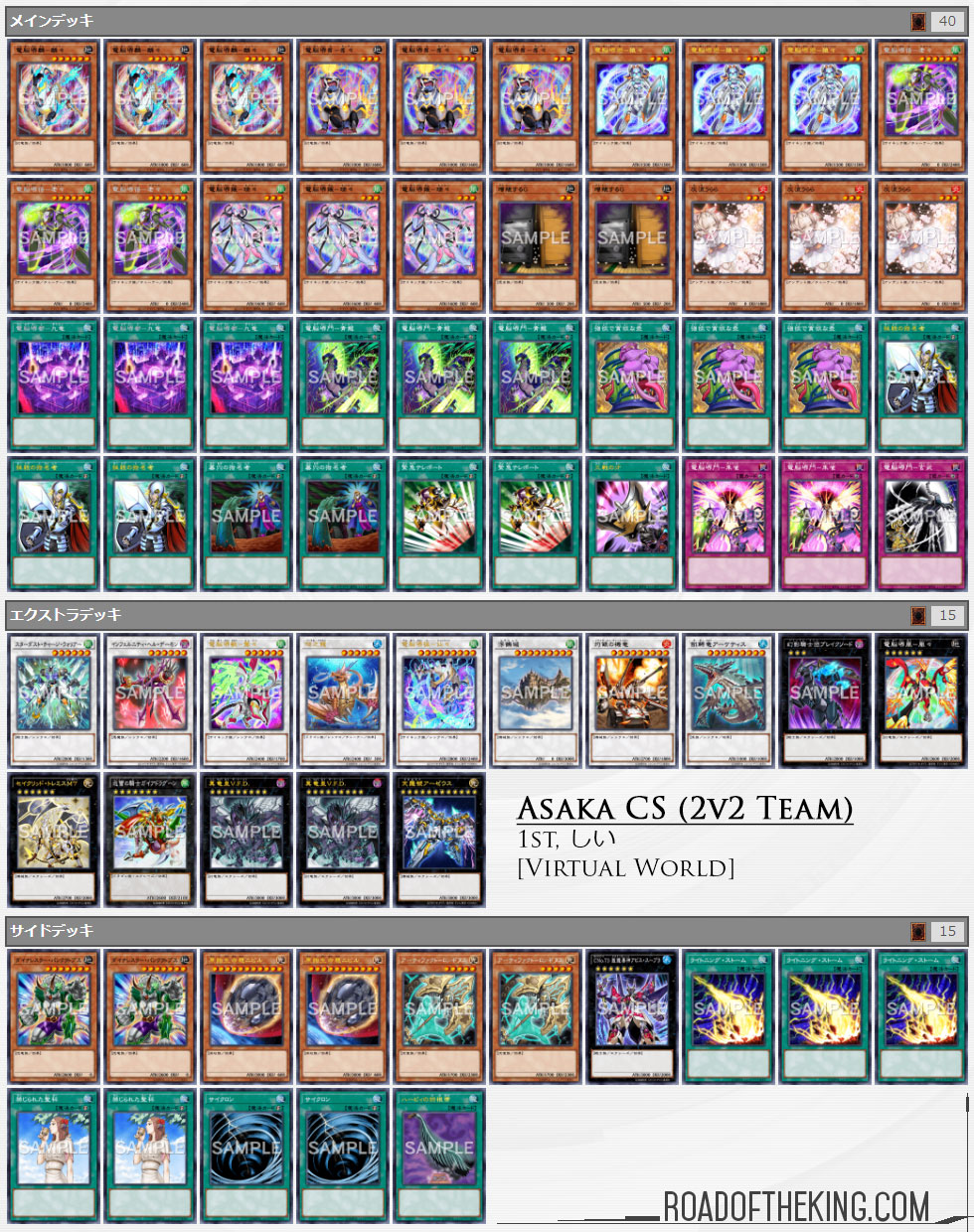 Dogmatika Invoked
Gouken (強謙) went 5-2 and finished 5 – 8th in "Top Japan Tournament" which had 61 participants.
He ran 2 Pot of Prosperity in the Main Deck, a new card from the newly released Blazing Vortex. To activate Pot of Prosperity, 3 or 6 cards from the Extra Deck has to be banished face-down as a cost.
If he has both Invoked and Dogmatika in his opening hand, then he would just banish 1 Titaniklad the Ash Dragon, 1 Invoked Augoeides and 1 Artemis, the Magistus Moon Maiden.
If he has only Invoked in his opening hand, then he would preserve Artemis, the Magistus Moon Maiden, Salamangreat Almiraj and Secure Garnda, and instead banish 1 Titaniklad the Ash Dragon, 1 Invoked Augoeides and 1 Dragon Master Knight.
If he has neither in his opening hand, then he would banish 6 cards to dig deep for a starter.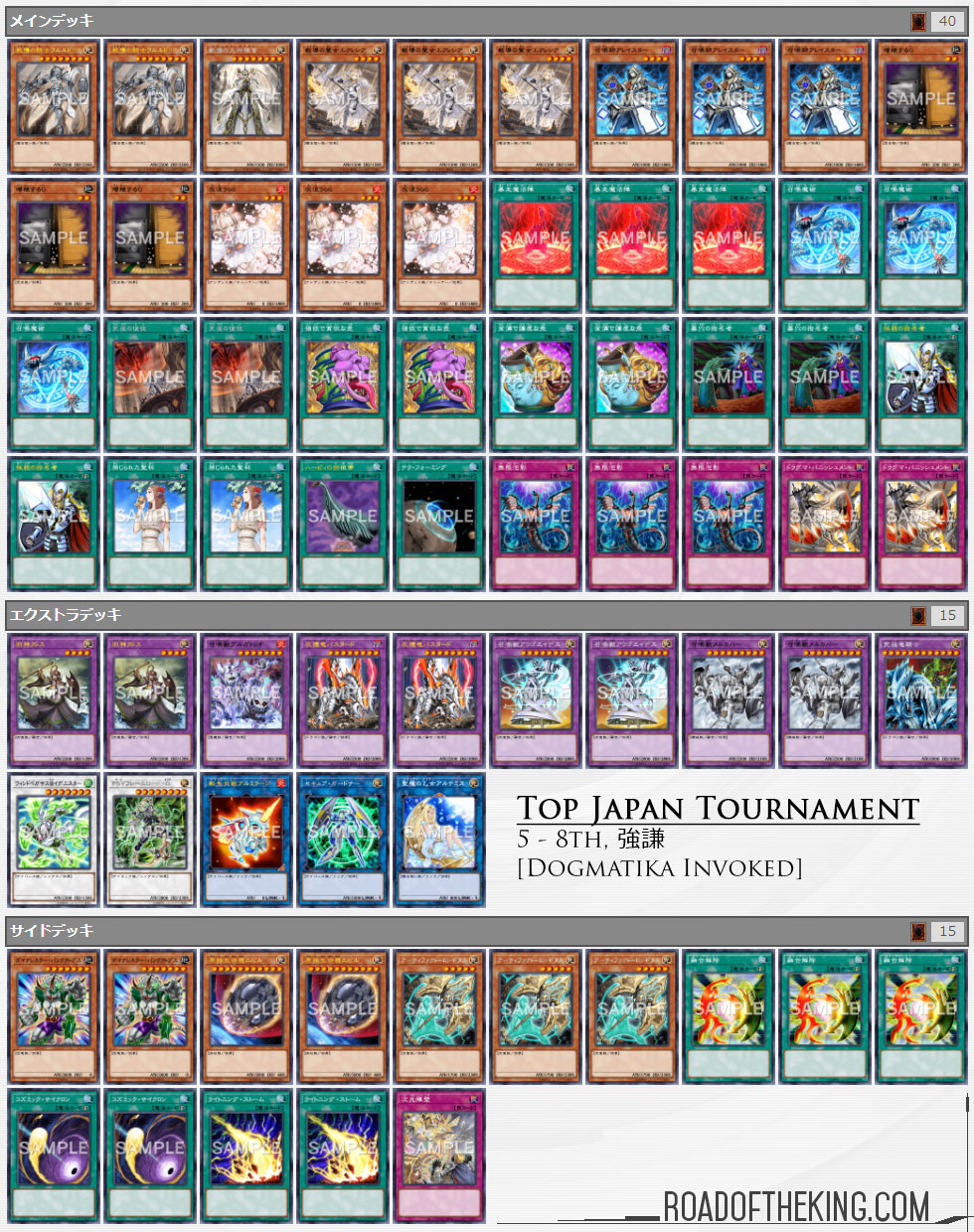 Conclusion
Eldlich and Dogmatika Invoked continues to perform consistently, finishing at the top. There is an influx in combo decks as Virtual World, Dragon Link and Prank-Kids taking up many top spots. The slower metagame resulted in reduced usage of 'hand traps', with some extreme builds even cutting all 'hand traps', giving an opening for Combo decks to break in.
Virtual World is becoming a notably threat in the metagame having surpass Dogmatika Invoked in numbers of top finishes. Dragon Link finished 1st in "23rd NTU Cup" which had 235 participants, and Prank-Kids finished 1st in "1st Zekken CS" which had 64 participants, both are impressive performance in an individual tournament.
Sky Striker also performed surprisingly well in individual tournaments. 4 individual tournaments with more than 60 participants were held in Japan this week, and Sky Striker finished 1st in 3 of them. All 3 Sky Strikers were running Imperial Iron Wall in their Main Deck.
If you enjoyed these Weekly Metagame Reports, consider supporting Road of the King on Patreon. Cheers!
References