OCG 2019.07 Metagame Report #6
Welcome to Week #6 of the OCG 2019.07 format.
This report will cover 70 top-performing decks from 10 tournaments that were held in Japan and China during 10 – 13 August 2019.
Metagame Breakdown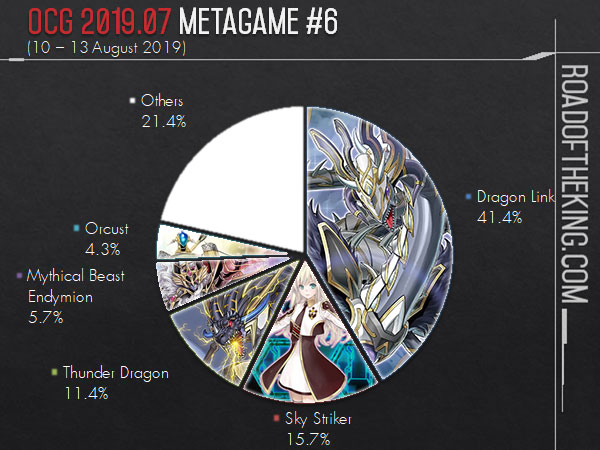 29 Dragon Link:

26 Chaos Dragon Link
3 Grass Chaos Dragon Link

11 Sky Striker
8 Thunder Dragon
4 Endymion:

2 Mythical Beast Endymion
1 Odd-Eyes Mythical Beast Endymion
1 Odd-Eyes Magician Mythical Beast Endymion

3 Orcust
2 Altergeist
2 Invoked
2 Salamangreat
2 Trickstar
1 Burning Abyss
1 Grass Infernoid
1 Magical Musket
1 Rokket
1 Trickstar Orcust
1 Wattgiraffe Good Stuff
1 Zefra
Dragon Link
Shino went 11-1-1 (excluding 2 byes) and finished 1st in "9th CNC (China National Championship)" which had 708 participants.
He ran 1 copy of Fairy Tail – Snow in the Main Deck, providing additional options when milled with That Grass Looks Greener.
Not only is it an additional Special Summoned monster that can be used for Link Summoning, being Level 4 also opens up the option to Synchro Summon Ib the World Chalice Justiciar.
Fairy Tail – Snow's effect is also useful for answering Thunder Dragon Colossus, by turning it face-down. Having an additional answer for Thunder Dragon Colossus is significant for the 60 cards build as the deck has a much lower odds of drawing into the 3 Infinite Impermanence.
During the opponent's turn, Fairy Tail – Snow acts as an additional disruption by turning a monster face-down to deny the opponent from using it for a Synchro Summon, Xyz Summon or Link Summon. Fairy Tail – Snow is also useful for triggering Topologic Gumblar Dragon.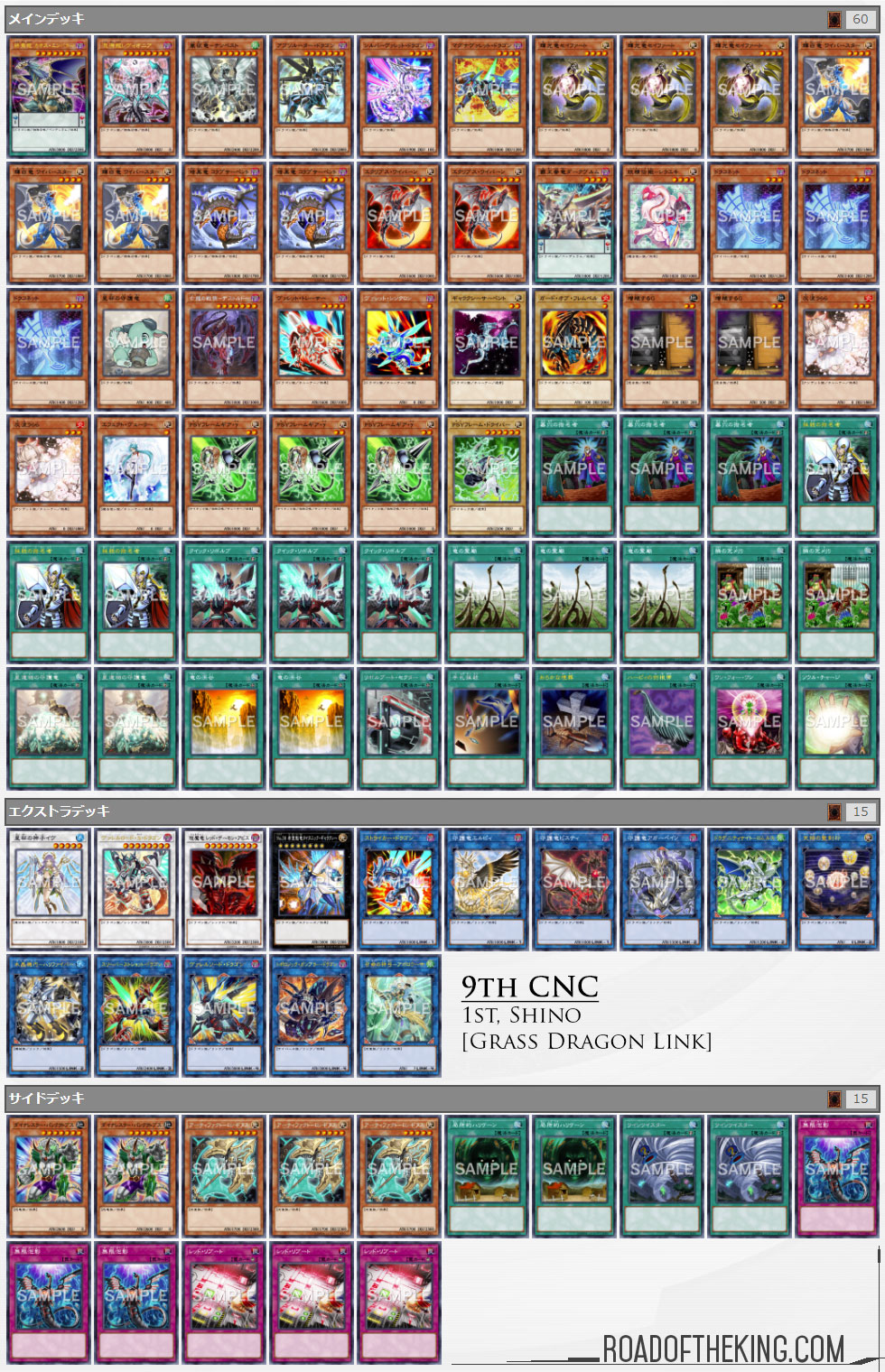 Sky Striker
Kurage (くらげ) went 7-0 and finished 1st in "KGCS (Kagoshima Championship) with Hatti" which had 31 participants.
He played 1 Metaverse and 1 Demise of the Land to allow him to bring out Mystic Mine during the opponent's turn.
Set Rotation is also a good disruption against Dragon Link, preventing them from playing Dragon Ravine and Boot Sector Launch.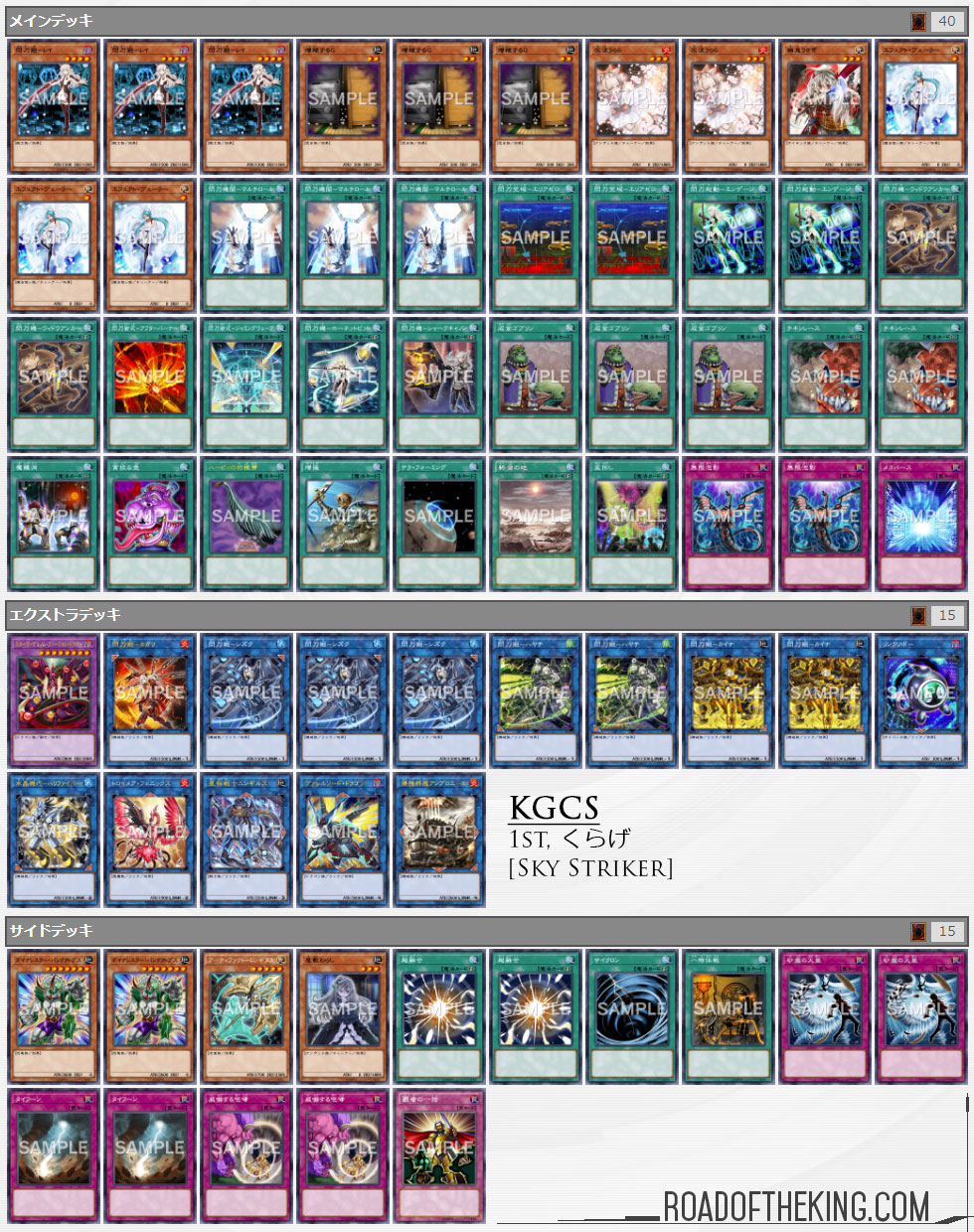 Thunder Dragon
Aka Daruma (あかだるま) went 6-0-2 and finished 1st in "61st Adachi CS with Hatti CS" (3v3 Team).
When going first, Thunder Dragon has a huge advantage against Dragon Link. Thunder Dragon Colossus would stop Dragon Link from adding cards from Deck to Hand with Seyfert, the Starliege Dragon, White Dragon Wyverburster, Black Dragon Collapserpent, Ib the World Chalice Justiciar, etc, and effectively shutting down their combo.
The strategy for going second is to heavily disrupt the Dragon Combo, hence the 13 'hand traps' in the Main Deck, and 2 additional Artifact Lancea in the Side Deck.
Fantastical Dragon Phantazmay's effect helps to dig for more 'hand traps', and being DARK also doubles as fodder for Allure of Darkness.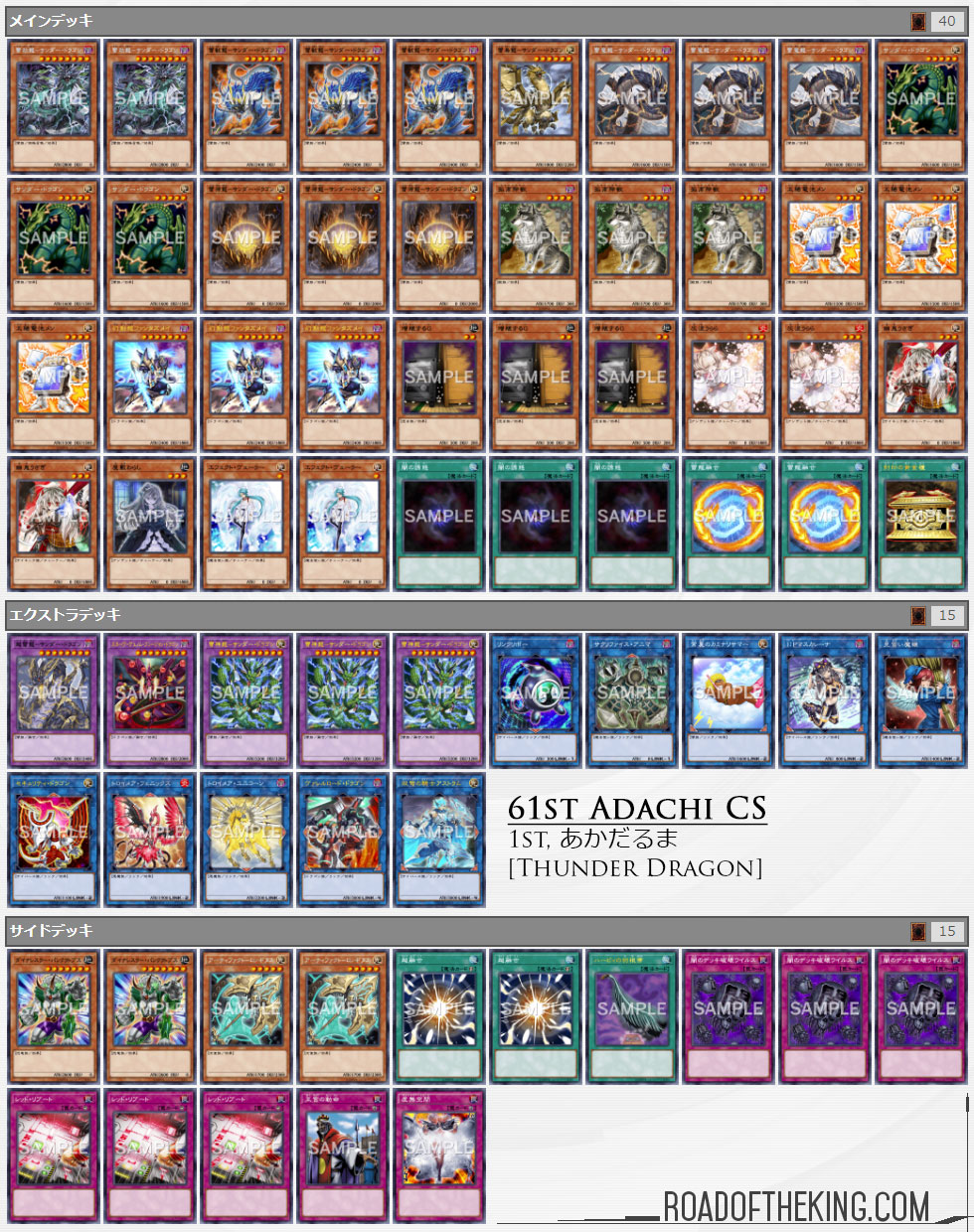 Conclusion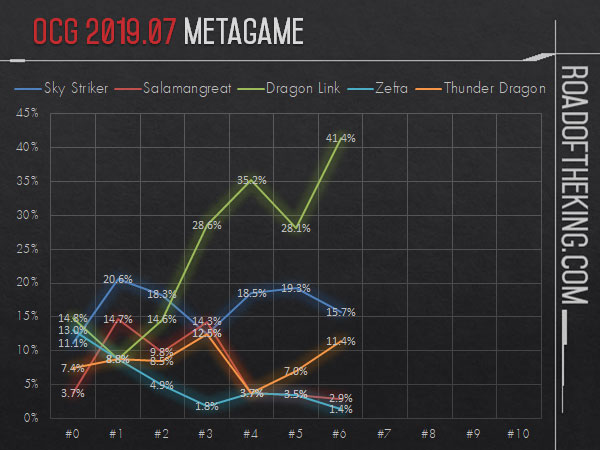 Dragon Link took down the 9th CNC, the largest unsanctioned OCG tournament in Asia, solidifying its position as the best deck this format.
In the same weekend, Salamangreat was victorious at the World Championship 2019.
Salamangreat is the biggest underperformer in the current OCG 2019.07 format. Despite Salamangreat being a very popular pick as the second most played deck in the 9th CNC and 9th CNC AC, many of them failed to make the top cut.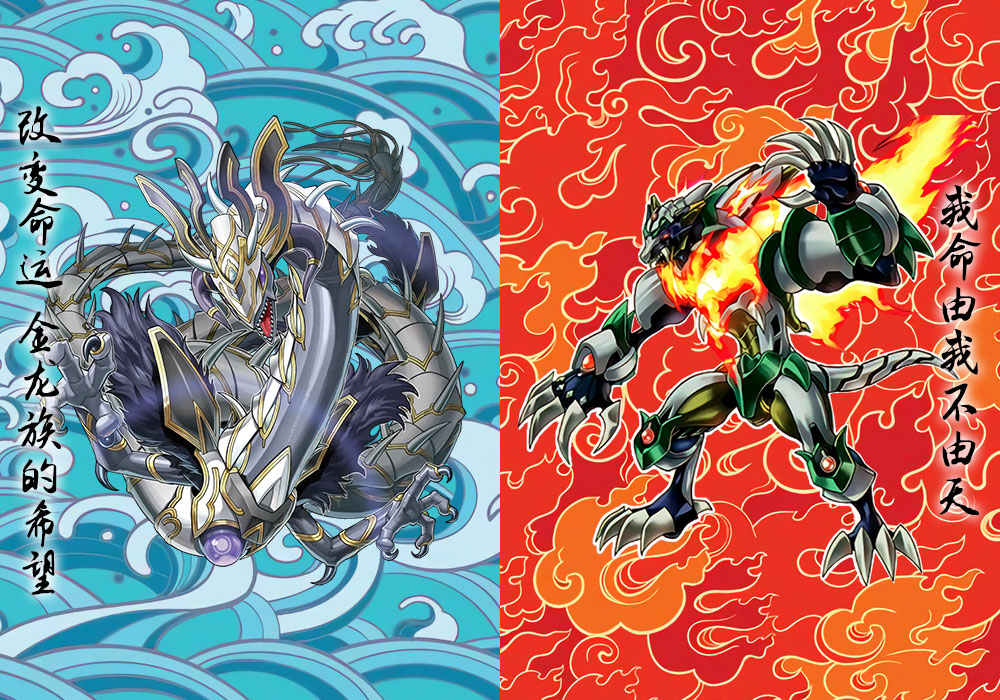 If you enjoyed these Weekly Metagame Reports, do consider supporting Road of the King on Patreon. Thank you.
References