OCG 2017.01 Metagame Report #0
Welcome to Week #0 of the OCG 2017.01 format.
The OCG 2017.01 Limit Regulation was revealed 2 weeks ago. Although the new Limit Regulation will officially take effect on 1 January 2017, numerous tournaments were already held using the new Limit Regulation over the past weekend.
This report will cover 75 top-performing decks from 10 Japanese tournaments that were held during 24 – 29 December 2016.
New Product Release
Structure Deck: Pendulum Evolution
Metagame Breakdown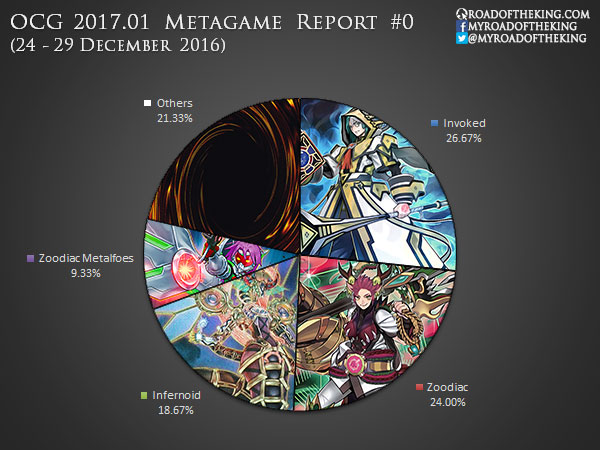 20 Invoked (18 Zoodiac, 1 Artifact Windwitch, 1 Artifact Zoodiac variant)
18 Zoodiac (7 Kaiju variant)
14 Infernoid (7 Lawnmowing Zoodiac, 6 Zoodiac, 1 Lawnmowing variant)
7 Zoodiac Metalfoes
16 Others:

4 Zoodiac Magician (2 Invoked variant)
3 Kozmo (1 Zoodiac Metalfoes variant)
3 Lawnmowing Zoodiac Invoked Lightsworn
1 Darklord
1 HERO
1 Lawnmowing Zoodiac Lightsworn Shiranui
1 Lawnmowing Zoodiac Shiranui
1 Qliphort
1 Zoodiac Paleozoic Volcanic
Invoked

Towards the end of the OCG 2016.10 format, Zoodiac Invoked was catching up to Zoodiac.
Zoodiac Invoked was relatively untouched by the OCG 2017.01 Limit Regulation and continues strong into the new format.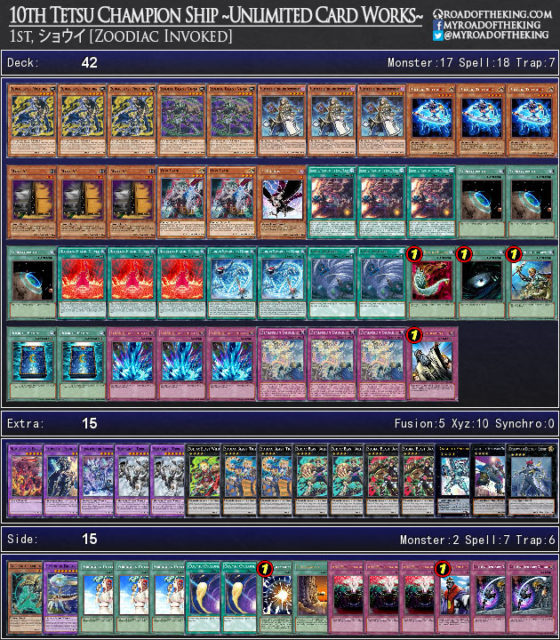 Zoodiac

Despite the limitation of Speedroid Terrortop and Fire Formation – Tenki, Zoodiac continues to perform well.
The hit to their consistency brings them down a notch to the same level as the other decks, but they are still one of the best in the new OCG 2017.01 format.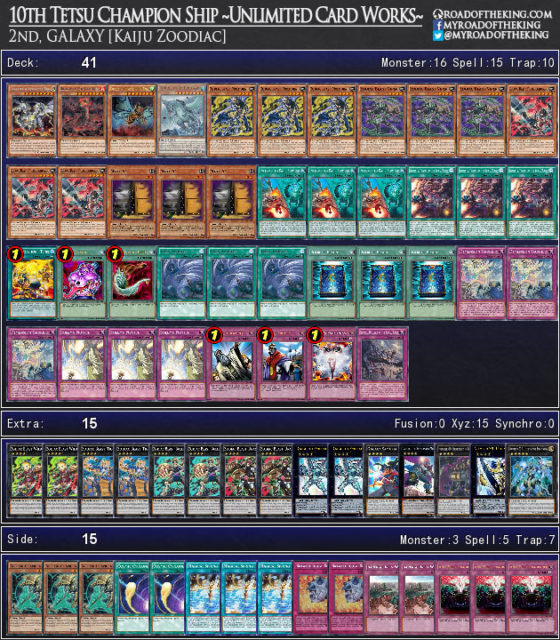 Infernoid

Relatively untouched by the OCG 2017.01 Limit Regulation, Infernoid gains a new support in the form of the reworked Future Fusion.
However, Imperial Order stops Infernoid in its track, and could even outright end the game when Left Arm Offering is negated.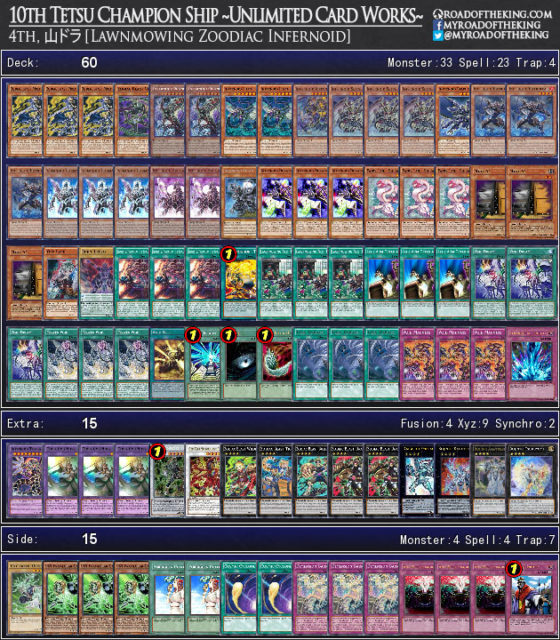 Conclusion

Mono Zoodiac decks are much less prevalent, but the Zoodiac engine is still ran in almost every top performing decks.
Magician fails to find a solid footing as players are prepared with Anti-Spell Fragrance and Imperial Order in the Side Deck.
References