Master Duel Duelist Cup 2022 August
The seventh Master Duel event Duelist Cup 2022 August was held from 9 – 22 August 2022 and featured the first competitive ladder grind. Players would have to reach Duelist Level 20 in Stage 1 before they could participate in Stage 2, where everyone would be ranked based on their accumulated Duelist Points.
Top 100 Metagame Breakdown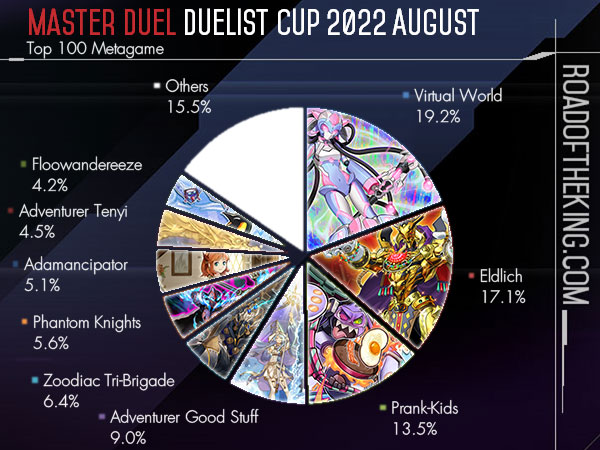 15 Virtual World (8 Adventurer Virtual World, 6 Virtual World, 1 Adventurer Good Stuff Virtual World)
13.33 Eldlich (11.33 Eldlich, 2 Grass Eldlich)
10.5 Prank-Kids (8 Adventurer Prank-Kids, 2.5 Destiny Adventurer Prank-Kids)
7 Adventurer Good Stuff (4.33 Adventurer Good Stuff, 2.67 Destiny Adventurer Good Stuff)
5 Adventurer Zoodiac Tri-Brigade
4.33 Destiny Adventurer Phantom Knights
4 Grass Adamancipator (3 Grass Adamancipator, 1 Grass P.U.N.K. Adamancipator)
3.5 Rose Dragon Adventurer Tenyi
3.25 Floowandereeze
2 Tri-Brigade Lyrilusc
1.25 Zoodiac (1 Zoodiac, 0.25 Destiny Adventurer Zoodiac)
1.25 @Ignister
1 Dinosaur FTK
1 Endymion
1 Grass Destiny Phantom Knights Burning Abyss
1 HERO
1 Tenyi Swordsoul
1 Subterror
1 Zefra
0.33 True Draco
0.25 Destiny Adventurer Salamangreat
Of the Top 100 players, currently only 78 players and their decks have been made known.
Unlike traditional tournaments where players are locked into a single deck after submitting their deck lists, the Master Duel Duelist Cup allows players to freely switch between decks. For this tabulation, if the player ran multiple different decks, then the weightage of each deck will be divided by the total decks played. For example, たすく finished in rank 14th and played 4 different decks during his Duelist Cup grind, thus contributing 0.25 @Ignister, 0.25 Destiny Adventurer Salamangreat, 0.25 Destiny Adventurer Zoodiac and 0.25 Floowandereeze to the overall tally.
Top 100 Results
1st
Gera
Rose Dragon Adventurer Tenyi
[1]
2nd
suka
Adventurer Virtual World
[2]
3rd
九山しか
Endymion
[3]
4th
攀&瞎哥
Adventurer Virtual World
Adventurer Virtual World
[4A]
[4B]
5th
名前&风麟千羽
Adventurer Virtual World
Virtual World
[5A]
[5B]
6th
jackeylove
Destiny Adventurer Prank-Kids
Adventurer Prank-Kids
[6]
7th
YGL卡密
Virtual World
Adventurer Prank-Kids
[7]
8th
折折折言&谷谷
Adventurer Zoodiac Tri-Brigade
[8]
9th
DSLL
Zefra
[9]
10th
雨丸
Destiny Adventurer Good Stuff
[10]
11th
12th
れん@おかだジム
Destiny Adventurer Phantom Knights
[12]
13th
TBSK
Virtual World
[13]
14th
たすく
@Ignister
Destiny Adventurer Salamangreat
Destiny Adventurer Zoodiac
Floowandereeze
[14]
15th
16th
神奈川的小池塘
Grass P.U.N.K. Adamancipator
[16]
17th
あじふらい
True Draco
Destiny Adventurer Phantom Knights
Destiny Adventurer Good Stuff
[17]
18th
素振りをする素振り
Tri-Brigade Lyrilusc
[18]
19th
すこ
Eldlich
[19]
20th
21st
22nd
23rd
萌萌的小熊
Adventurer Zoodiac Tri-Brigade
[23]
24th
25th
ADRAIN
Rose Dragon Adventurer Tenyi
Adventurer Zoodiac Tri-Brigade
[25]
26th
kinghalo
Adventurer Virtual World
[26]
27th
約修亜Kong
Adventurer Virtual World
[27]
28th
ぶりぶりざえもん
Floowandereeze
[28]
29th
ゼラ
Destiny Adventurer Good Stuff
[29]
30th
11slifer
Destiny Adventurer Prank-Kids
[30]
31st
32nd
しげる
Grass Adamancipator
[32]
33rd
GSC mimoei
Adventurer Prank-Kids
Adventurer Zoodiac Tri-Brigade
[33]
34th
怖珞索X
Virtual World
[34]
35th
Tyra
Dinosaur FTK
[35]
36th
DYRofficial
Virtual World
[36]
37th
Reizee
Adventurer Virtual World
[37]
38th
Kyle
Adventurer Good Stuff
[38]
39th
无名小哥
Grass Destiny Phantom Knights Burning Abyss
[39]
40th
ArtiQno
Adventurer Prank-Kids
[40]
41st
小菲可
Virtual World
[41]
42nd
43rd
也许可能吧
Rose Dragon Adventurer Tenyi
[43]
44th
k0k!
Eldlich
[44]
45th
xinwen2号
Tenyi Swordsoul
[45]
46th
ターボ
Destiny Adventurer Phantom Knights
[46]
47th
mila
Zoodiac
[47]
48th
49th
いこる
Adventurer Good Stuff Virtual World
[47]
50th
51st
P0rtal Gunn3r
Floowandereeze
[51]
52nd
ビギ
Floowandereeze
[52]
53rd
sayuri_yayoi
Grass Adamancipator
[53]
54th
Virtual World
[54]
55th
フェニックス布教
Grass Adamancipator
[55]
56th
57th
MilkTea
Eldlich
[57]
58th
吉田
Adventurer Prank-Kids
[58]
59th
60th
机油jiyou
Adventurer Zoodiac Tri-Brigade
[60]
61st
やまむー。
Destiny Adventurer Good Stuff
[61]
62nd
ひよこ
Adventurer Prank-Kids
[62]
63rd
D-ss
Adventurer Virtual World
[63]
64th
65th
トコク
Subterror
[65]
66th
67th
めるば
Eldlich
[67]
68th
シーアーチャー
Adventurer Good Stuff
Eldlich
Adventurer Good Stuff
[68]
69th
UMAの骨
Tri-Brigade Lyrilusc
[69]
70th
ガッチャ!!
Eldlich
[70]
71st
72nd
からから
@Ignister
[72]
73rd
Yanstorm
Destiny Adventurer Prank-Kids
[73]
74th
75th
小長井
Rose Dragon Adventurer Tenyi
[75]
76th
61faker
Adventurer Zoodiac Tri-Brigade
[76]
77th
けもあげくん
Destiny Adventurer Phantom Knights
[77]
78th
笹
Destiny Adventurer Good Stuff
[78]
79th
限界蒼焔 りょうへい
HERO
[79]
80th
81st
倒霉的锅盖
Adventurer Good Stuff
[81]
82nd
IORI
Eldlich
[82]
83rd
사실상
Eldlich
[83]
84th
85th
心问无限启动号
Destiny Adventurer Phantom Knights
[85]
86th
しらこ
Adventurer Prank-Kids
[86]
87th
あめみや たいよう
Grass Eldlich
[87]
88th
じょうじ
Adventurer Prank-Kids
[88]
89th
90th
梁华龙
Grass Eldlich
[90]
91st
tani-
Eldlich
[91]
92nd
93rd
94th
ろろろんど
Adventurer Prank-Kids
[94]
95th
うど
Eldlich
[95]
96th
97th
ドラモン
Eldlich
[97]
98th
しゅうま
Eldlich
[98]
99th
旧雨欢
Adventurer Prank-Kids
Adventurer Virtual World
[99]
100th
watakore
Adventurer Virtual World
[100]
1st, Gera [Rose Dragon Adventurer Tenyi]
Source: Discord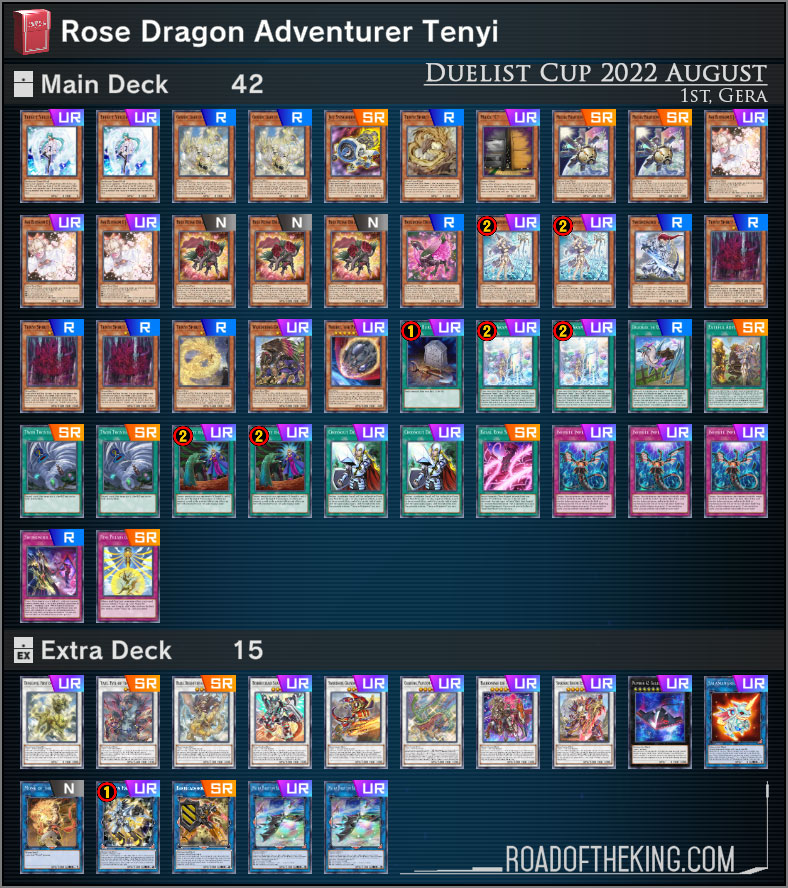 2nd, suka [Adventurer Virtual World]
Source: ai笑滴suka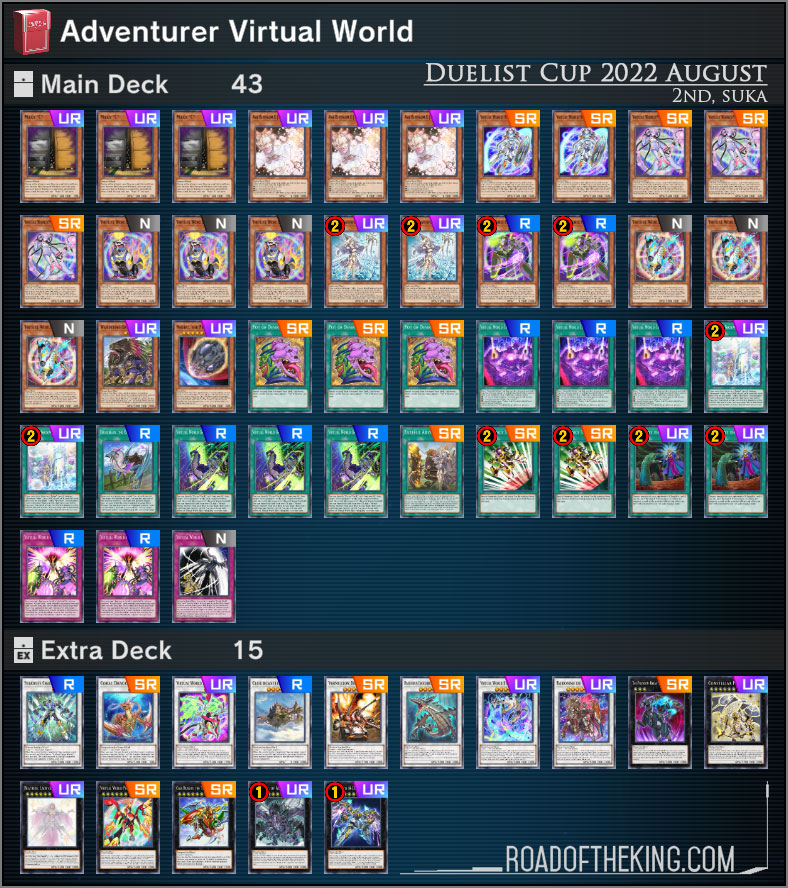 3rd, 九山しか [Endymion]
Source: @hani_miki_shika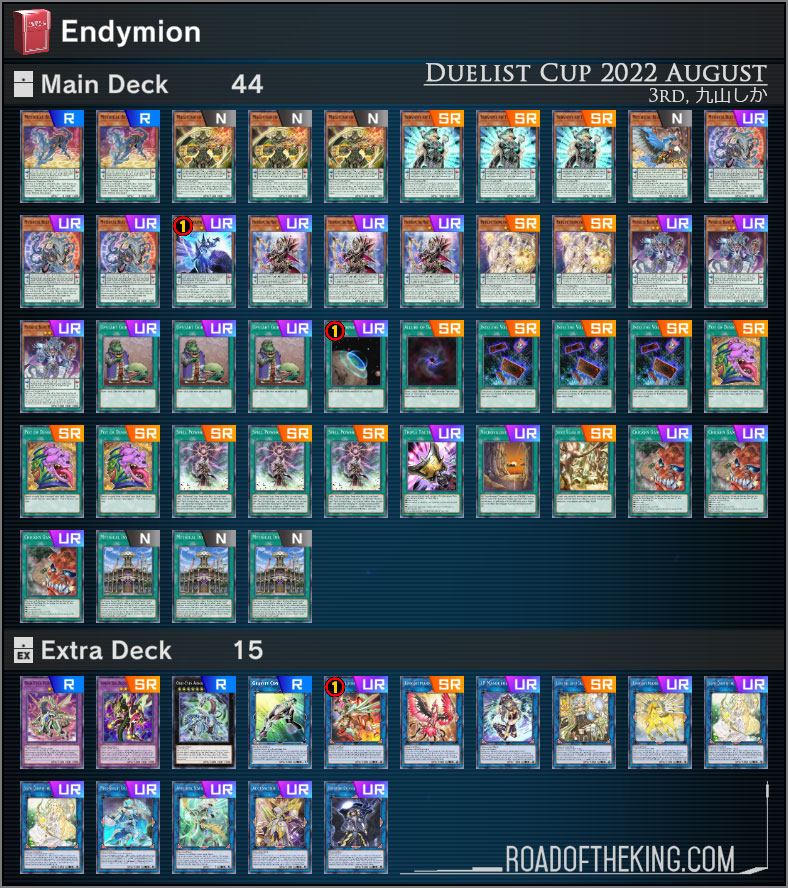 4th, 攀&瞎哥 [Adventurer Virtual World][Adventurer Virtual World]
5th, 名前&风麟千羽 [Adventurer Virtual World][Virtual World]
6th, jackeylove [Destiny Adventurer Prank-Kids][Adventurer Prank-Kids]
Source: 小茄子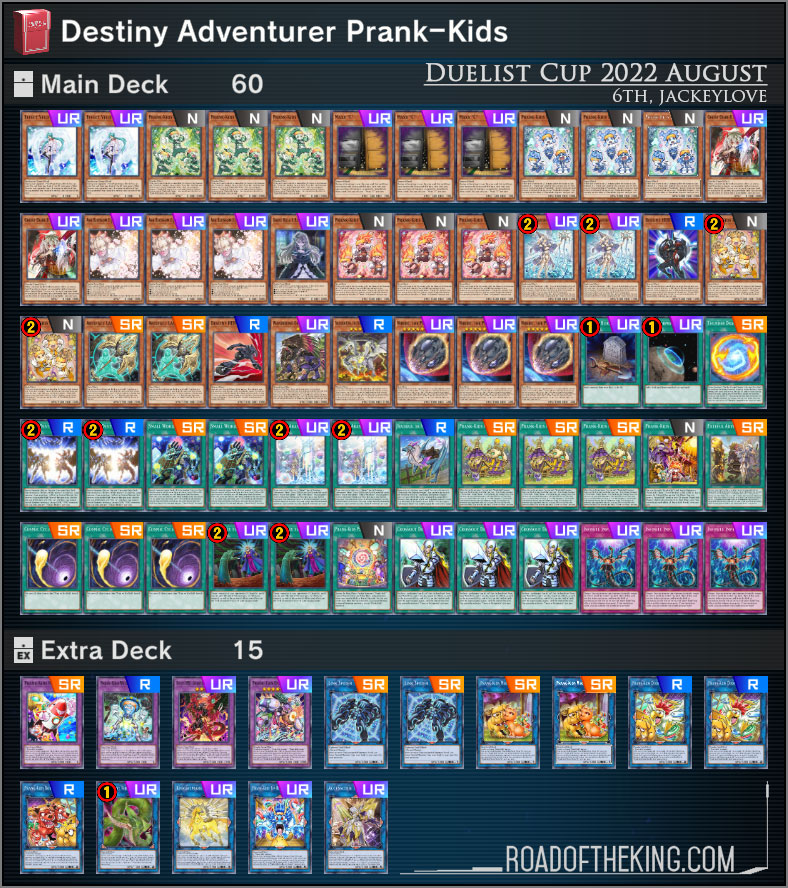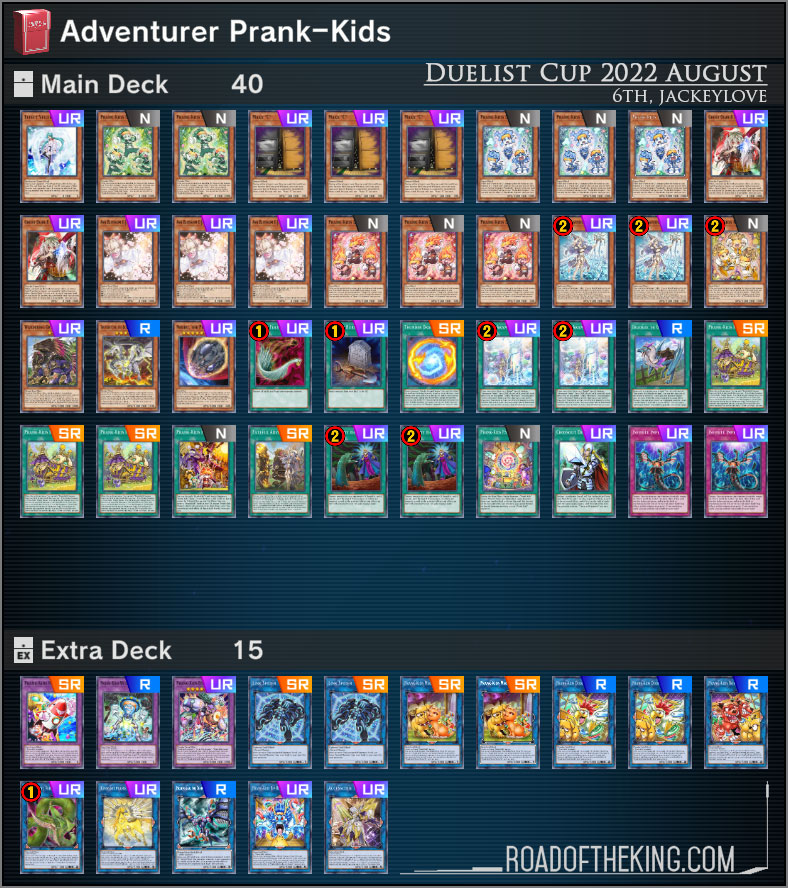 7th, YGL卡密 [Virtual World][Adventurer Prank-Kids]
Source: 卡密LHH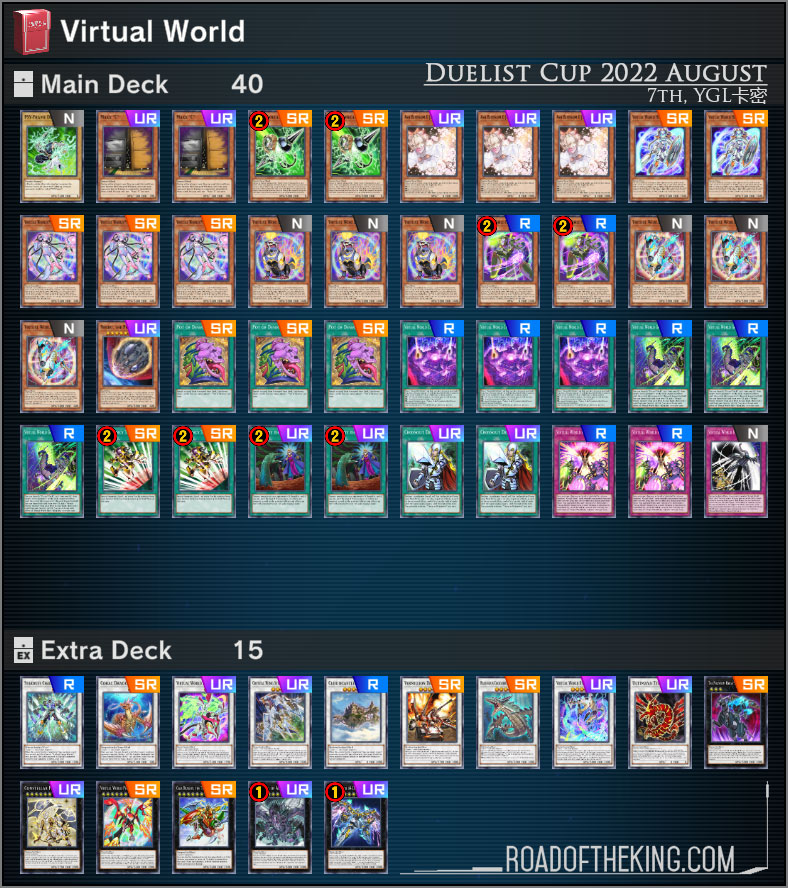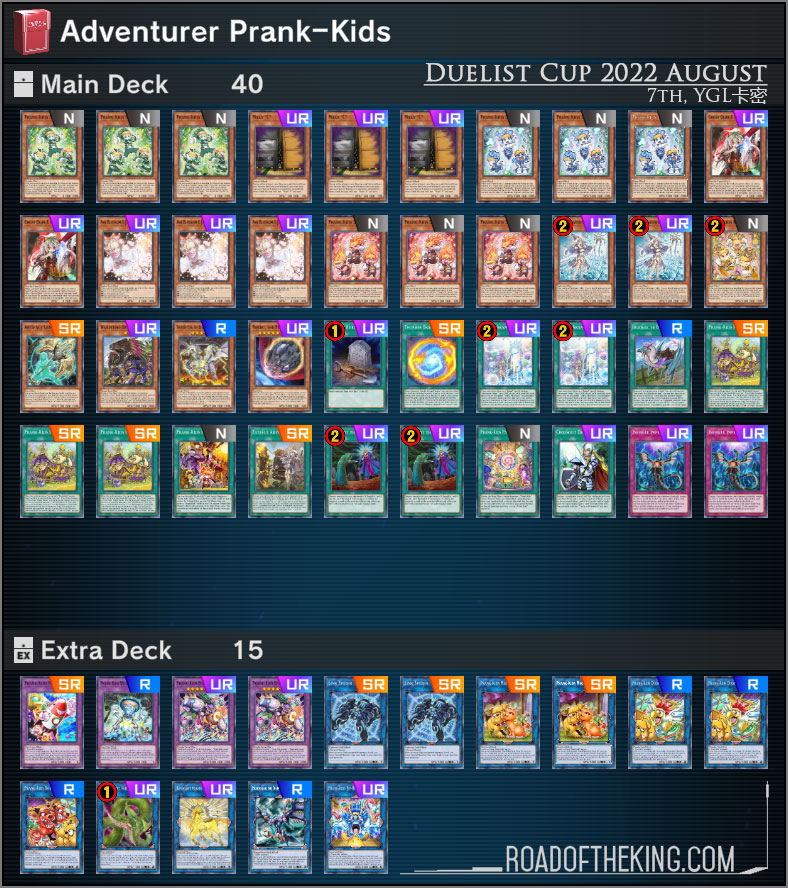 8th, 折折折言&谷谷 [Adventurer Zoodiac Tri-Brigade]
Source: 折折折言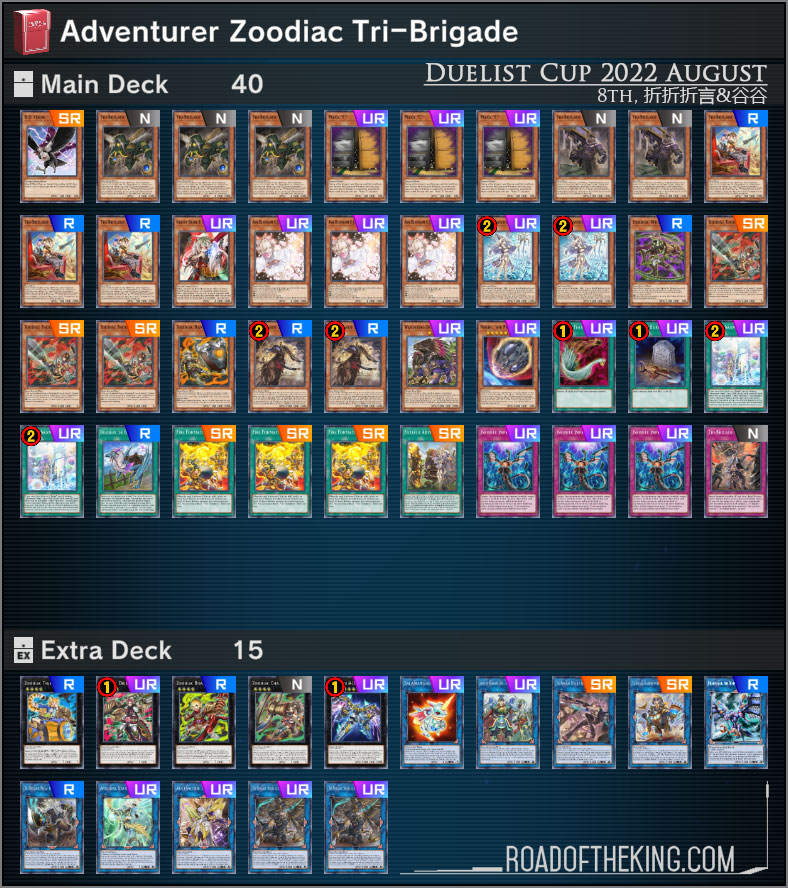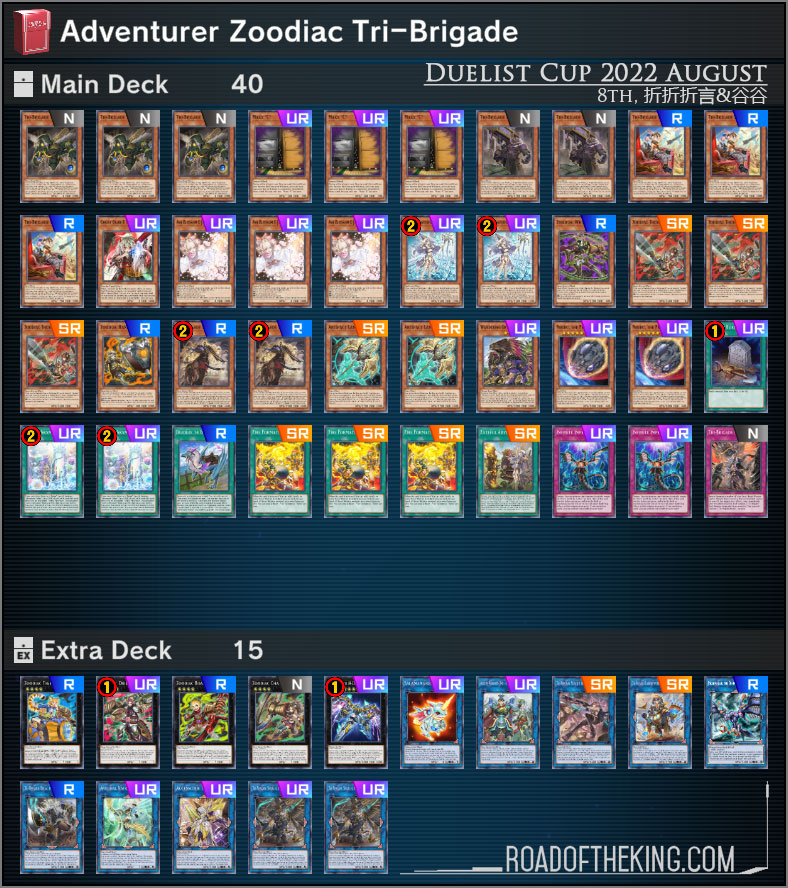 9th, DSLL [Zefra]
Source: DSLL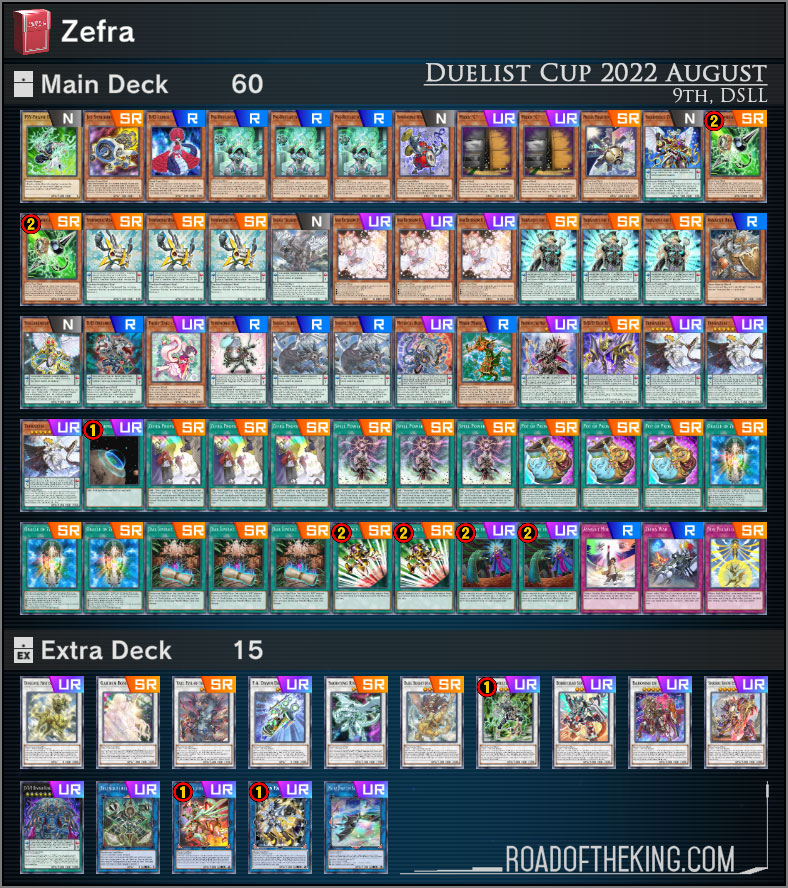 10th, 雨丸 [Destiny Adventurer Good Stuff]
Source: @rainmalk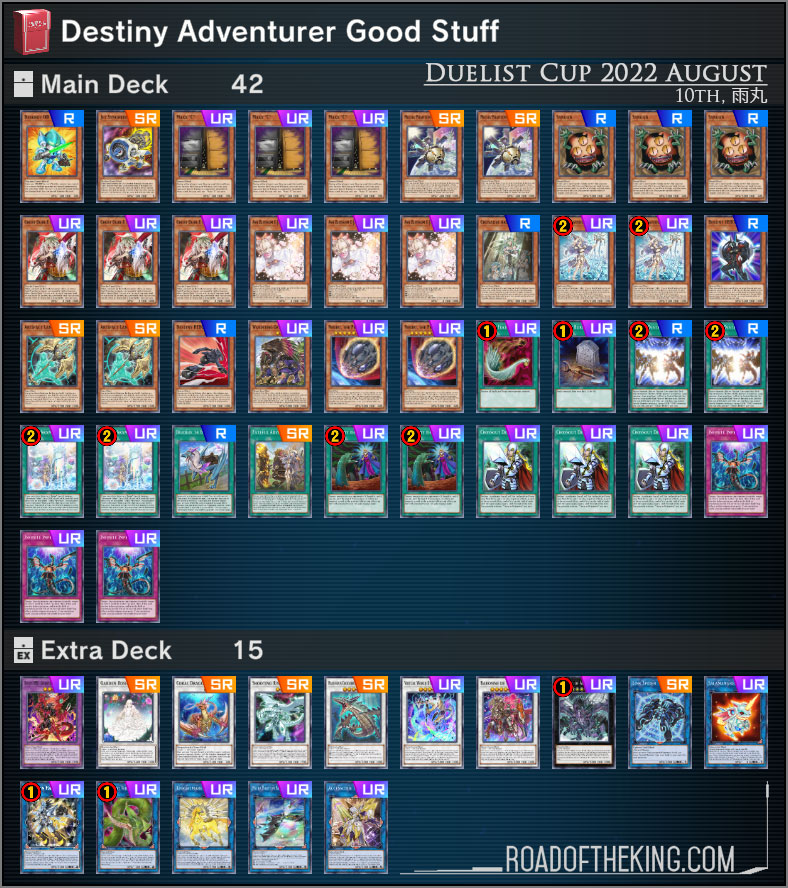 References