9th China National Championship
The 9th China National Championship (CNC) and AC were held on 10 – 11 August 2019 in Shenzhen, China. The 9th CNC had 708 participants while AC had 344 participants.
Introduction
After a successfully held 8th CNC with 536 participants, the 9th CNC returned and broke their own attendence record with 708 participants.
The 8th CNC playmat featuring Sky Striker Ace – Raye drawn by frostcyco was very well received, and he was commissioned again to draw the 9th CNC playmats featuring Ib the World Chalice Justiciar and Galatea, the Orcust Automaton.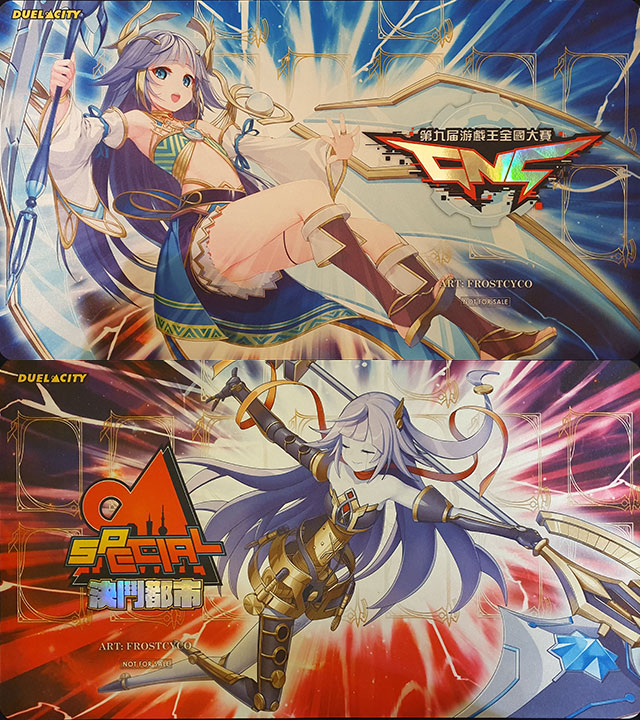 Inspired by Magic: The Gathering 25th Anniversary Foiled Black Lotus Playmat, the CNC playmats replicated the foiling on the CNC and Duel City logos.
Only a limited quantity of these playmats were produced and despite being told that they had ran out of participation playmats and sleeves, many players were still signing up for the tournament.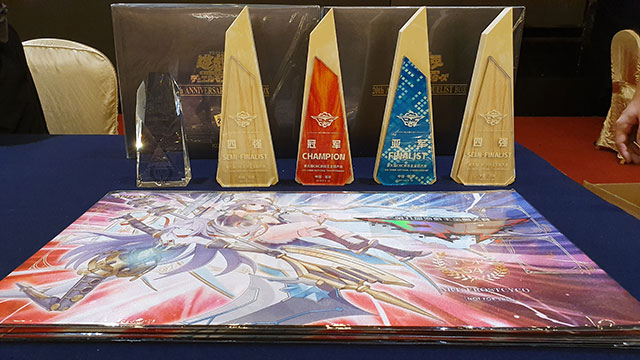 The Top 64 playmat features both Ib the World Chalice Justiciar and Galatea, the Orcust Automaton together and comes with the foiling on the CNC logo as well.
Day 0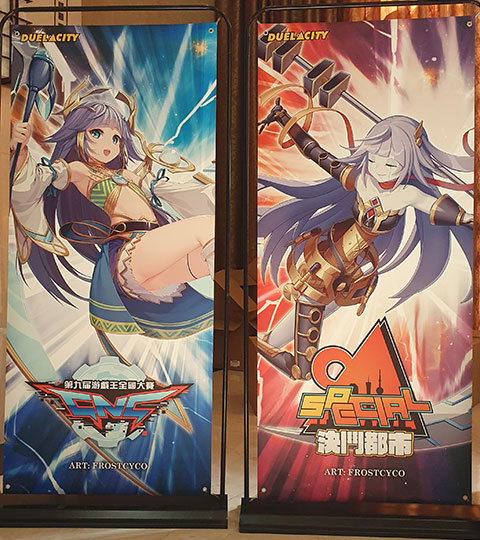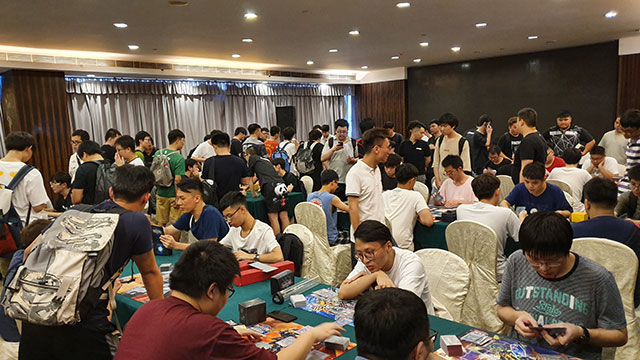 The increased in number of players was evident on the day before the CNC as all 16 pods of last chance qualifiers were quickly snapped up within minutes.
Day 1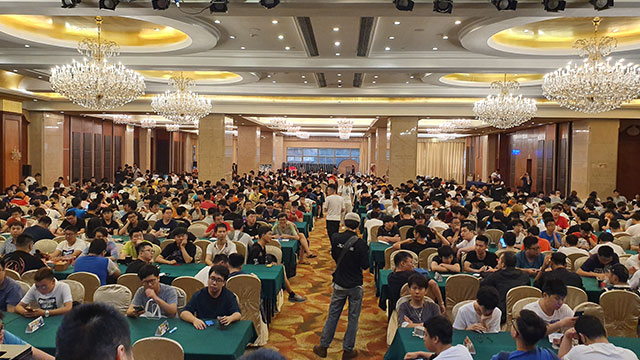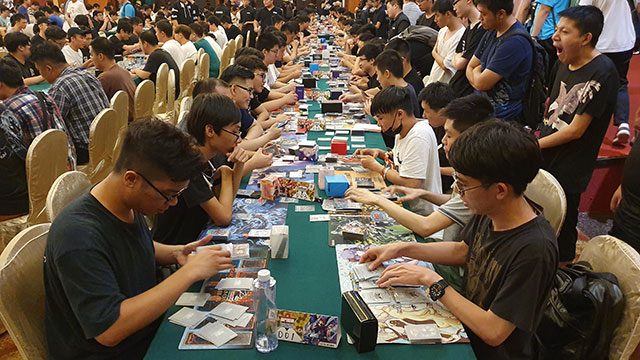 Going into the Main Event, it was given that Dragon Link is the best performing deck for the OCG 2019.07 format. Although I had borrowed and brought along a Dragon Link deck, I eventually decided on Trickstar, a deck that I was more proficient and comfortable with.

My first opponent was a young boy piloting Sky Striker. His plays were rather unpolished, notably he would preemptively throw out Maxx "C" too early, allowing me to simply stop Special Summoning for the turn. The match was over quickly, but he remained enthusiastic and requested for a casual game. I would later learn that he came back from Switzerland with his family for the summer vacation. That would explain why he was unfamiliar with the optimal timing to activate Maxx "C" as his experience is mainly from playing in the TCG.
My deck was heavily teched against Dragon Link, having Super Polymerization and Gozen Match in the Main Deck. Unfortunately, these tech cards would become a dead weight and cost me the game against a Magician deck and an Invoked deck, dropping me out of the running for Top 64.
Day 2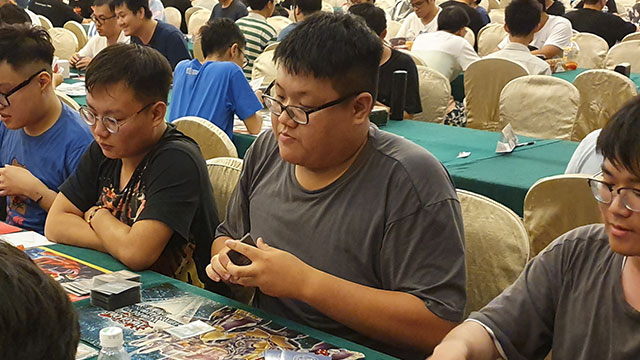 A number of top Taiwan players had traveled over to participate in the CNC, and in the AC event, I was paired with the 2013 World Champion, Huang Shin En. Although I had met him several times during Asia Championship and YOT, this was the first time that I played him in a tournament.
He was piloting Dragon Link, an aptly appropriate deck for the Dragon Ruler World Champion. He took the first game as I had no 'hand traps' and he was able to go all out with the Topologic Gumblar Dragon discard combo.
In the second game my Maxx "C" was able to resolve successfully, but he continued with his combo in an attempt to OTK me. Just as he Special Summoned Black Dragon Collapserpent by banishing Eclipse Wyvern, I drew into a clutch Artifact Lancea. Eclipse Wyvern effect added Chaos Dragon Levianeer to hand and activating Artifact Lancea at this moment prevented Chaos Dragon Levianeer from being Special Summoned. He finished with Borrelsword Dragon and Triple Burst Dragon before entering the Battle Phase but I had Super Polymerization.
In the third game, Shin En went first and I opened with no 'hand traps' again. To my surprise, he passed with no plays. I had Trickstar Candina, Trickstar Corobane and Trickstar Light Stage for an OTK. It was a disappointing conclusion as he had a bricked opening hand.
Metagame Breakdown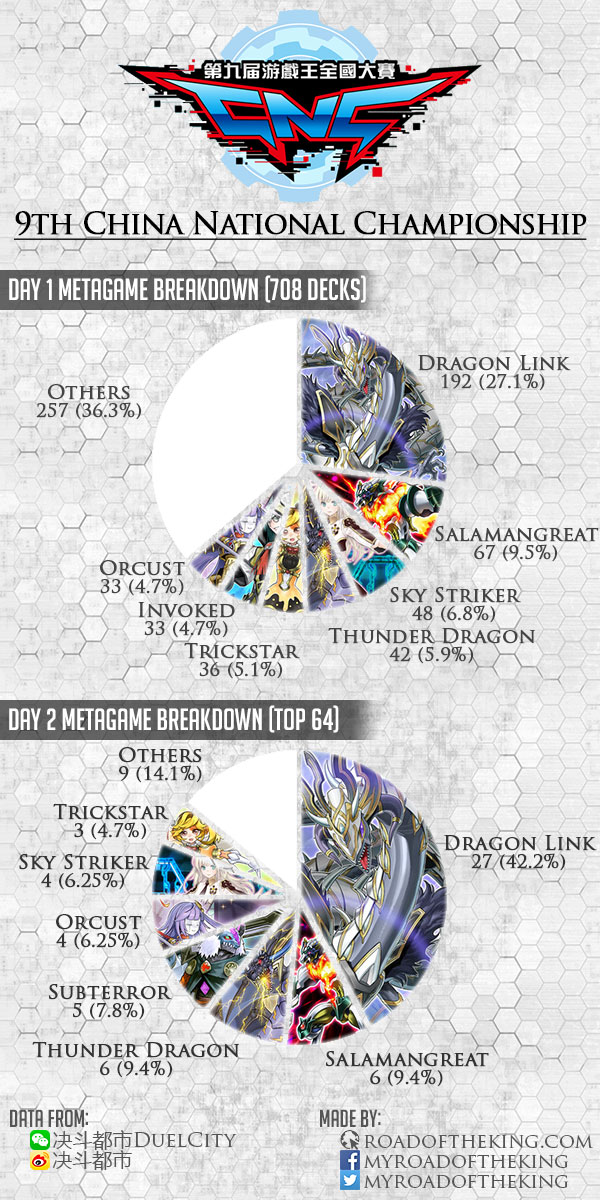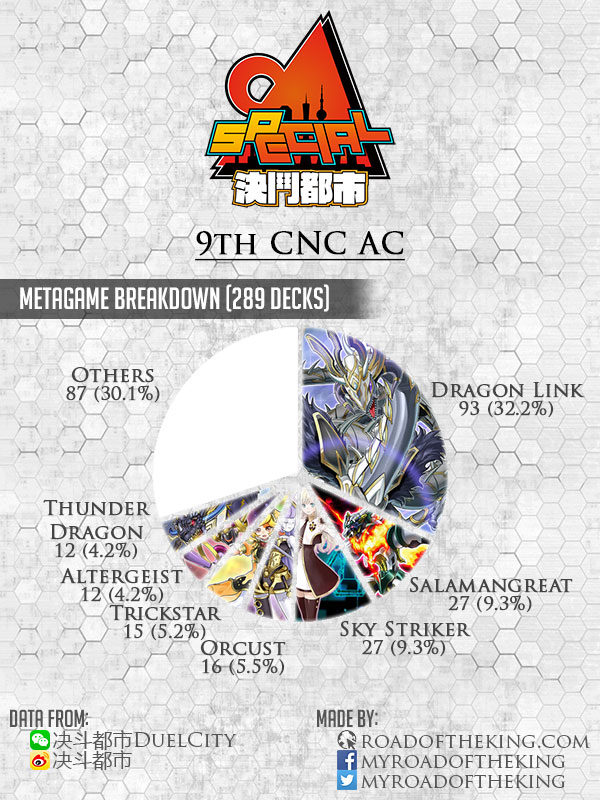 9th CNC Main Event
1st
shino
Grass Dragon Link
2nd
光脉
Dragon Link
3 – 4th
萩埜
Orcust
辣
Dragon Link
5 – 8th
巽
Grass Dragon Link
救援鼠
Dragon Link
Yang
Dragon Link
ブシドー
Thunder Dragon
9 – 16th
小钟
Salamangreat
曦
Dragon Link
牧光
Dragon Link
龙教主
Dragon Link
北海
Trickstar
Tony
Orcust
shaddoll
Dragon Link
91
Dragon Link
9th CNC deck lists: 七月表环境白皮书 第九届CNC全国游戏王大赛(708人)
9th CNC Champion interview: 第九届CNC 冠军 访谈录 shino
9th CNC Feature Match videos: 【决斗小学生】游戏王 第九届CNC游戏王全国大赛 及AC赛 比赛视频
9th CNC AC
1st
丰仔的奇幻漂流
Trickstar Orcust
2nd
Dennis
Dragon Link
3 – 4th
肥羊
Dragon Link
小东
Thunder Dragon
5 – 8th
菜籽
Dragon Link
弟精工程师
Dragon Link
燃血
Salamangreat
夜空
Dragon Link
9th CNC AC deck lists: 七月表环境白皮书 第九届CNC AC(344人)
9th CNC AC Champion interview: 第九届CNC 访谈录 AC冠军 丰仔的奇幻漂流
Conclusion
The 9th CNC has reaffirmed the incredible popularity of Yu-Gi-Oh! in China Mainland with over 700 participants despite being a non-sanctioned tournament that has no official distributor support.
A year on, Windo Entertainment became the official distributor of Yu-Gi-Oh! OCG in China Mainland and will be hosting the very first official major tournament on 1 – 2 August 2020 in Shanghai. Asia Yu-Gi-Oh! Tournament (AYT) China Mainland will be the largest tournament in the current OCG 2020.07 format with 700 participants registered for the event.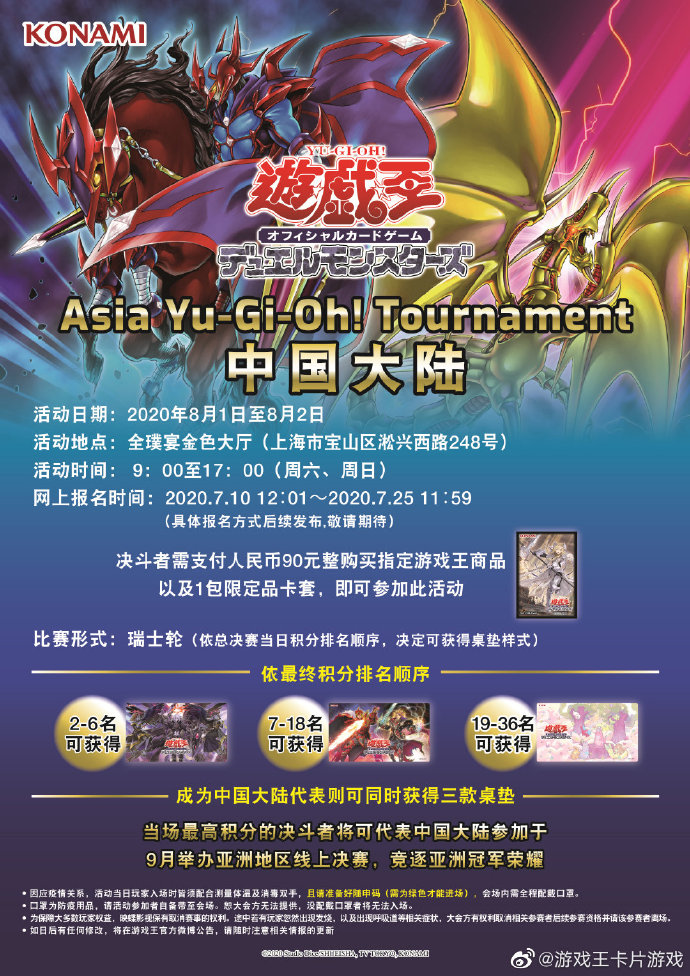 Many thanks to 好人, 小井, 大姐, 小新, Alex for their gracious reception throughout the trip. It was great to meet up with 小孙, 苏苏, Ronald, 苦瓜, Jack, chosKD and many other judges and players.