OCG 2021.01 Metagame Report #3, #4
Welcome to Week #3, #4 of the OCG 2021.01 format.
This report will cover 72 top-performing decks from 13 tournaments that were held in Japan, mainland China and Taiwan during 16 – 24 January 2021.
The following were excluded from this tabulation as Lightning Overdrive was not allowed in these tournaments:
New Product Release
Lightning Overdrive
V Jump March 2021 promotional card
Metagame Breakdown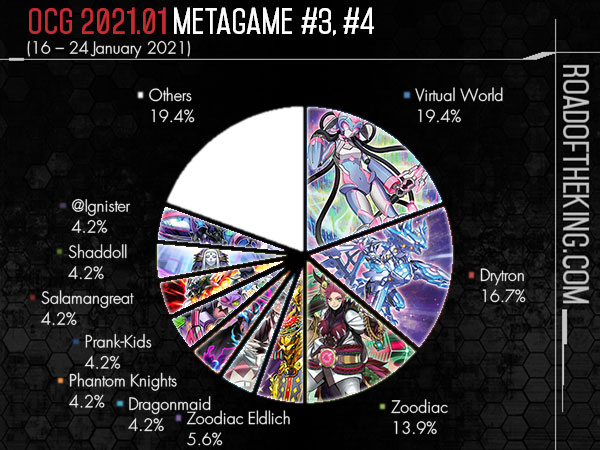 14 Virtual World
12 Drytron
10 Zoodiac
4 Zoodiac Eldlich
3 Dragonmaid
3 Phantom Knights
3 Prank-Kids
3 Salamangreat
3 Shaddoll (1 Invoked Shaddoll, 1 Grass Kaiju Invoked Shaddoll, 1 Dogmatika Magistus Shaddoll)
3 @Ignister
2 Adamancipator
2 Code Talker
1 Atlantean
1 Endymion
1 Lyrilusc Tri-Brigade
1 Machina
1 Madolche
1 Magician
1 Orcust
1 Prank-Kids Thunder Dragon
1 SPYRAL
1 Traptrix
Virtual World
Ganmo (がんも) went 7-0 and finished 1st in "Asaka CS (2v2 Team Battle)" which had 51 teams (102 participants).
He ran 2 Skill Drain in the Side Deck against Combo decks. Virtual World monster effects are activated in hand, making themselves unaffected by Skill Drain. Virtual World Gate – Chuche could also be used to destroy his own Skill Drain when needed to turn off its effect.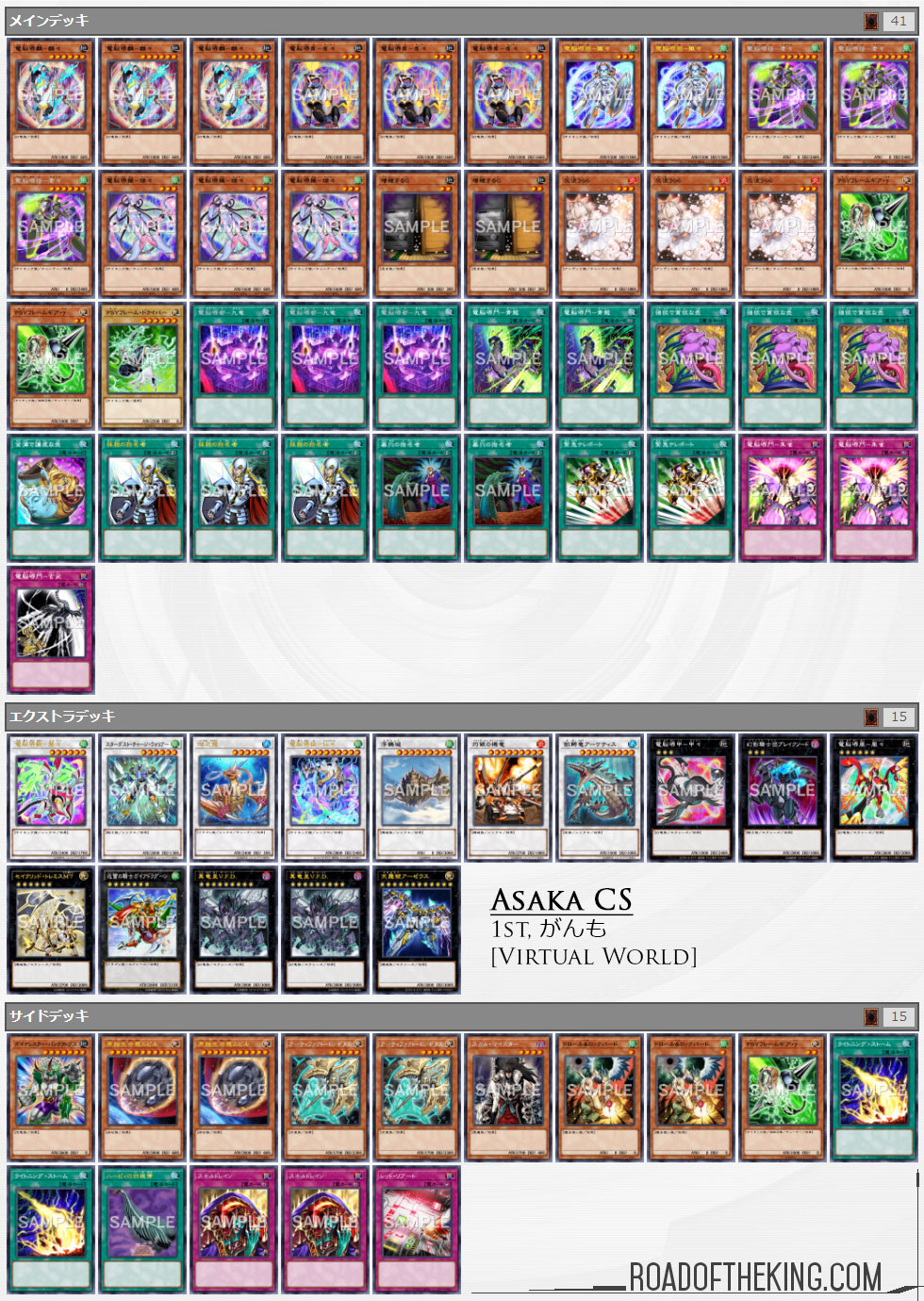 Drytron
Zhonghui (钟会) went 7-1-2 and finished 3 – 4th in "China City Tournament Wuhan 2021" which had 192 participants.
He ran 1 B-Buster Drake in the Side Deck. B-Buster Drake can be equipped to Vanity's Ruler or Herald of Ultimateness via Union Carrier effect to make them unaffected by opponent's Spell cards such as Dark Ruler No More and Forbidden Droplet.
Vanity's Ruler effect prevents the opponent from Special Summoning monsters and that would also rule out Kaiju as an answer to this opening setup.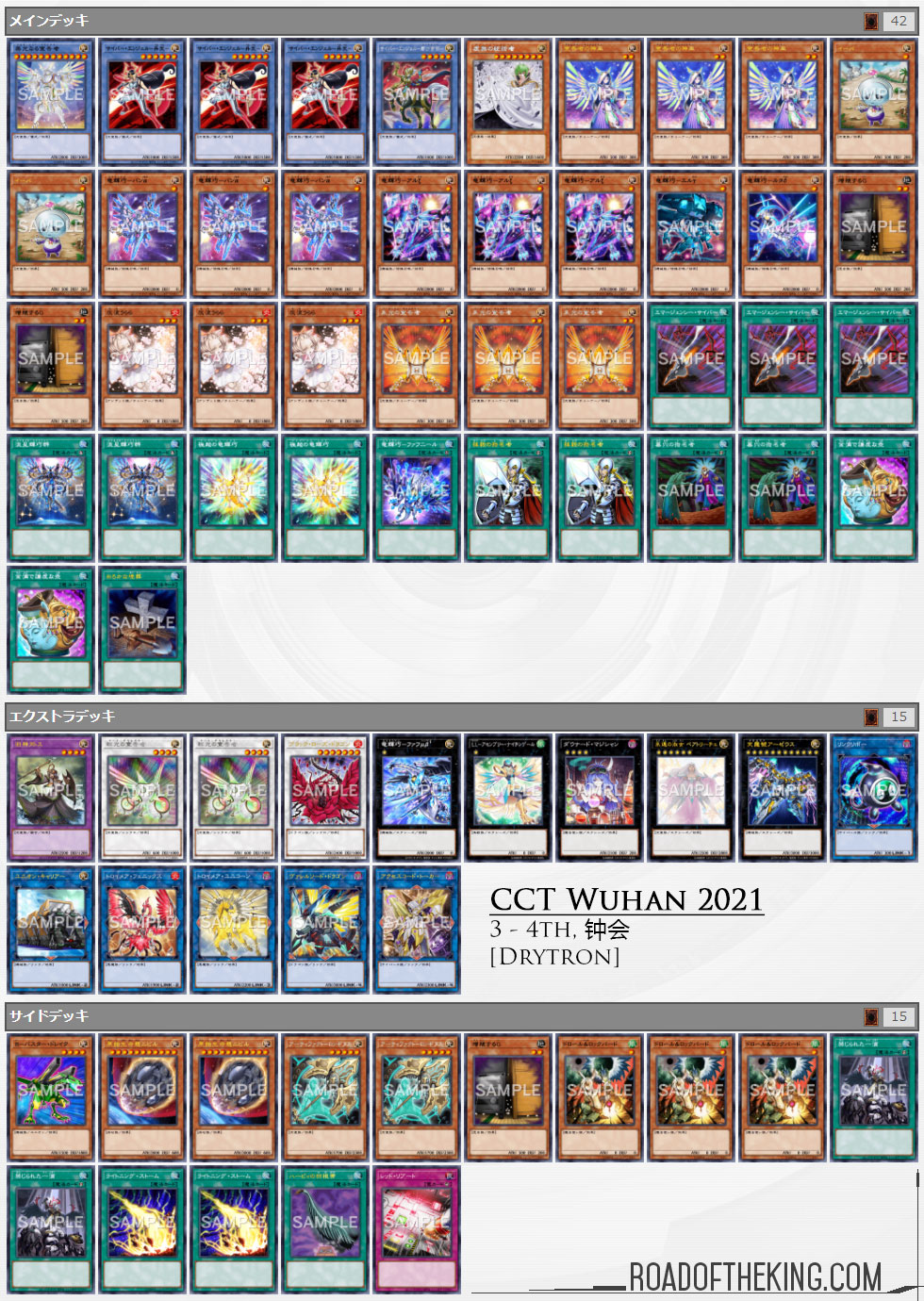 Zoodiac
Ryuna (りゅぬ) finished 2nd in "54th Garosu CS with Osaka Yugi" which had 28 teams (56 participants).
With the increase of Drytron in the competitive scene, he chose a 'hand trap' heavy build, running a total of 13 'hand traps' in the Main Deck. Against Vanity's Ruler equipped with B-Buster Drake, answers such as Kaiju, Dark Ruler No More and Forbidden Droplet are ineffectual. Disrupting the combo directly with 'hand traps' is a more effective counterplay.
He also chose to run 3 Divine Arsenal AA-ZEUS – Sky Thunder in the Extra Deck. As 2 copies of Divine Arsenal AA-ZEUS – Sky Thunder could be depleted quickly especially in the Zoodiac mirror match, the 3rd copy could become the game-winning difference.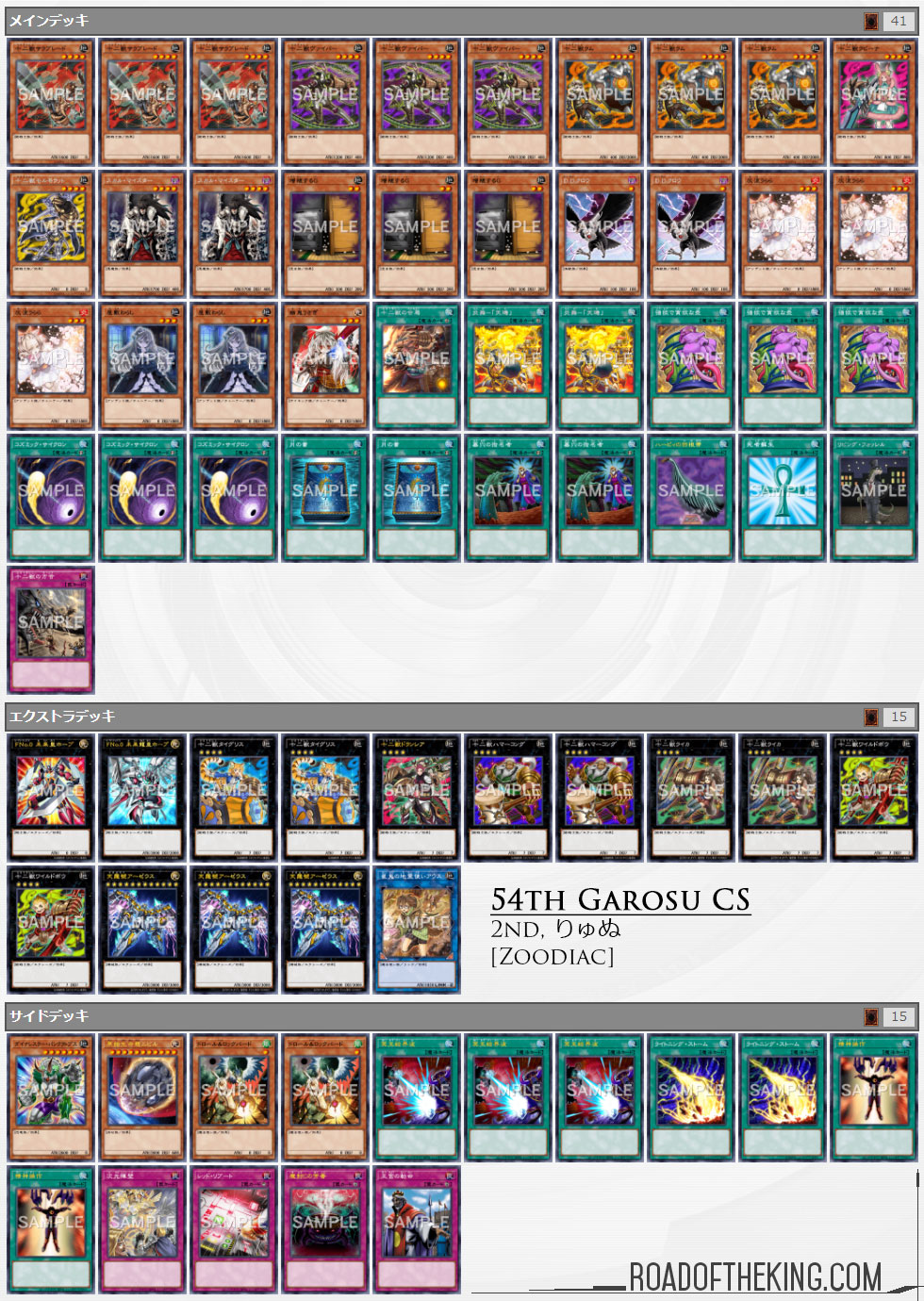 Conclusion
After the release of Lightning Overdrive, Virtual World, Drytron and Zoodiac are the top 3 decks of the format, taking a giant lead ahead of the rest.
Drytron gained Drytron Mu Beta Fafnir with the release of Lightning Overdrive, greatly improving its consistency and propelling it straight to the top.
Lightning Overdrive also came with A.I. Meet You and Dark Infant @Ignister, making @Ignister viable as a competitive deck.
If you enjoyed these Weekly Metagame Reports, consider supporting Road of the King on Patreon. Cheers!
References