Master Duel Duelist Cup 2023 October
Master Duel Duelist Cup 2023 October was held from 17 – 30 October 2023. Players would have to reach Duelist Level 20 in Stage 1 before they could participate in Stage 2, where everyone would be ranked based on their accumulated Duelist Points.
The rank 1st player is invited to the Master Duel World Championship 2024, while the rest of the Top 100 players earn season points.
Top 100 Metagame Breakdown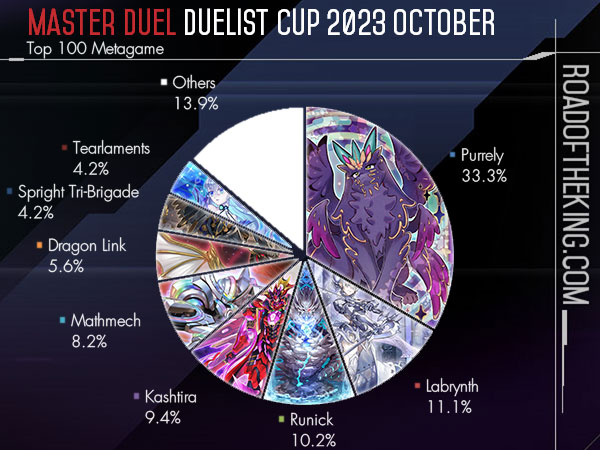 24 Purrely (17.25 Ghostrick Purrely, 6.75 Purrely)
8 Labrynth
7.33 Runick
6.75 Kashtira
5.92 Mathmech
3 Dragon Link (2 Bystial Dragon Link, 1 Grass Bystial Dragon Link)
3 Spright Tri-Brigade
3 Tearlaments (1.5 Tearlaments, 1.5 Kashtira Tearlaments)
2 Scareclaw
1.33 Spright Evil★Twin
1.17 Branded (0.83 Grass Branded, 0.33 Branded)
1 Destiny Adventurer Phantom Knights
1 Grass Tearlaments Thunder Dragon P.U.N.K. Bystial Necroface
1 Kashtira Adventurer Tenyi
1 Melffy Spright
1 Traptrix
0.5 Zefra
Of the Top 100 players, currently only 71 players and their decks have been made known.
Unlike traditional tournaments where players are locked into a single deck after submitting their deck lists, the Master Duel Duelist Cup allows players to freely switch between decks. For this tabulation, if the player ran multiple different decks, then the weightage of each deck will be divided by the total decks played. For example, GQ ougai&顾小凛 finished in rank 7th and played 3 different decks during their Duelist Cup grind, thus contributing 0.33 Branded, 0.33 Spright Evil★Twin and 0.33 Mathmech to the overall tally.
Top 100 Results
1st
CER. Greed
Purrely
[1]
2nd
たすく
Ghostrick Purrely
[2]
3rd
Karmano
Labrynth
[3]
4th
@shota10032
Runick
[4]
5th
酔象角
Ghostrick Purrely
[5]
6th
ほーぎん
Ghostrick Purrely
[6]
7th
GQ ougai&顾小凛
Branded
Spright Evil★Twin
Mathmech
[7a]
[7b]
8th
魯連清
Labrynth
Bystial Dragon Link
[8]
9th
はくふ@折折折言
Spright Evil★Twin
[9]
10th
KG
Ghostrick Purrely
[10]
11th
Syaru
Kashtira
[11]
12th
カンボジアの十六夜アキ
Mathmech
Grass Branded
Runick
[12]
13th
TTK
Kashtira
[13]
14th
橘子漂漂er
Kashitra
Bystial Dragon Link
[14]
15th
16th
17th
斯兰达亚
Purrely
[17]
18th
ゴウヨク
Purrely
[18]
19th
サーモン
Melffy Spright
[19]
20th
21st
22nd
ターボ
[22]
23rd
24th
thatsgamegabe!
[24]
25th
むぎ
Purrely
[25]
26th
すみす
Runick
[26]
27th
CER. Gimlet
Purrely
Ghostrick Purrely
Mathmech
Kashtira
[27]
28th
Negative1
Ghostrick Purrely
Labrynth
[28]
29th
ミカド
Spright Tri-Brigade
[29]
30th
Teremiare
[30]
31st
ㅎㅅㅎ
[31]
32nd
つきかげ
Purrely
[32]
33rd
34th
故里天鸿
Spright Tri-Brigade
[34]
35th
36th
夜になれば
Labrynth
[36]
37th
aaa
Tearlaments
[37]
38th
リク3
Ghostrick Purrely
[38]
39th
40th
41st
42nd
Eトマト
Ghostrick Purrely
Mathmech
[42]
43rd
DSLL
Zefra
Tearlaments
[43]
44th
もこたさん
Kashitra
[44]
45th
Triple34
Labrynth
[45]
46th
YUUREI
Labrynth
[46]
47th
48th
ヒマワリ
Mathmech
[48]
49th
yu@霊獣オタク
Ghostrick Purrely
[49]
50th
ゆき。
Ghostrick Purrely
[50]
51st
Rain
Kashtira Tearlaments
Shaddoll Purrely
[51]
52nd
53rd
메릇피
Runick
[53]
54th
えーぶる
Ghostrick Purrely
[54]
55th
56th
로망덱
Runick
[56]
57th
58th
zaidking
Bystial Dragon Link
[58]
59th
寻泽sd
Kashtira Adventurer Tenyi
[59]
60th
61st
飛行場
Labrynth
[61]
62nd
63nd
샐올セロル
Kashtira
[63]
64th
Theta-IS
Runick
[64]
65th
rbt@
Kashtira
[65]
66th
めるば
Ghostrick Purrely
[66]
67th
灼烈のアゴウ
Ghostrick Purrely
[67]
68th
已黑化
Grass Bystial Dragon Link
[68]
69th
まぐろ
Mathmech
[69]
70th
すすす
Labrynth
[70]
71st
オオタ二
Ghostrick Purrely
[71]
72nd
73rd
山野仁成
Purrely
[73]
74th
75th
76th
유월
Runick
[76]
77th
白眼の青龍
Spright Tri-Brigade
[77]
78th
Crita
Labrynth
[78]
79th
PIKA
Traptrix
[79]
80th
みなもと
Ghostrick Purrely
[80]
81st
ろろろんど
Scareclaw
[81]
82nd
・F・
Ghostrick Purrely
[82]
83rd
あじふらい
Ghostrick Purrely
[83]
84th
GSC mimoei
Kashtira Tearlaments
[84]
85th
86th
87th
綿製品
Kashtira
[87]
88th
89th
90th
M.Y
Scareclaw
[90]
91st
92nd
カズカズ
Mathmech
[92]
93rd
しのみや
Ghostrick Purrely
[93]
94th
|||(吉木てる)
Ghostrick Purrely
[94]
95th
UMAの骨UMACO
Grass Tearlaments Thunder Dragon P.U.N.K. Bystial Necroface
[95]
96th
97th
ドラモン
Destiny Adventurer Phantom Knights
[97]
98th
水冗思
Mathmech
Grass Branded
[98]
99th
tommyhaructr
Runick
[99]
100th
ナメクジタツー
Mathmech
[100]
1st, CER. Greed [Purrely]
Source: @greed97221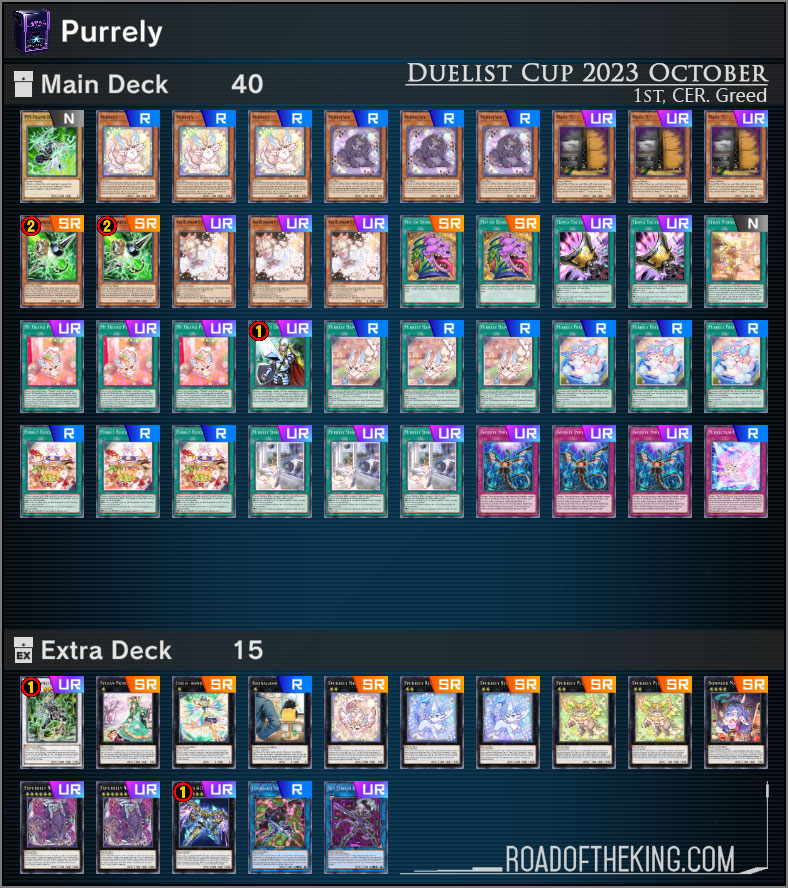 2nd, たすく [Ghostrick Purrely]
Source: @tasukusuraimu1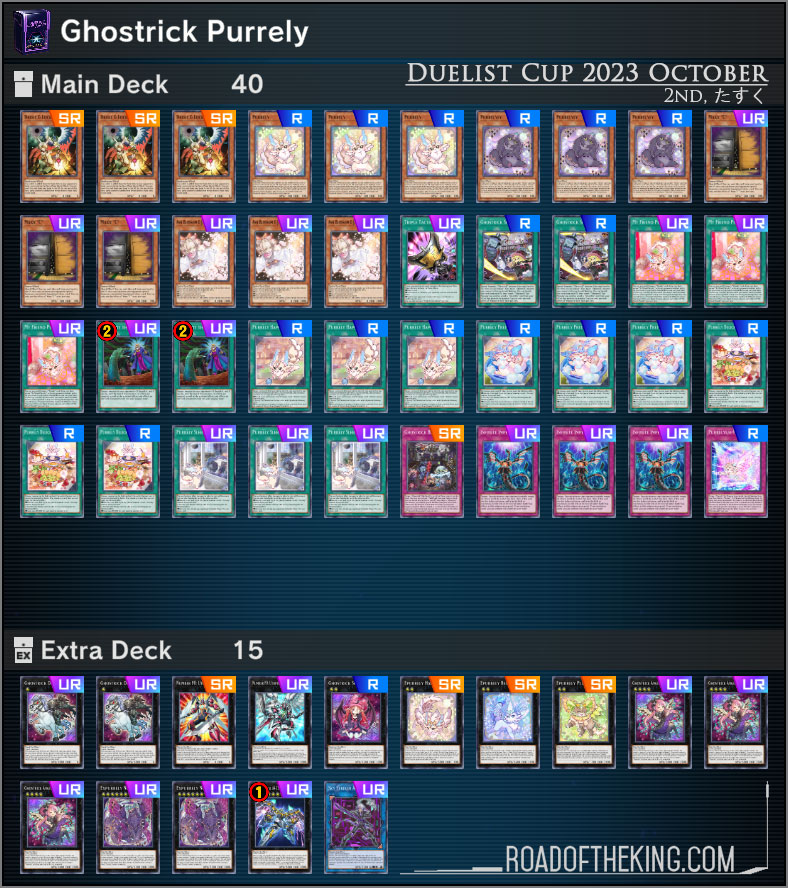 3rd, Karmano [Labrynth]
Source: @KarmanoRY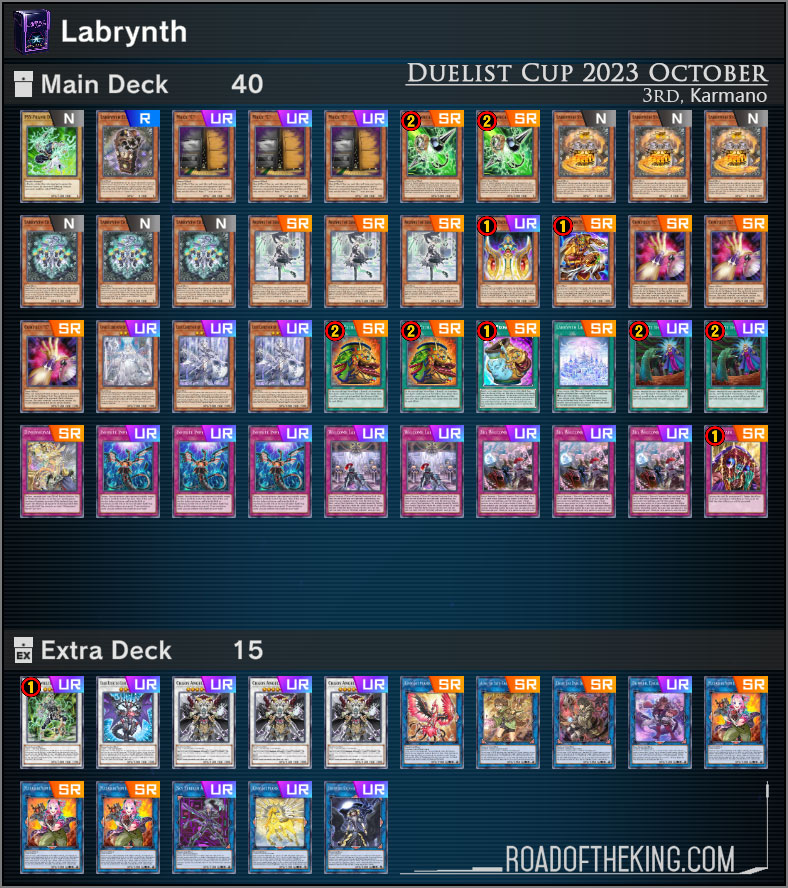 4th, @shota10032 [Runick]
Source: @shota10032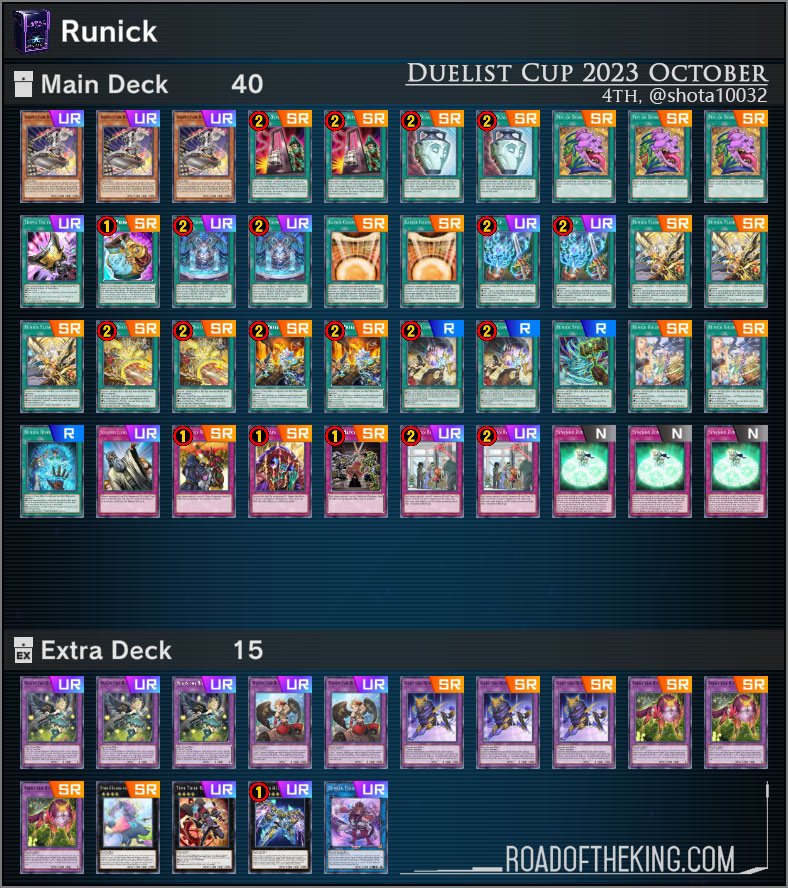 5th, 酔象角 [Ghostrick Purrely]
Source: @FDJhJwEzCFF0C6H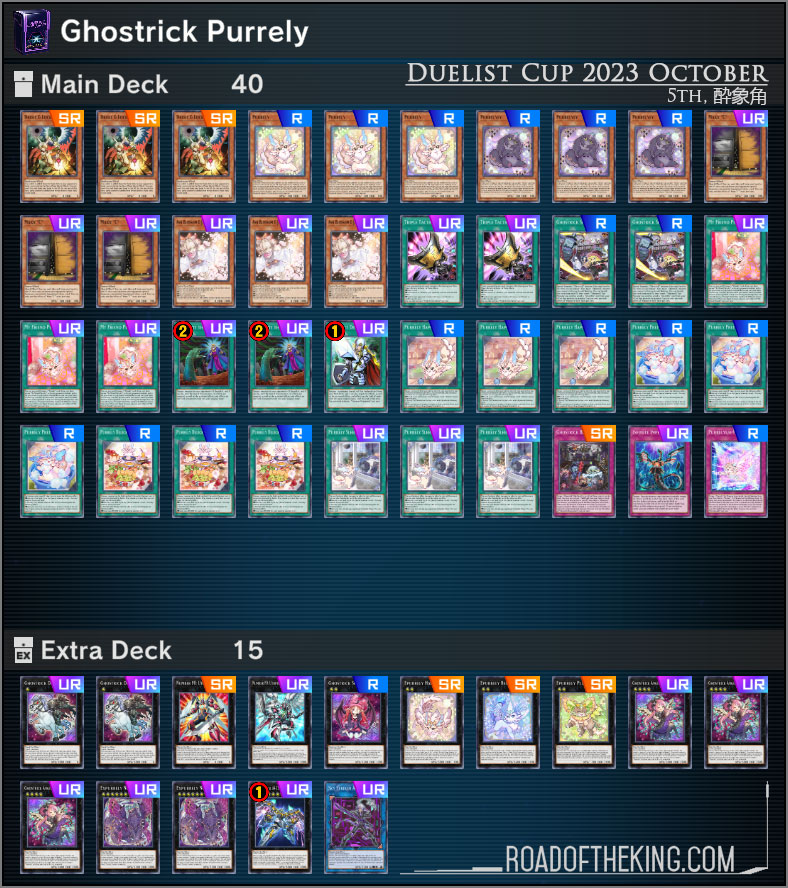 6th, ほーぎん [Ghostrick Purrely]
Source: @yugioh_bogin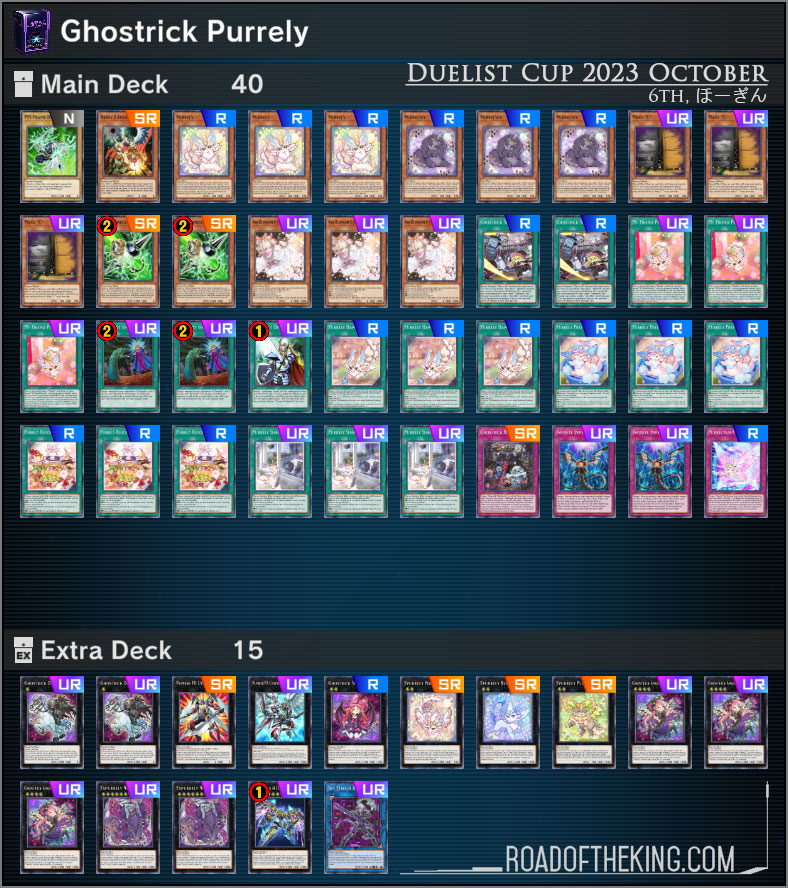 7th, GQ ougai&顾小凛 [Branded][Spright Evil★Twin ][Mathmech]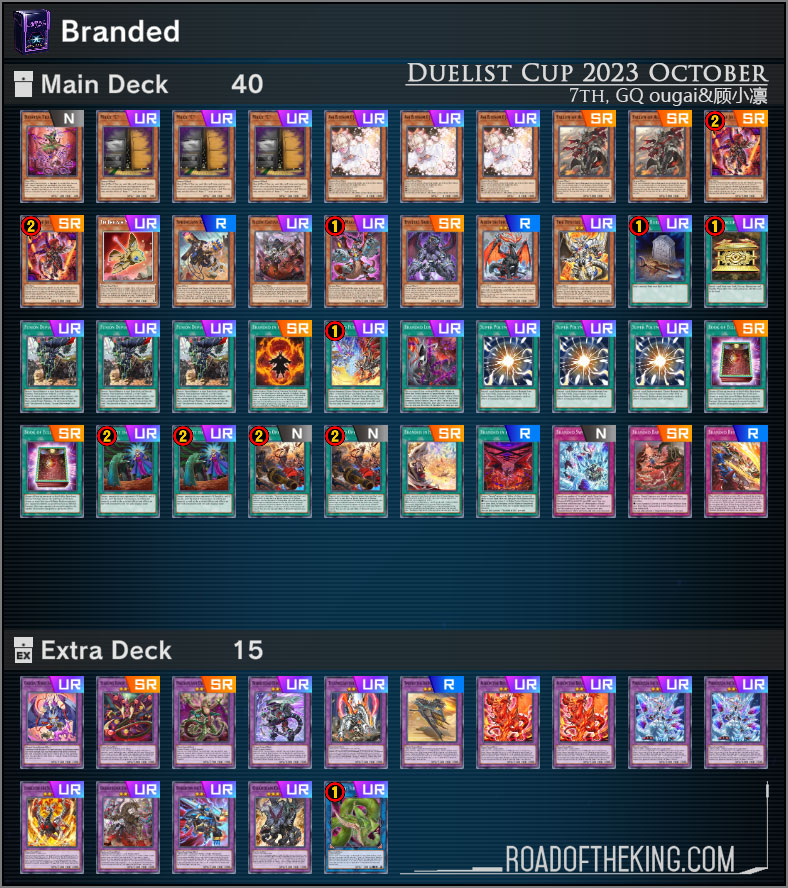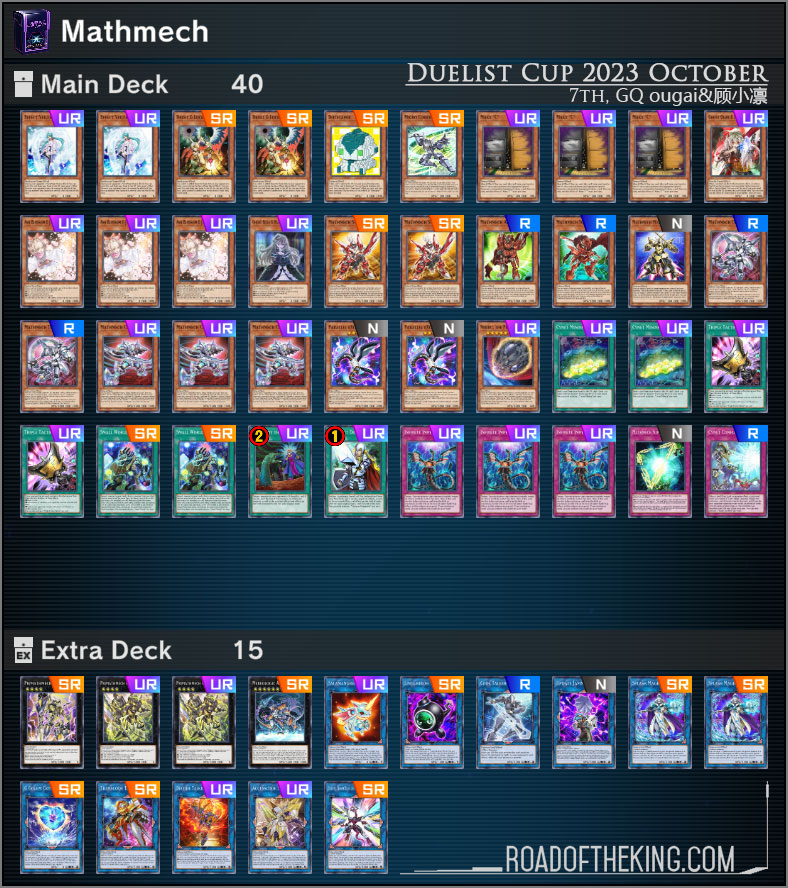 8th, 魯連清 [Labrynth][Bystial Dragon Link]
Source: 魯連清_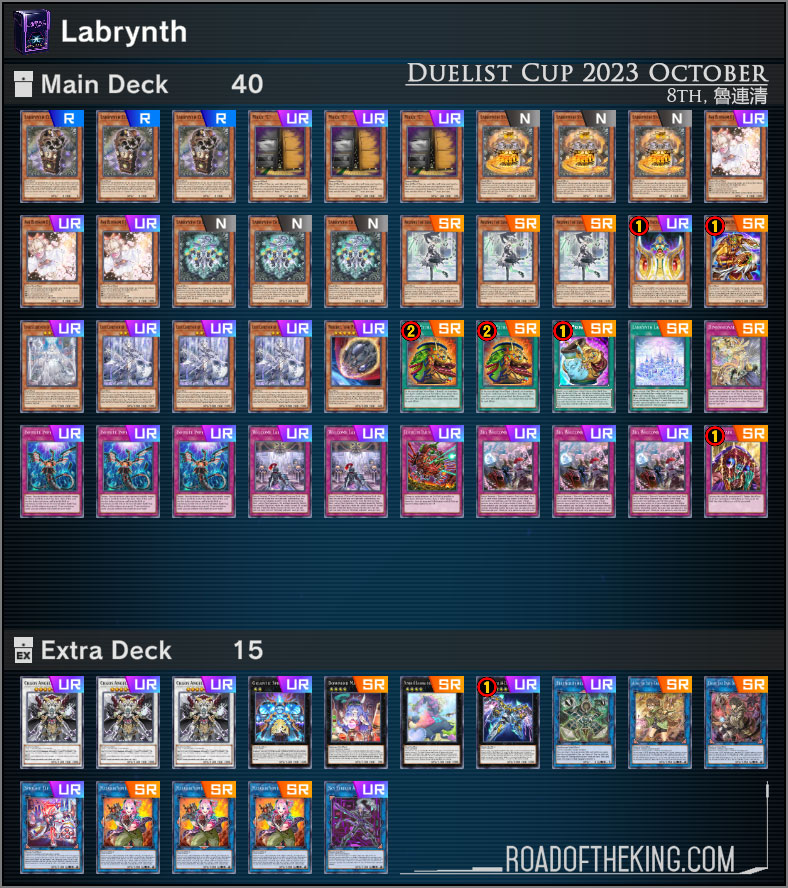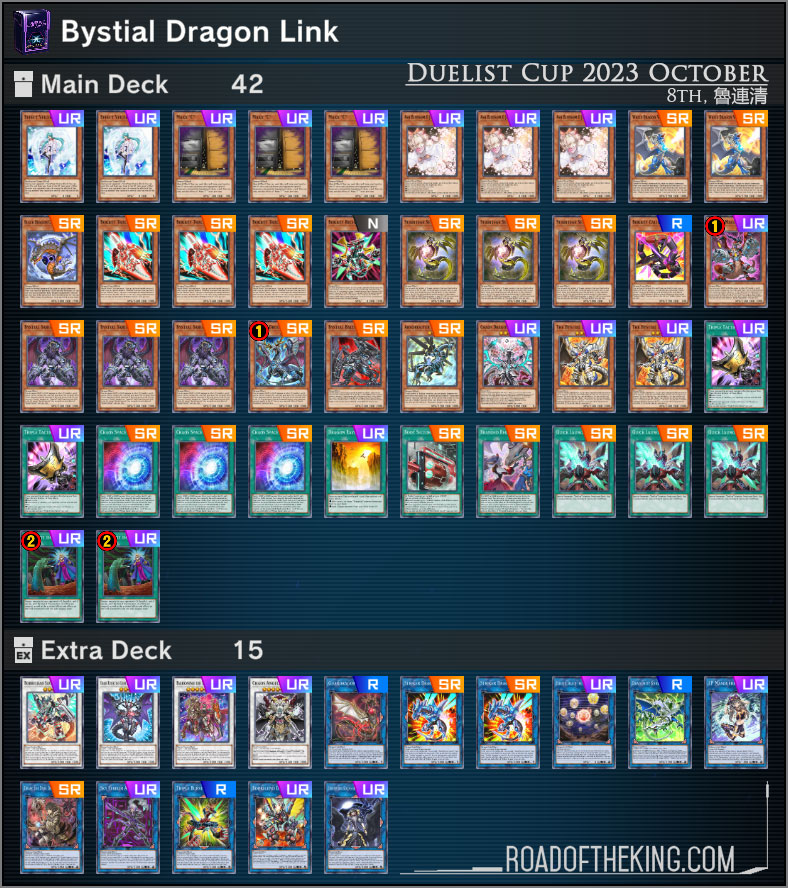 9th, はくふ@折折折言 [Spright Evil★Twin]
Source: @RongYuhao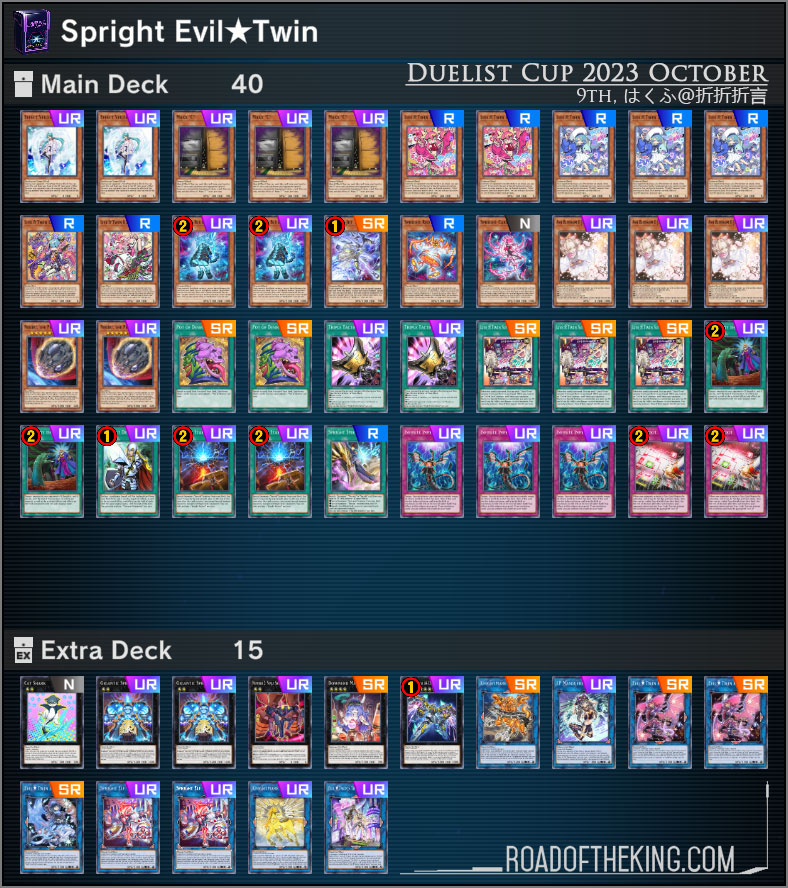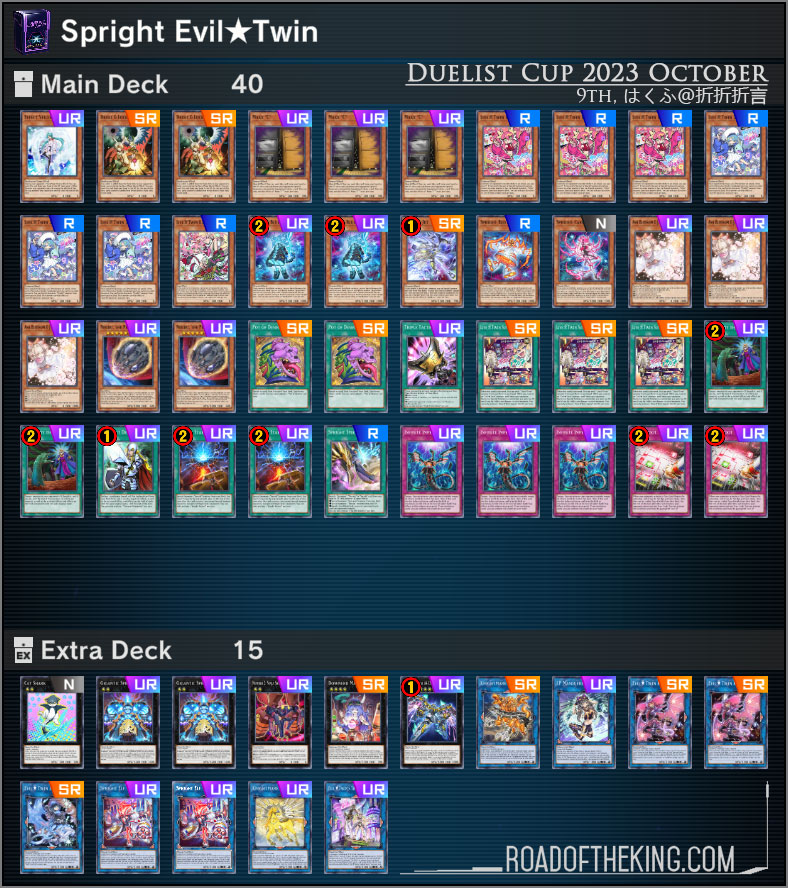 10th, KG [Ghostrick Purrely]
Source: @zielgigas__