OCG 2022.04 Metagame (1 Apr – 30 Jun 2022)
The OCG 2022.04 format is shaped by one of the most powerful booster set released in recent years – Power of the Elements.
Power of the Elements debuted Spright and Tearlaments, and these two theme would go on to dominate the format.
Compiled from a total of 850 top-placing decks from 187 competitive tournaments held in Japan, mainland China, Malaysia, Taiwan, South Korea and Vietnam, here is the final metagame breakdown of the OCG 2022.04 format.
Metagame Breakdown
357 Spright (339 Spright, 26 Branded Despia, 14 Adventurer Spright, 3 Evil★Twin Spright, 1 Grass Spright)
108 Tearlaments (41 Ishizu Tearlaments, 38 Branded Tearlaments, 16 Tearlaments, 3 Danger Tearlaments, 3 Grass Branded Tearlaments, 2 Grass Ishizu Tearlaments, 1 Adventurer Ishizu Tearlaments, 1 Branded Ishizu Tearlaments, 1 Despia Ishizu Tearlaments, 1 Fossil Branded Tearlaments, 1 Shaddoll Tearlaments)
35 Branded Despia (9 Tearlaments Branded Despia, 7 Adventurer Branded Despia, 7 Dinomorphia Branded Despia, 6 Branded Despia, 3 Grass Tearlaments Branded Despia, 2 Destiny HERO Branded Despia, 1 Grass Shaddoll Tearlaments Branded Despia)
27 Floowandereeze
26 Eldlich (13 Eldlich, 8 Branded Eldlich, 4 Grass Eldlich, 1 Adventurer Eldlich)
25 Exosister (24 Exosister, 1 Dinomorphia Exosister)
22 Drytron
20 Runick (10 Runick, 5 Spright Runick, 4 Invoked Runick, 1 P.U.N.K. Runick)
17 Tenyi (8 Rose Dragon Adventurer Tenyi, 7 P.U.N.K. Adventurer Tenyi, 1 Adventurer Tenyi, 1 P.U.N.K. Tenyi)
16 Evil★Twin (14 Spright Evil★Twin, 2 Evil★Twin)
16 Shaddoll (7 Grass Tearlaments Shaddoll, 2 Grass Invoked Shaddoll, 2 Grass Ishizu Tearlaments Shaddoll, 1 Grass Branded Tearlaments Shaddoll, 1 Grass Branded Frightfur Tearlaments Shaddoll, 1 Grass Frightfur Ishizu Tearlaments Shaddoll, 1 Grass Tearlaments Kaiju Invoked Shaddoll, 1 Invoked Shaddoll)
16 Tri-Brigade (12 Spright Tri-Brigade, 1 Tri-Brigade, 1 Adventurer Branded Tri-Brigade, 1 Branded Tri-Brigade, 1 Grass Tri-Brigade)
11 Adamancipator (5 Grass P.U.N.K. Adamancipator, 3 P.U.N.K. Adamancipator, 2 Adamancipator, 1 Brilliant Adamancipator)
10 Virtual World (8 Adventurer Virtual World, 1 Virtual World, 1 P.U.N.K. Adventurer Virtual World)
9 Sky Striker (6 Therion Sky Striker, 3 Sky Striker)
9 Swordsoul (6 Tenyi Swordsoul, 1 Adventurer Swordsoul, 1 Mathmech Swordsoul, 1 Mathmech Tenyi Swordsoul)
9 Tri-Brigade Lyrilusc
7 Mathmech (4 Mathmech, 3 Code Talker Mathmech)
7 @Ignister (5 Mathmech @Ignister, 2 @Ignister)
5 HERO
5 Luna
5 Magician
5 Marincess
5 Salamangreat (4 Salamangreat, 1 Mathmech Salamangreat)
4 Orcust (2 Orcust, 1 P.U.N.K. Orcust, 1 Tearlaments Orcust)
4 P.U.N.K.
4 Spright Agent
4 Therion (3 P.U.N.K. Therion, 1 Destiny HERO Branded Therion)
3 Altergeist
3 Dinosaur (2 Dinosaur, 1 True King Dinosaur)
3 Dragon Link (2 Dragon Link, 1 Adventurer Dragon Link)
3 Meta Beat
3 Rikka (2 Rikka, 1 Sunavalon Rikka)
3 Spright Melffy
3 SPYRAL
3 Umi
2 Adventurer Good Stuff
2 Code Talker (1 Code Talker, 1 Mathmech Code Talker)
2 Dinomorphia (1 Dinomorphia, 1 Branded Dinomorphia)
2 Labrynth
2 Madolche
2 Megalith (1 Megalith, 1 P.U.N.K. Megalith)
2 P.U.N.K. Phantom Knights
2 Zefra
1 Abyss Actor
1 Atlantean Mermail
1 Branded Cyber Dragon
1 Branded Dragonmaid
1 Branded Thunder Dragon
1 Dark Magician
1 Dogmatika Generaider
1 Endymion
1 Grass Danger Phantom Knights Burning Abyss
1 Grass P.U.N.K. Chaos Thunder Dragon
1 Grass P.U.N.K. Tearlaments Chaos Thunder Dragon
1 Infernoble Knight
1 Machina Infinitrack
1 Numeron
1 Odd-Eyes Performapal
1 P.U.N.K. Infernoid
1 Scareclaw
1 Simorgh Blackwing
1 Spright Atlantean
1 Subterror
1 Therion ABC
1 Windwitch Invoked
Spright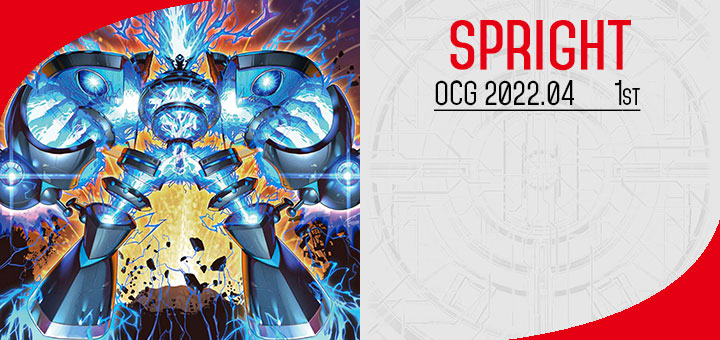 Spright is a new theme from Power of the Elements that revolves around Level 2, Rank 2 and Link 2 monsters. The Frog package became the dominate build as it enables Toadally Awesome. Deep Sea Diva is another popular support to go into Crystron Halqifibrax, and being a WATER Attribute monster allows it to be used as discard fodder for Swap Frog.
I:P Masquerena is also another popular Link Monster to end on. I:P Masquerena effect could be used to Link Summon Knightmare Unicorn or Underworld Goddess of the Closed World during the opponent's turn to disrupt their plays.
OCG 2022.04 → OCG 2022.07 Limit Regulation changes:
Toadally Awesome 1 → 0
Crystron Halqifibrax 1 → 0
The loss of Toadally Awesome saw Spright switch to running Union Carrier to equip Dragon Buster Destruction Sword, locking the opponent out of their Extra Deck. However, this leaves Spright exposed to Spell board wipes such as Raigeki.
Tearlaments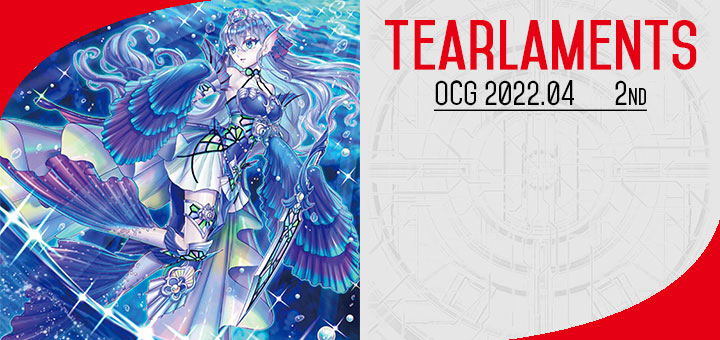 Tearlaments a new theme from Power of the Elements that revolves around Fusion Summoning via their graveyard effect. Branded Fusion and Danger monsters were some of methods that were used to send Tearlaments monsters to graveyard, but they were prone to disruption. Effect Veiler and Infinite Impermanence were rampant in the metagame due to Spright, and they are effective against Tearlaments Reinoheart and Aluber the Jester of Despia.
The new Ishizu cards in Duelist Pack: Duelists of Pyroxene turned out to be the power boost that Tearlaments needed. Kelbek the Ancient Vanguard and Agido the Ancient Sentry are able to send the top 5 cards of each player's deck to the graveyard, providing a reliable method to trigger Tearlaments' graveyard effect. Keldo the Possessed Statue and Mudora the Cestus Oracle provided an avenue to trigger Kelbek the Ancient Vanguard and Agido the Ancient Sentry, but their graveyard effect also double up as disruption in the mirror match. If Tearlaments Scheiren, Tearlaments Havnis or Tearlaments Merrli are unable to place themselves at the bottom of the deck when resolving their effect, then the Fusion Summon is not performed.
Untouched by the new Limit Regulation, Ishizu Tearlaments would go on to dominate the OCG 2022.07 format.
Conclusion
It would not be too farfetched to call Power of the Elements the most impactful booster set of 2022. Spright took over the scene immediately on its debut, and held the lead for a good portion of the OCG 2022.04 format. Tearlaments came in a far second, until the new Ishizu cards boosted it beyond Spright. Right before the new Limit Regulation rolls in, Ishizu Tearlaments actually overtook Spright to become the new leader in the format.
OCG 2022.04 → OCG 2022.07 Limit Regulation changes:
Branded Fusion 3 → 2
Branded Opening 2 → 1
Branded Despia was the best performing deck before Power of the Elements, but was plummeted to the ground by Spright and Tearlaments. The additional hits to Branded Despia was just rubbing salt into the wound.
If you enjoyed these Quarterly Metagame Reports, consider supporting Road of the King on Patreon. Cheers!