OCG 2017.07 Metagame Report #4
Welcome to Week #4 of the OCG 2017.07 format.
This report will tabulate 72 top-performing decks from 10 tournaments that were held in Japan and China during 22 – 25 July 2017.
New Product Release
LINK VRAINS Edition
V Jump September 2017 promotional card
Jump Victory Carnival 2017 promotional card
Metagame Breakdown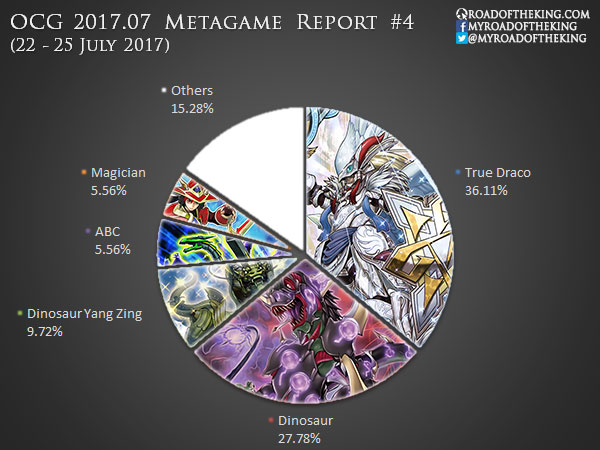 26 True Draco:

12 Invoked Spellbook True Draco
8 Demise True Draco
3 Demise Spellbook True Draco
2 Windwitch Spellbook True Draco
1 Windwitch Invoked True Draco

20 Dinosaur:

19 True King Yang Zing Dinosaur
1 True King Dinosaur

7 Dinosaur Yang Zing
4 ABC
4 Magician:

1 Invoked Magician
1 Mono Magician
1 Performapal Magician
1 Spellbook Magician

3 Metalfoes Zefra True Draco
1 Blackwing
1 Chaos Trickstar
1 Demise Phantasm Spiral
1 Greener Nekroz Phantom Knights Burning Abyss
1 HERO
1 Infernoid
1 Kaiju Invoked
1 True Draco Metalfoes Kozmo
True Draco
We are starting to see True Draco diversify from the popular Invoked Spellbook build. Demise builds, in particular, is gaining quite a bit of traction this week.
Yada Makoto "バコ", Quarter-Finalist in World Championship 2016, went 8-1 with Demise Spellbook True Draco and finished 1st in 1st Nara CS with Hatti CS.
The full set of Spellbook draw engine, consisting of 3 Spellbook Magician of Prophecy, 3 Spellbook of Secrets and 2 Spellbook of Knowledge, gave him much stronger and consistent draw power and deck thinning, as compared to the classic Chicken Game and Upstart Goblin.
As the deck is reliant on its limited power cards Master Peace, the True Dracoslaying King and Dragonic Diagram, and semi-limited Card of Demise, running Pot of Desires is ironically undesirable due to the risk of banishing Master Peace.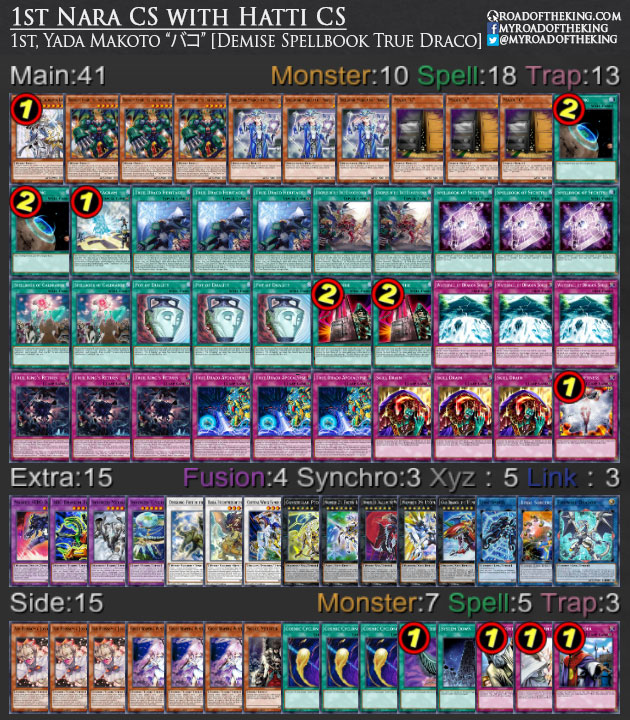 True King Dinosaur
True King Yang Zing Dinosaur has overtaken Invoked Spellbook True Draco this week to become the most popular deck.
The True King Dinosaur build featured this week does not run any Yang Zing, but had an impressive run of 9-0 to finish 1st in 17th Yu-Gi-Oh! Takatsuki CS.
It combines two concepts featured in earlier weeks' reports – Gold Sarcophagus with Giant Rex, and Double Evolution Pill. The high potential to burst down the opponent within a single turn often catch unsuspecting players by surprise.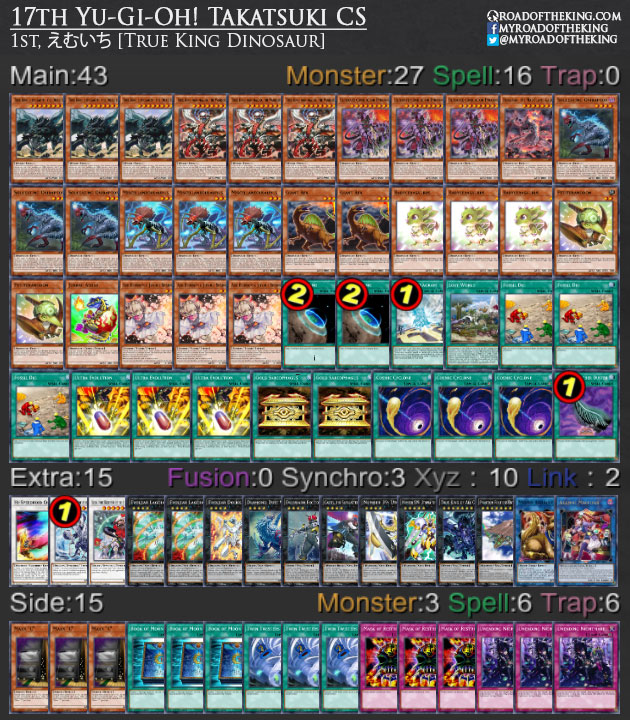 Conclusion
True Draco and Dinosaur are still the 2 top contenders in the current metagame.
The power level of the top decks are also relatively much lower, allowing a wider variety of rogue decks to compete.
References